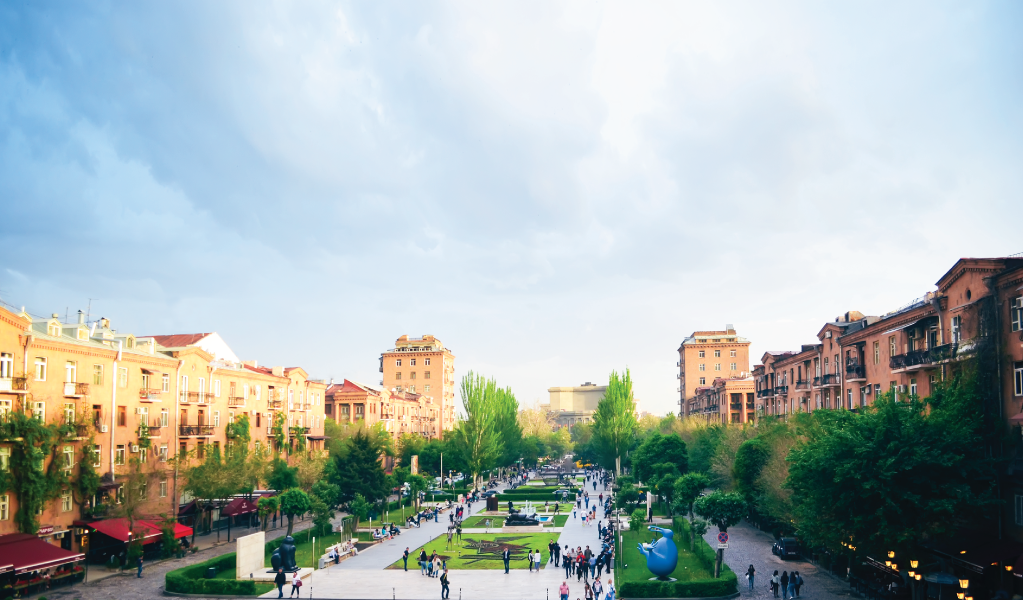 10 Things to Do in Yerevan
Old meets new in Yerevan, a city that offers an extraordinary variety of experiences – from ancient history and traditions to modern architecture, restaurants, and entertainment.
Yerevan is the capital of Armenia and is in the South Caucasus region of Eurasia. It is often called the "pink city" because many of its buildings were created with natural lava rock, resulting in different shades of pink in the architecture.
Those planning a trip should be sure to check out these 10 things to do in Yerevan:
Have a walk around the city center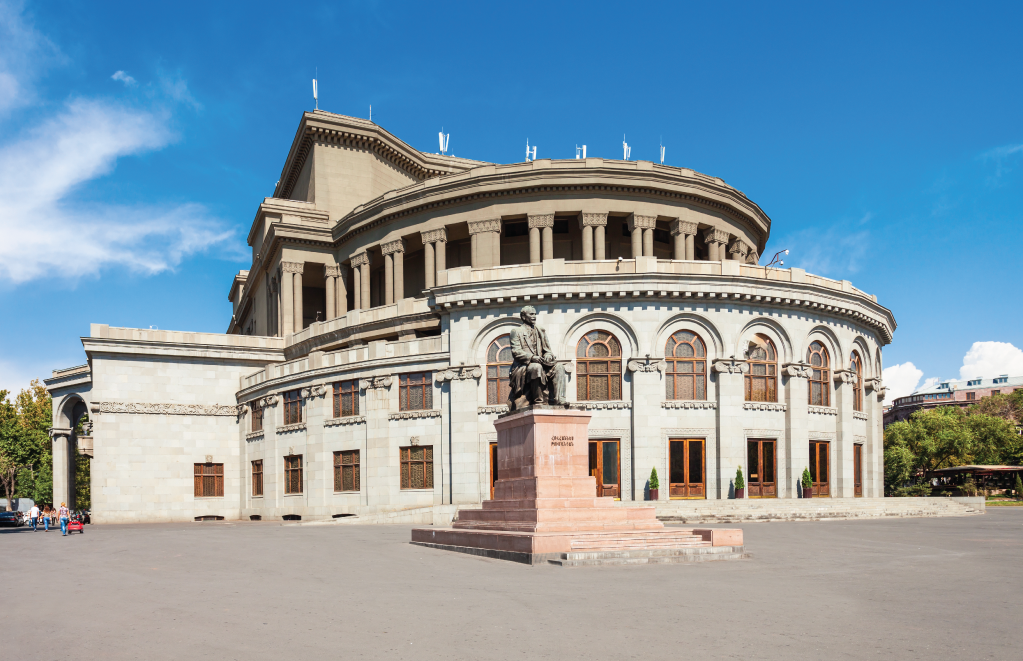 Yerevan is well-enjoyed on foot. As we mentioned above, the city's buildings come in various shades of pink, which you'll see in no other country.  That's a good reason to walk through the streets and admire the amazing architecture. Traveling by foot will also provide an opportunity to enjoy Yerevan's street art, which is largely found in the center of the city.
Republic square is at the very heart of the city. We recommend starting your walking tour from here, though it's also a good place to end up as many people gather here around at 9 p.m. to watch the fountains come alive. The singing fountains feature colorful jets of water that dance to classical, jazz, and rock songs.
Yerevan Opera Theatre is another must-see building. If you are enthusiastic about different architectural styles, you'll be amazed by this round-shaped construction.  It is a seven-minute walk from Republic Square. There is a big square around this building, and Swan Lake is right next to it. This spot often hosts open-air concerts in the evenings.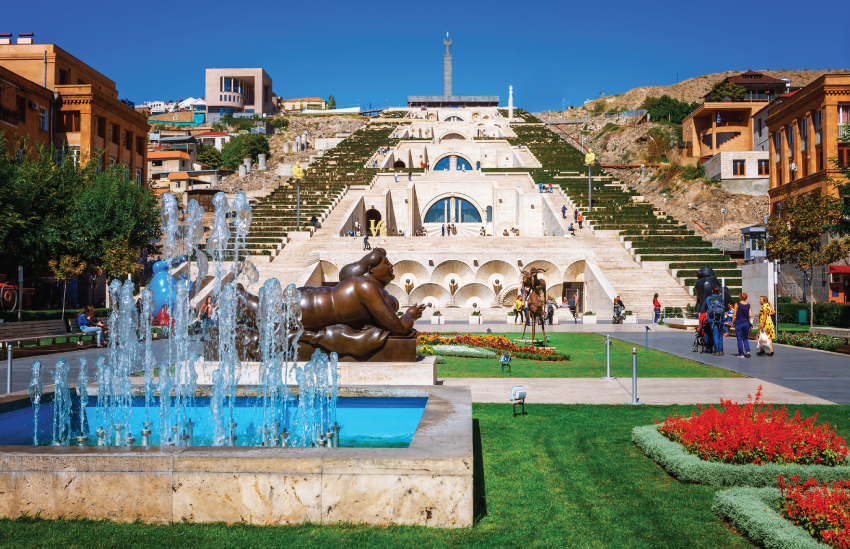 A three-minute walk from Opera House will bring you to one Yerevan's key landmarks – the Cascade complex. This is the ultimate place to explore the modern architecture of Armenia. The Cascade complex features a large stairway made of limestone with multiple levels "furnished" with fountains and pieces of contemporary art.
Drink water from natural springs called "pulpulak"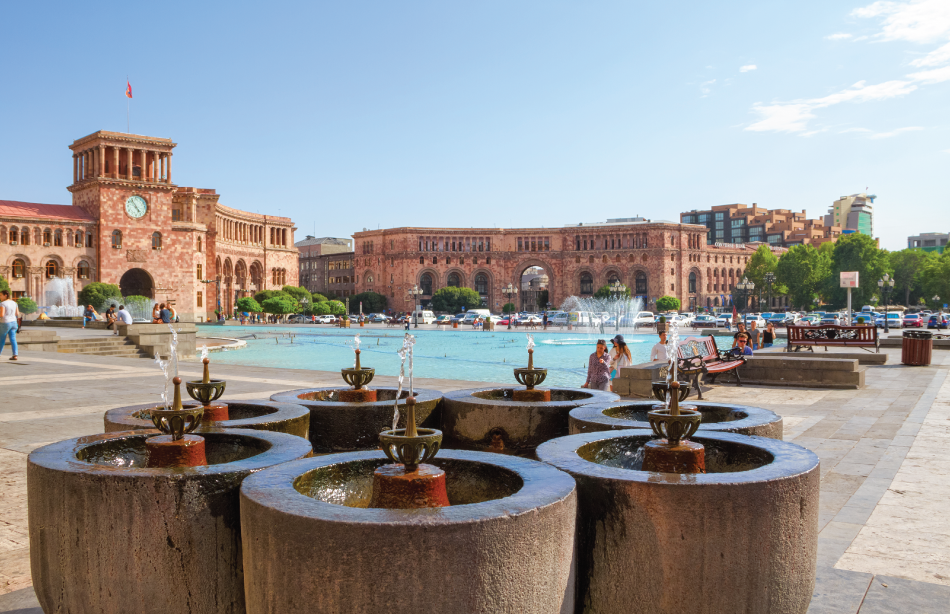 Locals often say Armenia has the tastiest, sweetest drinking water in the world. Well, it comes from the mountains, and it is truly clean.
The good news is that buying water is not a common happening in Armenia. Why spend money when there is natural spring water for free?
You will come across many streams of drinking water in Yerevan. Locals name them "pulpulaks" and they are usually fed by mountain springs. People build a "pulpulak" next to their houses, as well as in parks and streets. Passersby give their blessing to the person in memory of whom it was constructed when they drink water from one of these memorials.
In fact, commemorating family elders is a common tradition in Yerevan. This mindset has passed from parents to their children for many centuries.
Enjoy a glass of wine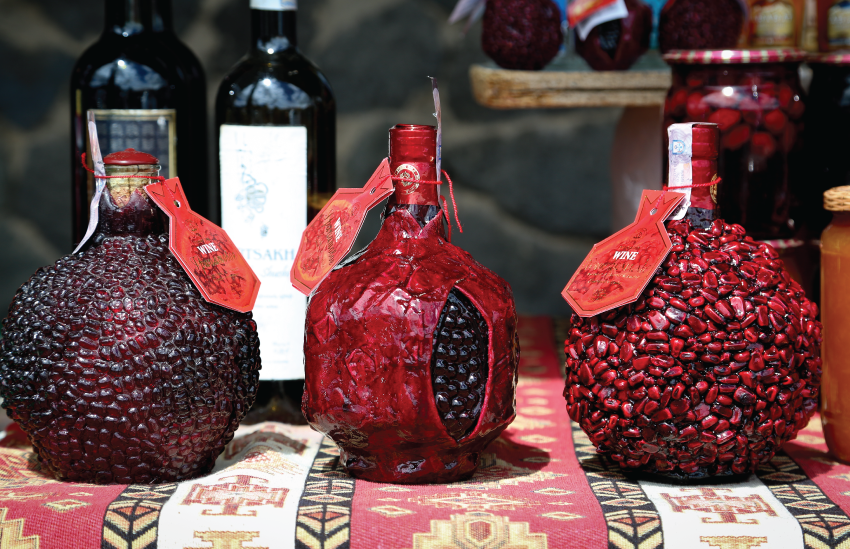 If you are a wine lover, make sure to try it in Armenia. Yes, Armenians are good at making the "drink of the gods." The reason behind it is that wines in Armenia are made of fresh and eco-friendly fruits.
You can drink local wine in any restaurant or café or book a tour to a wine factory. We bet you won't resist the temptation once you see the large assortment of wines. You should also try a wine made from apricots and pomegranates. In fact, locals make wine from any fruit that grows in Armenia.
You can also buy local wine from supermarkets and bring it home for friends and family. We guarantee they will love it.
Visit historic churches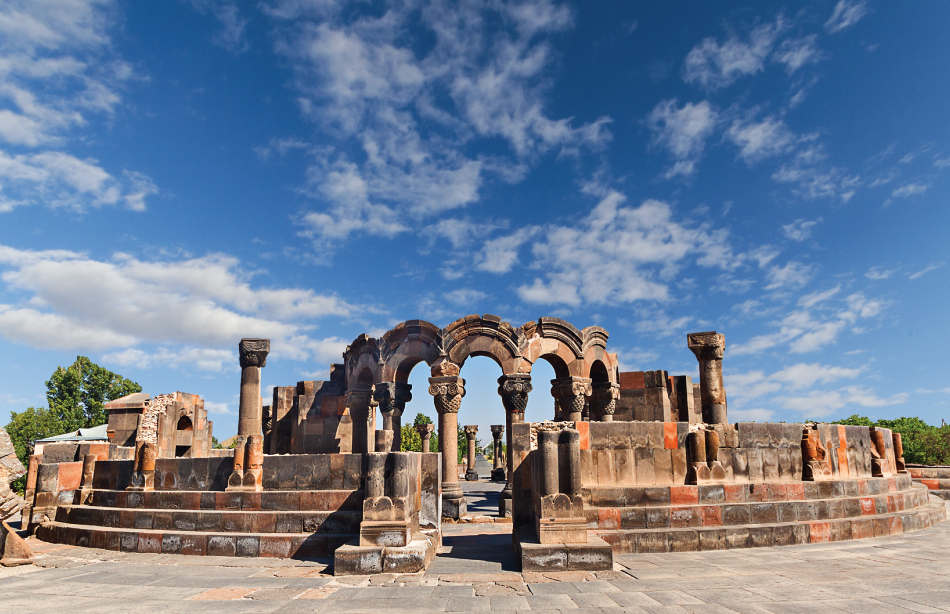 Armenia was the first country to adopted Christianity as a state religion (301 A.D.). The country is known as "the land of churches" and is home to many well-preserved cathedrals, monasteries, and holy places with unique architecture that you won't see in any other country.
Visiting a few churches in Yerevan will help you see the spiritual beliefs of the locals. It is also an opportunity to explore art, music, architecture, and history.
If you have enough time, you should visit Etchmiadzin Holy Cathedral, which is a twenty-minute ride from Yerevan. This is the oldest cathedral in the world, which makes it a must-visit holy place for Christians.
If you are interested in exploring churches, you should visit those outside the city as well. We recommend Khor Virap Monastery, Sevanavank Monastery, and Zvartnots Cathedral.
Have a glass of Ararat brandy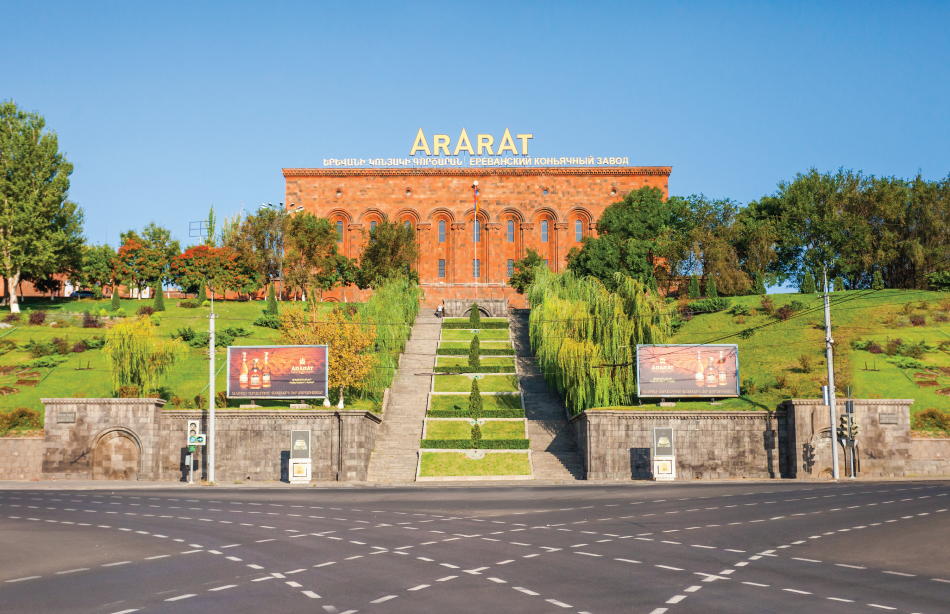 "The secret to a happy life? Havana cigars, Armenian brandy, and no sport." This saying belongs to Winston Churchill. He first tried Ararat brandy during the Yalta conference in 1945. He loved it so much that Stalin instructed the Soviet ambassador to the U.K. to ship 12 bottles of Ararat to his residence every month until his death in 1965. In fact, Winston Churchill's love for this brandy is one of the reasons why Ararat brandy is world-famous today.
Ararat brandy is one of the symbols of Armenia. You have no excuse for not stopping off at the Ararat Museum when you are in Yerevan. You will be amazed by all the details of producing Armenian cognac. The brandy tasting at the end of the tour will add a special value to the overall experience.
Eat, eat, eat ...
The best thing about Armenian cuisine is that they still serve organic food. We strongly advise you to take the opportunity to eat Armenian fruits and vegetables as much as you can as they are all natural. Moreover, local fruits and vegetables are very tasty, especially apricots, peaches, and tomatoes.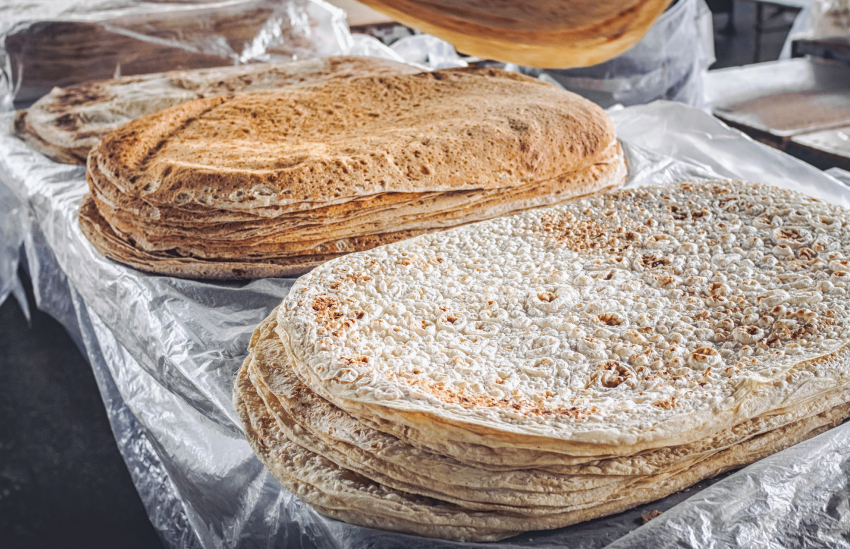 Armenians take pride in lavash, their national bread. In fact, there is no festive table in Armenia without lavash. It's a thin flatbread baked in "tonir" (an underground clay oven). Watching the ceremony of lavash baking is an incredible experience. Tourists often say that Armenians have the tastiest sandwich with lavash, local salty cheese, and greens. We guarantee you will remember the taste forever. Locals love repeating that if you want to lose weight, you should replace standard bread with lavash.
The king of Armenian cuisine is the barbeque or "khorovats" as locals call it. According to Armenians, you should never eat khorovats with a knife and fork, as it is much more delicious when you enjoy it with your hands.
Sujukh is another must-try food in Armenia. It is basically a string of walnuts dipped in a grape syrup. A very nutritious and tasty dessert!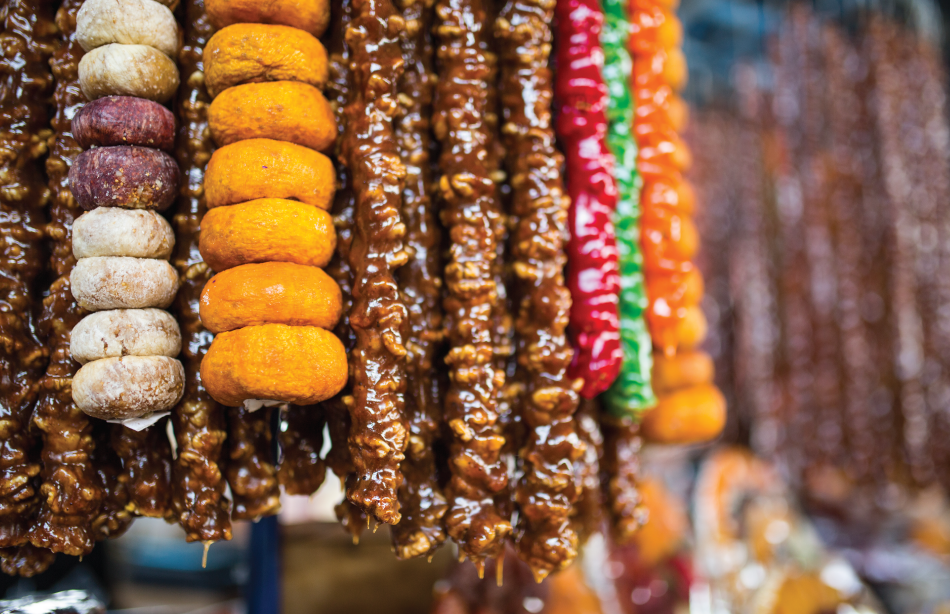 Pakhlava is a yummy pastry with honey and walnut and is another traditional dessert in Armenia.
Yerevan also serves up high-quality Chinese, Thai, Georgian, and Japanese food. Although we believe you should stick to Armenian food while you are there. Apart from the delicious taste, the culinary traditions are strongly tied to the culture, and to fully experiencing the area requires taking a bite out of it.
Enjoy art
Armenia is famous for its museums and galleries.
National Art Gallery is a world-class museum.  It houses a fantastic collection of Armenian, Russian, European, and Eastern art. You can find works by Aivazovsky, Saryan, Avetisyan, and Gorky. In fact, few places house as many Aivazovsky pieces as this gallery does.
Cafesjian Center for the Arts housed in Cascade is one of the city's most popular attractions. It offers a great variety of contemporary statues, fountains, and artwork.
Parajanov house-museum is another must-visit cultural spot in Yerevan. You may have heard about Sergei Parajanov – a very talented Armenian film director and artist whose work is well-known outside of Armenia as well. His house-museum offers a glimpse into his fascinating story.
History Museum of Armenia features the history of Armenia from the period of Paleolith to our days. The unique collection of archeological and ethnographical specimens will take you to the mindsets of people living in ancient times. The museum is home to around 400,000 objects.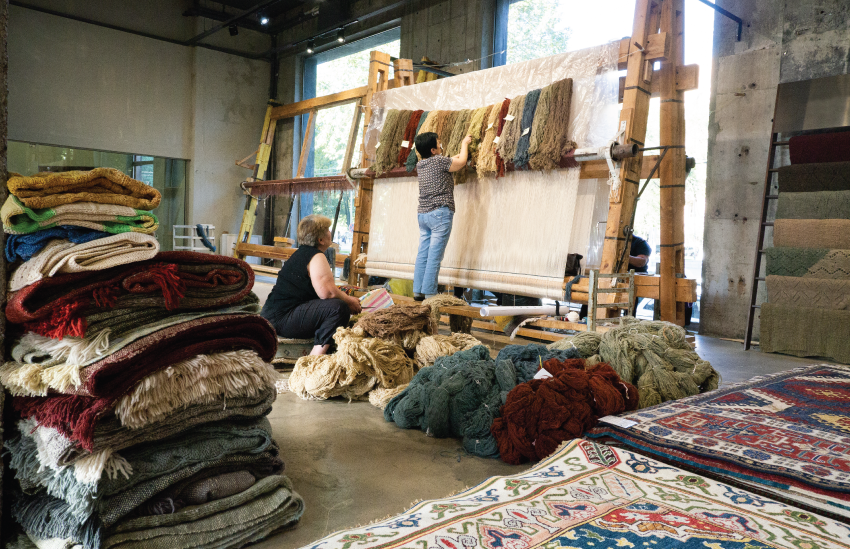 Megerian Carpet Museum houses a large number of antique and new handmade carpets, as well as high-quality rugs. The staff also teaches tourists the process of carpet making. This is another great opportunity to get a good handle of local culture.
Stroll through the Vernissage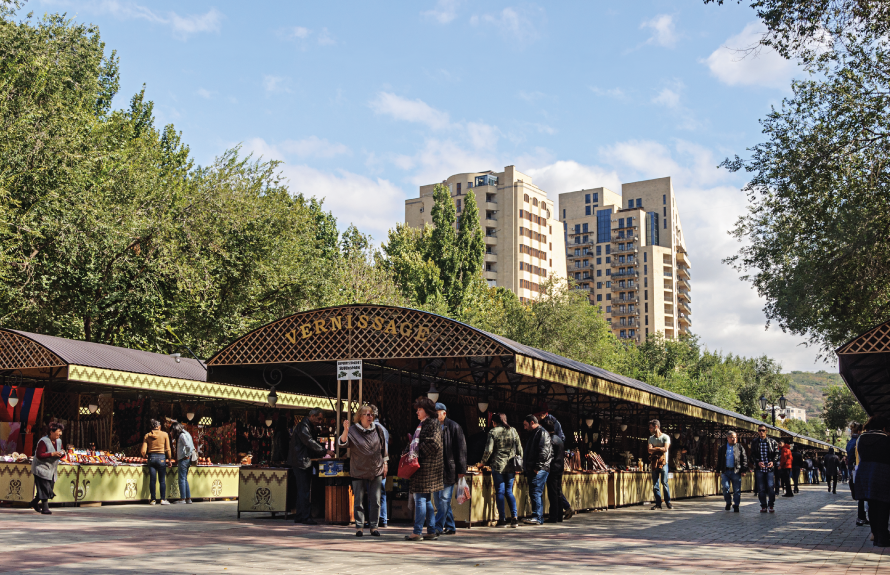 Vernissage is an open-air market where you will find unique samples of Armenian paintings, rugs, jewelry, souvenirs, made-in-Armenia-T-shirts, and bags. This is the ultimate place for shopping if you wish to take home gifts from Armenia. We recommend a trip even if you plan on window-shopping.
Vernissage is located near Republic Square.
Visit Gum Market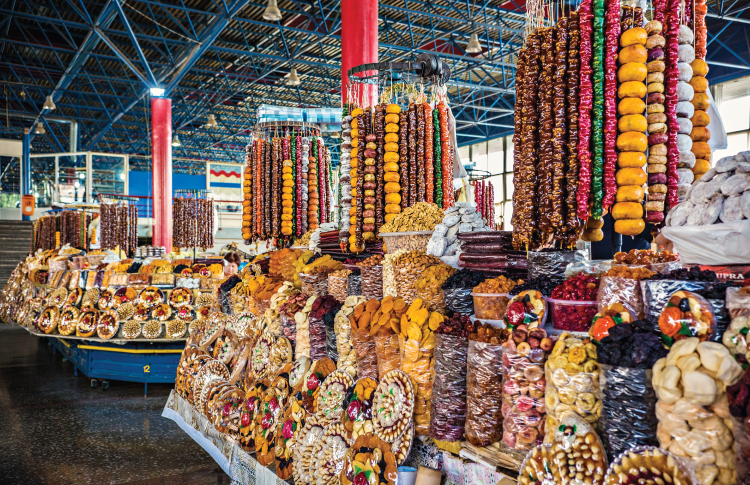 This is the ultimate place to go on the last day of your trip. By then you'll have fallen in love with local apricots, peaches, pomegranates, dried fruit, and sujukh, and you will want to take the new food home with you.
You will find bundles of fresh fruit, vegetables, and mountain herbs in Gum market.
In case you have missed out on watching the lavash making process, this is a good opportunity to do it. You can observe the process and take several pieces home with you.
Enjoy a cup of coffee in an open-air café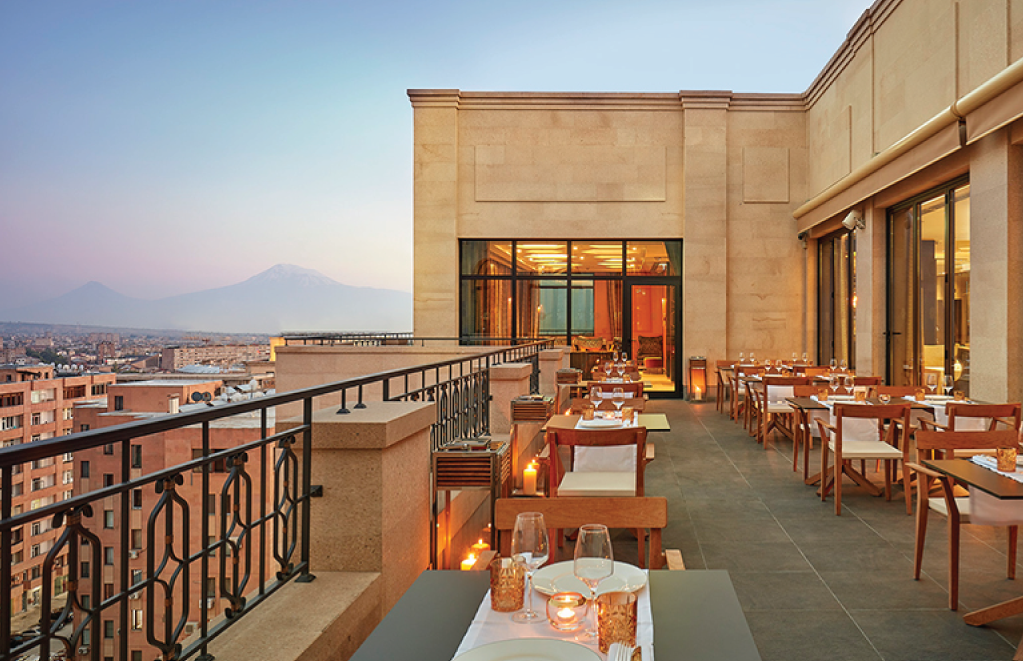 Whether you are visiting museums, nature, or architectural marvels, you'll eventually be on the lookout for rest and Wi-Fi. Make your way to one of the many cafés that come with a beautiful outdoor terrace and be sure to order some coffee.
Trust us, coffee in Armenia is fantastic. Whether you love cappuccino, Americano, or espresso, you'll enjoy lots of wonderful cups in Yerevan. Tourists often say that apart from the taste, they also enjoy the latte art on their coffees in Yerevan Cafés.
However, this coffee is popular mainly among the younger generation and tourists. Others in Armenia prefer traditional "Armenian coffee," which is brewed the same way as Greek and Turkish coffee.
The list of reasons to visit Yerevan is endless. The "pink city" has something for everyone. No matter your interests and preferences, you are sure to have a memorable vacation in Yerevan.