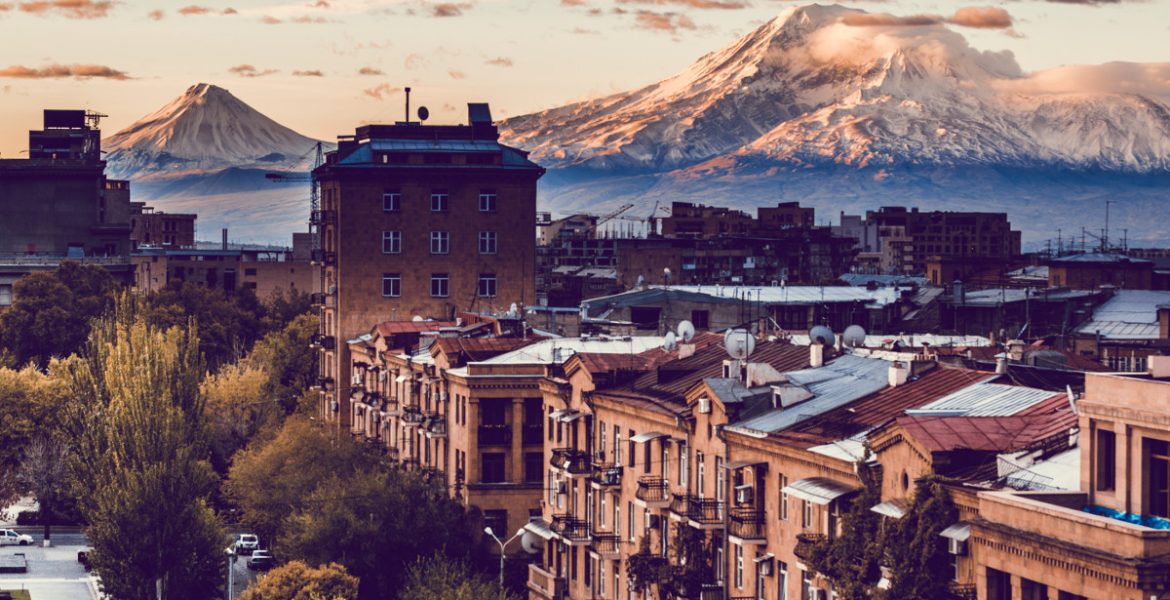 Things to Do in Armenia
There are a lot of unforgettable things in Armenia to see, hear, discover, taste, and take with you forever.
History Museum of Armenia
Like any small country, Armenia has a long history tinted by defiance, resistance and, of course, cooperation. Take any small nation, from San Marino to Bhutan, and you are bound to discover that there is a lot to be learned from the history, perhaps even more than from neighboring — or in the case of San Marino, surrounding — larger nations. Armenia is no different in this regard, and the history museum in the capital makes a wonderful case for that. The history of this Eurasian country is chronicled from the founding, many centuries ago, through its fight to stay sovereign and finally, its current state. Founded in 1920, the museum has amassed a collection of 400,000 items, with a particular focus on archeology and numismatics. The building, and the square it is located in, Republic Square, is worth seeing by the light of day as well as illuminated at night.
Cascade Yerevan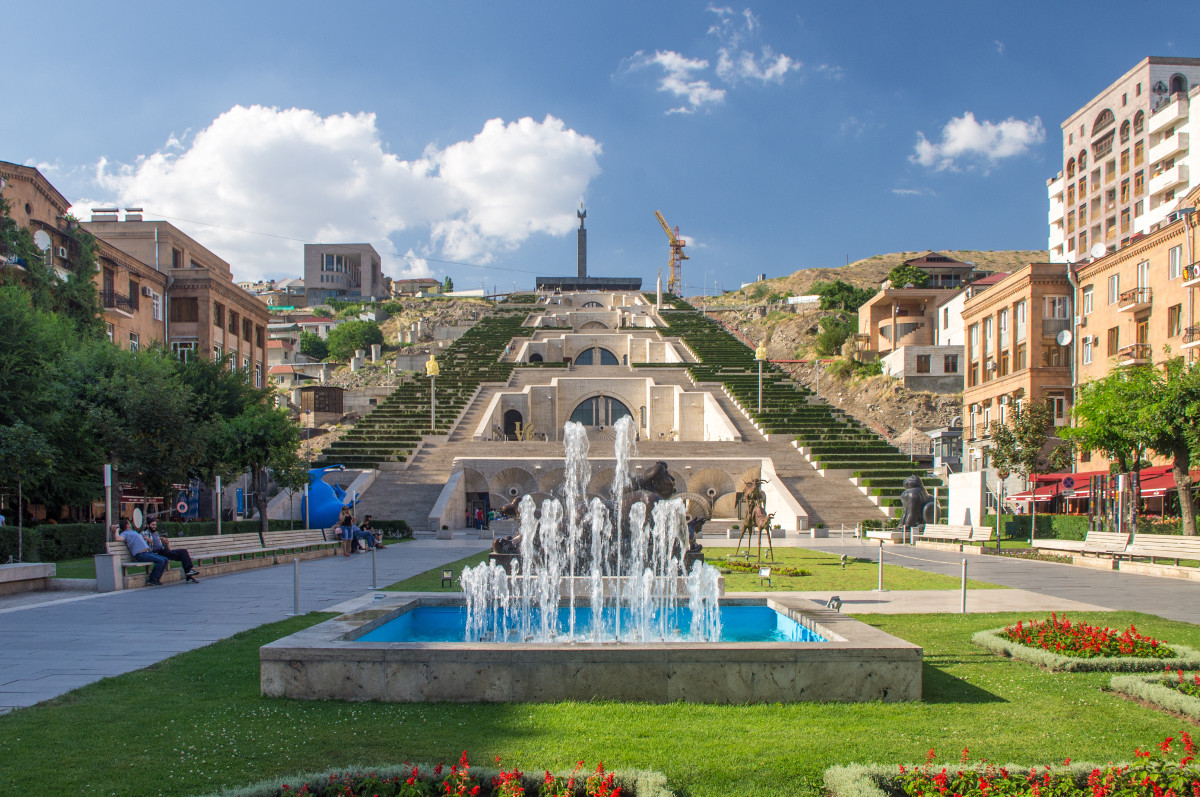 Speaking of beautiful squares, your next stop in Yerevan should be the Cascade, a complex of almost Star Warsian otherworldly beauty, with a giant stairway that functions as an exhibition center leading down to a beautifully manicured flower garden. Fans of Botero, the sculptor with a penchant for the curvaceous, can enjoy a number of his works on multiple landings of the stairs. Spring and summer bring concerts to the cascade, where you can sit on the steps and enjoy a warm evening with the Yerevan locals.
Sergej Parajanov Museum
While the most famous Armenian director, Parajanov, may not have the largest body of work, having made only a handful of films, he is a defining character of the global film industry. His most famous picture, The Color of Pomegranates, is often named as one of the greatest films of all time. Armenia's foremost film eminency was quite a character, having made fearless films that were outside of the Soviet-sanctioned genre of Soviet realism all through his career. For his dedication to the freedom of art, he was persecuted and imprisoned and sent to a labor camp in Siberia, which as one can imagine was the worst thing that could happen to you at that time in history. After his release four years later, through a pardon granted by Brezhnev, Parajanov was imprisoned again but went back to where he left off, directing two more films and starting a third one left unfinished due to his untimely death in 1990. The museum honoring his life and work is one of the most visited in Yerevan and bears this honor with dignity and worthiness.
Matenadaran and the Armenian Alphabet Monument
From screen to scripture, the next item on our list takes you to the museum and research institute Matenadaran. This beautiful building houses those manuscripts that were not destroyed by the Ottoman Empire, and the sizable collection is worth an afternoon, if not an entire lifetime, of attention. Sure, Armenia may be small, but it is important: it is one of the oldest countries, with an ancient language and unique alphabet. Since its language is so ancient, it is one of the things that most forged (and still holds together) Armenian identity. The importance of the language and its script cannot be overstated – to be Armenian, you need to read and write like the Armenians do, before anything else. A quirky detail of no real use to travelers passing through is that even the numbers are written with letters here. What says love of language more than that? In the village of Artashavan, about an hour outside of the capital, people who get excited by scripture, etymology, and things of the sort can find a monument dedicated to the Armenian language and its father, Mesrop Mashtots. The monument was inaugurated in 2015 to celebrate the sixteen-hundredth birthday of the Armenian language.
Blue Mosque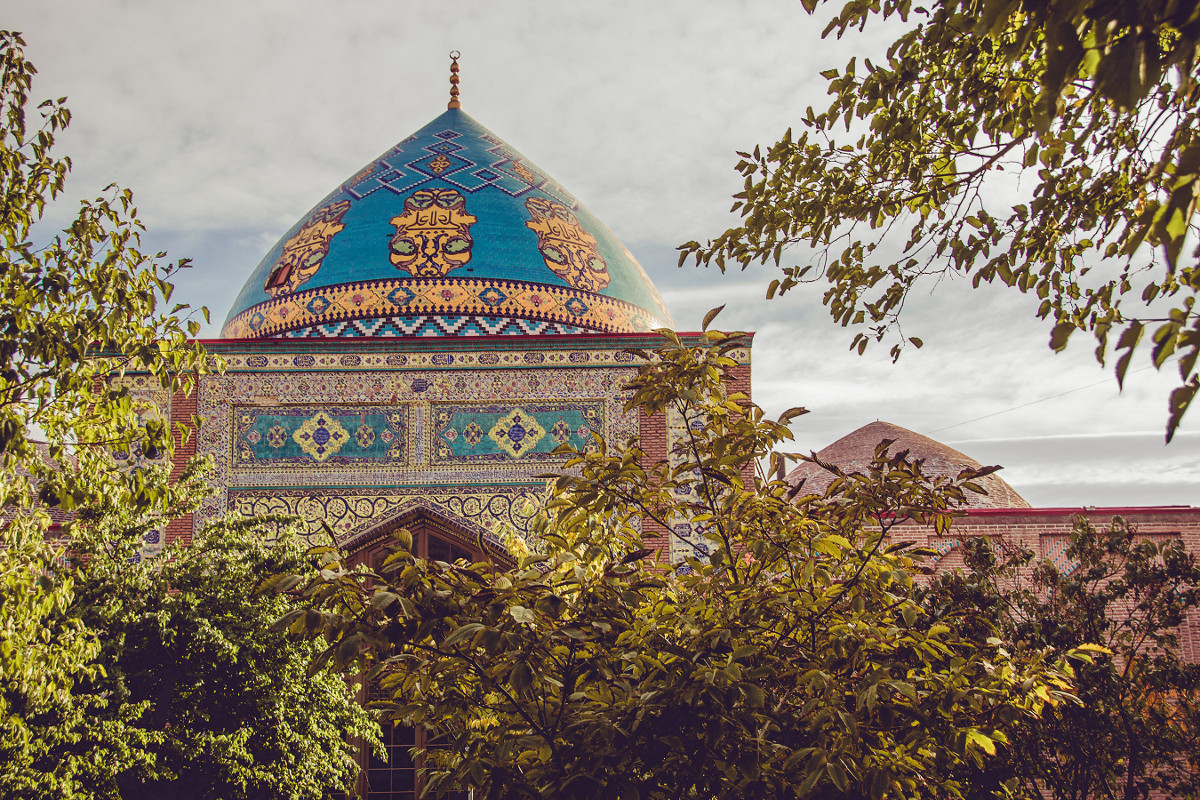 This 18th-century place of worship for Shia Muslims in Yerevan is the only operational mosque in Armenia, visited mostly by Iranians residing in the country. Its turquoise dome and pearlescent pink glow have something of Indian Mughal architecture, and this mosque is one of the most romantically beautiful in the world. Though it officially belongs to Iran since it was renovated by that government and subsequently offered as a loan by Armenia for 99 years starting from 2015, this mosque can be found in the downtown area of Yerevan and is open to all visitors clothed modestly.
Tatev Aerial Tramway
Leaving the city of Yerevan for rural Armenia, you can visit this 3.5-mile long cable car line, which is the longest in the world, along with being ravishingly scenic. This trip of about 150 miles from the capital is about as far as you can get from one place to another within the limits of the country. You could, in fact, almost walk to neighboring Azerbaijan from here. But with views like that, you may not want to go anywhere but up and down the cable car.
Tsakhkazdor Ski Resort
While Armenia may not be the first word on the lips of skiers, it does see its fair share of snow and is a mountainous nation, so winter sports is a given. The consensus seems to be that this resort is the best place to catch some powdery snow in a picturesque setting anywhere in Armenia. About an hour north of the capital, the facilities of this skiing paradise were constructed so that athletes could train for the 1988 Olympics, which was the last such event member nations participated in united under the Soviet Union. Like many places built by the hand of the former USSR, this ski resort has a sort of adorable retro charm, and the natural surroundings make it a doubly worthy winter sports destination.
Khndzoresk Caves
Built into a hillside in Eastern Armenia, this once large village has become somewhat of a tourist attraction, whilst still reserving itself for the brave few who come to see it. It was inhabited until rather recently, having been disbanded by Soviet forces who failed to see the romance in it, and frankly, many other perfectly romantic things. Before this unfortunate turn of events, the village population of almost 15,000 people made the unconventional terrain their home: people constructed cave homes for themselves beside, beneath, or on top of their neighbors, and the walk around town was replaced with a cheek-flushing climb home. If you do come here and make your way across the rickety suspension bridge with your heart in your throat, remember that school children and elderly residents used to do this very thing, possibly whistling on their way over.
Birds
Birdwatchers, those few select people with a massive passion for the avian species, can really get their beaks wet in Armenia: the country is home to hundreds of bird species, with the masses of storks returning in the springtime being but one such example. Head to the Ararat plains by the Turkish border for a variety of beautiful winged creatures drawn here by the fish farming industry, or to Arpi lake if you'd like to see a Dalmatian pelican. This is a bird that looks like a stork with a Beatles haircut and indignant expression to match, which makes it a hilariously unique sight to behold even for people not otherwise devoted to birding.
Byurakan Observatory
While this observatory isn't exactly up to today's standards (or those of the century, or millennium), we still recommend you visit it if you are one (or both) of these things: someone who has a keen interest in the progress of scientific discovery and recognizes the importance of the Soviet Union in this field, or someone who likes adorable old time-y things. Hard as it may be to believe looking at it with modern eyes, the eyes of someone who most likely has a touch screen device in their pocket, this was the largest telescope in the USSR and the location of many an important discovery as far as our night sky, and the things beyond it, are concerned.
Khor Virap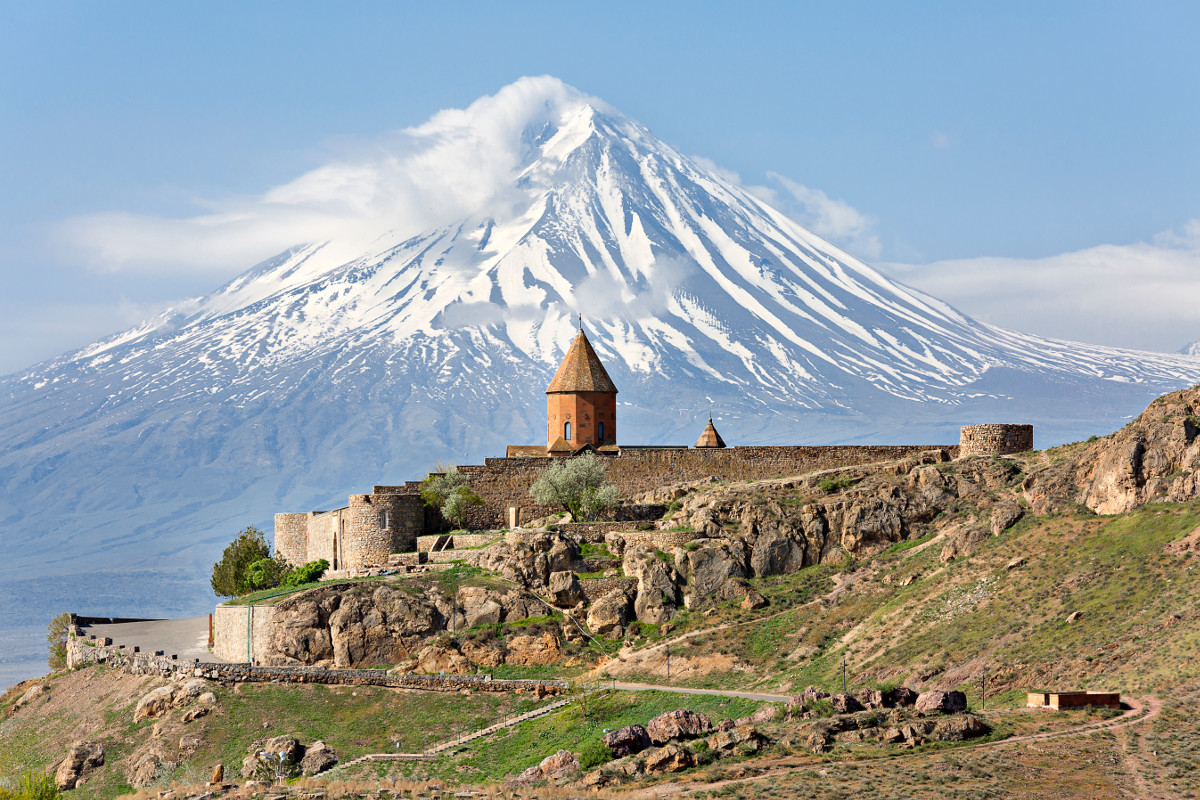 If you're out to get the best view of Mount Ararat, you can do no better than Khor Virap. It was here that Gregory the Illuminator was held captive for many years before he cured the ruling king of a disease, inspiring the royal to convert to Christianity – a move that resulted in the conversion of the whole kingdom, with Armenia now almost entirely Catholic. Try to visit Khor Virap early in the morning, when the awakening sun lights the Ararat plains, and the peak in the distance, in a way that makes clear why the people of Armenia hold this mountain in such high regard, even if you disregard the weighty significance of it from a theological standpoint. Truth be told, Mount Ararat may not be one of the highest peaks in the world, but it sure is one of the most majestic.
Etchimiadzin Church
The first nation to adapt Christianity as a state religion, Armenia has earned the moniker "land of churches" — there are so many ancient, monolithic and hauntingly beautiful Christian places of worship here. This one is considered the most important one to Armenians worldwide and of all Armenian cathedrals, it is the most sacred. Not only that, but Etchmiadzin is the oldest in the world, as well. A short ride from the capital, the first cathedral ever built is the keeper of many significant artifacts of Christianity: here, you can find The Spear of Longinus, said to have been the one to stab Jesus Christ on the cross, but also things that belonged to John the Baptist and the Apostles of Jesus, along with a fragment of Noah's ark. As you can see, while the capital city has a number of glorious churches, it is well worth traveling around the country (which can be done rather quickly) to discover more of them, set into picturesque surroundings, perched on top of hills or the shade of valleys: Armenia's churches are a pious wonder.
Lake Sevan and Sevanank Church
The largest lake in Armenia is about an hour from the capital and really worth seeing, though as we've said, roads aren't the most cooperative. The surrounding mountains are often capped with snow even when the lake is warm enough for a dip, which makes for a very satisfying dichotomy, in the way a dessert featuring ice cream and a warm sauce does. The church located on the shore is somewhat more modest than it appears in promotional images, so prepare for that, and appreciating its quaint and unique beauty will come easily to you. Busses can be taken from the capital, and bus drivers can be enticed to drop you right at the lake instead of the bus stop for a small surcharge. Returning, you will have to take a cab. We could in this instance warn you that cab drivers will try and overcharge you for the service, but in all honesty, the haggling would have to be over such a trifling sum to almost any foreigner that we think it best you just go with it and let the hardworking cabbie have a nice day.
Garni Temple
Garni Temple is the sole remaining pagan temple in Armenia, as all others have been destroyed and replaced by churches. It is said that this one was left to stand because it was too beautiful not to, and we must agree: this Greco-Roman structure really is a sight to behold, not even to mention the gorge the temple got its name from. An Ionic pagan place of worship set into the most picturesque natural frame attracts tourists of all faiths, even if it is still in use today as the seat of Armenian neopaganism, or, as it is referred to, the Armenian native faith. Similar to the Hindu principles of Atman and Brahman, Ar and Ara represent the transcendent and corporeal duality, respectively, that stand as the pillars of this religion.
The Largest Potato Cellar in the World
In the little – and by all other measures indistinct – village of Arinj, there lives a woman whose husband will make yours pale in comparison. We understand that this is not something most wives are keen to admit, all marital bickering notwithstanding, but we assure you, we do not make this proclamation lightly. The fact of the matter is that, when his wife asked him for a potato cellar, Tosya got to work and created a complex cave system that reaches 70 feet below the house. The Armenian version of the Taj Mahal story, this cavernous potato repository can be visited, and the experience is sure to become a milestone memory in any marriage, apart from being a testament to the boundless power of true love, whether one loves the wife, the making of caves, or both.
Armenian Genocide Museum and Memorial
The topic of the Armenian Genocide is a hotly debated one, though most nations agree that it did take place and should be referred to as such, even if Turkey, for one, does not concur. The Armenian genocide of 1915 caused so many Armenians to flee their home that now, the rest of the world has a larger Armenian populace than Armenia itself does. The population of Armenia is just shy of three million, or less than most European capital cities. Armenian immigrants in other nations make up almost 6 million. Instead of arguing the point further, we direct you to one of two places: the Wikipedia page dedicated to the subject, or, better yet, the Armenian Genocide Museum and Memorial in Yerevan.
Mother Armenia Monument
In the capital city of Yerevan, there stands a lady, tall and proud, giving shelter and protection to this nation: she is mother Armenia, the country personified. She replaced a statue of Joseph Stalin, erected after WWII to honor the Soviet ruler born in neighboring Georgia. The woman who looks over the Armenian capital from atop a gentle hill is a symbol not just of the peaceful strength of Armenia as a nation, but also that of Armenian women, who have formed the history of this little country with their perseverance and bravery. On May 9, it is custom for Armenians to visit her and lay flowers at her feet in gratitude of the martyrs who lost their lives in the war. Come here on that day to see her in full bloom, or any other day to see her watch over her nation serenely.