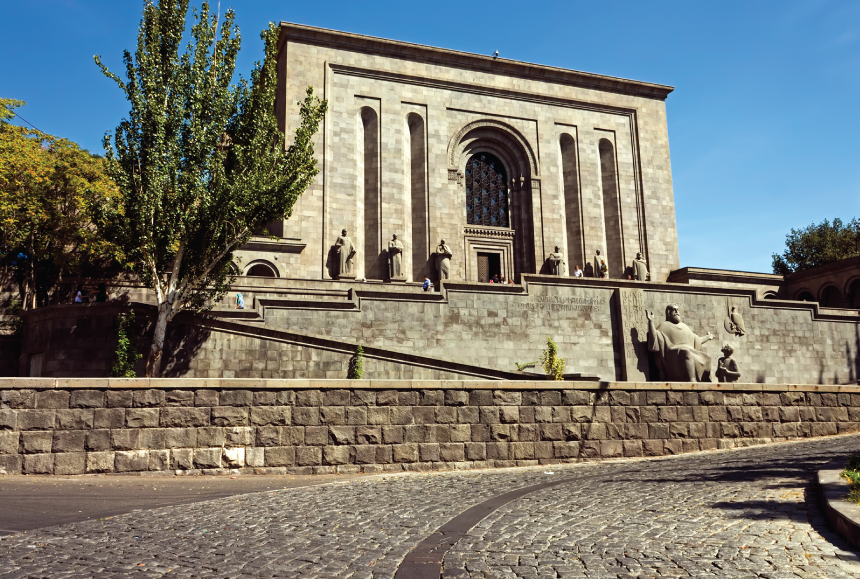 Best Tours in Yerevan
Planning a trip to Yerevan and looking for the best places to tour in Armenia? Whether you are interested in architectural, cultural, gastronomical, or mountain experiences, Yerevan has rich offerings for visitors. Here are some top locations that you should include on your tour of Yerevan:
Matenadaran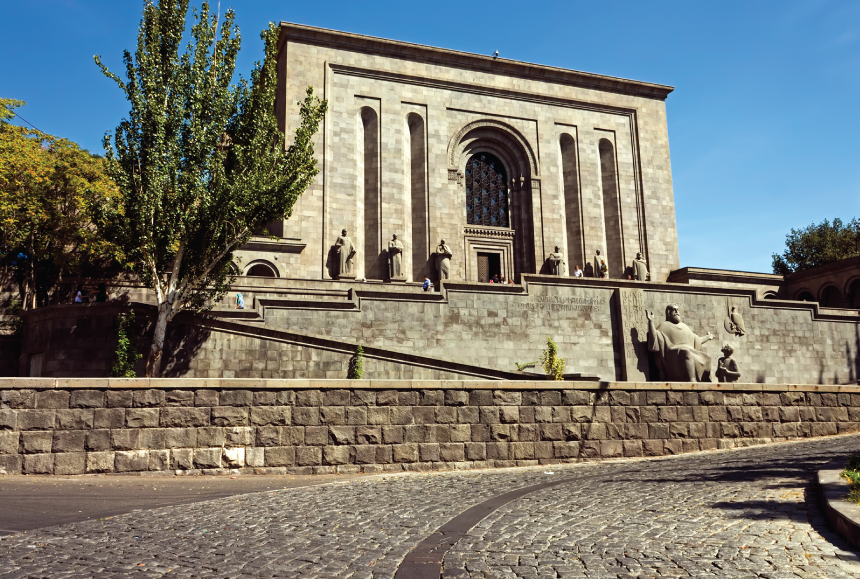 One of the reasons Armenia survived wars and attacks was thanks to its alphabet. This is a good reason to attend Matendaran. Fact is, this manuscript museum features culture, geography, art, and religion. No wonder, locals always take guests from other countries to Matenadaran. It tells a lot about the history of Armenia.
You'll be amazed by the variations of artistic styles from century to century. In ancient times Armenians used leaves and flowers for getting different shades of green and yellow, real gold for gold coloring, and "Vordan Karmir" (a small red insect) for red coloring. Amazing, right?
The manuscripts in Matenadaran feature history, culture, geography, and art. There are even cookbooks with recipes of ancient Armenian meals.
You can have a guided tour of Matendadaran or explore the manuscripts on your own. In case you opt for the second option, ask the employees to show you "Vehamor Avetaran," which is the oldest manuscript, dating back from the eighth century. Other manuscripts worth mentioning include the biggest Armenian book, "Msho Charyntir" (28kg), and the smallest book (190g).
By the way, this museum has a no-photo policy, as the camera flash will hurt the ancient manuscripts. Do not leave your camera at the hotel, though. You will want to ask someone to take photos of you next to the statues of Mesrop Mashtots and his pupil and biographer Koryun. Here is how to pose for the photo:
Stand next to Koryun's statue.
Look at Mashtots's statue.
Try to look confident as if you are making the history.
This must-have travel photo is popular amongst tourists, so expect your friends to reply with their photos next to Mashtots's statue on social media.
There is an unwritten law to attend Grand Candy "Ponchikanoc" (Doughnut house) after Matenadaran as it is right next to it. The smell and taste of ponchik will bring you back to your childhood.
The yard of "Mer Bak" TV comedy
If you are an Armenian living abroad, you certainly remember "Mer bak," a musical comedy dating back from late the 1990s. Let's confess it, we all repeat the famous sayings ("Where is the candy?" ''This guy is a dimedrol.'' ''What a dusty entrance.") in everyday situations.
Want to see where they filmed the show? Tour "Mer bak" yard located on Tumanyan street (Address: Tumanyan 40). You have no excuse not to post the photos on Facebook and Instagram. Your friends also deserve this sweet throwback to the past.
Ararat Museum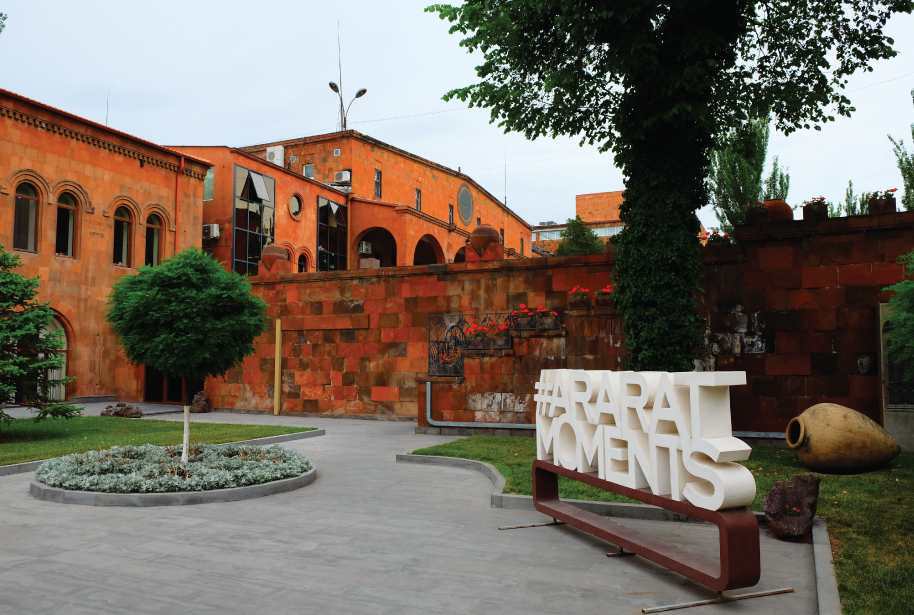 You may have heard about Winston Churchill's love for Ararat cognac. Even if you are not a cognac lover and you don't agree with Churchill who said that the secret to a happy life is having Havana cigars, Armenian cognac, and no sports, you should try to see what makes this brandy unique and famous all over the world.
As you tour the Ararat Museum, you will learn the details of producing the famous Armenian brandy. There will be opportunities to taste different types of cognac kept in wood barrels for either three, five, seven, or 10 years. See if you can differentiate the taste based on the age of the brandy. The smell all over the factory adds a special value to the overall experience.
We suggest that you find the flag of the country you live in and take a selfie with that background. From our personal experience, you should make another Instagram photo during the tasting session featuring the 3, 4, and 5-star glasses of Ararat and the Armenian chocolate box you are served. A mouth-watering online experience for your friends guaranteed!
Mirzoyan Library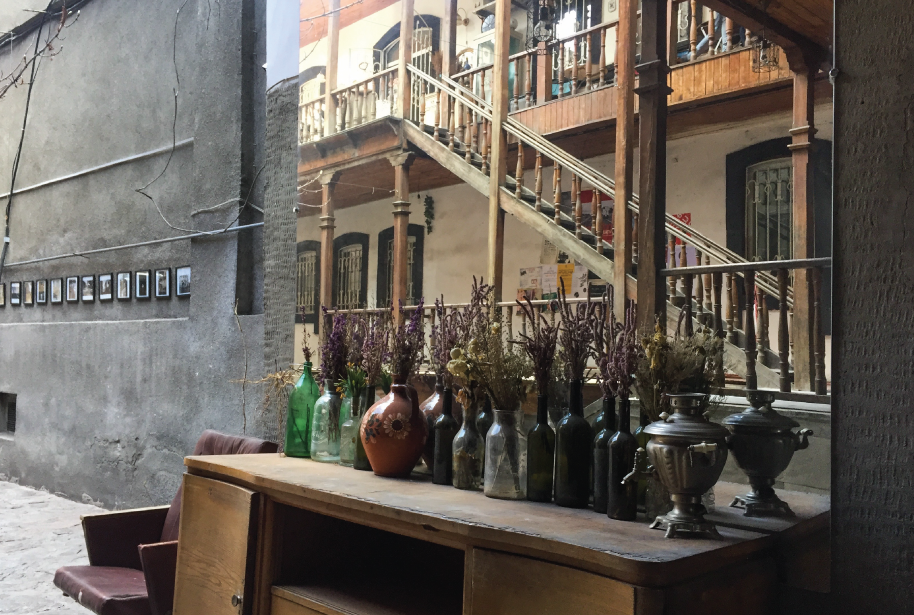 Whether we like it or not, most of us must work a little even on vacation. If you need a quiet atmosphere to log onto the Internet, head to Mirzoyan Library. There is a small section of books, a photography gallery, and a café with indoor and outdoor seating areas. The outdoor area with many trees and flowers is good both for working and spending time with friends. The simple design will make you feel like you are sitting in an authentic Armenian courtyard.
This must-visit venue is one that tour agencies never recommend, but they should. It's a little hard to find, as the library is in a hidden courtyard.
By the way, they offer a limited menu with several options of coffee, tea, alcoholic beverages, and cookies to choose from. You are also allowed to bring food with you.
We bet you will spend many evenings touring the Mirzoyan Library during your stay.
Tesaran Outdoor Gallery
This is another authentic Armenian venue tour that agencies never recommend. It is a relatively new place, and even many people in Yerevan have not been there.
Tesaran (translated as "view" in English) is the ultimate place to enjoy a panoramic view of Yerevan. It usually hosts exhibitions of Armenian handcrafted jewelry and Armenian products such as honey, coffee, wines, and dried fruits. What we like most about this venue is that they have concert shows in the evenings featuring Armenian national songs and dances.
The venue offers both national and international cuisines with a wide menu of meals and desserts.  In the evenings you can enjoy guitar performances and sing with others at the bonfire. Believe us; you will know the lyrics to almost all the songs. Tesaran offers a truly Armenian atmosphere with local food, music, products, and a beautiful view.
Parajanov Museum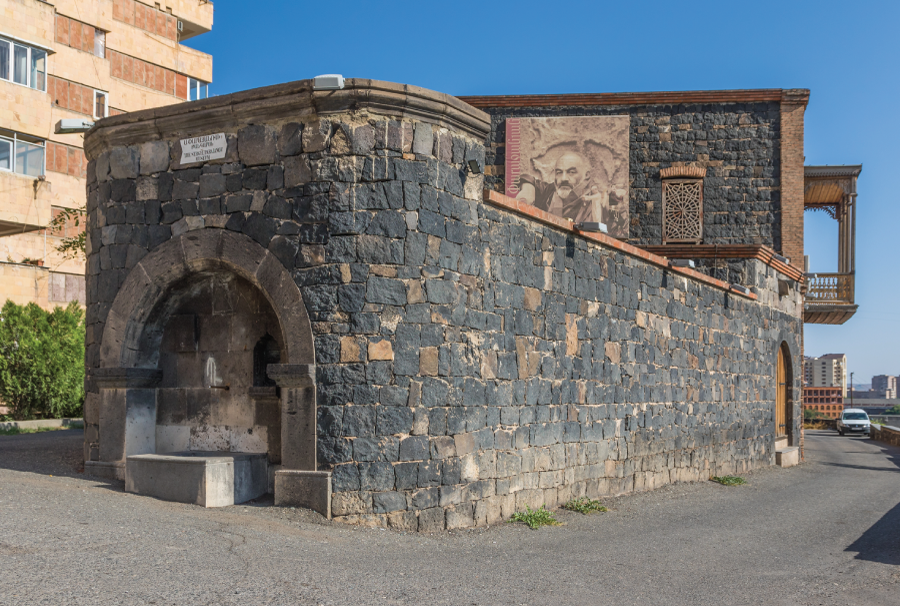 Touring Parajanov house-museum will be an incredible experience for those who know of Sergei Parajanov's movies, such as The Color of Pomegranates, Shadows of Forgotten Ancestors, Flower on the Stone, and The Confession.
Parajanov was a famous film director who made great contributions to Soviet cinematography. According to Lonely Planet, visitors get the feel of his humor, talent, creativity, and the difficulties he faced at the house-museum. We assure you that it is true as every detail is authentic and descriptive.
We always say Parajanov house-museum is important for getting acquainted with Armenian history, culture, and art. The house itself is also a good example of Soviet-style with colorful paintings, carpets, and mirrors.
In case you have not watched any of Parajanov's movies, we recommend doing so prior to your visit to the museum. Most of the movies are available in Russian and English as well. The experience is different when you know his talent and style.
Dalan Art Gallery
We always recommend Dalan Art Gallery for getting the feel of old Yerevan. It is a local café with a souvenir shop, as well as indoor and outdoor sitting areas.
The souvenir shop offers a wide range of paintings, statues, religious items, and toys for kids. We recommend purchasing a handmade doll.
There is no immediate access to the cafe. You will see the souvenir shop "Dalan" through which there is the door to the cafe. Visitors mostly opt for the courtyard or balconies. We personally enjoy having wine in Dalan in the evenings. They offer a very good assortment of cheese with wine. The menu mostly consists of local meals.
This is the ultimate place to take one of those photos where you are sitting in the shade of a tree holding a wine glass. Don't look directly at the camera.
Dalan Art Gallery also hosts exhibitions on the second floor. You'll find many paintings by local artists, and they all come in different styles.
Vernissage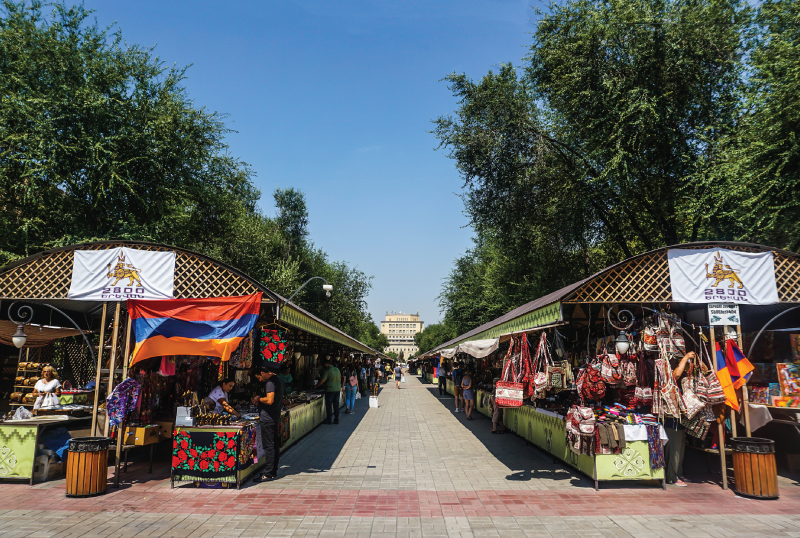 We know you will find your way to Vernissage. However, an article covering the cultural attractions of Yerevan would be incomplete without talking about Vernissage.
We have recently observed that it is not just a market, but rather an open-air museum. Locals and tourists alike spend their free time walking around Vernissage, purchasing souvenirs, paintings, and jewelry. There is always Armenian national music in the air. You will find the best samples of silver jewelry there. The market also offers a great variety of handmade bags, pottery, national instruments, and board games.
Bargaining is a common thing in this market, so we recommend negotiating to get a better price.
Even if you are not planning to buy anything, you should still spend an hour or two on a self-guided tour of Vernissage. It is the ultimate showcase of Armenian music, national dresses, pottery, and art. If you are a dog lover, you should allocate more time for this tour, as there is an open-air dog market right next to Vernissage.
You should visit Vernissage on Saturday or Sunday, as many sellers don't work during working days.
We hope you are able to squeeze at least a couple of these best tours in Yerevan into your trip.