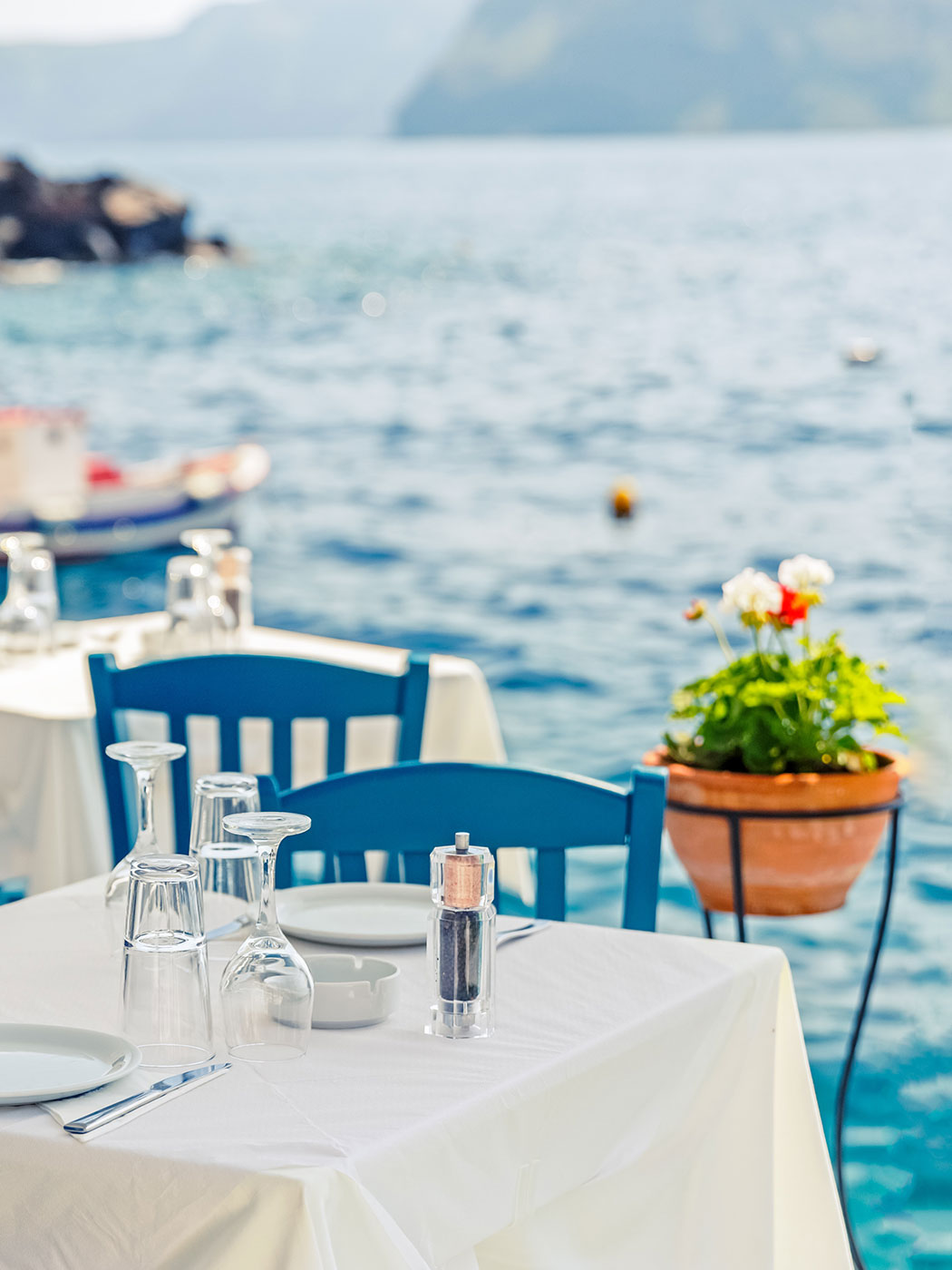 Food You Must Try When You Are in Santorini
Santorini is known for ridiculously scenic views, steep cliffs, picturesque whitewashed buildings, blue skies, sunshine, and the sparkling sea. However – one of the best things about this island is the food.
One of the delights of visiting Santorini is taking the opportunity to sample the delicious Greek food that can be found around every corner of this beautiful island. In the tiny cafes, terraced dining spots and cozy local tavernas you'll find mouthwatering traditional dishes – served up with a smile.
The traditional dishes in Santorini have been passed down for centuries, and these traditions have stayed largely untouched, as the islands are remote and didn't receive a lot of outside influence. The cuisine here relied on migratory fowl, fishing, animal breeding, and local produce such as tomatoes and capers. Although the raw ingredients are simple, the cuisine is sublime. Everything is prepared in a light, skillful way that brings out the natural flavors of the ingredients.
So, what dishes should you try during your travels in Santorini? Hopefully, you brought your appetite, as there are many scrumptious foods that you are going to want to taste during your visit. Here are just a few of the best foods to try while you are in Santorini:
Saganaki

This wonderful and addictive dish is fried cheese, covered with filo pastry and drizzled with honey. When you bite into it, the saltiness of the cheese contrasts with the sweetness of the honey in a way that is difficult to describe. The crisp pastry and the warm, gooey cheese make it irresistible. When you try it once, you'll be fantasizing about it for the rest of your trip until you have it again.
Fava

Fava is probably the most famous and iconic traditional dish in Santorini. You might guess from the name that it is made with fava beans, but it actually contains a puree of yellow split peas. It is a creamy, simple, and comforting dish that is often served heated with lemon and olive oil. It is sometimes also topped with capers and onions.
Fava is rarely the main dish, as it is often served as a side dish or a small meal. You're likely to see it when you are dining meze style, which is where everyone shares a selection of appetizers. It has been a staple of the local cuisine for many centuries, as it is hearty, healthy, filling, and very affordable.
Chlorotyri
Want to try something truly unique to Santorini? This delicious goat cheese can only be found on the island. It is made in small quantities by local producers, and it has a tasty slightly sour but creamy flavor.
It is often mixed in with a salad, so you may be able to taste it if you order a Santorini Salad in a local restaurant. A Santorini Salad is similar to a Greek salad, but it also includes capers. Or, you can also buy the cheese and spread it on bread – it is soft, creamy, and spreadable so this works very well.
White Eggplant
When you see the white eggplant that grows in Santorini, you'll understand how this fruit got its name in the first place. It really does look like big white eggs are growing on the bush. The rare white eggplant grows here due to the volcanic soil, and they have a more intense flavor, a sweeter taste and fewer seeds than the purple version.
Apochti
Another traditional Santorini food that dates back many years, Apochti is a pork loin that has been salted and then placed in vinegar before it is air-dried. To season the pork, a mixture of pepper and cinnamon is added. The seasoning is rubbed into the meat, then left to rest for 6 hours. The meat becomes hard, and it is then sliced and used in a number of recipes.
Tomato Keftedes
The volcanic soil and salty sea breezes on Santorini affect the tomatoes that grow there, making them much more flavourful and aromatic than typical tomatoes. They are truly delicious, and you must try them. One of the ways that the locals love to prepare tomatoes is in Tomato Keftedes, which are small fried tomato fritters. They are bitesize, and they are often offered as an appetizer in most local restaurants.
Yogurt

A typical dessert that you might have at a restaurant in Santorini is a bowl of the local yogurt, topped with honey and sprinkled with a few biscuit crumbs. It might sound really simple, but the yogurt here is top quality. This humble dessert can really impress you with its sweetness and complexity. It keeps you coming back for more.
These are just a few of the most delicious local treats that you must try in Santorini. Of course, there are plenty more to enjoy – so be bold when ordering meals in local restaurants and try something you have never heard of before. It's sure to be tasty, and you might just discover your new favorite food!