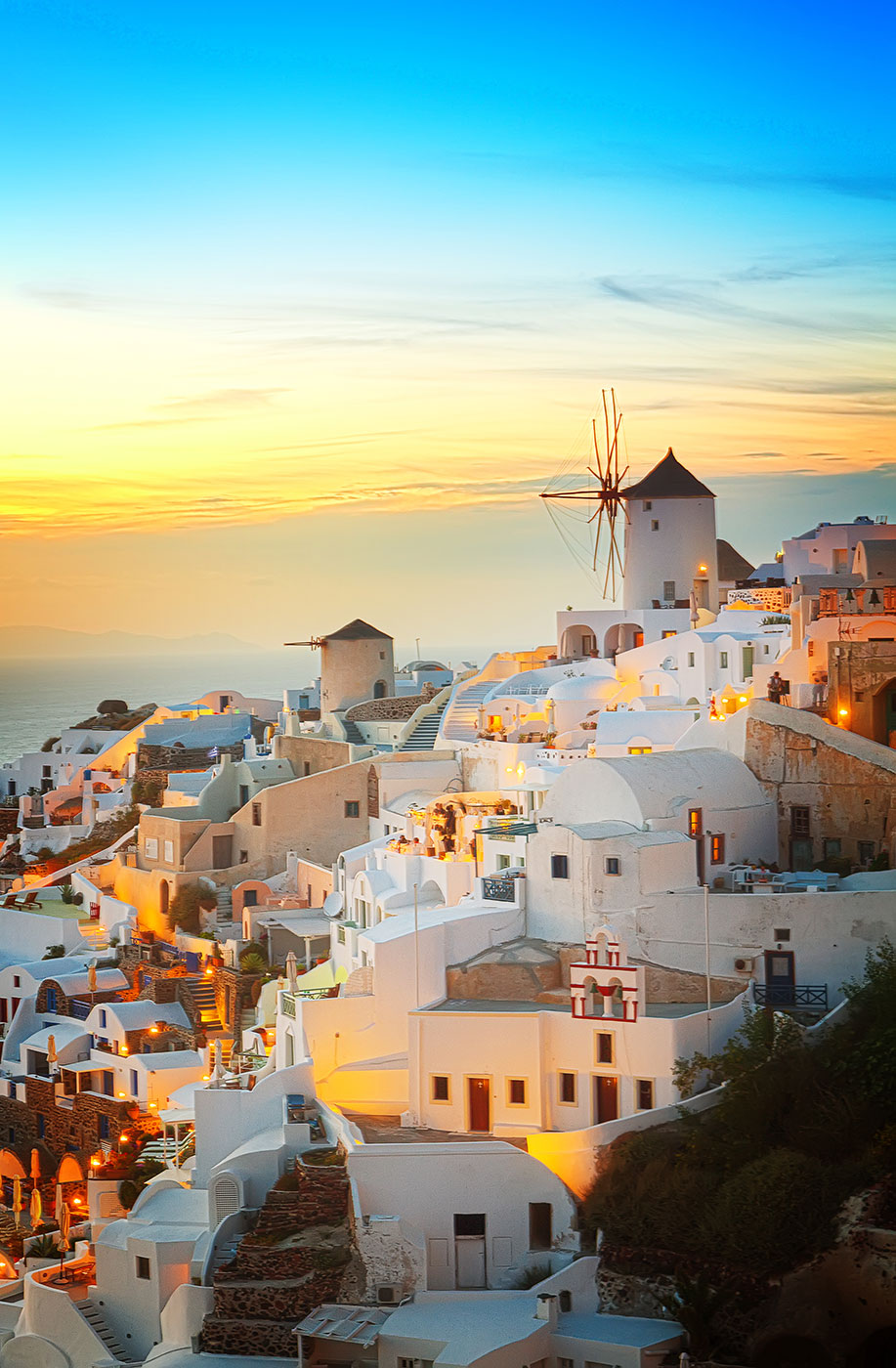 Things to Do in Oia, Santorini
This little village on Santorini is almost too perfect for words.
On the northern tip of Santorini, 12 kilometers from Fira, you'll find a gorgeous little village filled with white-washed houses with colorful doors, infinity pools, and pretty courtyards. Oia has a stunning view of the volcanic caldera, and it caters to tourists with its high-end boutique hotels. It is the most photographed destination on the island, and when you set eyes on it, you will immediately see why.
Wandering around the steep paths and narrow cobblestone streets of Oia is a delight, although the hills can leave you slightly out of breath. You'll find lots of cozy little cafes and tavernas where you can stop for a while and enjoy something to eat or drink.
Although this town is quite touristic, it's not too crowded. It's an oasis of peace and a great place to come to recharge your batteries.
So, if you are planning to come to Oia for a day, how should you spend your time? Here are some tips for spending a day in Oia, Santorini.
Avoid the Donkey Ride and Walk Instead

Donkey rides have been a popular mode of transport for getting to Oia, but they have raised a lot of controversy. Animal welfare organizations are concerned that the trips are too exhausting and that the local donkey owners are mishandling them.
It can be difficult to tell whether or not a donkey owner is mishandling his donkeys, so it is better to avoid them altogether. You can hike up to the village of Oia instead from Ammoudie Bay – it's great exercise.
In fact, if you are up to it, you can walk all the way from Fira to Oia following the scenic footpath along the cliffs above the caldera. If you are coming from Fira, it will take about five hours to walk to Oia - just follow the edge of the caldera and walk south along it. The views along the way are simply stunning. (Of course, if you don't want to walk you can always get a taxi too!)
Do Some Souvenir Shopping
If you want to bring home a gift or a souvenir to remember your time in Santorini, you can browse the many lovely artisanal shops. Some souvenir shops cater to the big tourist crowds and offer the same items that you will find all over Greece.
However, there are also many lovely little independent boutiques that sell local crafts and pottery. If you can find one of these shops, you'll be able to discover something unique, beautiful, and handmade to bring home with you from your trip to Santorini. You may also want to bring home a bottle of locally made Oia wine, as a gift for your loved ones or yourself.
Relax With a Good Book at Baxedes Beach

What about if you simply want a moment of peace where you can lounge in the sunshine and get lost in the pages of a good book? Baxedes Beach is a peaceful black pebbly beach that is much less touristy than others and will give you a great opportunity for solitude.
Many say that the atmosphere at Baxedes beach gives you the impression of what Oia used to be like many years ago before the tourist crowds increased.
Go On a Sailing Tour
One of the most wonderful experiences that you can have while traveling around Santorini is to take a sailing tour across the volcanic caldera. (This is a huge crater in the earth filled with water, caused by a volcanic eruption that shook Santorini 3,600 years ago.)
Several local tour companies offer tours via catamaran and sailboat on the caldera. You'll get to see several of the highlights, including the lighthouse, the beaches, the volcano, and much more. The best time of day to enjoy a cruise is at sunset so that you can watch the amazing colors of the sky.
Watch the Sunset
Oia is known for spectacular sunsets. When the sun sinks into the ocean, it lights up the sky with a beautiful purple and pink hue and makes all of the white buildings glow. Visitors to Santorini come from all around the island to watch the sunset.
One of the most popular spots for sunset watching is the Sunset Serenade point, while some people like to watch the sunset from the Castle of Oia. Make sure that you have plenty of battery and memory space on your camera and that you have your camera set to the right low-light sunset photography settings.
A perfect day in Oia!
After watching the sun slowly set and the colors of the sky fade, you can relax and look back on a truly stunning day spent in beautiful Oia, Santorini.