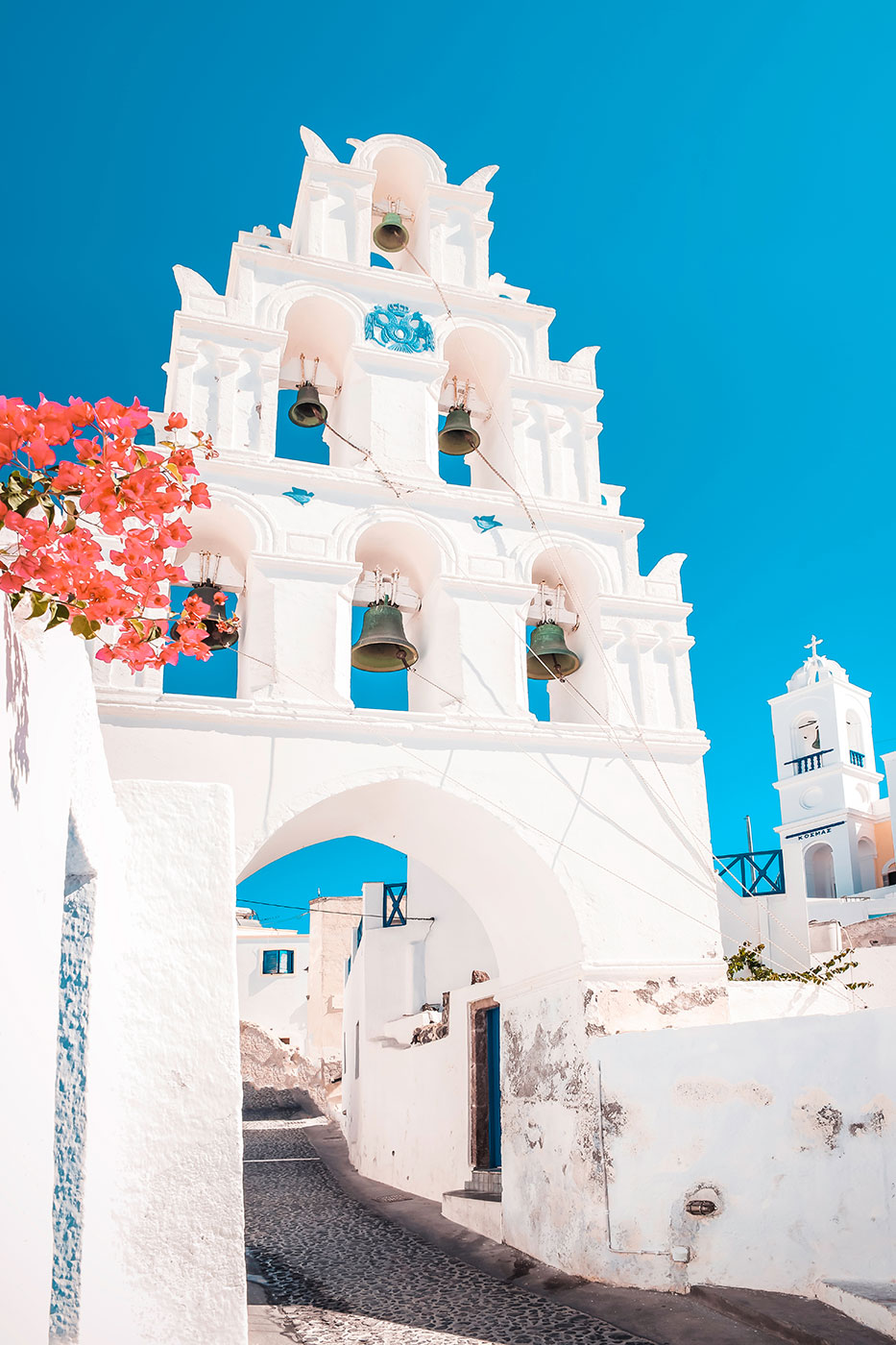 The Best Things to Do in Santorini
Santorini: the Greek island of your dreams.
Black volcanic sand beaches. Cliffs overhanging the brilliant blue sea. White-washed houses glimmering in the sun. It's hard not to be enchanted by the magic of this beautiful island. Staying here for at least a few days is an absolute must when you are traveling in Greece.
For a small island, Santorini is absolutely packed with things to see and do. Make sure that you plan your trip well, as you'll want to have time to do the things that are most important to you – as well as time to relax and soak up the laid-back vibe of the island.
Here are some of the best things that you can look forward to on this gorgeous island:
Go Museum Hopping in Fira
There are several excellent museums to visit in Fira, offering a fascinating glimpse into the history of the region. One of the best museums is the Museum of Prehistoric Thera, which is located near the Orthodox cathedral. It is largely devoted to the Minoan settlement at Akrotiri.
There's also the Archeological Museum, which is located on Ypapandis Street and has many other fascinating artifacts from ancient Thera. You'll find a lot of early Classical pottery, as well as some fine Archaic artifacts, stone heads of lions, and much more. It's also worth visiting the Megaro Gyzi, which is a museum located within the former Catholic archbishopric. Catholics have a long history on Santorini since they first settled at Skaros Castle and they were very important in the local culture of the area.
Chill Out on the Beach
When it comes to beautiful beaches, Santorini has plenty. One of the most pristine is Kamari, but you can also relax at Perivolos which has a beach bar filled with friendly travelers. Akrotiri is a great beach with reddish-purple sand, but it can be quite crowded especially during the high tourist season.
Another great beach is Koloumbos, which has great amenities including sunbeds, umbrellas, and a lovely little taverna. Baxedes is also a relaxing spot, with high quality, clean sand, and clear shallow water perfect for swimming and playing.
Enjoy Winery Tours
Santorini has a wine tradition that dates back many centuries, and many of the local wineries will offer you a chance to visit and taste their delicious wares. The largest and most visited winery in Santorini is Boutari, and it offers several tours per day.
Another great place for wine lovers to visit in Santorini is Venetsanos. This was the first industrial winery in Santorini, established in 1947. When it was built, the island had no electricity, and all of the procedures at the winery had to be hand-done or gravity-assisted.
You may also want to check out Art Space, where the old wine cellars have been converted into the most impressive art gallery in the Cyclades. This beautiful space also includes displays of interesting old distilling and winemaking equipment that dates back to 1830.
Check Out the Caldera
Formed by the enormous volcanic explosion that blew a hole in the center of the island approximately 3,600 years ago, the volcanic caldera is an incredible natural attraction that's an absolute must-see on your visit to Santorini.
This huge hole measures 7 kilometers by 12 kilometers, and it is home to plenty of volcanic activity, including gas emissions and hot springs. Taking a one-day excursion into the caldera by boat is possible. Then, you can take the time to have lunch on Thirassia – a small island located on the west side of the caldera. The views back to Santorini over the water are truly stunning.
Visit Pyrgos
Pyrgos used to be the capital of Santorini before Fira took over in 1800. Pyrgos is a ridiculously scenic little place that is made up of whitewashed cottages, surrounding the picturesque ruins of a medieval hilltop castle. There isn't a lot of activities to do here as it is quite small, but it is certainly worth a visit because the atmosphere and the scenery are so pleasant.
Although it was a sleepy little town in the past, it has grown to become a very popular tourist destination, and high-end travelers now frequent it. It is home to several lovely little restaurants, shops, cafes, and boutique hotels and it is a wonderful place to spend a day trip on Santorini.
These are just a few of the many things that you can do during your visit to Santorini. There are many more things you can do on this island, but you also don't want to cram too much into your trip. Part of the beauty of Santorini is that it has such a peaceful and laid-back vibe.
There are certain days where you will want to simply sit back and do nothing during your trip, other than sip wine and eat delicious Greek food. This is what a vacation to Santorini is all about!