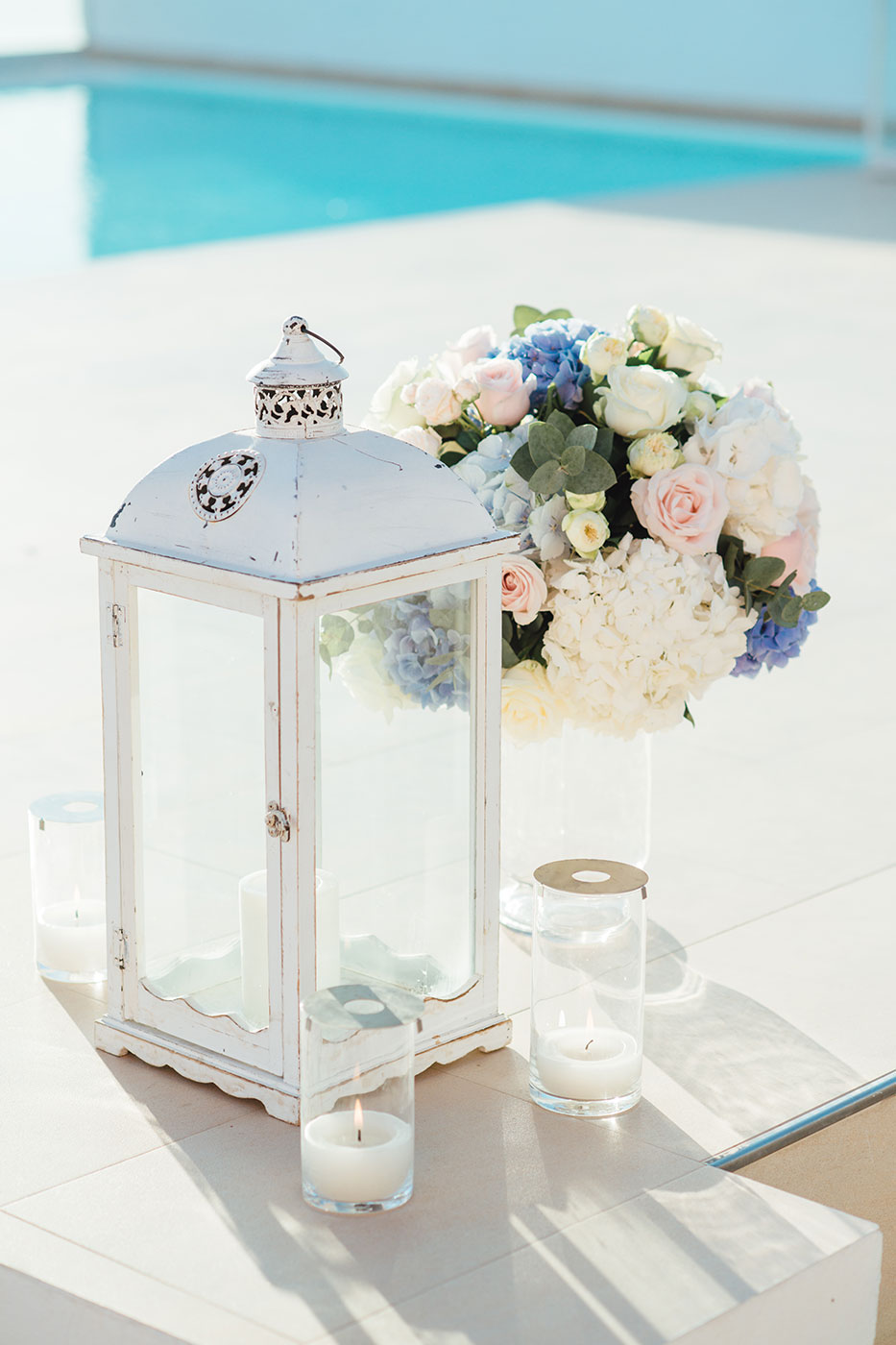 Best Santorini Wedding Venues
Santorini is a picture-perfect Greek island that's ready-made for destination weddings. The bright blue skies, azure Mediterranean sea, and white-washed buildings all contribute to hosting a romantic wedding.
If you plan to celebrate your special day in Santorini, there are a lot of important things that you need to keep in mind. You'll need to take care of a bit of red tape and organization in order to make sure that the wedding is done correctly and that everything goes smoothly.
In order to help you with your wedding planning, here are some helpful tips for your destination wedding in Santorini:
Start Planning Your Wedding Early

Greek culture is not known for being punctual or highly efficient. You might find that the proceedings of planning your wedding move quite slowly, so make sure that you start planning well in advance to give things lots of time to happen. Allow the local wedding venues and vendors lots of time to get back to you.
Give your guests enough time to plan their trip. If they are going to travel to Greece for your wedding, they will need lots of advance planning in order to schedule the time off work and book the best flights.
Hire a Destination Wedding Planner
It's one thing to organize a wedding – it's another thing completely to organize a wedding in a completely different country. You may want to consider hiring a wedding planning expert who has experience planning weddings in Greece.
They will be able to help you with all of the legal paperwork, give you advice on finding the best venue in Santorini, and help you bring all of the aspects of your wedding together on schedule and on budget.
Expect the Unexpected
When you choose to have a wedding in an exotic and beautiful location such as Santorini, there's always the chance that something unexpected will occur - so make sure that you are prepared.
It might rain on your wedding day. Or, the strong winds that Santorini is famous for might start to blow your wedding decorations away. So make sure that you have a backup indoor venue planned so that you can move your wedding somewhere safe.
Consider the Shoulder Season
Most of the weddings in Santorini take place in the summer, as this is the high tourist season on the island and the time of year with the warmest weather. However, if you can plan your wedding for the shoulder seasons of Spring or Autumn, you'll find more affordable prices and fewer crowds.
The weather in Santorini is quite good from any point in late April to the end of October. During this time you will also find it easier to plan transportation options, and you'll have more choice when it comes to wedding venues.
More Santorini Wedding Tips

Create a website for your guests with information on how to get to the wedding venue, recommendations of the best places to stay, where to book flights, and other helpful info.
The website can also have information about your story, how you and your partner met and what this location means for you and why you chose it.
Visit Santorini at least once before you arrive for the wedding so that you can take a look at where you are planning to get married and see the venues you are considering up close. It's not a good idea to book somewhere until you have seen it yourself.
You'll need to take the correct legal steps to get married in Greece and make sure that you have the right documents. Here is a guide to the required documents.
Remember: non-residents are free to marry in Greece. However, if one of the individuals getting married is a resident (but not a citizen) of Greece, they will need to be in possession of a valid "Residence Permit."
Also, be aware that you must publish a wedding notice in one of the local Greek language newspapers a minimum of 8 days before you can apply for a marriage license. The names of the couple must be written phonetically in Greek, not Latin characters.
Make sure that you plan in some time for your guests to really enjoy the island and see what Santorini has to offer. You can book a group tour of the island for your guests, as well as a pamper day at a local spa and a delicious feast at a traditional Greek restaurant.
Consider having live traditional Greek music during your ceremony. It gives a sense of the local culture, and it will really set the mood for your special day.
Hold your wedding ceremony at sunset. The weather will be more pleasant for your guests than if you were holding the event during the middle of the afternoon. Also, the stunning colors of the sunset will make the perfect backdrop for your vows.
Although same-sex marriage has not been legalized in Greece, same-sex civil unions are allowed.