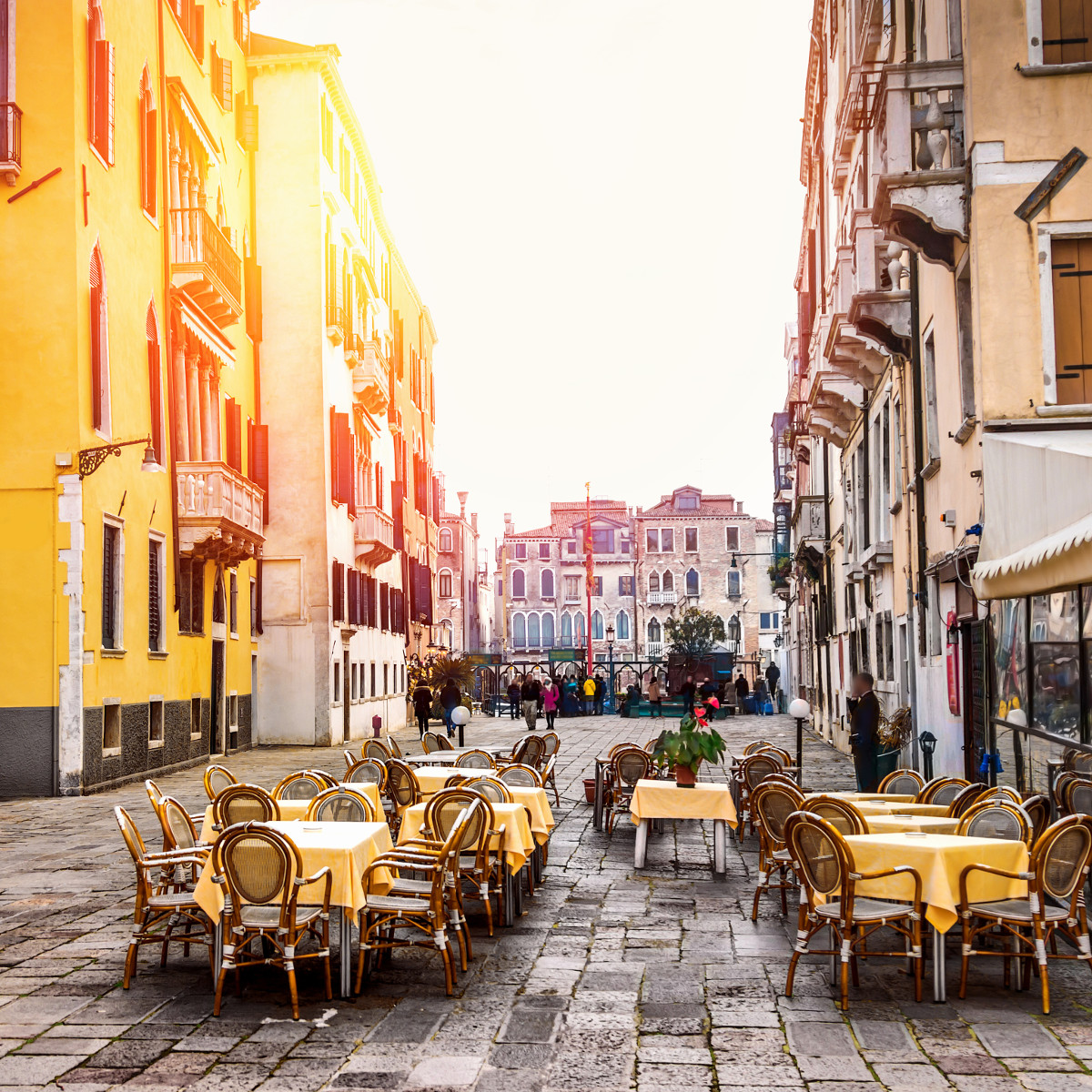 Where to Eat in Venice
To forgo the niceties and cut right to the chase, Venice doesn't have the best of reputations when it comes to food. This is mostly due to expectations people have toward the food in the city that, upon arrival, are not met, thus setting guests in one of the greatest cities on earth up for disappointment.
With a little research and understanding of the region and its cuisine, disappointment can easily be avoided. You just have to know what to eat and where to eat it.
How Venice's Geography Affects its Food
Let's start with the geography. Veneto state is bordered by placid and shimmering lake Garda to the west, Slovenia to the east, the mountains of Austria in the north, and the Adriatic Sea in the south. Set into the coast like a diamond into a crown is the apple of the region's eye, Venice.
As you can see, the landscape of the Veneto, a state named after its most famous city, is rich and varied, just like its cuisine.
You've got dense and meaty mountain fare, fresh and light coastal dishes, and all forms of grains, rice, and corn traditionally eaten in the planes.
While this state gathers many of its influences from the rest of northern Italy and its neighboring nations, its kitchen is rather separate from these, and though an intensely fragrant wind very obviously blows from countries on the old Venetian trade route like Greece and Turkey, Veneto cuisine is Veneto cuisine, full stop. And then we haven't even looked at Venice, a wholly different thing unto itself.
The peculiar Venetian dialect is unique among its brethren, much like its food. This is the north of Italy, so olive oil is left in the dust by its heavier counterpart: butter. And rice is a big deal here, mainly due to the marshlands around Venice being such an ideal soil for rice to grow. The most famous is arborio, a short-grain variety used for risotto. These factors result in Venice eating an unusually heavy diet for a city by the sea, which can be very exciting.
Avoid Anything Overly Touristy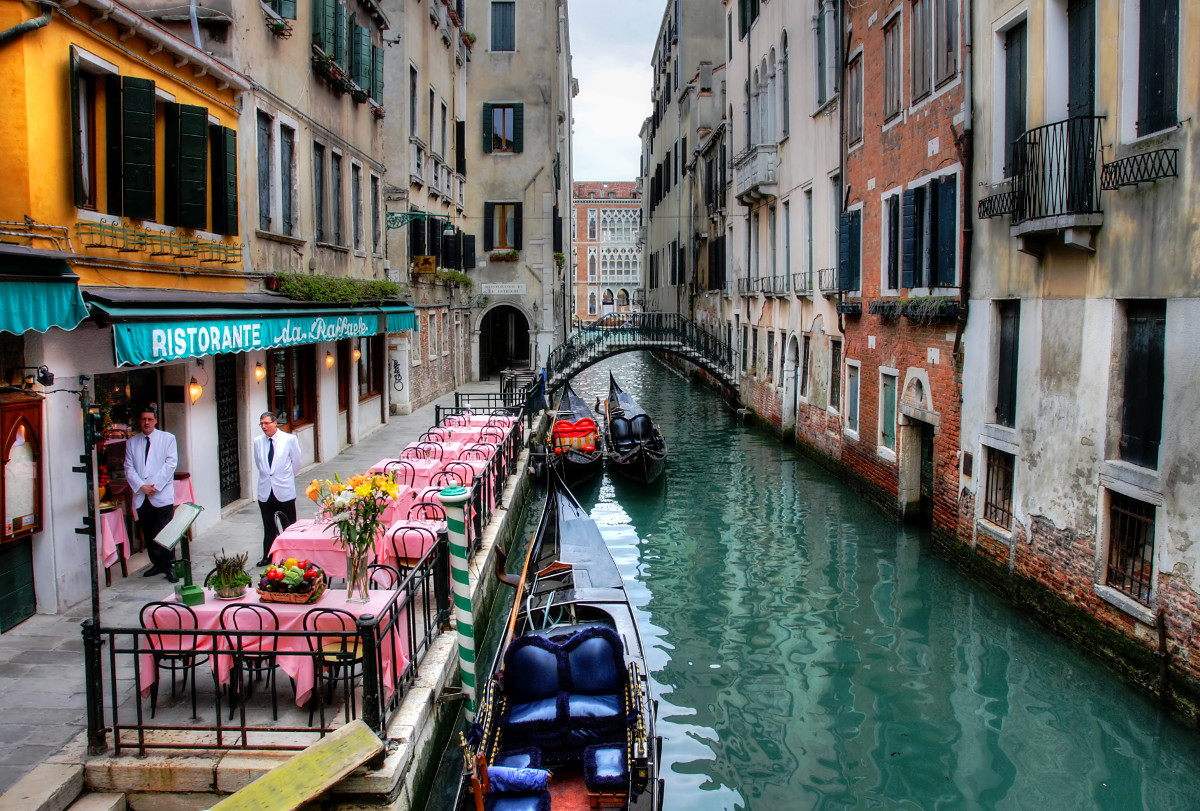 Venice can be a minefield of tourist traps and dangerously inauthentic eateries. There's plenty of great eating to be done, but you've just got to be smart about it.
One vital thing to know is that more important even than where you go is where you don't: those restaurants with waiters in strange, faded uniforms featuring a vest, with body language that is overtly formal and stilted, beckoning you to enter a restaurant that seems all too Italian, somehow: wicker bottle holders suspended from the ceiling, the typical touristy music, a tacky mural maybe, and a name so stereotypical it is almost offensive: Da Giovanni, La Gondola, things like that.
These establishments are the ones to avoid at all costs, unless you're looking for a place to rid you of the most money for the least food which will also, without fail, be horrid. In that case, walk right in and ask the band to play you the tune from the Godfather. If that doesn't sound like you, read on: In this article, we will explore some of the real, must-try Venetian staples and where best to have them.
The Best Restaurants in Venice
Since your first day in La Serenissima will doubtless lead you to San Marco, let us look at your few options to eat well in this area. Now, Italian food is, for most people, synonymous with pizza. This is, of course, no accident, but Venice is no pizza heaven. With any and all new wood fire ovens being banned in the city, the places that serve real pizza are few and far between – which does not mean you can't have one of the best pies on the boot in this town, strange as that may sound.
Rossopomodoro, with outlets in the San Marco area of Venice as well as the neighboring town of Mestre, is one of the very finest pizzerias in the country without a doubt. They even mill their own special flour, so you can bet their attention to detail and pride in their food is not to be questioned. Unfortunately or not, that's really it for pizza in Venice, though this restaurant will make you want to stay faithful either way. Have the margherita, dusted with an ever so thin layer of parmigiano, and forget all other pizza you've ever known before you met this one.
For something much more authentically Venetian, head to Trattoria e Bacaro da Fiore also in San Marco: a nice, easy place that has a Bacaro next door, a bar where you can have cicchetti. What this amounts to is essentially a tapas bar. Cicchetti has all the beauty and convenience of tapas, so you can acquaint yourself with true Venetian flavors in one bite-sized intensive introductory lesson after another, all accompanied by a glass of wine, a product that the Veneto does astonishingly well. Have the sarde in saor, pickled sardines, or try some trippa – tripe –  if you dare, the Venetian version of which gives its south Italian cousins a run for its money.
Cicchetti is small and won't perhaps be a substitute for dinner, but they are the perhaps most quintessentially Venezia experience of all.
If you're out for both quantity and quality, one unmissable gem is the Palazzo Franchetti, a place where 15 bucks buy you an endless supply of delicious food in a buffet arrangement that is anything but reminiscent of the high school cafeteria. In fact, this place is so beautiful it may be filling just to look at the ceiling.
For those days when you're feeling adventurous, there is Dalla Marisa, a place in Cannaregio with no menu where you eat what the lady running the show thinks you should, i.e., what was prepared that day. While this may sound a bit too prescriptive, trust us, you won't be complaining once you have a plate in front of you. This restaurant is not recommended for vegetarians or very picky eaters, obviously, and a sense of adventure is a great companion here, as it is most everywhere in life.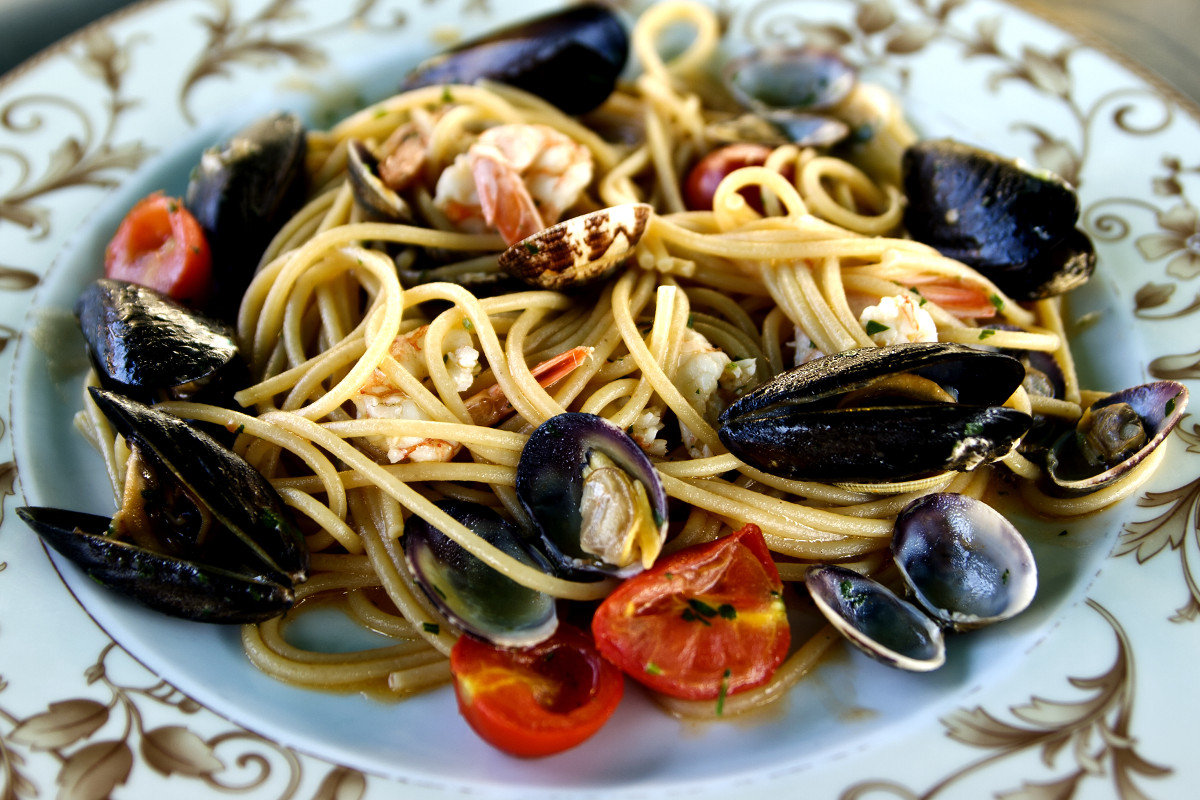 Don't want to go quite that far off the culinary beaten track? L'Anice Stellato, in the same area, is down to earth and simple, but one of the best in town for seafood: do yourself a favor and try some Vermicelli al Nero di Seppia, or pasta dyed charcoal black with the ink of cuttlefish. The name of this essential part of Venetian cuisine is somewhat of a misnomer – the cuttlefish is not a fish at all but a mollusk, like a squid. What is used in the sea to confuse predators is used in cooking to color things with a bit of drama. Don't worry; it doesn't really have a flavor aside from the general salty feel of everything that comes from the sea. A word of warning: seafood and dairy, like cheese, are not generally mixed in Italy, so if your spaghetti alle vongole – clams – come without a grating on top, don't worry – just sprinkle some from the little bowl on the table when you have made sure that no one is looking. You might not need to, though, because spaghetti alle vongole, in its five-ingredient simplicity, is perfect the way it is.
Though Venice is most crazy about fish, the beef carpaccio was invented here at Harry's bar, and originally had mayonnaise on it, something which the rest of Italy pretends to have forgotten for whatever reason. Though Harry's bar is a doubtless essential part of Italian edible tradition, you best avoid it, as little of the past grandeur is left today while the prices have certainly kept up with the times and sailed past them even, demanding Vegas minibar kind of money for simple, uninspired fare. Still, thanks for the carpaccio and the bellini.
For much finer dining with far more reasonable prices, book a table Trattoria Altanella in Giudecca to have an experience worth every hard-earned penny you will have to fork over afterward. Since first established in 1889, this restaurant takes regional classics and reimagines them finer, subtler, and more ethereal, as if seen through tracing paper. Have local classics unchanged, true to tradition, and yet different than ever before.
If you're not feeling the fuss and just want a plate of proper, local meat, Ristorante La Bitta in Dorsoduro is more than worth checking out. The food is rustic, authentic, and fresh. Offal is a specialty, so have the liver if you dare, or try some game meat for something you definitely don't have every day. This restaurant represents a part of Venetian cuisine that is eaten by locals at home but goes largely unnoticed by tourists desperate to have calamari for every meal. Leave them to it and have dinner at La Bitta, feeling the cool mountain air instead of the sea breeze for a wonderful change of scenery, if only in an edible sense.
Also in this area, Pasticceria Tonolo is fantastic for breakfast or dessert. This ancient bakery has a wide variety of sweets that may well be the best in town. You must know, Venice is not huge on dessert. Yes, the tiramisu is a Venetian dish, but we feel it is time to retire it. Other than that, the variety of after-dinner sugary treats is rather modest, so things like dull little cookies take center stage. Tonolo has wonderful coffee, which is no rarity but less obvious than one might think in Venice, and the fritelle, fried dough, are heavenly when fresh and hot, rolled into sugar moments before you roll one into your mouth.
Speaking of ancient establishments: Cantina do Spade in San Polo is one of the oldest eateries in this old city, so old in fact that a certain notorious heartthrob native to Venice used to take his many conquests here to make them swoon. We're not saying you need to be Casanova to eat here, but it certainly may make you feel like you are. This is not to say that the restaurant is exceptional or even very good, but there's something to be said about having a meal at a place that has been around so long, and the food, while not memorable, is certainly not bad.
Visit Rialto Market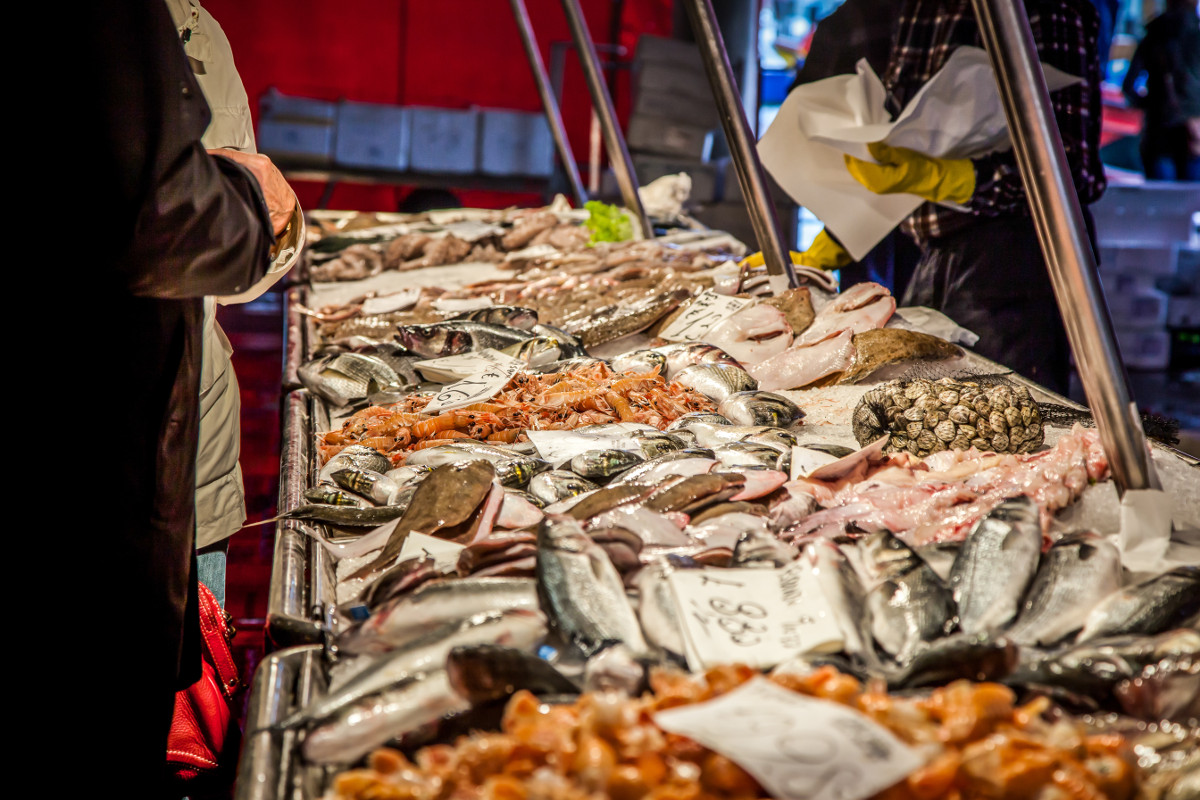 Absolutely anyone who takes eating seriously must make a pilgrimage to the Rialto market. So what if you don't have a kitchen to cook at on your trip – just looking works, too, and there's plenty of stuff to buy that requires no preparation and can be eaten as is, standing by the booth you bought it at. But visiting the market is not just about eating, or at least not directly. It is also a unique window into the soul of the city through its stomach. This is, it must be said, especially true for Venice.
Come here to see what the local fishermen have caught that day, to see what mothers and chefs buy for their kitchens, or what herbs and spices are used in this corner of the world. This should give you a feeling for Venice and learn how to approach it with a fork and knife.
Venice may not be known as the food capital of Italy – it would be entirely ridiculous if it snagged that title, too, along with the hundreds it already has, from most unique to most beautiful – but there is far more to eating here than meets the eye, you just have to find the hidden gems. There is a Venice for tourists, those looking for Kodak moments at every turn, but there is another Venice – that's the one where its residents live, where the water really flows, and where the fascinating cuisine of the city is eaten at dinner tables each and every night. Find that Venice.