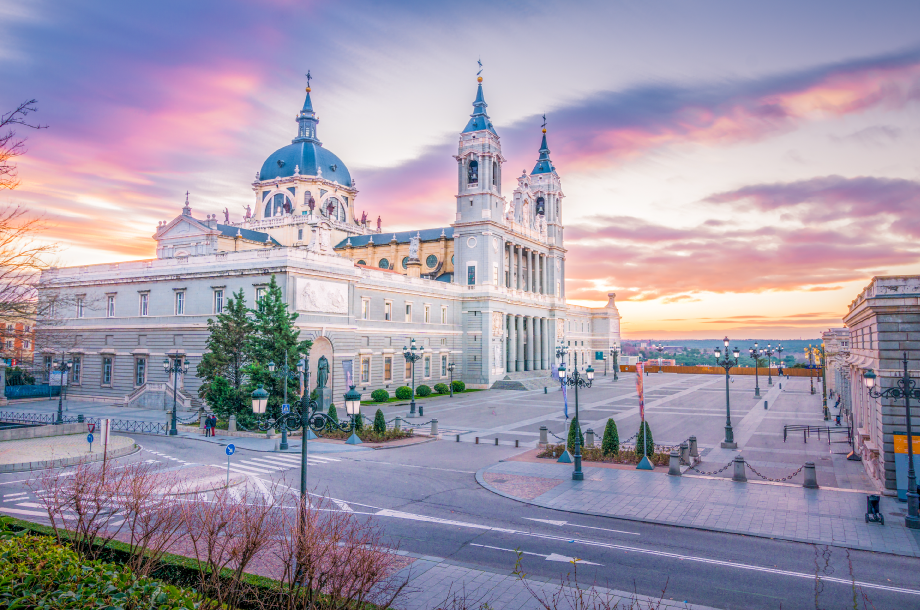 The Best Madrid Photography Locations
Madrid is a city waiting to be photographed. The grand old dame of Spain has plenty of style, the kind won not through conscious effort but experience: a past dotted with rich conquests, unapologetic fun, and haute culture. Madrid wears many hats, and they all look great on her: she is at once a cultural capital, a student town, the seat of power former and current, a historical landmark, a gallery town, and a vibrant entertainment city. This is one of those capitals that even people who are bad at capitals know without having to dig around for the answer. Estonia? Maybe not. Brazil? Not what you think it is. Bangladesh? Not quite sure. But Spain is connected in everyone's mind with its largest city on the hill, Madrid.
So you've decided to go and finally visit the largest, most populous and arguably most exciting city in Spain. How do you go about getting to know it? The short and simple answer is: you take pictures. There is nothing that builds a relationship with a city faster than taking a camera and wandering the streets, looking for targets. Whether that be buildings, statues, people, parks, animals, or a particularly handsome wheel of cheese in a delicatessen's window: that search for an image worth capturing makes you more aware, or lets you be in the moment, as they love to say in self-help books.
You best pack your camera bag and start exploring. This conveniently frees you from the pressure of having to have a plan. What better way to find those special shots than to get lost on purpose? Why tie yourself down to any one thing to do when you can just let the spirit move you down this road or that?
Even things as ordinary as a morning coffee can get exciting. With a camera in tow, you see the customers, the tables, and the view from the window in a different light, as if by magic. In this article, we will be going through some of the most worthwhile, iconic shots in Madrid without relying only on the usual suspects. You won't find the Prado or the Plaza Mayor on this list, but you will find a mix of well-known locations and offbeat choices.
With this, what we aim to encourage more than taking stock images of the places below is for you to keep your eyes open along your way. Many of the most authentic things about a city lie waiting, hidden in the details: it is not just the Eiffel Tower that is a monument to Paris but also the French girl in a patisserie. Similarly, Madrid has a lot hidden in its side streets, balconies, underpasses, and doorways. Look for those things as you make your way through your borrowed city to get to know it like you would a new friend. And now, for a list of landmarks to serve as a starting point to your photographic friendship, read on.
Almudena Cathedral

To start off with something every photographer is bound to appreciate, this glorious cathedral of graphite grey is simply perfect for black and white shots. If you've got the time, the rooftop of the cathedral is accessible to one and all and has some great views of the city and its many buildings stretching far into the distance. The seat of the Archdiocese of Madrid, the interiors of this neoclassical cathedral are unlike any other you've seen: so strikingly modern and in parts even quirky that it's certainly recommended you take a look inside as well. In case you're wondering about the unusual design choices of the seemingly ancient Almudena, it might be useful to know that the church wasn't completed until 1993 when it was consecrated by Pope John Paul. The '90s were, of course, a colorful time, and since the Catholic Church isn't known for understated decor, the result is truly astonishing. All that there is left to say is that entering this cathedral demands a switch to color.
Bear and Tree at Puerta del Sol

Originally marking the gates of the city, Puerta del Sol saw Madrid rise up all around it and is the location of the km 0, the stone from which all Spanish roads are measured. In this square, you will find a statue of a bear reaching up toward the crown of a tree. This is the coat of arms of the Spanish capital, and the bear is a photo favorite. Though the monument is worth the short trip from Plaza Mayor in itself, this square has another significant Madrid landmark: the clock tower. When its bells ring out on New Year's Eve, the grape eating tradition famous as a Spanish custom around the world commences: you eat twelve single grapes, one at every strike of the bell, for a whole year of good luck and prosperity. This tradition started here is now practiced in Hispanic cultures around the world.
Temple of Debod
This Egyptian temple is a must-see for every visitor and is such an easy target for photography; you really can't mess up unless you forget to remove the lens cover. Ancient stone structures mirrored by water in the soft glow of sunset or dramatic illumination of the night: there's nothing quite like it.
This Egyptian temple dates back to 200 B.C. It was given to Spain as a gift, and we think the discordance with its surroundings is just enticing enough to make it even more picture-worthy. This temple is the only one of its kind and the only entire ancient religious structure gifted in its entirety to another nation. The cultural reference is certainly a bonus to this already breathtaking picture.
Royal Palace

Though the royal family of Spain technically does not reside in this palace, it still looks royal enough for photos. These erstwhile royal living quarters are massive – one of the largest in Europe – and ornate enough even on the outside to carry off gentle, barely colored low-saturation pictures. The wrought-iron gates, statues, golden embellishments, and soft-toned stone facade look almost like a doll house. If you don't mind the short walk, a wonderful shot of the palace can be taken from Jardines de Sabatini, an adjacent park that frames the building in green and reflects it back into your photo from the surface of its lake. Even if the king and queen don't live in the palace, what does is the only complete Stradivarius string quartet and a whole bunch of famous art, from Spanish through everything else.
Mercado de San Miguel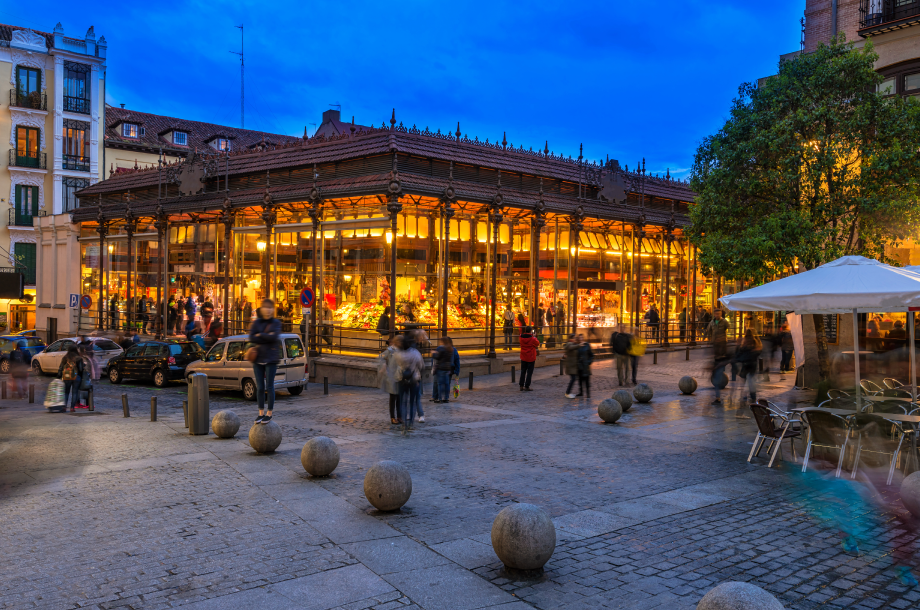 If you think this market looks great from the outside, wait till you see what fills the halls! This market is the place to be for photographers who like to eat and take pictures while doing it. If you are the kind of person who relishes filling albums with grainy, high contrast pictures of scrumptious food of all kinds (and why wouldn't you be?), Mercado de San Miguel is calling your name. Around the corner from Plaza Mayor, this market has everything snap-worthy: mountains of oranges, cured meats hanging from a stall window, innovative tapas and wine bars, giant jars of olives and people in a foodie haze wandering the halls contemplating whether they can stop for just one more thing. Another great spot to arrange a food-themed shoot is Sobrino de Botin, the world's oldest restaurant in constant operation; here, everything from the waiters through portion sizes to the interior speaks of the long, long years this eatery has stood at this very same place, serving authentic Spanish cuisine.
Circulo de Bellas Artes
From food to drink: Head to the rooftop bar on top of this cultural center or pick another of the many, many options all around town, but take your camera along wherever you decide to have your sundown tipple. While rooftop bars have fortunately become massively popular in Madrid, we want to recommend this particular one because it hits all the spots: great cocktails, great view, amazing interiors, and an interesting crowd. In fact, the way up to the bar is littered with gorgeous art deco stairways, lighting, and doorways for you to frame. The building is simply ravishing inside and out, and the rooftop affords some of the very best views in town.
Calle Gran Via
The most iconic avenue of Madrid shows the city in her best light: that of an exciting, worldly and fun person with all sorts of secrets and incredible stories to tell, taking her rightful place in the center of attention where she belongs. Glittering boutiques, funky little shops, glamorous theaters and dingy comedy clubs, fine dining, and fast food joints – all side by side, packed into one dizzyingly attractive package.
Who hasn't seen a picture of the famous Schweppes building and the cars passing underneath? Gran Via has recently had a revamp to make it more pedestrian friendly, though the wider sidewalks and narrower car lanes do not change much of its original flair, and arguably make it better to navigate and to look at, in real life or later through your holiday album.
If you're looking for something more laid back, head to Paseo del Prado on Sunday. Rendered pedestrian for the last day of the week, this stretch from Plaza de Cibeles to the Plaza de Atocha is a wonderful spot for an afternoon walk and the wide roads flanked by trees on either side make a great frame for whatever you happen to come across on your way. Too wide and long to ever be truly crowded, Paseo del Prado is the best option for a languid, relaxed stroll on any given Sunday.
Atocha Train Station Rainforest
Yes, you read that right. One part of the building that is still very recognizable as a train station now houses thousands of plants, from local to exotic. Flora from near and far – we mean Australia far – provide a fun change of scene for visitors as well as a home for turtles. The composition is so unusual; you simply must get a shot of the domed station ceilings framing a bit of wild nature.
Great for detailed shots of sturdy steel pillars and delicately veined leaves, Atocha station is bound to fascinate. Besides the indoor jungle, Atocha is famous for two things: one, it was the first railway station inaugurated in the city; and two, it was the site of the 2004 terrorist attacks that shook the nation. Today, there is a shrine dedicated to the victims: a large cylinder inscribed with messages looms above empty blue space. Using the inside of this memorial as a photo-op may not be appropriate, but seeing it to show your support to the people of this great city after what remains the deadliest terrorist attack in Europe to this day is certainly recommended. Plus, the giant installation is visible from many places of the neighborhood surrounding Atocha, so you can get creative.
Cuatro Torres: The Financial District
European capitals tend not to be built as vertically as US cities. This is also a fair part of the charm the old world exudes on people from more recent, faster-growing economies like America or Asia. But some cities, like London and Frankfurt, are catching up, and so is Madrid. You may or may not like the modernization of Europe, but the budding evolution makes for an interesting contrast. The financial district of the Spanish capital has a number of skyscrapers that look great in detailed, close-up shots as well as from afar, with a backdrop of the hills surrounding Madrid. The Cuatro Torres is named after four of the tallest ones, each over 40 floors and some almost 60-stories tall. Such skylines are a rarity in Europe. The financial district is otherwise not much to write home about, as those tend to be, so you can choose to drop by for some industrial, glass-and-metal pictures quickly, or take some sunset skyline shots from further away.
Cava Baja
This little street is as narrow as it is exciting: an alley famous for the variety of tapas bars that dot it, you can't go wrong with an evening spent here. Spanish people are famously welcoming, kind, and open-hearted, so you can be sure to get some locals to feature in your photo story about the Movida Madrilena. Apartment buildings squished together in pastel colors, cobblestone, and every kind of place you could find elsewhere in the city, from swanky, cool bar to tiled-walls tavern: Cava Baja is like a condensed version of not only Madrid but all of Spain. This street is ideal for convivial, typically Spanish images. While the noise Spaniards make while having fun might be missing from your photos when you look at them later, the warmth created by the buzz will be felt in those images.
Madrid is a metropolis, and as such comes with all the things other metropolises offer, though it manages to cram all that hustle and bustle into a manageable size. This makes it an ideal destination for those who travel to Madrid to take pictures, and the city will get even the most reluctant Ansel Adams in the making to get his or her phone out for a photo.