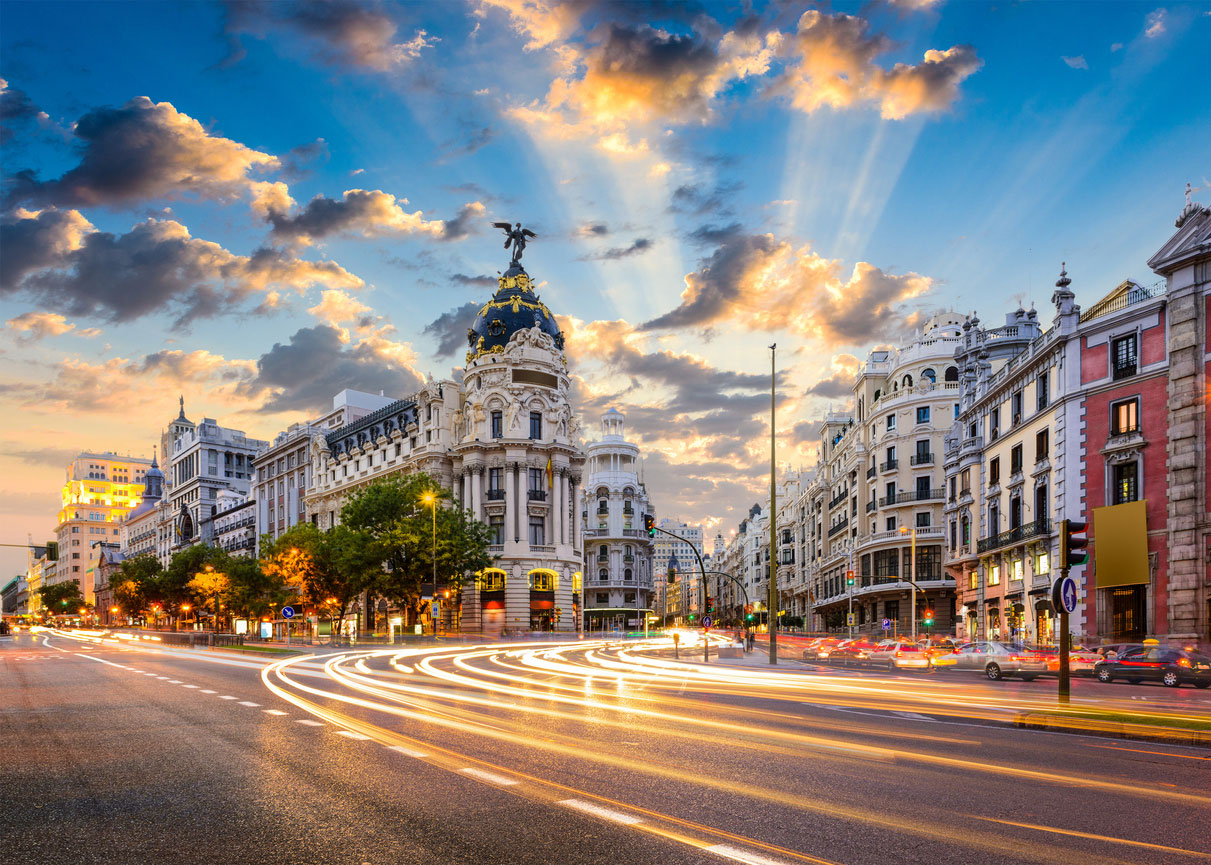 Madrid
Set right into the center of Spain, the capital city of Madrid was once the seat of the most significant colonizing powers in the world: the Spanish Empire. Those days may have passed, but Madrid still retains the regal air of a city from which nearly half the world was controlled. Whether it is by its architecture, sweeping avenues, or significant art collection: you can tell that this is where history happened. Madrid has since become one of the trendiest cities in Europe, and leads the way in Spanish innovation, from cinema to fine dining. Stay up late to discover Madrid at night and get up early for a tour of its museums. In Europe, Madrid is the city that never sleeps.

Culture
Madrid houses one of the finest collections of art in the world in a glorious building: the Prado. Gentle pastel walls showcase the very best of Spanish art, from Goya to Velazquez, in a layout that is somewhat typical of Spanish fashion, somewhat confusing to walk through. Then, you've got the modern Reina Sofia museum with pieces by artists like Salvador Dali, Picasso's masterwork, Guernica, or the Thyssen-Bornemisza, a more international collection somewhere between the two museums mentioned. If you prefer something with a dress code, Madrid also happens to have two of the most beautiful locales to see classical opera in Europe, which essentially means the world: Teatro Real, home of the Madrid Symphony orchestra, and Auditorio Nacional de Musica, where you can catch the Spanish National Orchestra when they aren't on the road.
Food
If you're more into combined experiences, the first pang of hunger should send you straight to Platea, a dining event like no other. This place that was once a theater and now functions as a multi-level food hall with a fancy twist: have tapas downstairs, or a Michelin starred dinner upstairs. Speaking of Michelin stars: Madrid has a number of those, with many restaurants holding multiple of the highest prizes in haute cuisine. Visit one of those if you've got a handsome budget to spend on a meal that resembles a sculpture of modern art than food. You can also go to any of the markets for lunch to have fresh seafood, delivered from the coast daily.
Entertainment
As we've mentioned, Madrid also knows how to spend a fun night on the town. Speakeasies, swanky bars, places that specialize in one kind of drink, a street festival, a smattering of clubs with their distinguished clientele, or the crowded haunts of the hoi polloi. If you can't decide on a place, there is always a street festival or a parade to get swept up in. And that's not to mention the shopping, which is famously beautiful in the Spanish capital, and not just in the flagship El Corte Ingles, the largest department store chain in Europe and third largest in the world.