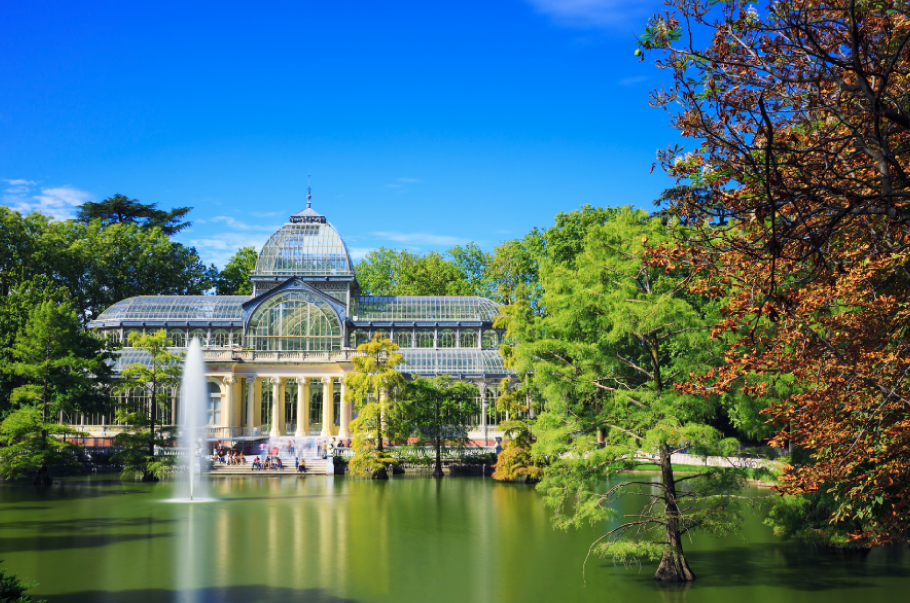 Things to do in Madrid
Madrid may not have the laidback vibe of Barcelona, but it is the clear winner when it comes to inspiring awe: it is unmistakably recognizable as the erstwhile seat of Spanish power.
The Spanish empire, as everyone will remember from history class, was a force to be reckoned with. They financed, among many other things, a little cruise undertaken by an Italian man called Christopher Columbus, which was to become the reason America is called America today. From the late 15th century to the 19th, Spain hoisted the flag of their monarchy in countless places the world over, rendering territories across Europe, Asia, and the Americas subject to the royal family of Spain. Half of what today constitutes the U.S. was under Spanish domain at one time, as well. One result of such aggressive colonization is that close to six percent of the world's population speak Spanish as a first language. It is no wonder, then, that the Spanish empire was known as the one on which the sun never set: it was so large that a new day dawned in one part of it before it ended in another.
The sun has since set on Spain as a massive colonizing power, and their borders have shrunk to a nation still quite large though no longer immense, situated between Portugal and France. And in a strategically puzzling location almost exactly in the middle of this country is the capital city of Madrid.
So much history may overwhelm you, but while Madrid is twice the size of Spain's second city, Barcelona, it still feels quite manageable to see it all, even on a shorter visit. While not quite as pedestrian-friendly as the Catalan capital, Madrid is still a wonderful walking city. Days are warm almost all year round and can get scorching, but there's nothing to keep you from a late afternoon stroll through the barrios of the city even in the summer. Take a tour around historic Sol, flirty Chueca, majestic Retiro, or cool Malasana and see the many different parts of the diorama that is the intoxicating city of Madrid.
In this article, we will go through some of the unmissable highlights in town as well as mention some things that other guidebooks may forsake in favor of more popular spots. With this, we want to try to show you the Madrid any tourist must see – the one found in its museums, parks, and squares – but also show you a side to the city concealed from visitors: the Madrid of the Madrilenos, the real city – flaws and lots of magic included.
The Prado
 Though it is customary to save the best for last, we couldn't help but start this list off with the magnificent, ravishing Prado. This museum is one of the most famous in the world, and one of the most beautiful examples of things working together to form one perfect whole. The art, the whole incredible mass of it, is gorgeous, as are the lights and the hues on the wall: an almost oily olive in the long hall providing a fittingly somber backdrop for those giant paintings in those giant frames, or an opaque yet vibrant tomato red that complements perfectly the tender white of marble statues. We should mention, though it may go without saying, that the Prado is massive, and really asks for multiple days to be fully discovered. But even if you don't have that much time, this museum is worth spending an afternoon in. Spread over three levels with an unnecessarily complicated floor plan, the Prado has everything from Goya to Velazquez and a whole lot more. Thousands of paintings form part of the ever-changing rotation that graces the walls of the arguably best museum in the world. So great is the Prado, in fact, that we dare say even those people who can't stand museums can be converted here.
Calle Ponzano
Come for dinner, stay for the night. Just ask a local: Calle Ponzano is Madrid's coolest street. As it is filled with restaurants, bars, clubs and a variety of strange, unusual, and fascinating places, it is the place to be after sundown. In Calle Ponzano, it is easy to feel that you've landed in a metropolis, though that's not because this street is particularly grand. There are no neon signs, billboards flashing, or high-rises reaching into the sky. But there is a buzz, created by the people from all walks of life coming out to play, spilling out into the streets from the places lining both sides of the street. There are tapas bars, Mexican restaurants, beer joints, wine bodegas, bakeries, vermouth bars, and a whole lot more. This place is so trendy that it even has its own hashtag. Go see for yourself.
Temple of Debod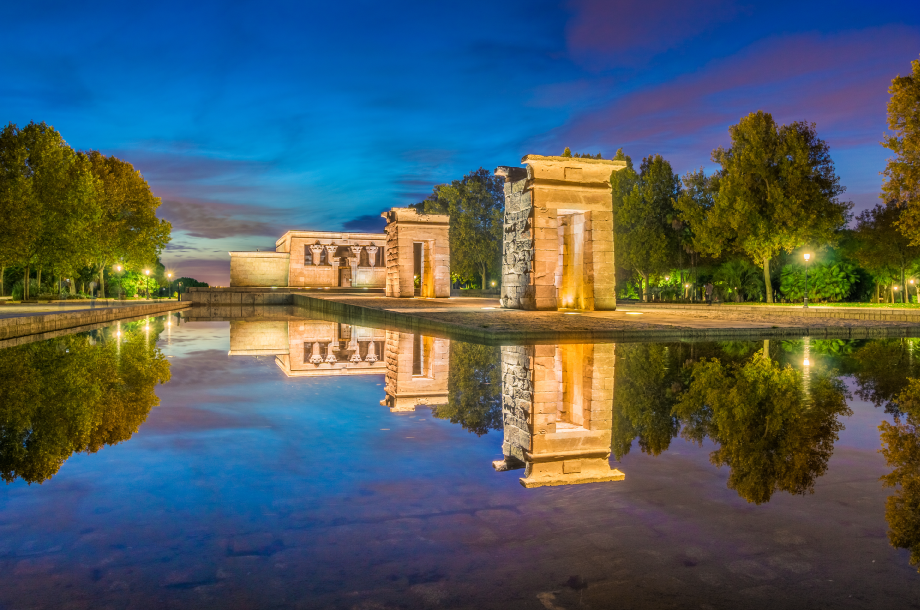 This ancient Egyptian structure was originally found in Egypt, rather unsurprisingly. It was donated to Spain as a sign of gratitude and rebuilt in Madrid in the early 70s. It can be seen in Parque del Oeste, although in a slightly different formation than the original. This temple dates back to the second century B.C. and is one in a very small number of Egyptian monuments found outside the borders of the ancient nation. Originally built as a temple to the gods Amun and Isis, its relocation has doubtless stripped it of some of that spiritual significance, but there is something wonderful about the story of the temple of Debod being gifted to Madrid because Spain came to Egypt's aid and was remunerated with this exceptional monument. Especially fascinating in the early evening hours, the water around the temples mirrors its surroundings for a wonderfully serene feel.
El Rastro Madrid
 Opinions are divided on El Rastro, with many locals turning their noses up at the reportedly largest flea market in Europe. And truthfully, it is a tourist magnet of incredible popularity, which has certainly drawn vendors to sell things no sane person would buy outside of a holiday-induced buying frenzy. This does make El Rastro the most touristy entry on the list, where Madrid fridge magnets fight for shelf space next to mugs with funny slogans. And still, somehow, this flea market held every Sunday has something about it. Plus, if you're not keen on the dime-a-dozen souvenirs, you can check out the antiques in the stores surrounding El Rastro, also open on Sunday and perhaps a touch more enticing.
Chueca
A bustling spot in the beating heart of Madrid, Chueca fizzes with excitement at all hours of the day. The headquarters of Madrid's LGBT community, these streets are filled with joy especially during pride week, when locals host a famous festival to honor the achievements of their community. Over its long history, Spain has flip-flopped on this particular matter of personal freedom, being strict and intolerant at times and then, at others, very accepting of people regardless of their orientation. The first same-sex marriage actually took place in 1901, when two Spanish women tied the knot. Spain was counted among the first few nations to legalize same-sex marriage (again) in 2005, 10 years before the U.S. made it official. Whether to celebrate this occasion or any other, head down to Chueca late on a Saturday and dance the night away to Diana Ross, just because you can.
Parque del Buen Retiro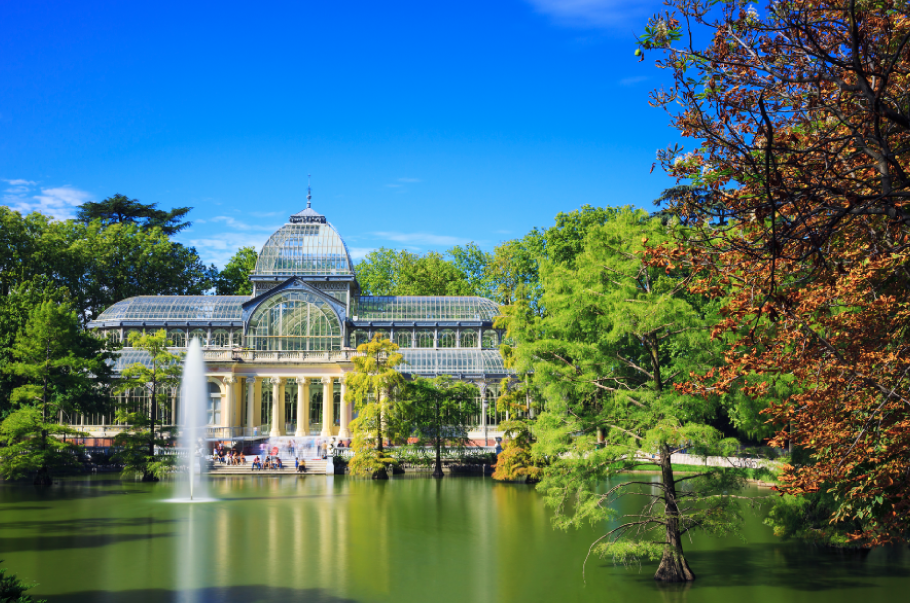 The Madrileno's favorite park, Parque del Buen Retiro is not just any old park. Even if you wouldn't otherwise make time in your busy sightseeing schedule to see a park that is most likely just like all the others you've seen, we strongly urge to give the Buen Retiro a try. Spread over 350 acres, this park has lakes, statues, and an endlessly romantic rose garden. But the two most notable things are the crystal palace and the fountain of the fallen angel. The latter is the only known depiction of the devil, fallen from grace when he was cast from his spot in heaven. The statue of the expelled angel may feel blasphemous to some, but we say it is ultimately worth seeing.
The Palacio de Cristal is perhaps less unique, but just as worthy of your attention. If you've seen the Crystal Palace in London or the Grand Palais in Paris, this smaller Madrid version might not feel like something to write home about, but if you haven't, the Palacio de Cristal will be a joy to behold. Imagine a building made almost entirely of glass, with panes of varying size held up by a steel grid. The inside is occupied by different exhibitions all year round and the afternoon light (and temperature) is particularly kind to this gorgeous edifice. Aside from these things, the Parque del Buen Retiro is a wonderful place for a picnic after your visit to the nearby Prado.
Caixa Forum
 Serving as both a museum and cultural center, the Caixa Forum is so modern and so Spanish, it could only be located in Madrid. From the foliage of the vertical garden through stucco, wood paneling, or exposed brick, textures abound on the exterior of the edifice, while inside it's all sleek, modern lines. There is a Caixa Forum in Barcelona as well, with a wholly different design feel but similar mission and concept, which is to bring people together over a common cause. The one in Madrid hosts an incredible variety of programs, exhibitions, and workshops for young and old, and coming down to hang out with artistically engaged locals is something you might want to do if you're looking for a holiday outside of the box.
Plaza Mayor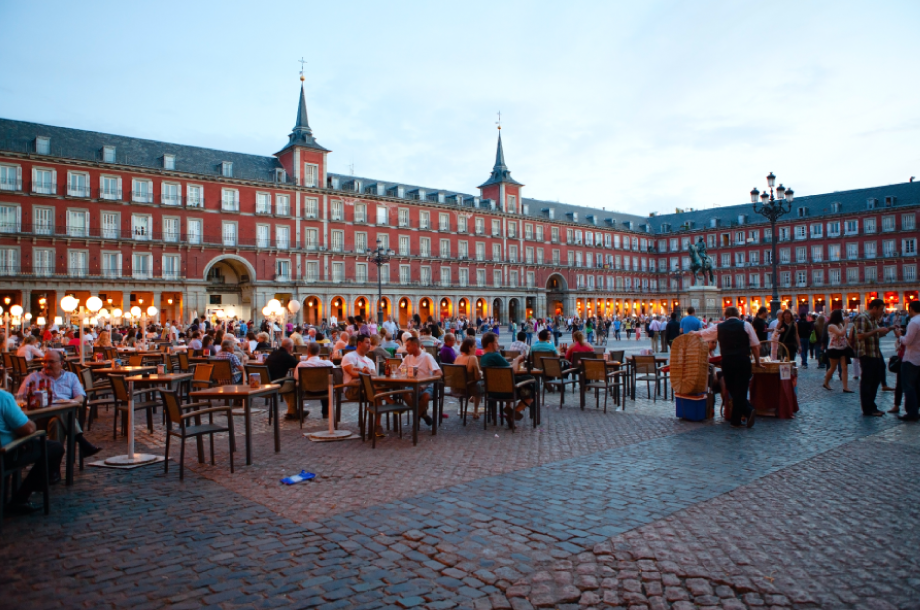 You really can't visit Madrid without setting foot on the cobblestone of Plaza Mayor, even if only accidentally. From languid summer evenings spent watching the city walk by, to sipping mulled wine at the Christmas market, Plaza Mayor is the center of town and Madrid's heart. Take a respite from the heat underneath the earth-toned arches or get from one side of the city to the other by traversing this most famous square. Guarded by a monolithic statue of Philip III mounted on his trusted steed, this massive square measures 308 by 423 feet. Come here to see Madrid busy by day and even busier by night: there's no place like the most famous square to get a feel for this unique city and its charming people.
Museo Thyssen-Bornemisza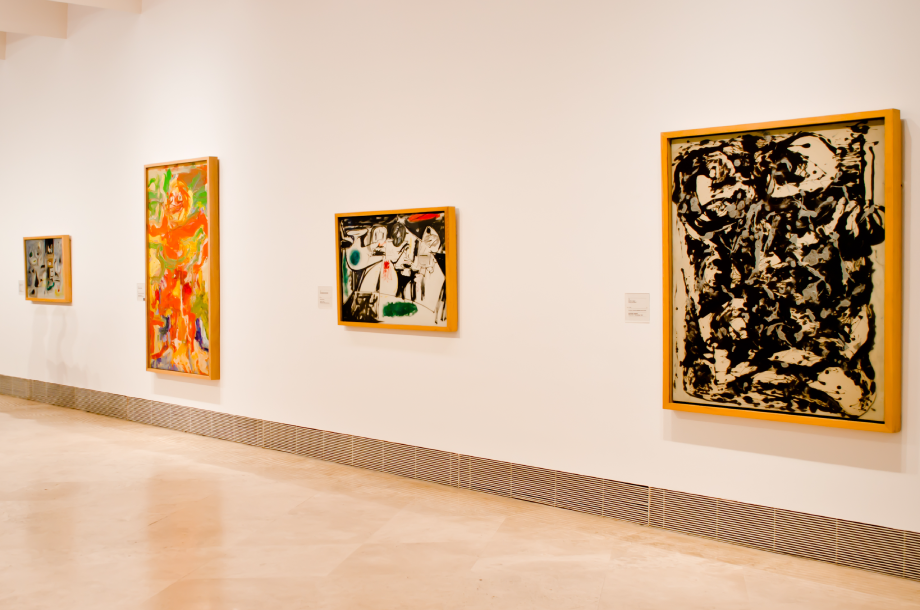 Where the Prado feels more like you're reading biographies of a select few artists, giving you a chance to trace their creative evolution, the Thyssen is a glossy magazine with a large number of artists represented by one or two works. This museum houses what was once the second largest private collection after the British Royal collection and boasts an incredible mix of art by masters as diverse as Cezanne, Caravaggio or Vincent van Gogh. Just remember not to go looking for Picasso's Guernica at the Thyssen or the Prado, because that masterwork is at the Reina Sofia, another incredible museum worth every penny. Speaking of which …
The Guernica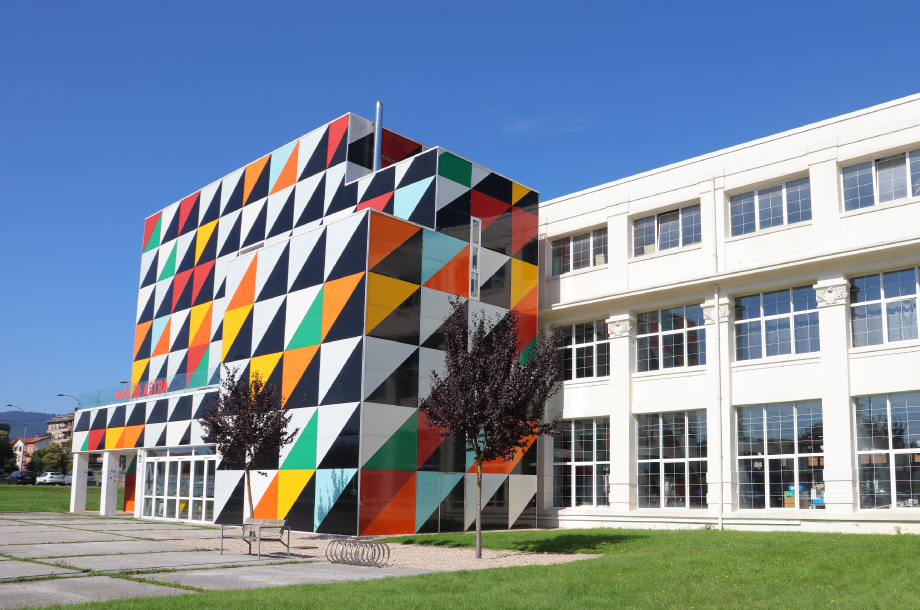 The Prado may have come first on our list, and well-deservedly, but the last spot is reserved for something else. A piece of art, not even a museum. Yes, sure, the painting is at a museum, but this is about that specific wall within one of the most-visited museums in Spain. The painting in question is, of course, the Guernica, as the title says. Even if you haven't seen it and have no idea what it looks like, you will have heard the word. The Guernica is mentioned in songs, films, books, in conversations about art, and about anything else: it is quite simply one of the best-known paintings.
The painting is not only well-noted, but it is also one of the best. The Guernica is eleven feet tall, twenty-five feet wide and uses only three colors: black, white, and gray. It depicts the suffering of beings both animal and human, due to that second war that shook the 20th century. Out of that misery grew one of the most important reminders that we're all in this together.
So really, your choices to spend some time in Madrid are endless, and each activity comes with its own unique reward. But as everyone knows, what is fascinating about Spain is not something you can touch, see, or even eat: it is a feeling; an aliveness, if you will, of the spirit that moves everything in Spain to be so very … Spanish.