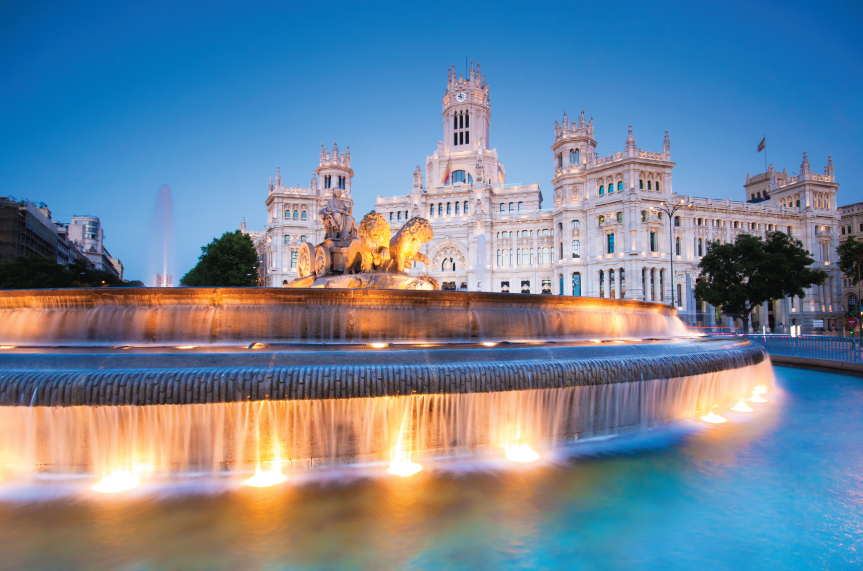 Where to stay in Madrid, Spain?
The list of people who have called Madrid home reads like a tabloid magazine you've got hidden in your textbook in history class: Penelope Cruz, Enrique Iglesias, Ernest Hemingway, Luis Bunuel, Pablo Picasso … we could go on and on, but this article is not about them; it's about you and your next visit to Madrid. You've finally decided to visit, the only thing you're not sure about is where to stay. That's understandable. Madrid is not only large but also packs a lot into an already respectable size. Choosing the right part of town can become vitally important as the experience of a city is colored so much by where within it you choose to stay.
There are practical things to consider, of course. What makes a part of town ideal for one person may be a disqualifying thing for another. Especially if you're traveling with children or a group, some areas just won't cut it. But really, selecting an area to stay should be about what you want out of your holiday. Are you the museum check-list type? No better place than the center. Want to get down with the locals? Anywhere but downtown will be great. What's difficult about choosing an area you haven't been to is the unknown. That's where we come in: we picked out the most interesting parts of town for you, making sure to show you a balanced combination of options so that you can find your temporary home in Madrid. And that's easier than you think because while the Spanish capital is quite an imposing presence, it has a seductive way of making you feel welcome right away.
Centro/Sol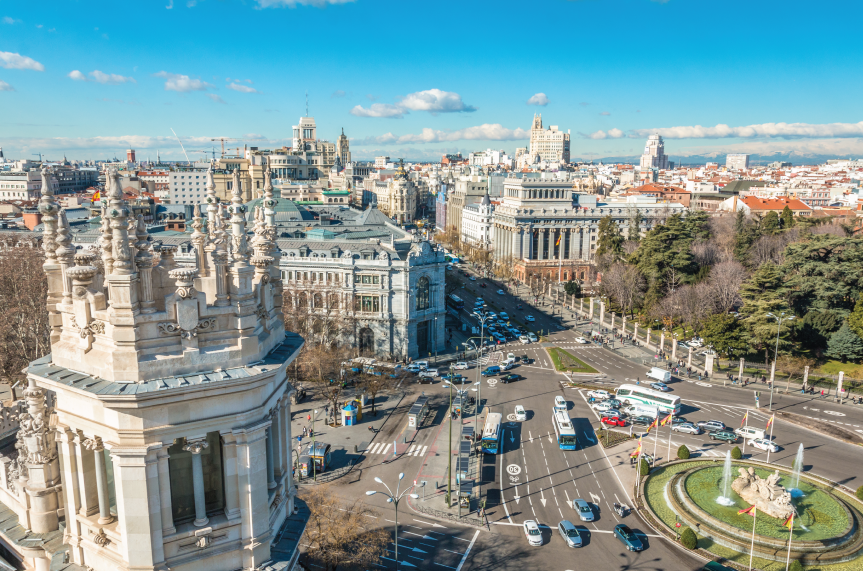 Not technically a barrio in itself, Sol is the very middle of the action: you can find Gran Via here, as well as the San Miguel market. This area is crowded and lively, and prices for hotels are likely to be as high as the morale is. Plaza Mayor is the center of the center, and while Sol is ideal for those with a focus on sightseeing, it does demand sacrifices: financial ones, as we've mentioned, as well as culinary ones: you will be giving up on having the best restaurants, tapas bars, and watering holes nearby. Sol is the place of those large boards depicting stock images of paella for a ludicrous price because they know that is what the people want, though paella is of course not something you should aim to have in Madrid. All of the usual shopping and high street outlets can be found in Sol, but if you're looking for quirky, one-off fashion, you better branch out a little further than this neighborhood to start your hunt. For some, the crowds might get annoying – the number of tourists to locals is such that you're not very likely to meet anyone who can help you find that little street you're looking for. That said, it's hard to argue with the palaces and monuments that draw those same crowds to this part of town in an endless stream.
Now, let's look into places to stay in the downtown area. Before you read on, please note that though many of Madrid's most budget-friendly choices are called Hostal this or that, they all come with (optional) private rooms with their very own bathroom, so they do not necessarily differ from hotels in that regard.
To start with, Hostal Gran Via 44 is a great budget choice, as much as a hotel on Gran Via can be that. Rooms are basic but playful and modern. If you're in for spending a bit more, you can head a few numbers down to:
Vincci Via 66. This is smack-dab in the middle of Gran Via, and its décor inspired by the golden age of cinema somehow matches the feel of the famous road perfectly. If your budget is larger than the standard rooms at this establishment, it may be worth upgrading to a room on the top floor instead of another hotel, since those come with their own roof terrace and requisitely fantastic views.
If you'd like to not only stay in the center but also stay at one of the finest hotels in all of Madrid, you've got to see Hotel Villa Magna. This is in the approximate price range of your child's college tuition and definitely looks the part.
Huertas/Las Letras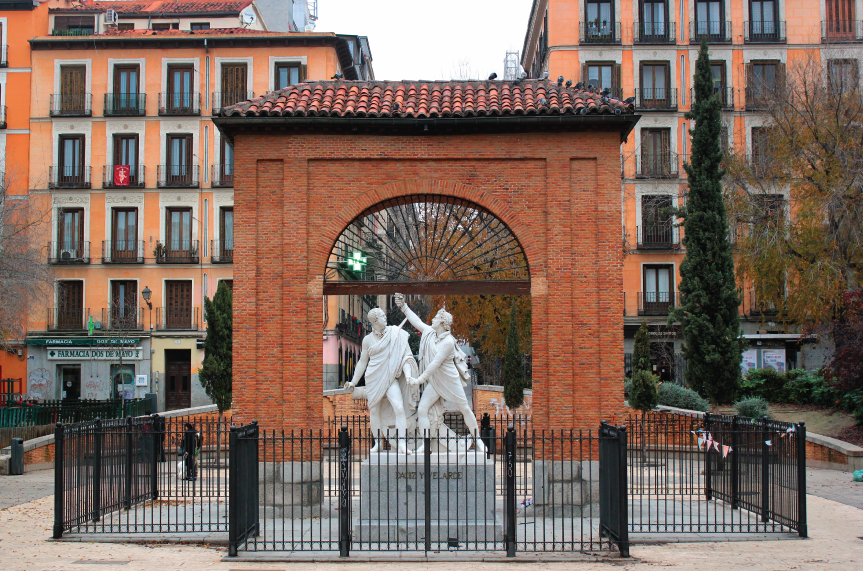 This neighborhood is called the literary quarter for a good reason: many of the most famous Spanish writers lived here at one time or another. And that's not where the cultural reference stops: the three most important museums, namely the Prado, the Thyssen, and the Reina Sofia are located here. Maybe there is no longer a thriving underground art scene, and maybe Las Letras is not the place to find a tiny, cool cafe filled with the kind of artists that used to live here. But if you, so rightly, decide to dedicate your next Madrid visit to really get acquainted with the museums, you can't find a better place than Las Letras. Prices are high, yes, but the neighborhood is magnificent, and you can't help but feel so very worldly in it. It is quite touristy, too, but perhaps a touch less so than Sol, which admittedly isn't saying much.
The best in show on the lower end of the spending spectrum is Sleep'n'Atocha. Modern, well-equipped, and virtually faultless, this is one of the best budget choices in all of Madrid and is a lot lighter on the wallet than it looks.
Axel Hotel Madrid comes with a rooftop pool and pop art chic but is sadly only open to adults. Try the similar Amor de Dios if you've got kids. Yes, the name means love of god and the design is just as sleek as the previous choice, if not more so.
Gran Hotel Ingles is more Manhattan than Madrid, to be sure, but still amazing to stay at thanks to massive rooms and gorgeous common areas.
Malasana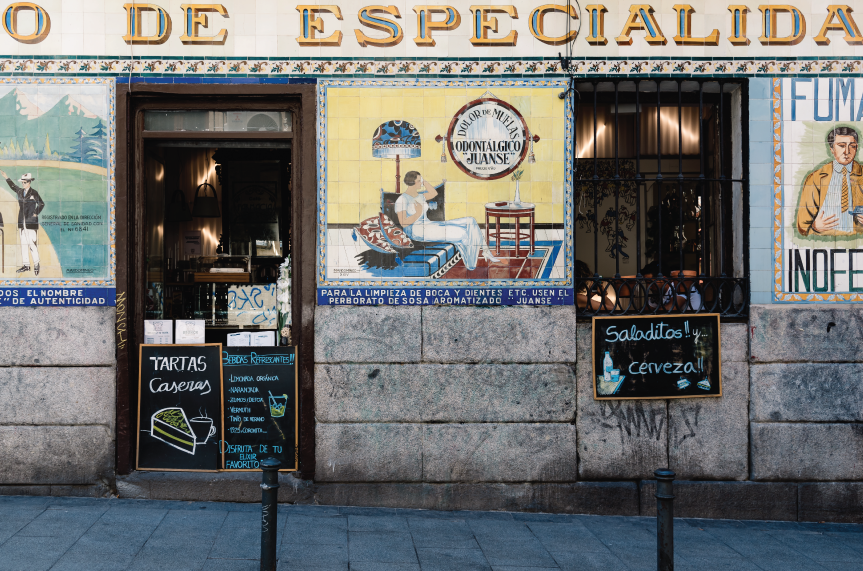 Bordered by Gran Via, Malasana is something like the Brooklyn of Madrid, in that this district is all about hipster cool. If anywhere in Madrid you can find a goat milk cappuccino, or rather cafe con leche de goat, it's around here somewhere. Hipness drives prices up, sure. No one in Malasana seems to be over thirty, and the area certainly behaves like someone who doesn't get hangovers yet: clubs, bars, and parties on every day of the week, as if there was no tomorrow. Malasana is the best place for lovers of the night, and options to while away the small hours are near endless. This part of town came of age after the fall of the oppressive Franco regime, when la movida madrilena spread over the city in a wave of relief and people made going out at night into a sport, after the long years of somber drudgery. In the day, Malasana is the place to finally live your dream and partake in a short but intense knitting course, though it must be said that night time is the right time to come here.
Hostal Silserranos
This comfortable place is just gaudy enough to be romantic, and the frilly curtains may put some off as much as they may be a perk to others. You can find better places, but not at this price in this location.
For just a little more, you can stay at the franchise Best Western Hotel Los Condes, which dials up the Jugendstil romance a little and thus looks somewhat more polished, though somehow still doesn't quite measure up to the franchise's usual standard.
Tryp Madrid
A mix of minimal and spunky decor, the Tryp is a Wyndham property and comes with all the usual comforts. A lovely if a somewhat impersonal hotel that most certainly does not have a Spanish accent.
Salamanca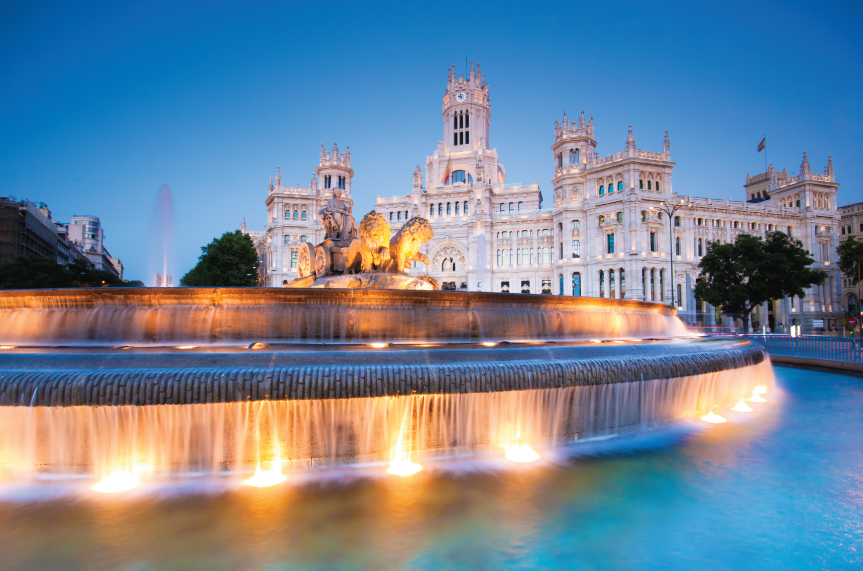 From the carefree days of youth in Malasana to the seasoned luxury of middle age here: Salamanca is a posh neighborhood for those with their wild days behind them. This area unsurprisingly has some of the most beautiful buildings, the best fine dining in the city, and the requisitely expensive hotels to boot. If you are looking for a luxurious time, you can't go wrong with Salamanca. Not the place for raucous nightlife, this district sits centrally enough to make an outing not only possible but easy, keeping the noise and commotion far enough away to let you sleep. This is also where all the fancy designer boutiques are, from Loewe to Balenciaga. If you've got the wallet for it, Salamanca will make you feel like you're on top of the world.
Ibis Madrid Centro Las Ventas
As budget as you're going to get in this area, the outside of this Ibis really isn't much to look at, but the rooms are spotless and modern.
The AC Hotel Recoletos Mariott is a smaller hotel, which means smaller rooms, but the decor is a bit more friendly than the budget option.
If you've recently come into an inheritance, try the Heritage Hotel Madrid. Anything with "heritage" in the name advertises that it won't be cheap, and this hotel is no exception. The place is a little more divisive than luxury hotels tend to be: decorated anything but sparsely, the over-the-top feel might just be for you.
Chamberi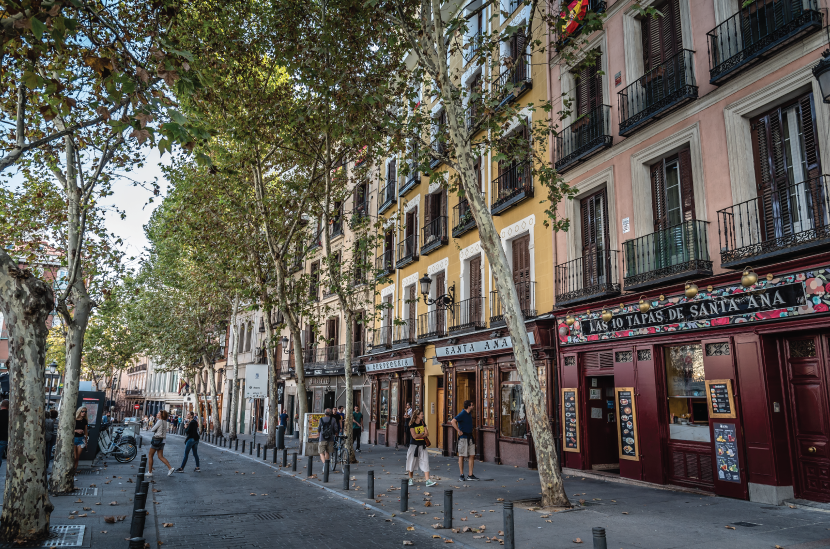 This one is the breakout star, the up-and-comer. The perhaps only good thing about gentrification is that there is a small pocket of time in which a neighborhood is already the hot new place to be but the prices – residential or otherwise – haven't quite caught up yet. If you visit Madrid now, the sizable district of Chamberi is bound to make you feel like that. Once a straight-laced neighborhood favored by the elderly, it is now blossoming into an entertaining, fun little bit of the city. If this is your first time in Madrid, you might want to consider staying here, because all other areas have long been established, whereas this part of town is rapidly changing into something different, so you can seize the opportunity to become one of those people who say "we used to go to Chamberi when it was just starting to happen". You will feel, we think, like those people who discovered the Meatpacking district when they were still packing meat there.
To start with, there's Woohoo Suites Madrid, so named presumably after the sound you make when you see their room rates. This sleek place has a decidedly youth-hostel vibe about it, which means it may not be ideal for families, older travelers or anyone who wouldn't wear sneakers to a black tie event. That being said, their private rooms are rather nice and worth a look.
When you check out the NH Collection Abascal, it's immediately clear that the luxurious romance of this hotel makes it ideal for honeymooners, and it must be noted that it happens to be a steal for what it is.
Then, there's the Hotel Santo Mauro, Autograph Collection. Similar to the luxury option in Salamanca in terms of opulence, this place will have you feeling like a queen of Spain. The rates may be less swoon-worthy, though.
La Latina
Foodies, take note: La Latina is the district that's all about tapas, tapas, and more tapas! This lively, young and, vibrant barrio is the only choice for you if you're on a culinary tour of the city and of Spain. The neighborhood also hosts a flea market every Sunday, and bars upon bars ensure you have plenty of choice for your nightcap. La Cava Baja is the main road here, which should tell you a lot about the sensibilities of this area. So go out to a tapas-bar-crawl on Saturday to eat and drink to your heart's content, but try to get out early enough the next day so you can check out El Rastro market. La Latina is the perfect place for enjoying some tapas and a glass of Spanish beer on a terrace, letting Madrid roll by you without a care in the world.
Los Amigos Vip Rooms
This goofy and hilarious name hides a frankly charming hotel that has the potential to make you feel instantly like home. If you can tell your cab driver where to drop you with a straight face, you need not look further for the perfect place.
Petit Palace Opera has a great in-house restaurant made seemingly entirely of exposed brick and small but very comfy and clean rooms. Contrary to what the name would suggest, this place is not quite palatial but surely more than adequate for a stay.
NH Collection Palacio de Tepa is very reasonably priced for the design: a mix of rustic and modern (meaning glass meets rough wood). The top floor rooms come with a slanted wooden ceiling that is simply adorable.
Chueca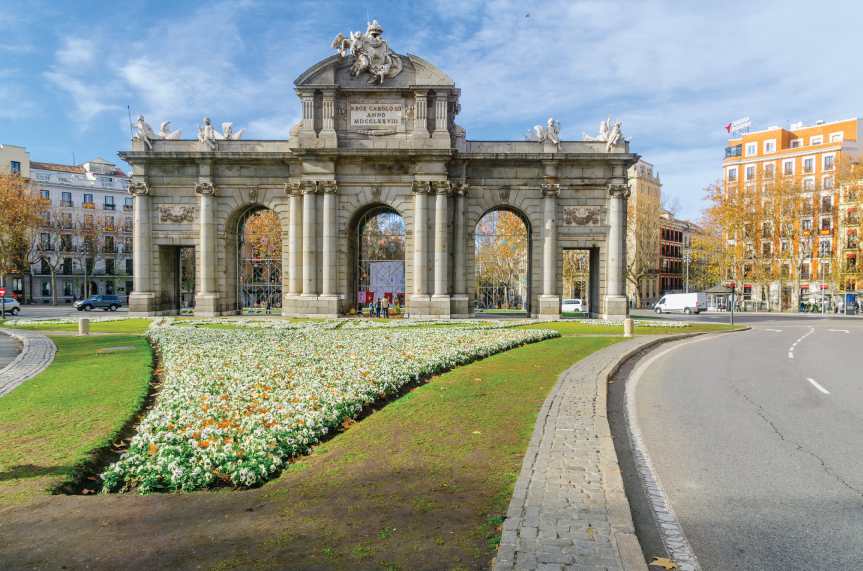 Right next to Malasana is another place that's uniquely Madrid and just as fun: Chueca. One mark of a true metropolis is having an LGBT neighborhood. Madrid, the capital of a country known for pioneering LGBT-friendliness, has a rather large one. The community in this area is one of tight-knit solidarity, and the district is as entertaining, lively, friendly, and ravishing as can be expected. From their rainbow-colored metro station to a shop blasting Sister Sledge, Chueca is endlessly welcoming of one and all, no matter orientation, gender, ethnicity, religion, or creed. Come here and make an effort to go out and discover the rest of the city, because this area is so much fun, you might not want to leave it. The best time to come visit Chueca is, of course, the summer, more specifically during pride week, when this already lively neighborhood just bursts with celebratory energy, delivering a weeklong frenzy of programs, parades, and parties.
Hostal Santa Barbara is no luxury option; we will be honest. The rooms are small and the decor dated, but it is right in the middle of the action at an unbeatable price.
Boutique Hotel Villa de la Reina is all bold pops of color in a building that is more Parisienne than Madrileno, but that shouldn't be a problem for most. This hotel looks like a Wes Anderson movie set, and you will feel like the lead actor: a whimsical person loose in the city of Madrid.
The Principal Madrid brings no long-gone school days to mind, thankfully, but is an oddly fantastic mix of old-world elegance in the common areas and sleek modern flair in the rooms.
Retiro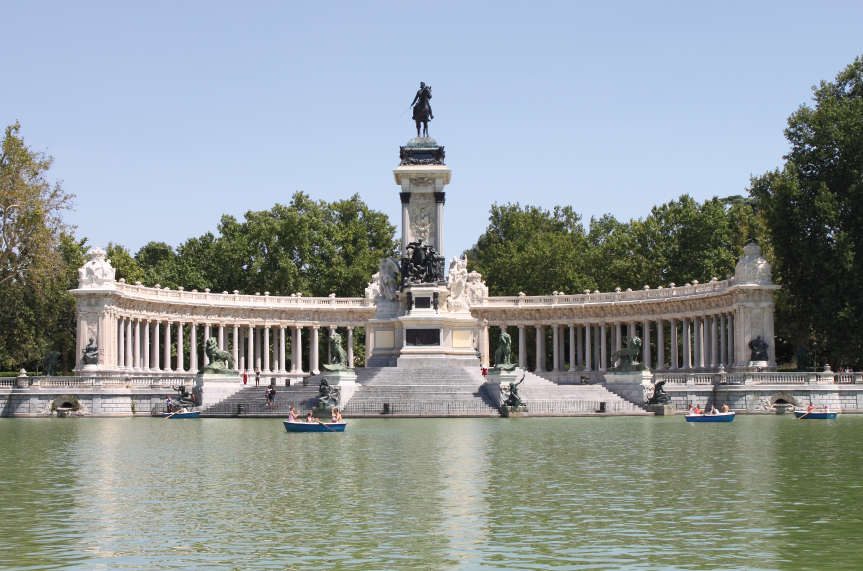 A great neighborhood to retire to, as the name suggests, Retiro is located right next to the famous park of the same name. Also rather upscale in feel and pricing, it is a little lower ranged than Salamanca, but greener and more family oriented. The massive park may separate you from the downtown area of Madrid, but Retiro is very well connected by public transport, so you don't have to worry about getting left out of the fun. Maybe not ideal for night owls and bar crawlers, those with children will relish the peace and beauty of this area.
The A&Z Juan de Mena is much more ornate and well-made than the price would suggest, and this little hotel is a very good option located an approximate two steps from the park.
In the middle of the price range, you've got Petit Palace Savoy Alfonso XII. Don't let the name mislead you: this place is a wonderfully reasonable choice in terms of cost. Looking far, far more luxurious than the name would suggest, this hotel in a leafy, quiet street is fantastic for families.
Hotel Palacio del Retiro, Autograph Collection is the second of its kind on this list, and the thing is that this is an actual palace. Well, it really looks like one, at least, with ivory shades lit up gorgeously at night and rooms in a two-tone decor of either black and white or earthy beiges.
Lavapies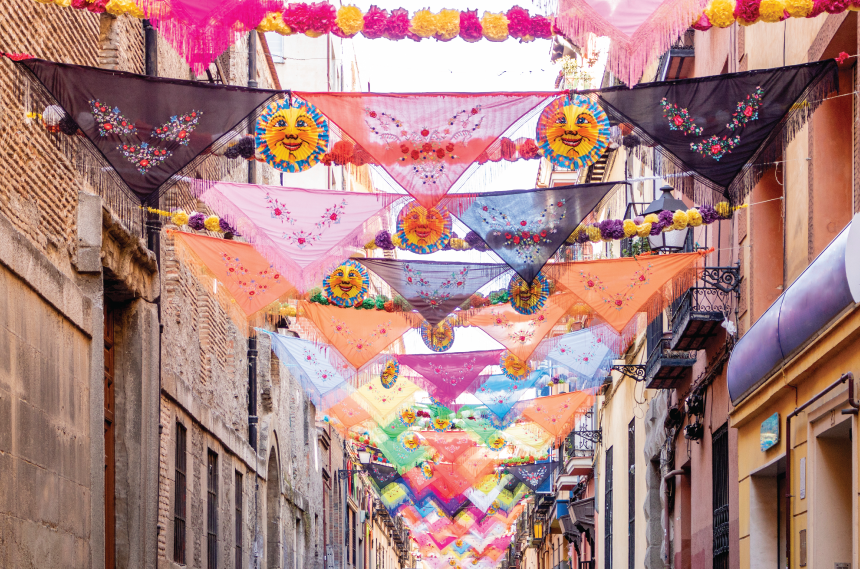 This area is the best compromise for bargain hunters who want to stay close to the action. Lavapies is very central, but prices are far lower than in any other area on this list. Eclectic and multicultural, this district is a lot of fun and has a joyful, creative air about it. The population is as diverse as the cultural influences here: food from every corner of the world, music, street art, and shops selling things you won't find elsewhere. The simple fact is that a cheaper neighborhood draws a more interesting crowd, and in Lavapies, you're bound to find a loquacious mixed media artist with big ambitions to talk your ear off about his show at the little gallery around the corner. In the fall, this district hosts its own food festival, charmingly named Tapapies, where you try a number of different tapas bars along a given route. This, along with everything else, makes Lavapies a fantastic area to choose.
Reina Sofia Acogedor. Jewel tones and a decor that is more cute than sleek, this place looks like your favorite aunt's house (the one that lives somewhere in the Midwest, not your mom's sister in Manhattan). This is an exceedingly friendly place great for travelers with children.
The building of Hotel Mediodia makes the place look like you've won the lottery and now live in a palace. Rooms are somewhat dissonantly basic, but with an entrance like that, who really cares?
And finally, we've got Catalonia Atocha. Like many other luxury options on this list, this place is all urban cool with a large rooftop area. Even the high-end choice is quite a bit more reasonable in Lavapies than it would be in other parts of town, so if you're looking to splurge within reason, this is one to consider.