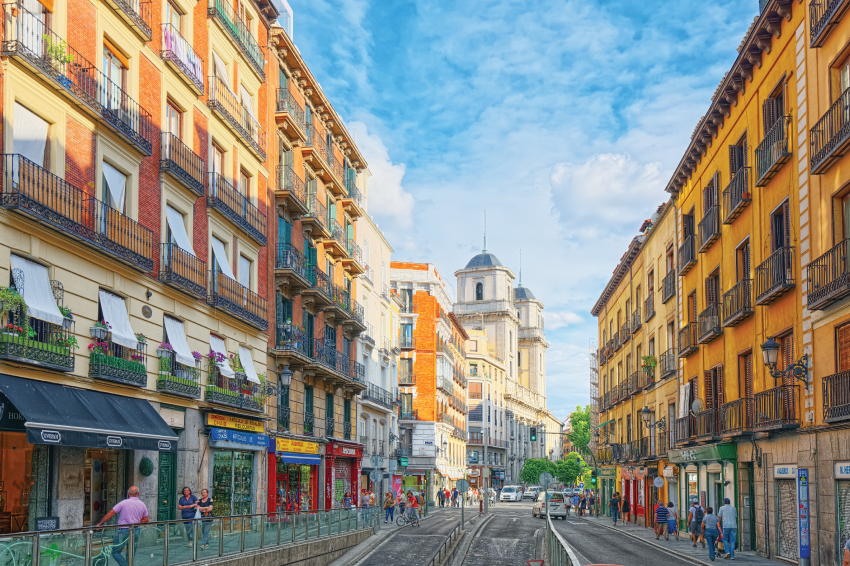 The Best Time to Visit Madrid
Choosing the right time to visit a place can make or break your holiday, and seeing a city in a given season or time of year can forever shape your opinion and perspective on it. If you were to go to Milan in August or Berlin in November, you would see a side of these cities that is an inaccurate portrayal and as such furthest from their true potential: you might believe the Italian capital of fashion to be a deserted ghost-town or the most exciting city in Germany to be a gloomy, dark, and lonely place.
The reason we start an article on Madrid off this way is that many people wrongly assume that Spain has the same climate Southern California has. The idea seems to be that seeing the country is going to be much the same experience no matter the time of year. To be fair, this isn't entirely untrue, especially when you look at perpetually sunny Barcelona or cities along the coast in general. But the Spanish capital of Madrid is an exception to this rule. For one thing, there is the elevation: Madrid lies at around 2,000 feet in altitude, which is around 2,000 feet higher than Barcelona, a city just above sea level. Further shaping the climate of Madrid is the fact that it is landlocked and surrounded by mountains. Now, this does not mean that the city is a skier's paradise or brings to mind a remote mountain village in the wintertime, though snow does fall, even if not every year.
Weather conditions can be tougher than expected in the capital, in both directions: summers are often mind-numbingly hot, while winters pack a punch unlikely to put you in the al fresco dining mood. But all four seasons ultimately carry their own rewarding beauty, and some of the more difficult times, temperature-wise, also come with the most worthwhile experiences Madrid has to offer. There is, for instance, no shortage of off-season celebration. There are events, parades, and auspicious occasions for every day of the calendar. Also, Spanish people are very patriotic not only to their nation but to their neighborhood, and district festivals light up parts of the city like stars twinkling in the sky all year round.
With all this in mind, we've collected the reasons to choose – or avoid – a given season, going through the pros and cons and highlighting interesting events and special things to do each season. This way, you can make an informed decision if your calendar is totally open or find out what there is to do in the timeframe you're already set on.
Madrid in Spring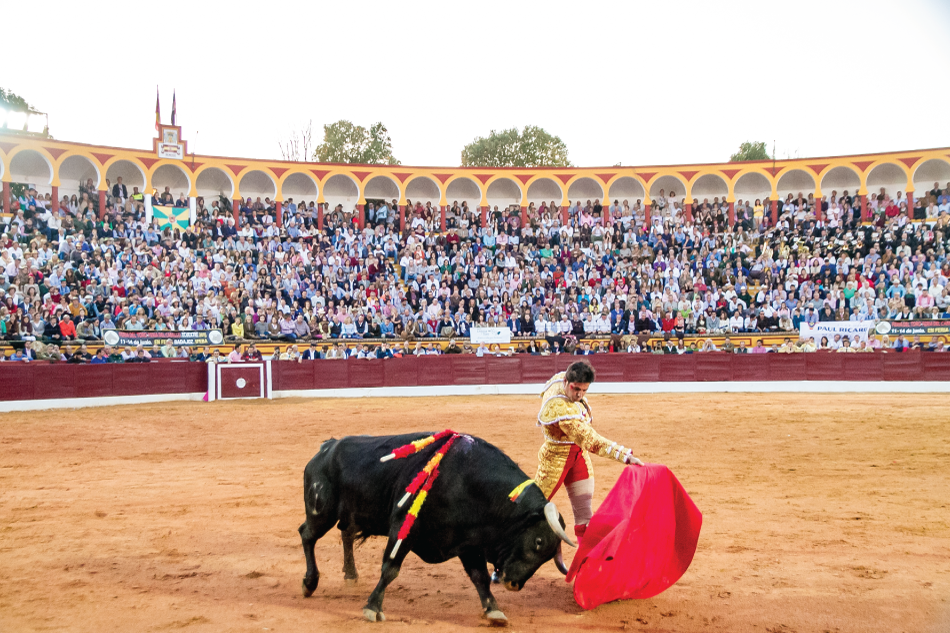 Spring is arguably the best time to visit any city (though Paris looks best in the fall). Temperatures are pleasant without being too high or low. Skies are blue. Locals abound while tourists are mostly at work still. Nowhere does this seem more accurate than Madrid: while there are things to be said for almost any month, we've got to say your best bet for a perfect visit is in May.
This is because May has the largest number of festivals and events for you to discover. Take the day of the community of Madrid, held on the second day of the month – Dos de Mayo – when the city celebrates the anniversary of the 1808 uprising against the French occupation of the city led by Napoleon Bonaparte. The festival is celebrated with special fervor in the district of Malasana, named so after a young girl, Manuela Malasana, who was killed by French soldiers in the square now called Plaza dos de Mayo.
You may think that a festival honoring the city's patron saint, San Isidro Labrador, would not come with the connotations of bloodshed the previous entry does, but the occasion, held around May 15, does have its worrisome aspects. Whether you like or even tolerate bullfighting, we will tell you that this festival brings plenty of opportunities to familiarize yourself with the controversial tradition.
Bullfighting, though an essential part of Spanish culture, has had its fair share of detractors – understandably – not just outside of Spain but within it. So much so, in fact, that changes are being made by the Spanish government to regulate and, in some places, even abolish the practice of bullfighting. Arguments like the fact that no part of the slain bull is wasted – the meat is prepared for human consumption while the hide is used in the production of leather goods – may or may not be persuasive enough for you to go watch a tournament. If that's not your thing, the San Isidro festival still has lots to offer, including processions, concerts, workshops, markets, and everything else usually part of a community celebration. And this community happens to be Spanish, so they really know what they're doing.
If, on the other hand, you're more into rock and roll, Festimad is going to be right up your alley. Held in the last week of May every year since 1994, this festival brings international and local bands together for an unabashedly loud and relentlessly fun time. Spring also means the start of Flamenco season, with the first festival of flamenco coming to town in May. It features five days of fervent dance-offs you can partake in or admire from a safe distance.
While this month is the very best time to visit for reasons that we've tried to make obvious, March and April are also worth looking at. Sure, the last month of spring is undoubtedly the most fun-filled, the first two have their own unique things to do, and room rates will be too good to pass up. March can still be quite chilly, though winter clearly leaves the city in the second half of the month.
Madrid in Summer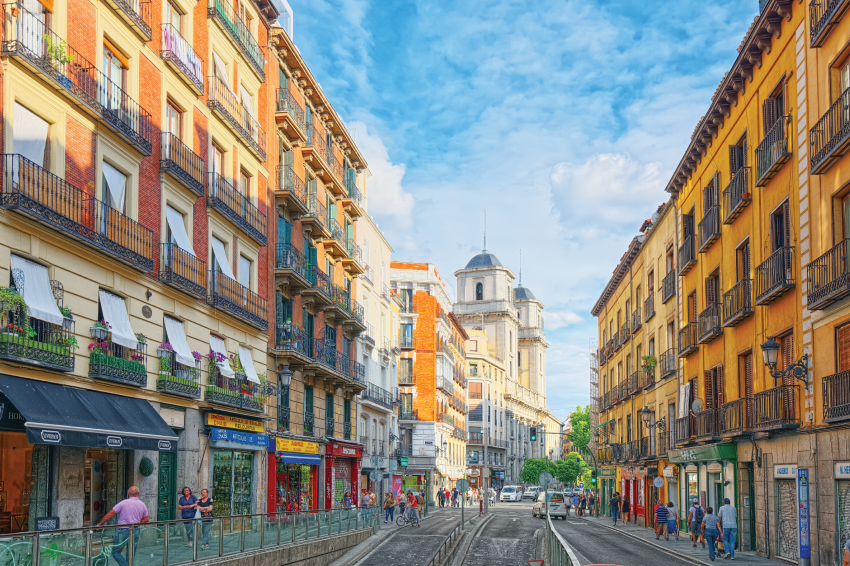 The hottest season is also the most crowded one. School holidays in Spain and Europe mean two things: one, that foreign tourists stream into Madrid and two, that locals leave it and escape to the beach. This is not a winning combination if you ask us. But there are times, like the first month of summer, where you can catch a lucky break when neither of these things has happened yet, and the city still isn't at peak heat. These days can sometimes still carry a cool breeze from the mountains surrounding the city. The refreshing breeze then dies down to return in September.
Summer is the perfect time for you to make like the Spanish during your visit and have a daily siesta from early afternoon to early evening, heading back out on the town around 7 p.m. Remember that days are long, nights even longer , and Spanish stamina is endless, so you won't miss anything even if you head out for pre-dinner drinks at around 9 p.m., either. The only thing you shouldn't be late for in the Spanish summer are attractions: it is best to visit sights and museums as early in the day as you can, to avoid both crowds and heat.
Like spring, summer is flamenco time! Suma Flamenca, a festival celebrating the iconic Spanish dance, is held in the month of June each year. An unmissable experience as authentically Spanish as can be, this event, along with the next one we will get to in a second, catapults June high on the list of best months to be in town. Similarly joyous and filled with dance though of a somewhat different kind is Madrid Pride, a week culminating in a big parade on the last Saturday of the month when the city celebrates gay rights. Head to Chueca, Madrid's lively gay quarter, where spirits are especially high this time of year and celebrate with the Spanish capital's LGBT community.
Another item on the summer to-do list is the Madrid international film festival. We're not saying scoring tickets to the actual event is easy, but countless screenings and themed events around town more than make up for lack of red carpet. For something related and a little unusual, Madrid also hosts a German film festival, Cine Aleman, in early summer. Here, you can see the latest and best in German cinema with Spanish subtitles, which may or may not be endlessly confusing depending on your language skills, but certainly is worth a shot regardless.
In all honesty, Madrid is best avoided in late summer, so if you still want a Spanish city break in August, head a little further down to Barcelona, more than alive this time of year. There's no point visiting Madrid in August as rates are at their very highest and the ratio of locals to tourists is dreadful. Unless you like a relentless onslaught of tourists, though we cannot imagine this to be the case. What you should do if you insist on a summery feel but can't make it in June is wait for September. Weather is decidedly summery in the first half of the month, but crowds do thin out.
Madrid in Autumn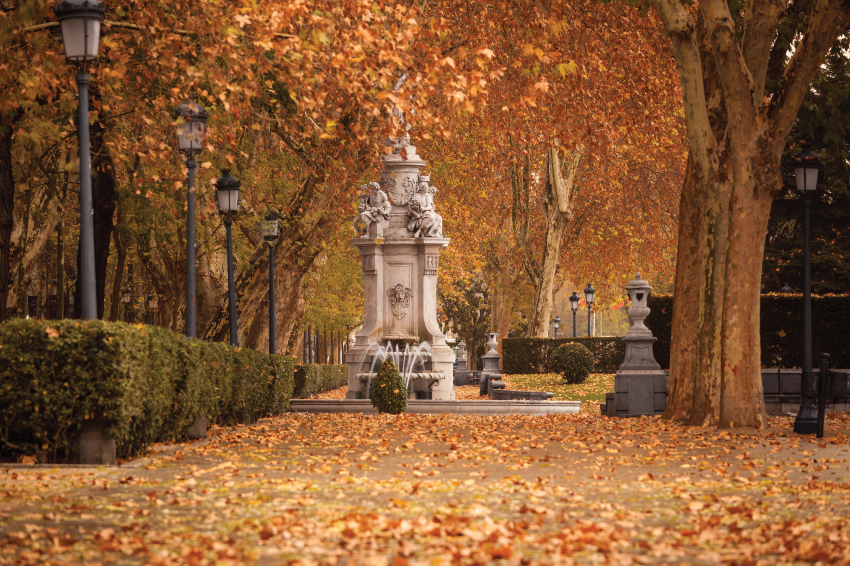 If seeing the gorgeous parks of Madrid is high on your agenda, coming to town in the fall should be an obvious choice. The vibrant coppers, mustards, and golds in the foliage are bound to spread cheer, and late September or early October especially is a lovely time to visit Madrid without having to share it with countless others. There is that unforgettable smell of autumn in the air, something like damp old books but with a toasty crunch, and that switch from summer sun to a stained-glass light is a marvel to witness in Madrid. Also, temperatures dropping to where they are just-about cool is perfect for hopeless romantics who enjoy things like foliage underfoot and hot chocolate in hand.
To Madrid's affluent Salamanca, this season brings Vogue Fashion Night Out. The name may sound familiar to some as it is a global event dedicated to fashion organized by the biggest publication in the business, with many major cities around the world (e.g., Milan, Mumbai, and Sydney) taking part. Shops open late into the night, events curated by the magazine, and well-known fashion brand special releases abound. Even if, like most of us, your budget isn't, shall we say, flexible enough to accommodate all manner of impulse-bought, useless luxury items, the Vogue Fashion Night Out is a great opportunity for window-shopping and people-watching. If you'd rather keep it simple but still satisfy your craving for retail therapy, September means sales, sales, and more sales, where you can get your hands on the summer collections at majorly discounted rates before they get replaced by the fall and winter stock. Life doesn't get much better than half price on Spanish fashion, we must say.
November means Jazz to all Madrilenos in the know, and possibly you, if you happen to be visiting. The Madrid Jazz festival has quickly made a name for itself as one of the most exciting events in the genre, showcasing the very best of global and local talent. Even if you are no fan of jazz, or don't "understand" it, as they say, you can go ahead and pretend with an open heart. Who knows, the Spanish air may change your mind.
Madrid in Winter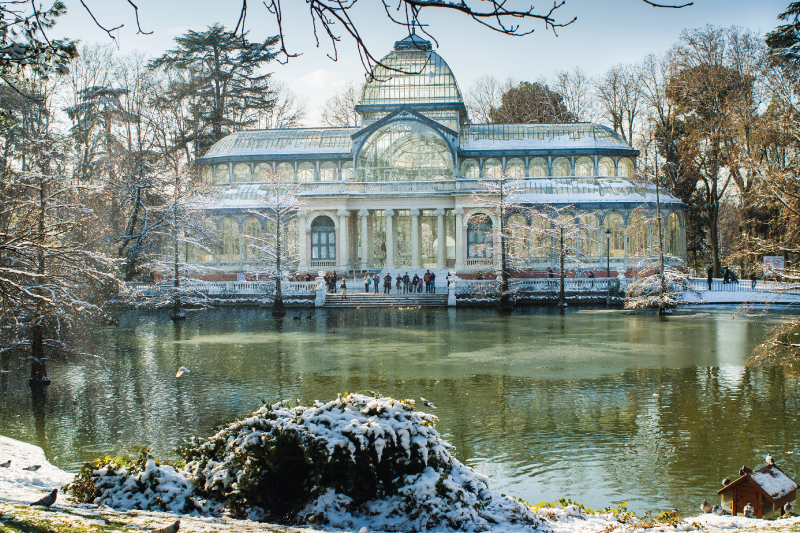 When you picture Spain, it surely comes up as a perpetually sunny, winterless paradise. Madrid doesn't always correspond to this image, in that there very much is a winter. In fact, since the city is set on a hill far from any coastline, the months between fall and spring can get more than a little chilly. The coldest month, January comes with a possible daytime high of 60 degrees Fahrenheit, and that's the best-case scenario, with lows often dipping below the freezing point after sundown. Madrid doesn't exactly hibernate, but certainly slows its pace a fair bit in the wintertime. While this may be a turnoff for some, it can be great for others: prices and crowds are at their lowest, and you can quite cheaply come by the feeling that you (almost) have the Prado or the Reina Sofia all to yourself.
Gloomy skies are not a given in Madrid, where even the deepest of winters come with a pale sun with a blue backdrop, making you feel like it's warmer than it really is. The only drawback of significance of visiting Madrid in the winter is that the outdoor life the city is famous for is nowhere to be found. The squares are not filled with laughing and chatting crowds, as terraces of cafes and restaurants are shut for the season. This does make a big difference, although the positives to this season just might outweigh it, depending on your definition of an ideal holiday.
Speaking of holidays, Christmas and New Year's Eve are not all that there is to the Madrid festive season. Far from it, in fact. The day of Epiphany, on Jan. 6, is celebrated with even more enthusiasm than the holidays that precede it. This is the day the three kings ostensibly visited baby Jesus to bring gifts, and it is these three who, according to tradition, "bring gifts" to Spanish children, too. While in other cultures this is believed to be done on Christmas Eve or the day after by either Jesus or a bearded, portly man in a red outfit, the evening of January 5 is the most wonderful time of the year for the little ones of Spain. This date in January being of prime importance also means that the Christmas high-season extends further than it does elsewhere, and we're afraid rates, and crowds will be an ordeal to manage until the middle of the month, though this time of year is also particularly rewarding to see the Spanish capital.
Just after the Three Kings festival is over, there is an occasion that is something like an adult version of it, and that is the winter sale. January 7 means up to 70 percent off on gorgeous Spanish objects of desire.
The end of January brings the season of eating. In the days of the Madrid food festival, hundreds of restaurants and other eateries participate in the glorious affair dedicated to the contributions Spain and the star chefs that call it home.
Looking at what you now know about when to visit Madrid, it should be clear that most any time, with the exception of August, can be the perfect time to visit Madrid. The city is so full of life, excitement, and new discoveries waiting for you, that things like a bit of heat or a little snow won't even register as bothersome. This is one of the best cities the old world has to offer, after all.