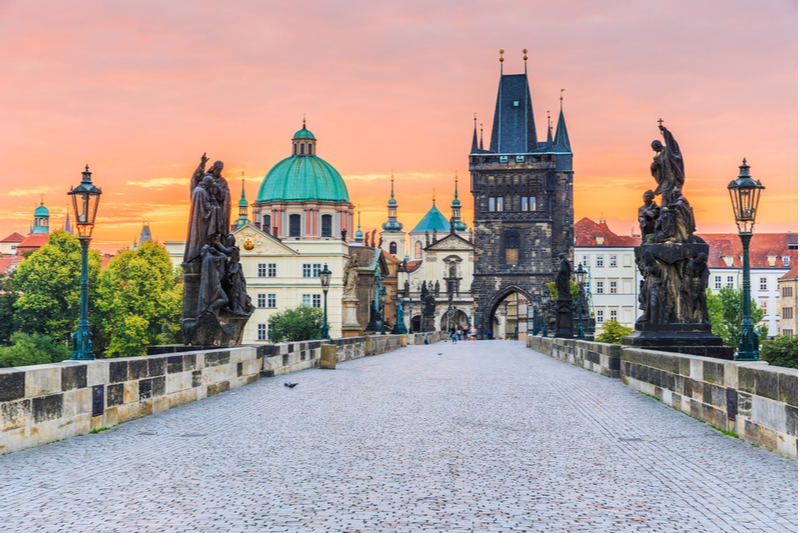 Staying in Prague: A Guide to Districts and Hotels
There are things about travel that excite everyone: the anticipation of discovering a new place, the prospect of being far away from your work, your mother-in-law, your neighbor, and your responsibilities. Add to that the different food, language, faces, and way of life, and you've got an unbeatably tempting combination. But there are also, of course, universally challenging things about pulling off such a holiday that unfortunately are part and parcel of the experience. A lot of planning goes into even a brief visit anywhere, and essential questions and issues inevitably need dealing with: Who will water the plants while you're away? What flight should you take? Do you park the car at the airport or ask someone to drive you? Do you accept the kids? And finally, where to go and where to stay once you get there?
Now, we really can't help you with the first three, but we may be able to offer some help on the last questions. We suggest you head to Prague, the gorgeous capital of the Czech Republic. The city of beer lovers has more districts than is reasonable for a town of its petite size: twenty-two, to be exact. This means that choosing a part in the city can be just as tricky as choosing a specific hotel. This article will show you the best parts of town to stay at and three hotels in each one, from all-out swanky to absolutely economical.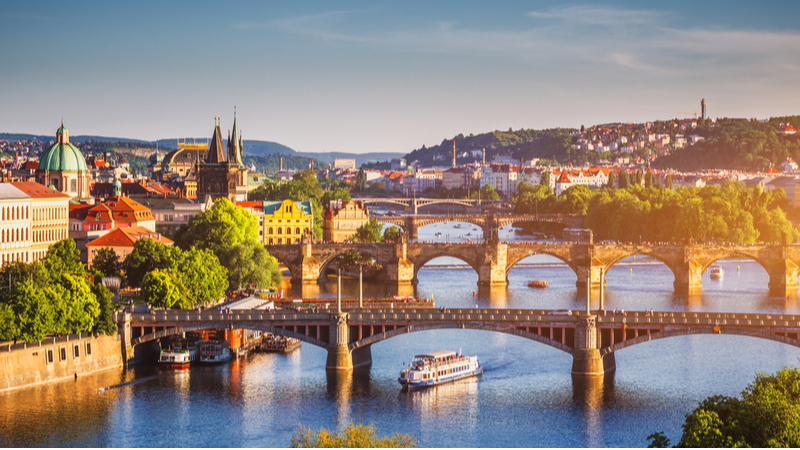 Now, you may want to play it safe and stay in Old Town, because that's what your guidebook says, after all.  You can do all the things it suggests you do and head home in a breeze. But what if you don't want to do what everyone else is doing? What if you long for some peace, say, or something authentically local, or a place that's a little greener? The districts of the Czech capital all have something unique to offer, and if you try something a little different, you may find that there's a lot more to Prague than that (unusual) clock.
What you will need to take into account when choosing a place from the list below is the type of holiday you are planning. In case you plan on staying longer than a couple of days, it is worth visiting somewhere a little further out as you will have plenty of time to get around and will get more of the local feel. Are you traveling in a larger group? A more central location may be best since you won't need to coordinate too much if you'd like to split up, and there will be no need to order three cabs anytime you want to go somewhere. If you have younger children with you, somewhere nice and quiet with parks nearby will be ideal for keeping the kids happy, and you sane by extension. Also, the buzz and commercial hoopla of downtown may excite kids too much and exasperate you in the long run. Lastly, there is connectivity, though this is no big deal in Prague as virtually all parts of the city have easy-breezy public transport links. But there is a metro system that comes in handy for orientation, and you can also pick a hotel based on its vicinity to one of the stations. Now, for a more detailed look at some of the best neighborhoods, read on.
Old Town or Stare Mesto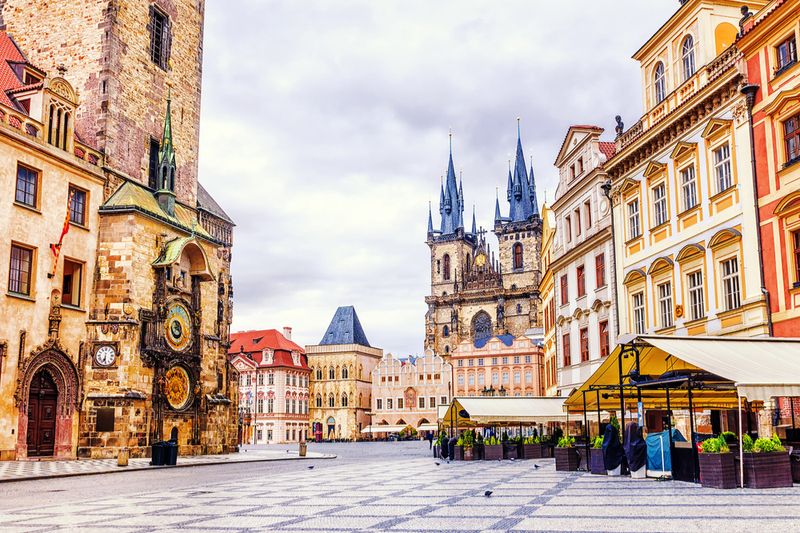 To start with a classic: Smack dab in the middle of everything, Old Town is the best bet for first-timers and those on a short trip, or capsule holiday, as it is referred to by the fancy folk. Everything on the must-see list is a stone's throw from wherever within the district you are, and every late-night walk from your hotel is bound to be a joy. This is Prague at its best, though also at its busiest and most expensive. As for places to stay, your choices here are endless if somewhat extravagant in terms of budget. If you are planning on staying in the oldest part of town, it is best to book a couple of decades ahead or hope for a miracle. The old village may be the standard, but it is also the most touristy, where you're paying a higher price to beat the competition. So, if you don't insist on a view of Charles bridge from your hotel room window, there's a lot more to see a little further down the list. But you do only live once, apparently, and if you do want to splurge, no one is stopping you. So, go all out and take a stroll from your hotel down Parizska street every night if you wish. Even if you don't want to blow the holiday budget on one dress, check out the much more reasonable boutiques of local designers in Stare Mesto, which is Czech for Old Town. The best choices to stay here are:
The Emblem Hotel ($$)
All muted greys and classy, low essential decor, the Emblem is worth the splurge. If you are in doubt, we should probably mention that it has a rooftop jacuzzi. Just a couple blocks from the river, this hotel is perfect in terms of location and, it must be said, in every other aspect as well.
Palac U Kocku ($$)
A lot more economical than the above option, this simple but charming hotel has fantastic reviews. Whether this is due to the excellent location, great value, or friendly staff, you may have to find out for yourself.
Ahoy! Hostel ($)
Mentioned in an earlier article, Ahoy! is a fabulous choice for the budget-conscious traveler. The word hostel may put you off, but this place has private double rooms and won't make you think of sharing bathrooms with kooky drifters, we promise.
Lesser Town or Mala Strana

Very similar in feel to Old Town, her sister district Mala Strana, literally meaning Lesser Town, is by no means any less charming than her counterpart across the river. This neighborhood stretches from the riverbank up to the castle. Come here if you want your walk home to lead you through rows and rows of gorgeous, old buildings. Sadly, as similar to Mala Strana is to the old town in feel, it is even closer to it in the price range. Ideal if you want to discover all of the castles over multiple days, which is enormous and certainly worth going back to, this district is perhaps not quite as touristy as the Old Town. Still, its perfect location allows you to feel like you have a foot in both. You also have the frankly sublime opportunity to end each day with a walk along the waterfront. If that's the selling point of most interest to you, there are other options a little further down the list. If your heart is set on Mala Strana, stay at one of these places:
Mandarin Oriental ($$$)
The Mandarin Oriental may not be the most Czech choice, but if accounts are to be believed, the restaurant in this hotel is one of the best for the authentic local fare with a chic twist. So even if you don't end up staying at this admittedly pricey but gorgeous property, you can splurge on dinner. It must be said that the hotel and its rustic decor has a lot more to do with old Czech charm than oriental anything.
Empire Mala Strana Apartments ($$)
Modern, sleek rooms with a surprisingly homey feel, these serviced apartments will make it that much easier on you to play the part of a Prague local just coming home from a day out on the town. The location is fantastic to discover the city on foot, which is what you will want to do, anyway.
Hotel Mala Strana ($)
Tiny and retro in a very Czech way, hotel Mala Strana is reliable if a somewhat necessary option. The rooms were decorated back when red was still considered to match well with mustard, but don't let that put you off: this little place makes up for its shortcomings in the design department with a lovely location, hearty breakfast, and clean, sunny rooms.
New Town or Nove Mesto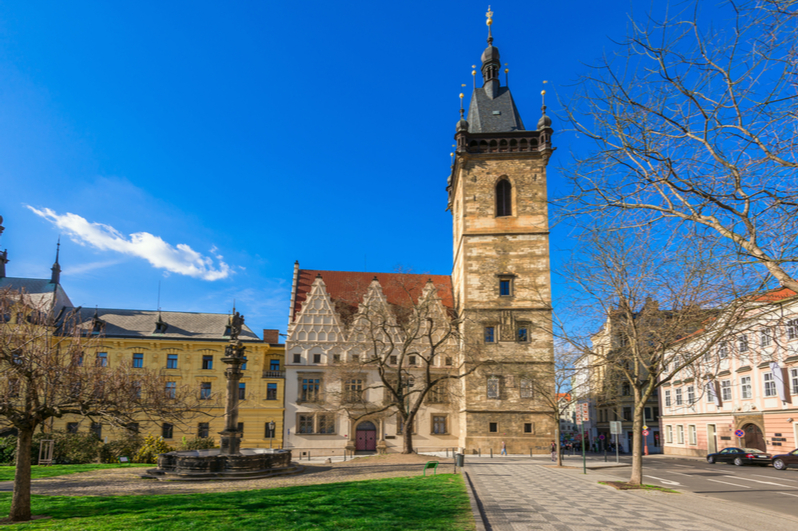 If instead of seeing all the tourist sights you are more of the shopping and nightlife type, head straight for a new town and don't stop until you get there. Theaters, bars, and clubs fill out the spots not taken up by shops. Make sure to visit Kafka's old haunt, Cafe Imperial, whether you decide to stay here or not. Nove Mesto is the most vibrant and energetic district anywhere below the old town. As for places to stay, you'll find plenty of options not crowded with tourists – we all know that just because you are one, you don't have to be surrounded by others – and though by no means cheap, a number of the accommodations in this district are almost reasonable. A nice short walk from Stare Mesto, you'll be right in the middle of things in this old part of town they call new.
BoHo Prague Hotel ($$$)
The large, modern rooms in this hotel will make you feel like you landed in a film. Something like Lost in Translation, but instead of Tokyo, you'll be in Prague. Which is just as well, because Prague is much more romantic, even if this hotel is all steely-eyed coolness.
Falkensteiner Hotel ($$)
If you take the above hotel and spice it up with some rustic, old-world charm, the Falkensteiner is what you get. Looking like the Flatiron with a few pounds extra, this property is a hop, and a skip from Wenceslas square and the breakfast is famously amazing.
Grandium Prague ($)
The perhaps best value for money on this list, Grandium has received praise by even the most finicky German reviewer. We can see why: shiny chrome and bright, modern spaces make this place look a million dollars but feel much, much lighter on the wallet.
Vinohrady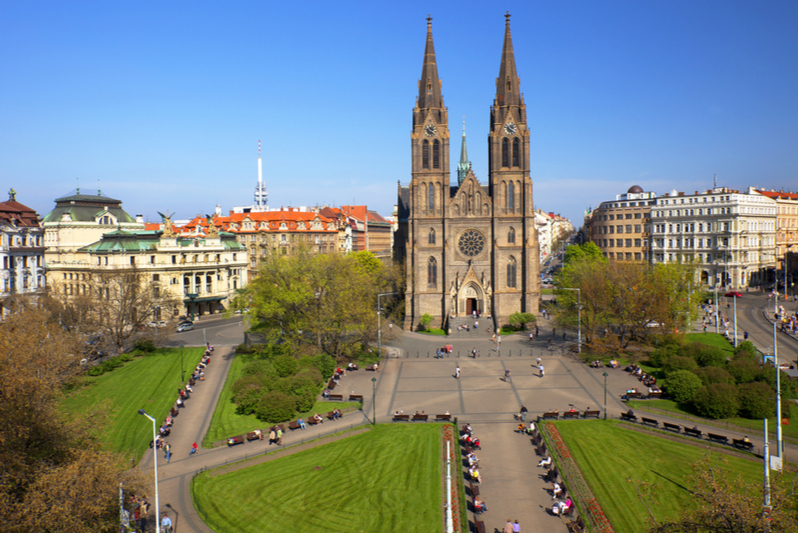 This quarter is technically part of New Town but deserves its spot on this list. Vinohrady means something like royal vineyards, and it's easy to see why this bit of the capital would be called that. The lush greenery extends as far as the eye can see and gives the neighborhood a more rustic look. Come here if you are someone who likes coffee in the park, farmer's markets, and walks along leafy avenues. This magnificent district has elegance in spades, due in no small part to the Jugendstil architecture it is known for. Your first night here, head to RiegrovSadydy, the most popular beer gardens in town for the proper local experience. The vibe in Vinohrady is very multicultural, as a lot of working professionals from abroad live in the area. If you want to see how the people of Prague spend a day, this is the place for you. Vinohrady is a relaxed neighborhood, and its effortless elegance is sure to make you fall in love. And, last but not least, you can visit some of the vineyards this quarter is named after.
Le Palais Art Hotel ($$$)
Le Palais is precisely as fancy as its name suggests it is. A ravishing Belle Epoque building with a permanent art gallery featuring local artists for a lobby, this property will make you feel right in the middle of things.
Hotel Anna ($$)
A cute place housed in a charming building that looks like any romantic home in Prague, Hotel Anna is tucked neatly away in a little side street of Vinohrady. It seems as residential from the outside as it does on the inside, meaning that you will think of other guests as your neighbors rather than fellow tourists.
Penzion Balbin ($)
Let there be no misunderstanding, Penzion Balbin is a rather no-fuss and straightforward sort of place. But that won't come as a surprise if you look at the prices. It may not be the most romantic hotel on this list – it most definitely isn't – but the location is ideal, and the bedsheets are soft. How much more do you need?
Zizkov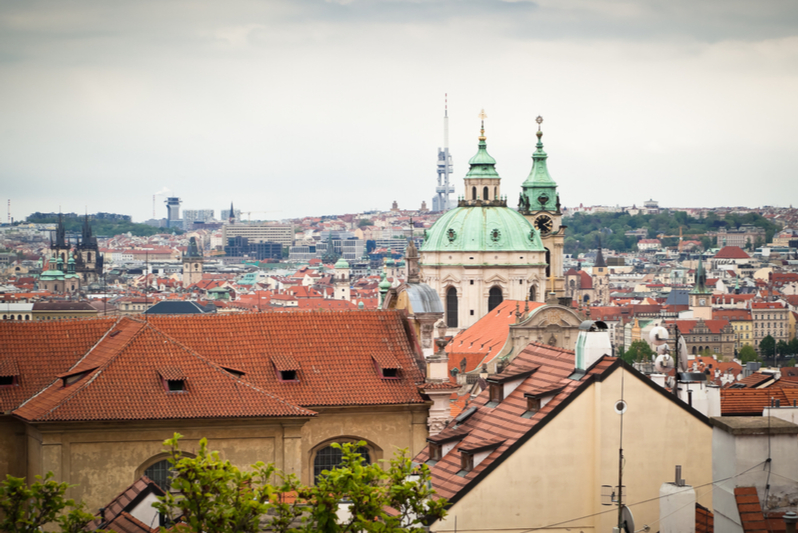 Yes, this used to be a dicey neighborhood. But that was way back in the day, before the war, and this is now. Since its rocky start, this district has grown into a vibrant part of town filled with all manner of entertainment – Zizkov is fresh as can be. There are three hundred pubs here (at the time of writing), the highest per capita density in Europe, and by the time you read this, there may well be more. Populated by students, young professionals, and working-class Czechs, Zizkov knows how to let its hair down and will teach you.  This part of town, sandwiched between Vinohrady and Karlin (mentioned later), is hard to miss and easy to find due to the TV tower – the one with the somewhat off-putting babies crawling up and down it. Some parts of this district represent the Euro-grunge you have heard so much about correctly, and even if you don't end up staying here, Zizkov is worth visiting for a drink or two.
Carlton Hotel ($$$)
Right by a tram line that will take you downtown in three quick steps, the Carlton is not only convenient but also quite charming. If you are looking to have a beer-centric holiday but don't want to miss out on creature comforts, this place is ideal as it is close to scores of pubs but also offers some welcome respite from them to nurse your hangover the next morning.
Hotel Theatre ($$)
This converted theater now functions as a hotel that is a beautiful option for those looking to stay near the TV tower to keep tabs on those strange plaster infants. The rooms may be quite stern and necessary, but the exterior of the property is incredibly gorgeous, so that you will get your fill of architectural beauty on the approach.
Airbnb ($)
Cheap in Zizkov means competitive. But here's the thing about cheap stuff: it can also be calm – especially in Eastern Europe. Instead of going for a hotel, pick one of the myriad rentals offered by locals in this wonderfully authentic district and stock the fridge with whatever you please.
Smichov

If Prague had a meatpacking district, Smichov would be it. West of the Vltava, just beneath Mala Strana, this is a transport hub with excellent connectivity – all tramlines converge here, so you can hop on and hop off wherever your heart decides to take you. That's far from its sole selling point: in fact, this busy area may keep you from wanting to leave with all that it's got to offer. The scores of old factories in this sizeable district give it a fresh, urban feel you will love. What's more, Petrin and Imperial parks are located in this area, so it is an ideal compromise for the nature-lover and urbanite couple. If that sounds like you two, come in the spring and head to the Smichov riverbank to check out the beer festival, which offers the best of both worlds.
Hotel Julian. ($$$)
The rooftop terrace at Hotel Julian comes with fantastic views, and the interiors below it are decorated to look like Chekhov play meets the bourgeois living room. There is a spa and an in-house restaurant for some real Czech cuisine, and the river is just a couple blocks away.
Apartments U Staropramenu ($$)
If the name sounds familiar, you must be a beer lover, because Staropramen is one of the most popular brews in the Czech Republic. The name is sadly where the allegory begins and ends, as this property does not have much to do with the beer brand, and thus will not be providing it for free on tap. We sincerely apologize for that massive letdown and ask you to consider staying at one of these serviced apartments, nonetheless. It comes with bright rooms and a full kitchen, with a fridge that has ample space for you to stock up on your beer in consolation. If all that doesn't quite hit the spot, the view is fantastic, too.
Akat Pension ($)
This is the kind of place where you'd meet a barman who has a few stories up his sleeve and where the rooms look like you're staying at a friend's house. Very friendly and an ideal place to meet fellow travelers, the humble but never boring Akat Pension is bound to steal your heart.
Karlin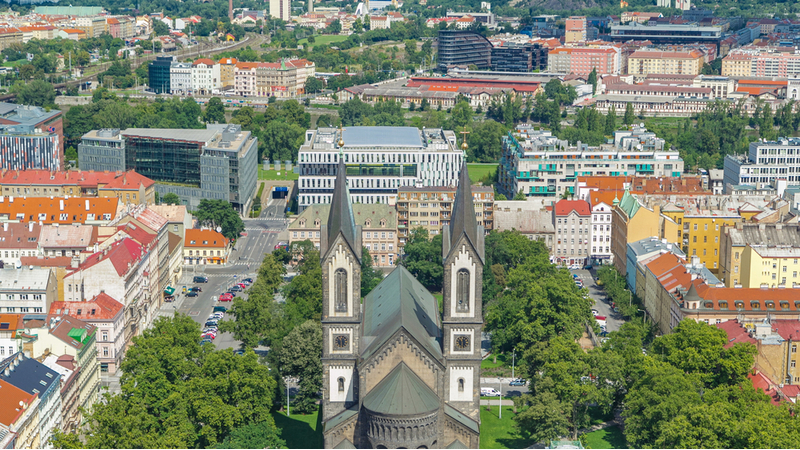 To communicate that you have become a Prague local for however brief a time, what you want to be able to say is, "oh, I'm staying in Karlin." Every restaurant, bar, cafe, pub, or club here is something locals know and love, meaning that you will only hear Czech anywhere you turn your tourist-weary head. One of the lovely plus points of staying in this district up just behind the river bend is the fact that you can go full fancy for a smaller price while being close enough to the old part of town to hop on over anytime you like. An easy walk from many other exciting parts of Prague, Karlin is a captivating experience.
The Hotel Royal Prague ($$$)
The Hotel Royal is an excellent example of the very attainable luxury Karlin stands for. The building is an imposing, modern block of minimalist design, and the interiors match this feel exactly. Hotel Royal is the type of place that has a single orchid as a centerpiece on its breakfast table, so you know they take fancy seriously. What we know is that you'll love it, just make sure you don't get stuck in the spa for the entirety of your trip.
Pentahotel Prague ($$)
For those who want to combine luxury with a pop of color and a lower price, the Pentahotel is the best bet. All dim lighting and accidentally-on-purpose design, it is incredibly photogenic, very industrial chic, and could be no more ideal in terms of location. If you are one of those people obsessed with the color purple, stay at Pentahotel.
Empire Apartments Karlin ($)
Brought to you by the same company responsible for the midrange option in Mala Strana, Empire Apartments Karlin is a fantastic choice if not entirely economical. Ideal for larger groups or families with kids, the apartments here have multiple rooms and fully equipped kitchens. It doesn't hurt that they are gorgeous, either.