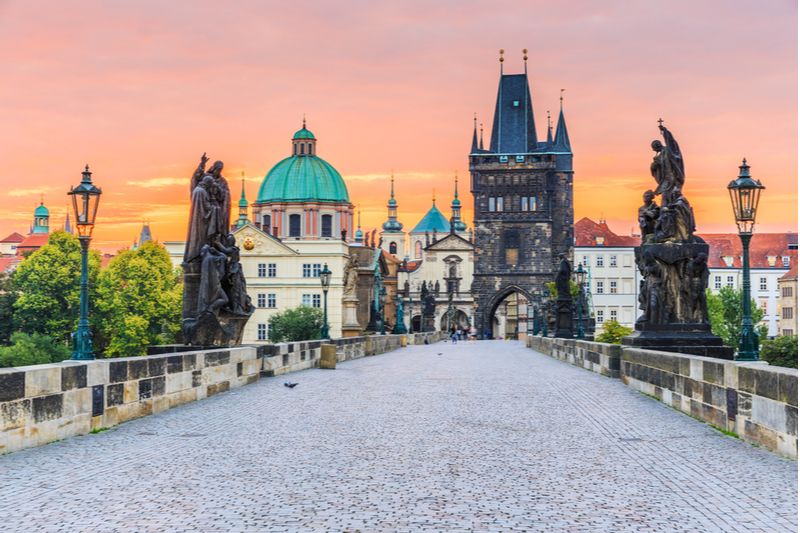 Prague
Beer and the rowdy groups of tourists enjoying it may be a constant fixture in Prague, but there is so much more to the Czech capital than the stories stag weekend attendees bring back to tell. Since its relatively recent independence from a socialist regime as well as neighboring Slovakia, the Czech Republic has become a top tourist destination, and deservedly so. The home of Franz Kafka is, in certain circles, referred to as a little Paris, and it's easy to see why: wide, leafy boulevards and an undulating river, gorgeous architecture, and no-frills ease of living make Prague very romantic and oh-so-chic.
Culture
Among many other things, Prague is also rock and roll, in the countercultural sense of the term now fading from memory elsewhere. People still listen to that music here, and the city complements the feeling with things like a wall dedicated to John Lennon. Residents of the Czech capital even skip work because last night went on until today morning, still read Kafka to their lovers, and still aren't afraid to revolt. Couple this with the fine-boned tradition of ancient, gorgeous buildings that litter the city and a thriving cultural scene of museums, independent cinema, and contemporary literature, and you've got a city that's hard to beat in the discipline of cool. Visit Prague to see a small and fiercely proud nation with a strong identity and love of simple pleasures.
Food
The food here is honest, straightforward, and not the best fare for those trying to lose weight. If you wanted us to speak of actual, solid food, let's set one thing straight: Czech food is all about liquid. Sauces and soups, more specifically. Try Kulajda, the flagship soup of the country, in one of the hundreds of different places, and versions, they serve it in Prague. Other than that, you'll also notice that the food in Prague is marked by the country's history with both the Austro-Hungarian Empire and the USSR. That being said, if you have a favorite in any of the former member nations, you will undoubtedly be able to try the Czech answer to that in Prague: Goulash, all kinds of dumplings, deep-fried dough and sausages, all iconic staples of the region and of certain times of history.
Entertainment
Prague is a severe music fanatic's dream come true. Not only was the city the home of renegade Czech composer Antonín Dvořák, but it also has one of the most beautiful Opera buildings in the world, as well as hosting some incredible events dedicated to the enjoyment of classical music year-round. If you yearn for something more contemporary, Prague has no shortage of concerts of every other genre, either. There are theaters, experimental art spaces and warehouses converted to showcase exhibitions by artists from around the world. Prague makes a lot more noise than its size would have you believe, and it is a lot more fun than many larger cities, mostly owing to the lack of pretense in everything that happens there.