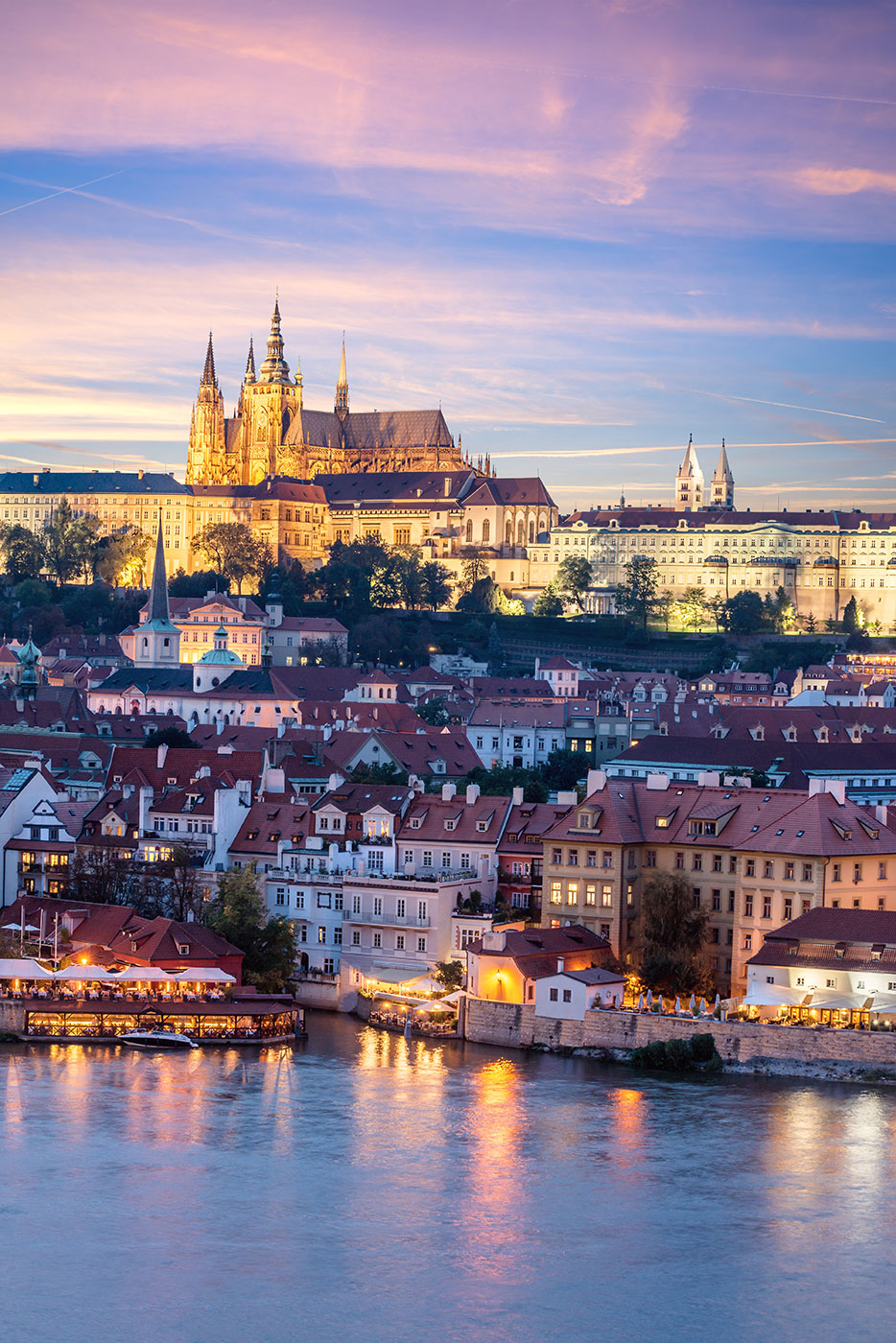 Best Photography Spots in Prague
"Photography is the easiest art, which perhaps makes it the hardest."

- Lisette Model
Whether you are a hobby photographer or someone who takes pictures seriously, you know how hard it can be to get just one perfect shot, of anything. Nowhere is this more apparent than when you're on vacation. You go from museum to museum, from spot to spot and take that obligatory picture of you appearing to hold a distant landmark in your palm. You squeeze through hordes of tourists to get a quick shot of something everyone else has a picture of already, only to realize that someone walked into the frame. Well, it doesn't have to be like that. There are a few things you can do to make sure that when you show your pictures from the trip, your friends will want a printout.
First, you need to find a ravishing, photogenic city that is not one everyone thinks of, like Paris, New York or Venice. This means you should probably choose Prague. And here's why: while many cities have been called The Paris of the East, from Beirut through Istanbul all the way to Pondicherry, there really is no city eastward of the French capital that feels quite so much like it.
Also, Prague looks gorgeous all year. You've got the crisp, clear light of spring, the busy, balmy buzz of summer, the rainbow of colors in the fall, and fog like a glass of milk spilled on the city in the wintertime. Prague is small, but not tiny; popular, but not crammed. You can easily beat the crowds if you wake up just before dawn to head to your favorite spots and get some pictures in while the city is still asleep at sunrise.
The next thing you should do is look for hidden gems instead of trudging down the path everyone else takes. Skip the top ten things to do and choose some from the top 100. You don't need to be Josef Sudek to catch Prague in one of her finer clandestine moments, though checking out the famous Czech photographer's love affair with his city is sure to inspire you, even if you've only got your phone to shoot with – he made do with just one arm, so you really have no excuse to try your hand. Known as the Poet of Prague, he made the Czech capital his muse, and it is easy to see why. Speaking of Sudek, our list of the best photography spots in Prague starts with his favorite subject:
1. St. Vitus Cathedral

This Gothic beauty inside the castle complex may be breath-taking in real life but comes out great on pictures, too. And that's just the outside of it. The largest church in the Czech Republic is maybe even more beautiful once you're inside. Now, we're not saying you should take pictures, but just know that Sudek did, and look them up to get in the mood to love this city. Even if you're not too keen on busting out a camera in a place of worship, take a picture with your mind of the light slanting through the windows like sheets of paper reaching down to the marble floor.
2. Old Breweries
There isn't one brewery, in particular, you need to see, so you can check any one of them to have a glass or two because many of the breweries in Prague are ancient and the glow of the copper equipment comes out great in the low evening light no matter where you are. Just make sure not to have too many pints of the house brew, or you could find your pictures a blurry, wonky mess. Or, have as many as you want and call the end result art – you're in Prague, it's allowed.
3. Letna Park
Spread over 25 hectares, this park set on a hill is absolutely gorgeous and the views from here are, too. Come to Letna to get a few snaps of Prague at her best: the river and the bridge framed by trees, taken from the best vantage point in town. The park may be best known for a 15-meter statue of a well-known man called Stalin, but try as you might, you will no longer find him looming over the city, quite a picture though it must have made. What you will find is a dance of colorful foliage in the fall or flowers blooming in spring worth the steep climb to the park, if the view alone wasn't tempting enough.
4. Charles University

The oldest and largest university in the country is a sight for sore eyes – or lenses – that you won't want to miss. Charles University is one of the longest- standing establishments of higher education in Europe, which really means something since everything in Europe is pretty old. It doesn't really matter when you go, because whether it is quiet and empty or teeming with young minds yearning for knowledge, this imposing building always puts its best foot forward in pictures. If ever there was to be a school of wizardry in Eastern Europe, Charles University would make a fine choice.
5. National Library
If you're looking to take pictures of the most unreasonably beautiful interiors, it is strongly recommended you head to the Clementinum, at the National Library, once part of Charles University. Baroque to the point of inducing diabetes, this place is endlessly ornate and ideal for close-up detail shots as well as more grandiose wide-frames. While you're at it, check out a few of the books in this incredible collection of over six-million volumes.
6. Food Photography
Fine, maybe taking pictures of food is beneath you. Maybe you're not the one to post pretty little pictures of your untouched lunch on social media. You're not the pre-made filter type. But all that may very well change once you get a gander of the culinary world Prague has to offer. Say goodbye to done-and-dusted French patisserie shots and do a series of Czech pastry window displays. Or, if you're into more grotesque aesthetics, why not visit some of those typical, olden-days butchers in the city to take photos of their offerings? Prague has some gorgeous food to immortalize on film before you make it disappear for good.
7. Franz Kafka Monuments
Though many assume him to be German, the writer with a knack for the Kafkaesque, for lack of a better word, was actually born in Prague. Visit the monuments erected in his honor at dawn to catch the statues in some surreal light and eerie emptiness. You read that right – there are two of them: a kinetic one called Head of Franz Kafka, by David Czerny and another statue those who've read Kafka's first novel, Amerika, will recognize as an image from the book. Both offer almost endless variations for images that are most definitely not featured in everyone's Prague album.
8. Freudian Slip
Since we're on the topic of statues and peculiar men, check out Man Hanging Out. What looks like a guy about to fall to his death is meant to be Sigmund Freud, shrink extraordinaire, weighing his options. The figure, holding on to a rod on the side of a building in Prague's old town is very lifelike from a distance and makes for an uneasy picture, which is something that Freud surely would have liked. Then again, who really knows.
9. National Theatre
It won't be easy to decide on an angle to best capture this beauty from, that's for sure. The National Theatre is a glorious example of the architectural opulence that the Czech capital is famous for, and the setting will make any picture of it seem like it was taken in the land of fairy tales instead of Prague. For a smaller variation on a similar theme, check out the Opera House and make sure to try and get inside – the auditorium is deliciously ornate and very, very photogenic.
10. Lennon Wall

There's no talking about Prague in the context of photography without mentioning the Lennon wall, a collective art installation the city is fiercely proud of, and for a good reason. Come here, bring a sharpie and give this constantly evolving landmark a personal touch before taking some – admittedly cliché and thus predictable – pictures of it. But your pictures will have something other people's don't. You'll be surprised how quickly the wall will look completely different from how you left it, so it's good to get it down for posterity.
11. The Black Madonna Staircase
A photographer's favorite, this staircase in the cubist House of the Black Madonna looks like a glowing lightbulb when seen from the ground floor in the daytime. It is an example of something that looks as good, or even better really, in a picture as it does in real life. If you can't make it here in time for that electric glow, the building still has many runner-up spots for you to photograph.
12. Wenceslas and His Dead Horse
Find the time to visit the Lucerna Palace, itself a pretty example of art nouveau, to see something strange and unusual: namely the Czech king Wenceslas suspended from the ceiling, seated on an upside-down horse who has certainly seen better days. While it may not be the most flattering portrait of a king, it sure does make for a good postcard. The perpetrator of this art piece is, perhaps unsurprisingly, David Cerny, the man responsible for all statues on this list and virtually all statues in the city of Prague, it seems. It is very easy and rewarding to go on a quest to try and get as many of his works photographed as you can manage.
13. The Powder Tower
Called powder tower because of the gunpowder stored there, this Gothic tower in Prague was once one of the thirteen original gates to the city. Today, it separates the old town from the new. The gloomy, dark facade of the tower looks amazing on a rainy day, so don't despair if your holiday comes with a few clouds and head straight here at the first sign of drizzle. This may also be a wonderful opportunity for some stark black and white shots.
14. The Christmas Market
The uncontested highlight of the winter season in Prague is, of course, the Christmas market. If you're in town for the most wonderful time of the year, lace up your boots and definitely take your camera along. The market in the Old Town Square is a festive explosion of colors, textures, and lights. Take joyously kitschy pictures of candied apples, handmade puppets, jars with strange contents, and the tree dressed to the nines.
15. Nerudova Street

On your way up to Prague castle, make sure to take Nerudova street. While you may aim for some of the above locations to be void of people for that perfect oh-so-arty shot, Nerudova street looks great with a bit of life in it, it must be said. Come here if you are interested in sigils, typography, and symbolism. This street is known for its house signs, which make lovely triptychs, for those times you've had enough of wide-angle vistas or imposing buildings. Before house numberings were introduced in the unaccountably late year of 1770, buildings were identified by signs above the entrance, and this street has kept a lot of them intact. Take your artistic pick between houses featuring signs with lions, swans, eagles, and lobsters.
16. Naplavka, or Anywhere on the Riverbanks
On a languid summer's day, if by chance you find yourself on the riverbank called Naplavka and you weren't one for photography until then, this place would surely change your mind. You would reach for whatever device you had on you and start snapping away wildly. This stretch of land by the water is a stunning side of Prague, and she knows it. Sit down here among the crowd on a warm evening and watch the sunset as the river laces through the middle of this grand little city. Take pictures.