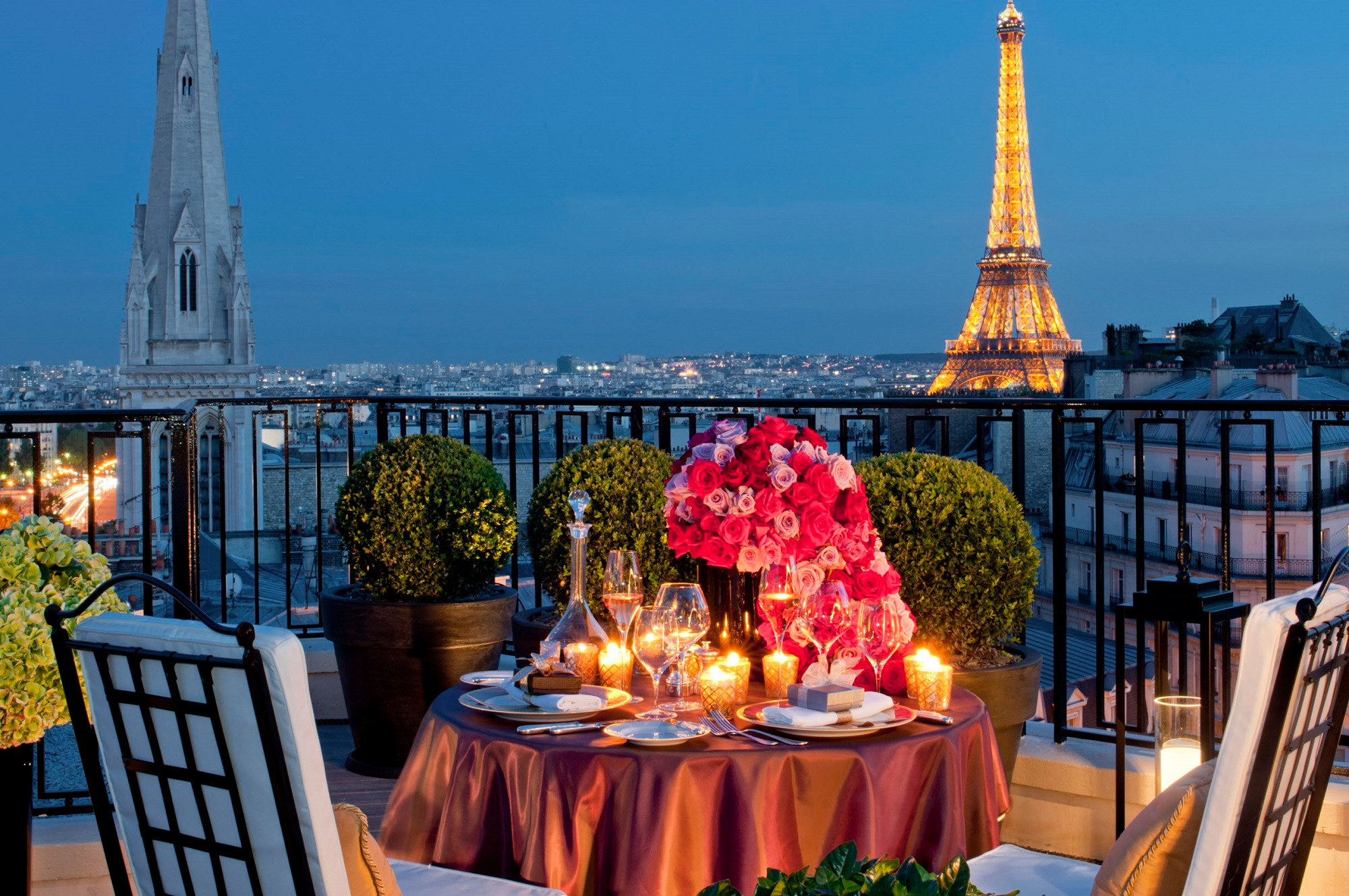 Most Romantic Things to Do in Paris for Couples
Surprise your sweetie and take them to one of these seven romantic hotspots in Paris.
Paris is known as the City of Love, and it's a superb place to take your special someone if you want to sweep them off their feet. There is romance around every corner in this historic, elegant European capital - from poetic parks to top-notch restaurants to cozy cafes and inspiring vistas.
So, what can you do with your sweetheart in Paris? Let's take a look at some of the most romantic activities for couples in this beautiful and historic city:
Dine at Chez Georges
Did you know that the Centre Georges Pompidou has a rooftop terrace restaurant with stunning views of the most famous landmarks in Paris? If you really want to impress your date, take them to Chez Georges. Not only is the view spectacular, but the decor of the restaurant is impressive as well, with huge curved metallic shapes that will make you feel like you are part of a modern art installation.
Make sure you reserve far ahead in advance, as this restaurant is guaranteed to be fully booked. Ask for a table outside, so that you can enjoy the stellar views. Arrive early, so that you can peruse the fascinating art collection of the Centre Pompidou while you wait for your table.

Visit the Temple of Love
Believe it or not, there is a Temple of Love in Paris. It's located in the beautiful Bois de Vincennes Park, on an island in a lake. It's known as the Temple Romantique, and it is the perfect place to watch the sunset with your sweetheart. Even during the busiest tourist season in Paris, the Bois de Vincennes is wonderfully quiet and uncrowded.
It was constructed by an architect in 1860, influenced by the Rococo Style. You can get there via the Line 8 Metro, just get off at the Michel Bizot stop and walk along the palm-tree lined avenue to the lake. You can either get to the temple via the bridge or rent a little rowboat to get you there. How romantic!
Have a Montmartre Picnic
Find a local marketplace and stock up on wine, bread, and cheese. Then, huff and puff up the steep winding cobblestone streets of the Montmartre neighborhood until you reach the steps of the magnificent Sacre Coeur (Sacred Heart) Church.
Find a spot to sit on the steps and sip wine while you watch the sunset over Paris. The buskers playing the guitar will set the mood for an unforgettable moment.
Listen to the Blues in a Wine Cellar
This is a heady combination of a lot of romantic elements - soulful, sexy blues music, a romantic, candlelit wine cellar, and the magical atmosphere of Paris at night. Take your date to Le Caveau des Oubliettes, which is known for offering the best live blues in Paris.
It is the oldest jazz club in Paris, and it is one of the most popular spots for lovebirds. Make sure that you get there before 9 p.m., as the cozy underground 12th-century wine cellar fills up quickly.
Another place to take your darling if you really love jazz is Au Duc des Lombards. It is one of the best jazz spots in the city, and it attracts a high class of performer. Get dolled up and spend a sophisticated evening listening to some truly high-quality live music.

Visit the Musee de la Vie Romantique
What could be more romantic than a museum depicting the Romantic era? When this lovely villa was built in 1830, the area was a spot where artists, writers, and composers created and socialized. Great names of the Romantic era, including novelist George Sand and composers Liszt and Chopin, were guests of soirees at this home.
These days, the museum is filled with stunning paintings, antique furniture and other mementos from this elegant and beautiful period in Paris. Plus, there's also a lovely secret garden out in the back with a greenhouse and a cafe.
Learn to Tango by the Seine
Did you know that on warm summer evenings in Paris, tango enthusiasts gather by the Seine in the 5th arrondissement to perfect the wonderfully seductive art of the tango? Head down to the Square Tino Rossi for this opportunity to dazzle your special someone with your dancing skills.
A man sits by the side of the river playing music on a radio and guarding the belongings of the dancers as the couples sway and move. Even if you don't want to join in, you can sit on the steps with a bottle of wine and enjoy the wonderfully romantic atmosphere. It takes place from Wednesday to Sunday from 8:30 p.m. and there are free tango lessons from 7 p.m.

Watch a Show at the Moulin Rouge
The original Moulin Rouge cabaret was founded in 1889 by Charles Zidler, and it is the birthplace of the wonderfully flirty and sexy dance – the can-can. It was originally a seductive dance performed by courtesans, but it evolved into its own form of entertainment and spread across Europe.
These days the Moulin Rouge still operates, showing lively and sensual dinner cabaret dance performances. It's a delightfully romantic and fun thing to do with your sweetheart. The decor of the club captures the romance of turn of the century Paris.
There are ticket packages available for dinner, champagne, and a show – which would make the ideal date night in Paris. Let yourself be dazzled by this classic Parisian showcase of music, dance, and feminine sensuality.
Where will you take your sweetheart on a romantic trip to Paris?
These are just a few of the most romantic things you can do while on a trip to Paris with your sweetheart. So, why not plan to take them on a special getaway and sweep them off their feet?