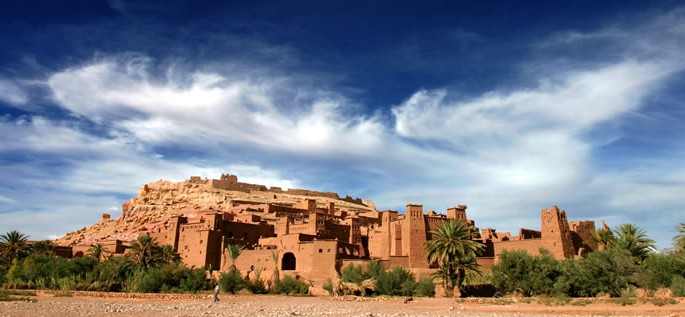 Afro Asiatic Language Family
Afro-Asiatic, formerly called Hamito-Semitic, is the largest language family of northern Africa. With a total number of speakers estimated at more than 300 million, it is spread throughout North Africa, the Arabian Peninsula and the Middle East. Since Arabic, Hebrew, Coptic, and Syriac, are the languages of Islam, Judaism, and two sects of the Christian faith, the language family reaches many millions of people in addition to first-language speakers.
The Afro-Asiatic family consists of 375 genetically related languages (Ethnologue) that developed from a common ancestral language which existed in the 6th–8th millennium BC. No agreement exists about where the ancestral Proto-Afro-Asiatic speakers lived, although most scholars agree that the ancestral language originated in Northeast Africa. Some have proposed Ethiopia as the original homeland, while others have suggested the western Red Sea coast and the Sahara.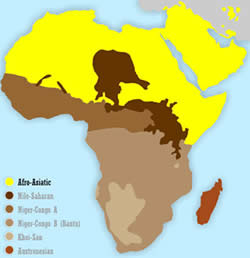 The languages belonging to the Afro-Asiatic family are subdivided into six branches:
Berber
Chadic
Cushitic
Egyptian
This branch has only one language — Coptic — which while extinct as a spoken language, is still being used as a liturgical language by the Arabic-speaking Coptic Orthodox Christians. The word Copt is derived from Arabic quft "Egyptian."
Omotic
Some scholars classify West Cushitic as a separate branch, called Omotic.
Semitic
The Semitic languages form the only Afro-Asiatic subfamily that is extant outside of Africa.
Below is a list of the top languages within each branch of the Afro-Asiatic language family.
Language

Where spoken

Berber

(26 languages)

Tachelhit

Morocco

Tamazight

Morocco

Kabyle

Algeria

Tarifit

Morocco

Tachawit

Alteria

Tamajag

Niger

Chadic

(195 languages)

Hausa

Nigeria

Ngas

Nigeria

Kamwe

Nigeria

Mlaghavul

Nigeria

Bura-Pabir

Nigeria

Bade

Nigeria

Cushitic

(47 languages)

Somali

Somalia

Oromo West Central

Ethiopia
Oromo Eastern
Ethiopia
Oromo Borana-Arsi-Guji
Ethiopia
Sidamo
Ethiopia
Afar
Ethiopia
Bedawi
Sudan
Hadiyya
Ethiopia

Egyptian

(1 language)
Extinct but used in religious practice

Omotic

(28 languages)

Gamo-Gofa-Dawro

Ethiopia
Wolaytta
Ethiopia
Kafa
Ethiopia
Bench
Ethiopia
Aari
Ethiopia
Koorete
Ethiopia
Semitic (77 languages)

Arabic (35 varieties)

Middle East, North and East Africa

Amharic

Ethiopia

Tigrinya

Ethiopia

Silt'e

Ethiopia
Tigré (Xasa)
Eritrea
Most Afro-Asiatic languages are poorly described and there is relatively little literature written in them or about them. The majority of them are spoken by fewer than 100,000 people. Almost a quarter of them are spoken by communities of fewer than 5,000 people, and a large percentage is spoken by just a handful of people. Some are on the brink of extinction or are already extinct.
Several languages are national or official languages in their respective countries. Among them are:
| | |
| --- | --- |
| Arabic | Algeria, Bahrain, Chad, Djibouti, Egypt, Eritrea, Iraq, Jordan, Kuwait, Lebanon, Libya, Morocco, Oman, Palestinian West Bank and Gaza, Qatar, Somalia, Sudan, Syria, Tunisia, Mauritania, United Arab Emirates, and Yemen |
| Amharic | Ethiopia |
| Hausa | Nigeria |
| Hebrew | Israel |
| Somali | Somalia |
| Tamazight | Algeria |
| Tigrinya | Ethiopia, Eritrea |
Dialects
Most Afro-Asiatic languages have a number of varieties. Notable among them is Arabic with 35 varieties.
Structure
The sound systems of Afro-Asiatic languages share certain phonological features. Not all of these features are present in all of them.
a six-vowel system which consists of short /a/, /i/, /u/ and long /aa/, /ii/, /uu/;
voiced and voiceless pharyngeal fricatives;
a glottal stop that is used to distinguish word meaning;
a three-way contrast between voiced, voiceless, and emphatic consonants which may be realized as velarized, glottalized, pharyngealized, ejective, or implosive.
use of semivowels /w/ and /j/ in the role of consonants.
The grammatical systems of all modern Afro-Asiatic languages share certain features. These features are not present in all Afro-Asiatic languages.
word roots that consist of three consonants;
use of infixes, rather than prefixes and suffixes, to represent grammatical relations and form new words;
three cases: nominative, genitive, and accusative with vestiges of the ergative case;
three numbers: singular, dual, and plural;
two genders in the singular;
similarities in the pronouns;
well-developed binary system of verbal aspects;
stem modifications whereby groups of related verbal stems, each with its own type of meaning, are derived from one root;
Verb – Subject – Object word order;
Vocabulary
The differences in the vocabulary of individual languages belonging to the Afro-Asiatic language family can be explained by internal developments after these languages have lost contact with each other, and by the influence of languages that were spoken by people who inhabited the lands occupied by speakers of Afro-Asiatic languages.
Below are the numbers 1-10 in a representative sample of Afro-Asiatic languages.
Semitic

1

2

3

4

5

6

7

8

9

10

Arabic

waahid

ithnaan

thalaathah

'arba`ah

xamsah

sittah

sab`ah

thamaaniyyah

tis`ah

`asharah

Hebrew

'axat

shtayim

shalosh

`arba

xamesh

shesh

sheva`

shmone

tesha

`eser

Amharic

and

hulat

sost

arat

ammist

siddist

sabat

simmint

zat`ann

asir

Berber

Tamazight

yun

sin

shradh

rb`a

hemsa

setta

seb`a

thmanya

tsa`a

`eshra

Kabyle

yiwen

wahed sin

juj tlata

rebea

xemsa

setta

sebea

tmanya

tesea

eecra

Cushitic

Somali

mid-ki

lába-di

sádehh-di

áfar

shán

li?

toddóbo

siyéed

sagáal

tómon

Oromo

tokko

lama

sadii

afur

shan

ja?a

torba

saddeet

sagal

kud'a

Chadic

Hausa

d`aya

biyu

ukù

hudù

bìyar

shidà

bakwài

takwàs

tarà

gooma
Writing
Afro-Asiatic languages are written in several scripts. Some of the major ones are listed below. Many Afro-Asiatic languages do not have writing systems.
| | |
| --- | --- |
| Arabic | Arabic alphabet |
| Hebrew | Hebrew alphabet |
| Amharic, Tigrinya | Ge'ez script |
| Oromo | Adapted version of Latin alphabet |
| Somali | Adapted version of Latin alphabet |
| Hausa | Adapted Latin alphabet (boko) and adapted Arabic alphabet (ajami) |
| Tamazight | Adapted Arabic alphabet and Tifinagh script |
| Kabyle | Adapted Latin alphabet and Tifinagh script |
Difficulty
Language Difficulty

How difficult is it to learn Afro – Asiatic languages?
Data exists for only two languages. Hebrew is a
Category III
language and Arabic is a Category IV language in terms of difficulty for speakers of English.