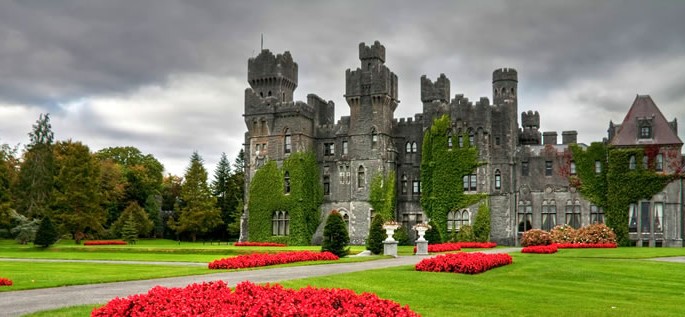 Irish Gaelic
Céad míle fáilte
Irish Gaelic (Gaeilge nah Eireann) is a Celtic language spoken by 138,000 people as a first language, and by another 1,000,000 people as a second language in Ireland with 276,000 first-language speakers worldwide (Ethnologue).The language is sometimes referred to as Gaelic, Irish Gaelic, or Erse, but in Ireland it is simply called Irish.
Republic of Ireland
Irish was the only language spoken in Ireland until the 17th century, but the dominance of English and the effects of 19th-century potato famines and emigration led to a sharp decline in the population. Today, Irish is spoken as a first language by a small minority of the population of Ireland. The main concentrations of native Irish speakers are scattered along the west coast of Ireland. An Irish-speaking area is called Gaeltacht.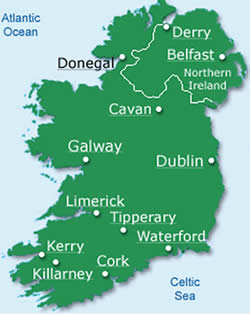 When the Republic of Ireland was established in 1922, Irish was adopted as an official language, along with English. Since then it has been a compulsory subject in government-funded schools. A relatively recent development is the spread of gaelscoileanna, i.e., schools in which Irish is the medium of instruction. Irish is also used in radio broadcasting (Raidió na Gaeltachta), television (Teilifis na Gaeilge), in newspapers, magazines, literature, theater, and the arts. In spite of all these efforts, the future of the Irish language remains uncertain. Although the number of speakers of Irish is rising in urban areas due to Irish-medium instruction, young people in Gaeltacht tend to use the language less than their elders, preferring to communicate in English.
Northern Ireland
Irish is an officially recognized minority language in Northern Ireland. It received official recognition in Northern Ireland for the first time in 1998 under the Good Friday Agreement. There is a cross-border body that promotes the language in both the Republic of Ireland and in Northern Ireland.
European Union
Irish became an official language of the European Union in 2005.
Dialects
There are three major dialects with considerable variation among them (Ethnologue).
Munster-Leinster (Southern Irish)
Connacht (Western Irish)
Donegal (Ulster, Northern Irish)
There is also some evidence that the Irish spoken in urban areas and that spoken in Gaeltacht by an older population are becoming progressively more distinct.
Structure
The sound system of the Irish language varies from dialect to dialect; there is no standard pronunciation of the language.The description below is of a somewhat 'idealized' phonology of Irish.
Vowels
Irish vowels can be long or short. Vowel length makes a difference in word meaning. In writing, long vowels are marked with an acute accent (known in Irish as síneadh fada or simply fada 'long mark'), e.g., í, é, á, ú, ó. In the table below, vowel length is indicated by a macron over the vowel.
| | | | |
| --- | --- | --- | --- |
| | i, ī | | u, ū |
| | e, ē | ə | o, ō |
| | | a, ā | |
/ə/ occurs only in unstressed syllables.
There are 5 diphthongs: /au, ai, ei, uə, iə/. Some dialects have additional diphthongs.
Consonants
Below is an inventory of Irish consonant phonemes.
voiceless

p

t

k

?

voiced

b

d

g

voiceless

f

s

ʃ

x

h

voiced

v

(z)

(ʒ)

ɣ

m

n

ŋ

Laterals

l

Trill

r

w

j
/?/ = sound between vowels in uh-oh
/z, ʒ/ occur only in borrowed words
/x, ɣ/ have no equivalents in English
/ʃ/ = sh in shop
/ʒ/ = s in vision
/ŋ/ = ng in song
All consonants except /h/ can be either velarized or palatalized. The velarized-palatalized distinction is commonly referred to as broad vs. slender. During the articulation of the sound, broad consonants are pronounced with the back of the tongue pulled back and slightly up towards the soft palate. Slender (palatalized) consonants are pronounced with the tongue pushed up toward the hard palate. The contrast between broad and slender consonants changes the meaning of a word. Broad-slender paired consonants are given below.
| | | | | | | | | | | | | | | | | | | |
| --- | --- | --- | --- | --- | --- | --- | --- | --- | --- | --- | --- | --- | --- | --- | --- | --- | --- | --- |
| Broad | p | b | v | w | f | m | t | d | n | l | r | s | z | k | g | x | ɣ | ŋ |
| Slender | p' | b' | v' | f' | f' | m' | t' | d' | n' | l' | r' | s' | z' | k' | g' | x' | ɣ' | ŋ' |
Irish words can begin with clusters of two or three consonants. In general, consonants in a cluster are either all broad or all slender. Like other Celtic languages, Irish words undergo several kinds of initial mutations:
Stress
For the most part, Irish words are stressed on the first syllable. There are some exceptions.
Irish is a highly inflected language.
Nouns
Irish nouns are marked for gender. In general, words ending in a broad consonant are masculine, while words ending in a slender consonant are feminine.
Irish nouns have four cases: nominative, vocative, genitive, and dative. There are five noun declensions that depend on several factors.
The definite article has two forms: an and na. Their distribution depends on whether the noun is singular or plural, on the case of the noun, and on the initial sound of the noun. There is no indefinite article.
Adjectives follow the nouns they modify and agree with them in gender, number, and case.
Pronouns
Irish makes no distinction between familiar and formal second person pronouns, such as tu-vous in French, and tu-Usted in Spanish. Personal pronouns are not marked for case, but there are three different sets of pronouns:
Conjunctive
If the personal pronoun is the subject of a sentence, the conjunctive forms are used.
Disjunctive
If a pronoun is not the subject, or if a subject pronoun does not follow the verb, the disjunctive form is used.
Emphatic
These forms are used to emphasize the pronoun.
An interesting feature of Irish grammar is fusion of pronouns with prepositions (sometimes called inflected prepositions), as in the following examples using the preposition ag 'at'.
1st person

agam 'at me'
againn 'at us'

2nd person

agat 'at you' (singular)
agaibh 'at you' (plural)

3rd person

aige 'at him'
aici 'at her'
acu 'at them'
Numerals
There are three kinds of cardinal numbers in Irish:
Disjunctive numbers are used in arithmetic, in telling time, in telephone numbers and after nouns in forms, e.g., bus a tri 'bus 3'.
Non-human conjunctive numbers used for counting non-humans, e.g, tri chapall 'three horses'.
Human conjunctive numbers used to count nouns that stand for humans, e.g., triúr páiste 'three children'.
Verbs
There are two conjugations.
Verbs are marked for person (1st, 2nd, 3rd) and number (singular and plural). In addition to the three persons, Irish also has an impersonal form, also called the 'autonomous' form, used in forming passives and which means 'one' or 'someone'.
There are four verb forms for tense/aspect: present, past (habitual and preterite), and future. Irish verb forms are constructed either synthetically or analytically. Synthetic forms express information about person and number in the ending, e.g., molaim 'I praise' where the ending –aim represents '1st person singular present tense.' Pronouns are not used. Analytic forms contain no information about person and number, e.g, molann sibh 'you praise' where the ending –ann represents the present tense, and the pronoun sibh ' you' represents the 2nd person plural.
There are three moods: indicative, conditional, imperative.
Although Irish has borrowed some words from English, its basic vocabulary is inherently Celtic. Here are some basic words and phrases in Irish:
| | |
| --- | --- |
| Welcome | Fáilte |
| Good bye | Slán |
| Please | Le do thoil |
| Thank you | Go raibh maith agat |
| Sorry | Tá brón orm |
| A hundred thousand big welcomes | Céad míle fáilte |
| Man | Fear |
| Woman | Bean |
Below are the numerals 1-10 in Irish Gaelic.
| 1 | 2 | 3 | 4 | 5 | 6 | 7 | 8 | 9 | 10 |
| --- | --- | --- | --- | --- | --- | --- | --- | --- | --- |
| aon | dó | tri | ceathair | cúig | sé | seacht | ocht | naoi | deich |
Writing
Celtic languages were originally written with the ogham alphabet. It consisted of 25 letters. About 500 ogham inscriptions dating back to the 4th-7th centuries AD have been found in Ireland, Scotland, Wales, and England. Some linguists think that the ogham alphabet was used primarily for record keeping. Ogham letters consisted of one to five perpendicular or angled strokes, meeting or crossing a center line. The form of the letters allowed them to be carved on wood, stone, or metal. Each letter was named after a tree or a plant, e.g.,
| | | |
| --- | --- | --- |
| | beith | 'birch' |
| | dair | 'oak' |
The Latin alphabet was introduced into Ireland by British missionaries in the 5th century BC. Today, all Celtic languages are written with adapted versions of the Latin alphabet. Because the Latin alphabet was not entirely suited for representing the sounds of Celtic languages, there were many ambiguities and inconsistencies in the spelling systems that persist to this day. Spelling and grammar were oficially standardised in 1958 with Gramadach na Gaeilge agus Litriú na Gaeilge – An Caighdeán Oifigiúil and a 'reviewed' stadard was issued in 2012 – Gramadach na Gaeilge: An Caighdeán Oifigiúil. This is the standard used in all official documents. It increasingly affects the spoken language, since the number of native speakers from Gaeltacht regions with distinctive dialects is declining.
A a

B b

C c

Ch ch

D d

Dd dd

E e

F f

Ff ff

G g

Ng ng

H h

I i

L l

Ll ll

M m

N n

O o

P p

Ph ph

R r

Rh rh

S s

T t

Th th

U u

W w

Y y
A a

B b

C c

D d

E e

F f

G g

H h

I i

L l

M m

N n

O o

P p

R r

S s

T t

U u
A a
B b
Ch ch
C'h c'h
D d
E e
F f
F f
G g
H h
I i
J j
K k
L l
M m
N n
O o
P p
R r
S s
T t
U u
V v
W w
Y y
Z z
Difficulty
Language Difficulty

How difficult is it to learn Irish-Gaelic?
There is no data on the difficulty of Irish Gaelic for speakers of English since the language is rarely taught in settings where standardized testing is used and records are kept.