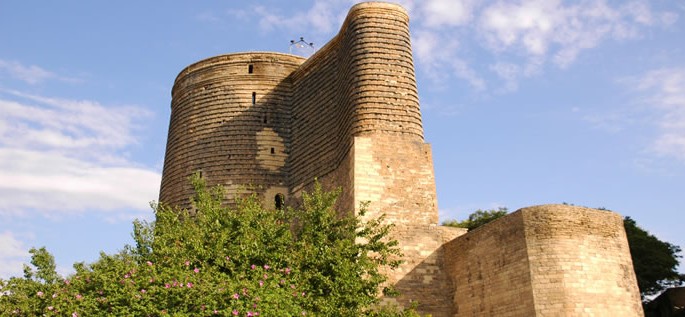 Azerbaijani
Xoş gəlmişsiniz – Welcome
Azerbaijani (Азәрбајҹан дили, آذربایجان دیلی), also known as Azeri, is a member of the Turkic branch of the Altaic language family. Turkic-speaking peoples first appeared in the area that is today's Azerbaijan in the 7th century AD. The region became Turkic-speaking in the 11th century when it was invaded by the Turks. It was invaded by Mongols in the 13th century, but the invasion was short-lived. In the early 1800s, Azerbaijan was divided between Persia and Russia. Russia took control of the northern, while Persia took over the southern region of the country.
After the partition, literature and the arts flourished in the Russian part of Azerbaijan. In the first years of the Soviet rule, communist authorities promoted the use of Azerbaijani, and in 1923 made it the official language of education. However, after World War II, the Soviet government began to wage a campaign again the growing Islamic influence in the Caucasus and stopped promoting the use of Azerbaijani.
Status

There are two varieties of Azerbaijani. Northern Azerbaijani is spoken in the Republic of Azerbaijan, and Southern Azerbaijani is spoken in Iran.
Northern Azerbaijani
6.1 million (4 million monolinguals) in Azerbaijan;
7.3 million speakers worldwide (Ethnologue)
Also spoken in Armenia, Estonia, Georgia, Kazakhstan, Kyrgyzstan, Russian Federation, Turkmenistan, Ukraine, Uzbekistan.
Southern Azerbaijani
15.5 million in Iran;
18.7 million worldwide (Ethnologue)
Also spoken in Azerbaijan, Iraq, Jordan, Syria, Turkey, United States.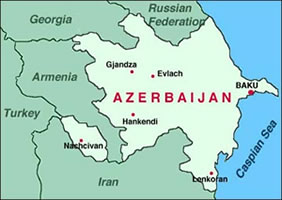 Azerbaijan
Northern Azerbaijani is the official language of Azerbaijan. It is used at all levels of education, in the media, in business, and in government. Azerbaijani is the main language of instruction with most school children being taught in Azerbaijani. The rest are taught in Russian or in Armenian. At more advanced levels of education, technical subjects are often taught only in Russian. Newspapers and magazines have been published in Azerbaijani since the mid-19th century. Radio Baku, the capital of Azerbaijan, broadcasts in Azerbaijani, as well as Russian, Arabic, Persian, and Turkish, and Baku Television broadcasts in Azerbaijani and Russian.
Iran
Southern Azerbaijani is widely used as a lingua franca in Iran, although it has no official status. Literacy rates are low. Speakers of Southern Azerbaijani use it at home and in their own communities, but are taught to read and write in Persian or Kurdish.
Dialects
There are significant differences between the Northern Azerbaijani of the former USSR and Southern Azerbaijani of Iran and Turkey in phonology, grammar, and vocabulary. Each of these two major varieties of Azerbaijani has a number of sub-dialects.
| | |
| --- | --- |
| Northern Azerbaijani | Airym, Baku, Borcala, Derbend, Ganja, Karapapak, Lenkaran, Nakhchivan, Nukha, Ordubad, Qabala, Qazakh, Quba, Qyzylbash, Salyan, Shamakhi, Shusha (Karabakh), Terekeme, Yerevan, Zaqatala (Mugaly) (Ethnologue). |
| Southern Azerbaijani | Afshari (Afsar, Afshar), Aynallu (Inallu, Inanlu), Baharlu (Kamesh), Bayat, Karapapakh, Moqaddam, Nafar, Pishagchi, Qajar, Qaragozlu, Shahsavani (Shahseven), Tabriz (Ethnologue). |
Structure
Sound system
The sound system of Northern Azerbaijani is briefly described below. It is typical of all Turkic languages.
Vowels
Northern Azerbaijani has nine vowel phonemes, i.e., sounds that make a difference in word meaning. There is a contrast between unrounded and rounded front vowels. Rounded vowels are produced with rounded protruding lips.
As all other Turkic languages, Azerbaijani is characterized by vowel harmony, a type of phonological process that restricts which vowels may be found near each other. Vowels in Azerbaijani words must be in harmony with one another in terms of front versus back, and rounded versus unrounded. For example, if the first vowel in a word is a front rounded vowel such as /y/ or /ø/, then all other vowels in that word must also be /y/ or /ø/ since these are the only two front rounded vowels in Azerbaijani.
/y/ = similar to second vowel in statue
/y/ has no equivalent in English
/ɨ/ has no equivalent in English
/ɯ/ has no equivalent in English
/ø/ has no equivalent in English
/æ/ = a in cat
/ɑ/ = a in father
Consonants
Northern Azerbaijani has 24 consonant phonemes. There are no consonant clusters at the beginning of words. Stops, fricatives, and affricates are devoiced in final position, e.g., kitap 'book' (in the nominative case), kitabi 'book' (in the accusative case).
/ʃ/ = sh in shop
/ʒ/ = s in vision
/tʃ/ = ch in chap
/dʒ/ = j in job
/c, ɟ/ have no equivalents in English
/x, ɣ/ have no equivalents in English
/j/ = y in yet
Stress

Stress normally falls on the last syllable of a word.
Grammar
Like all Turkic languages, Azerbaijani is agglutinative, i.e., grammatical relations are indicated by the addition of suffixes to stems. There are no prefixes. There is a one-to-one relationship between suffixes and their meanings, so that suffixes are strung together one after another, sometimes resulting in long words, e.g., davranmalıdırlar 'brotherhood.' There are various rules for the ordering of suffixes. Azerbaijani uses postpositions to signal grammatical relationships.
Noun phrase
Azerbaijani nouns are marked for number: singular and plural.
There is no grammatical gender.
There are six cases: nominative, genitive, dative, accusative, locative, ablative. Cases are marked by inflectional suffixes and governed by verbs and postpositions.
There are no articles.
Verb phrase
Verbs agree with their subjects in person and number. Verbs have the following grammatical categories:
Word order
Word order in Azerbaijani sentences is normally Subject-Object -Verb. However, other orders are possible, depending on discourse-oriented considerations such as emphasis.
Vocabulary
Azerbaijani lexicon is basically Turkic. Like other Islamic languages, it has been strongly influenced by Arabic. in addition to Arabic. Northern Azerbaijani has a number of borrowings from Russian. Most recently, there has been a campaign in the Republic of Azerbaijan to purge the language of Russian loanwords. South Azerbaijani speakers in Iran are often bilingual, with the result that their language is also strongly influenced by Persian,
| | |
| --- | --- |
| Hello | salam |
| Goodbye | hudahafiz |
| Thank you | sağ ol(un) |
| Please | lütfən |
| Yes | xə, bəli |
| No | yox, heyr |
| Man | insan |
| Woman | qadın |
Below are Azerbaijani numerals 1-10.
| | 1 | 2 | 3 | 4 | 5 | 6 | 7 | 8 | 9 | 10 |
| --- | --- | --- | --- | --- | --- | --- | --- | --- | --- | --- |
| Azərbaycan əlifbası (Latin script) | bir | iki | üç | dörd | beş | alti | yeddi | sekkiz | doqquz | on |
| Азәрбајҹан әлифбасы (Cyrillic script) | бир | ики | уч | дерд | беш | алты | jедди | cәккиз | доггуз | oн |
Writing
Azerbaijani has a rich literary tradition. The earliest literature in the language dates back to the 16th century. The first newspaper in the language was published in 1875. Newspapers and magazines have been published in the language ever since the middle of the 19th century. Azerbaijani was and continues to be written in several different scripts.
Northern Azerbaijan
Before 1929, Azerbaijani was written with the Arabic alphabet.
Between 1929–1938, it was written in a version of the Roman alphabet.
Between 1838-1991, it was written with the Cyrillic alphabet.
The Roman script was used from 1922 to 1939.
The Cyrillic alphabet was introduced in 1939, and was amended over the next twenty years. This alphabet contains six non-Cyrillic characters to represent sounds specific to Azerbaijani.
Southern Azerbaijani
Azerbaijani speakers in Iran have always used the Arabic alphabet, although spelling and orthography have not been standardized.
Cyrillic-based alphabet for Azerbaijani (Азәрбајҹан әлифбасы)

А а

Ә ә

Б б

В в

Г г

Ғ ғ

Д д

E e

Ә ә

Ж ж

З з

И и

Ы ы

J j

К к

Қ қ

Л л

М м

Н н

Ң ң

О о

Ө ө

П п

Р р

С с

Т т

У у

Ү ү

Ф ф

Х х

Һ һ

Ҹ ҹ

Ш ш
Latin-based alphabet for Azerbaijani (Azərbaycan əlifbası), 1992 version

А а

B b

C c

Ç ç

D d

E e

Ә ә

F f

G g

Ğ ğ

H h

X x

I i

I ı

J j

К к

Q q

Л л

М м

N n

O o

Ö ö

P p

R r

S s

Ş ş

T t

U u

Ü ü

V v

Y y

Z z
Take a look at Article 1 of the Universal Declaration of Human Rights in two scripts.
Latin
Maddə 1
Bütün insanlar ləyaqət və hüquqlarına görə azad və bərabər do ğulurlar. Onların şüurları və vicdanları var və bir-birlərinə münasibətdə qardaşlıq ruhunda davranmalıdırlar.
Cyrillic
Маддә 1
Бүтүн инсанлар ләјагәт вә һүгугларына ҝөрә азад вә бәрабәр доғулурлар. Онларын шүурлары вә виҹданлары вар вә бир-бирләринә мүнасибәтдә гардашлыг руһунда давранмалыдырлар.
All human beings are born free and equal in dignity and rights. They are endowed with reason and conscience and should act towards one another in a spirit of brotherhood.
Difficulty