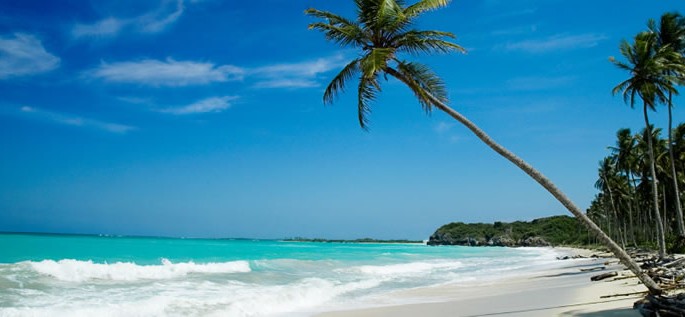 Bislama
Welkam – Welcome
Bislama, also known as Bichelama, is spoken on Vanuatu, a tropical archipelago made up of 83 islands, which stretches over some 500 miles of the Pacific Ocean, halfway between Australia and Hawai'i. Bislama is an English-based creole whose name comes from the French bêche de mer or 'seacucumber'.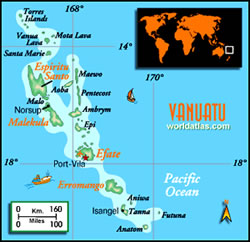 The name became associated with the pidgin used by local laborers who harvested and dried sea cucumbers and by their English-speaking overseers. It is partially intelligible with Tok Pisin of Papua New Guinea, Pijin of the Solomon Islands, and Torres Strait Creole.
Status
Bislama is one of the official languages of Vanuatu, along with English and French. It is spoken as a first language by 10,000 of the country's inhabitants who speak over a hundred different first languages (Ethnologue). Bislama is the major language of politics, commerce, and of the media. It is used orally in education.
Dialects
Bislama shows some dialectal variation, principally in pronunciation. Differences are primarily due to the first languages of the speakers.
Structure
Sound system
Even though most of the words in Bislama were borrowed from English or French, their pronunciation is quite different. In addition, since Bislama is learned as a second language by most speakers, its pronunciation is influenced by the speakers' first language.
Vowels
Bislama has five vowel phonemes, i.e., sounds that distinguish word meaning. Diphthongs are represented by two vowels, e.g., boe 'boy', haos 'house', naef 'knife'.
Consonants

Bislama has a simple consonant system with17 consonant phonemes, i.e., sounds that differentiate word meaning. There are no consonant clusters. When English words are borrowed into Bislama, the consonants are often either dropped, or vowels are inserted between them, e.g., four becomes foa, school becomes sukul, six becomes sikis, orange becomes aranis.
/tʃ/ = ch in chap
/ŋ / = ng in song
/j/ = y in yet
Grammar
The grammar of Bislama is similar to that of Tok Pisin. Like all pidgins and creoles, Bislama lacks inflections. Reduplication is very common, and serves many different purposes.
Nouns
The plural is formed by ol 'all' before the noun, e.g., bia 'beer', ol bia 'beers'.
Nouns are not inflected for gender or case.
There are no articles, e.g., Mi tija 'I am a teacher'.
Pronouns
The pronominal system of Bislama is fairly complex. It includes dual, triple, and multiple plural personal pronouns as well as an inclusive and exclusive first person plural. Below is a table of Bislama personal pronouns.
mi

I

1st person singular

yu

you

2nd person singular

emi

he/she/it

3rd person singular

yumi

we

1st person inclusive multiple

yumitu

1st person inclusive dual

yumitri

1st person inclusive triple

mifala

1st person exclusive multiple

mitufala

1st person exclusive dual

mitrifala

1st person exclusive triple

yufala

you

2nd person multiple

yutufala

2nd person dual

yutrifala

2nd person triple

olifala

they

3rd person multiple

tufala

3rd person dual

trifala

3rd person triple
Verbs
Most Bislama verbs consist of a stem borrowed from English, French, or a local language plus the ending –em, –im, or -um (from 'him') to mark transitivity, e.g., wantem 'want'.
The present progressive tense is expressed by stap, the past tense is expressed by bin, and the future tense is expressed by bambae (from 'by and by').
There is no copula verb, e.g., Mi tija 'I am a teacher'.
Negation is formed by placing no before the verb.
Present

Mi wantem frut. (Mi no wantem frut)
I want fruit (I do not want fruit)
Mi stap slip.
I am sleeping

Past

Mi bin wantem frut.
I wanted fruit

Future

Bae mi wantem frut.
I will want fruit.
Prepositions
There is a limited number of prepositions. Two of them are especially frequent and have a wide range of meanings.
Mi stap slip long haos.
'I am sleeping in the house'.
Mi bin katem fruit long naef.
'I cut the fruit with a knife'.
Stoa long haos.
'The store is next to the house'.
Bambae mi kuk blong yu.
'I will cook for you'.
Man blong Amerika.
'Man from America', i.e., 'American'.
Buk blong mi.
'My book'.
Vocabulary
Bislama vocabulary includes words from English, French, and a number of Vanuatu languages, e.g., kumala 'sweet potato' from a Melanesian language. Most words have a wide range of meanings. When precision is required, the result may be a long description instead of a single word. Reduplication is a common phenomenon, e.g., smolsmol 'tiny', tingting 'thought'.
Below are a few basic words and phrases in Bislama.
| | |
| --- | --- |
| Hello | Halo |
| Goodbye | Tata, baebae, ale |
| Please | Plis |
| Thank you | Tangkyu |
| Sorry | Sori |
| Yes | Yes |
| No | No |
| Man | Man |
| Woman | Woman |
Bislama numerals 1-10 are given below.
| 1 | 2 | 3 | 4 | 5 | 6 | 7 | 8 | 9 | 10 |
| --- | --- | --- | --- | --- | --- | --- | --- | --- | --- |
| wan | tu | tri | foa | faef | sikis | seven | eit | naen | ten |
Writing
Bislama was an unwritten language until about 100 years ago. The publication of a dictionary in 1995 has helped to create a standardized orthography. Below is the standard Bislama alphabet.
| | | | | | | | | | | |
| --- | --- | --- | --- | --- | --- | --- | --- | --- | --- | --- |
| A a | ae | B b | E e | F f | H h | I i | J j | K k | L l | M m |
| N n | NG ng | O o | P p | R r | S s | T t | U u | V v | W w | Y y |
Take a look at Article 1 of the Universal Declaration of Human Rights in Bislama.
Atikol 1
Evri man mo woman i bon fri mo ikwol long respek mo ol raet. Oli gat risen mo tingting mo oli mas tritim wanwan long olgeta olsem ol brata mo sista.
Article 1
All human beings are born free and equal in dignity and rights. They are endowed with reason and conscience and should act towards one another in a spirit of brotherhood.
Difficulty
Language Difficulty

How difficult is it to learn Bislama?
There is no data the difficulty of Bislama for speakers of English.