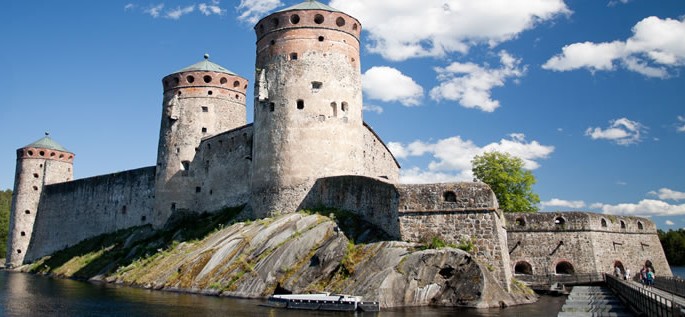 Finnish
Tervetuloa – Welcome
Finnish (Suomi) is a member of the Finnic branch of the Uralic language family. It is not an Indo-European language. Among its closest living relatives are Karelian, Veps, Ingrian and Estonian, and the almost extinct Votic and Livonian. Finnish is spoken by 4.7 million people in the Republic of Finland. It is also spoken in Canada, Estonia, Norway, Russian Federation, Sweden, United States. The total Finnish-speaking population of all countries is estimated to be close to 5 million people (Ethnologue).

Status
Finnish is statutory national language of Finland. It is spoken by a majority of Finland's population. Finnish is also recognized as a minority language in Sweden and Norway. It is one of the official languages of the European Union.
Dialects
Finnish has numerous dialects that are generally divided into Eastern and Western. The Eastern group includes the Savonian and South-Eastern dialects, while the Western group includes the South-Western, Mid-Southwestern, Tavastian, Southern Ostrobothnian, Middle and North Ostrobothnian and Far-Northern dialects (Institute for the Languages of Finland).
In addition, there are two main varieties of Finnish, a formal and an informal one. Yleiskieli is the formal variety used in church sermons, political speeches, and newscasts. Its written form, kirjakieli, is used for most formal writing. It is rarely used in informal writing or on the Internet. Finnish children learn kirjakieli in school. Puhekieli is the informal variety used in everyday life, in most informal situations and in the popular media.The differences between the two varieties can be quite significant, as can be seen from these examples (Institute for the Languages of Finland).
| | | |
| --- | --- | --- |
| Yleiskieli | Puhekieli | English |
| minun kirjani | mun kirja | 'my book' |
| punainen | punanen | |
Structure
Sound system
Finnish has more vowels than consonants. Syllables may be open, i.e., end in a vowel, or closed, i.e., end in a consonant. There are no consonant clusters, except in borrowed words.
Vowels

There are several features that distinguish the vowel system of Finnish.
Finnish has 8 vowel phonemes which can be long or short. Vowel length makes a difference in word meaning, e.g., muta 'mud' and muuta 'other'. In addition, there is a contrast between unrounded and rounded front vowels. The vowel phonemes of Finnish are given below. Length is represented by a macron over the vowel.
In addition, Finnish has 16 diphthongs.
/y/ has no equivalent in American English.
/ø/ has no equivalent in English; like the vowel in French peu 'a little'.
/ɶ̄/ has no equivalent in American English.
Consonants

Finnish has a small inventory of only 15 consonant phonemes. Consonants in parentheses occur only in loanwords. Consonants marked by an asterisk have a limited distribution in the language.
There are no voiceless-voiced oppositions and very few fricatives.
Almost all consonants can be doubled (geminated). Double consonants occur only medially and distinguish word meaning.
Consonant clusters do not occur in native Finnish words. They can be found only in loanwords.
/ʔ/ = sound between the vowels in uh-oh
/ʃ/ = sh in shop
/ŋ/ = ng in song
/j/ = y in yet
Stress
Stress always falls on the first syllable of a word and thus does not distinguish word meaning.
Grammar
Finnish is an agglutinative language, i.e., it uses suffixes to indicate grammatical functions. The suffixes are attached to the stem in a fixed sequence. Postpositions are more common in Finnish than prepositions, for example 'after Christmas' in Finnish is joulun jälkeen, literally 'Christmas after'.
Nouns and adjectives
Finnish nouns consist of a stem + number suffix + case + personal possessor. Below are some distinguishing features of Finnish nouns.
two numbers: singular and plural.
Personal possessor suffix indicates the item's possessor, e.g., nominative talonsa 'his/her house(s)' from talo 'house.'
There are no definite or indefinite articles.
There are no gender distinctions.
Adjectives agree with the nouns they modify in number and case.
15 cases: the nominative case has a zero suffix (no ending), all other cases are marked by suffixes. The most commonly used cases are nominative, accusative, genitive, general locative cases (essive, partitive, translative), and specific locative cases (inessive, elative, illative, adessive, ablative, allative). The use of instructive, comitative, and abessive cases in modern Finnish is limited.
The table below illustrates the complexity of the Finnish case/number system, using the stem kirja– 'book'. Click on the name of the case to see a description of its meaning and usage.
Verbs
Finnish verbs are marked for the following categories:
There are two voices: active and passive.
Each voice has four moods: indicative, potential, conditional, and imperative.
The indicative mood has four tenses. There are two simple tenses (present-future and imperfect) and two compound tenses (perfect and pluperfect).
In the active voice, a verb form can consist of three components in fixed order: stem + tense/mood + number and person.
Click here to conjugate a Finnish verb.
Word order
The normal word order in Finnish is Subject – Verb – Object. Since case endings clearly mark the function of words in a sentence, there is considerable flexibility that allows for different word order to mark emphasis or focus. Focus is pragmatically determined and marked by placing it as the first constituent in a sentence. Modifiers precede the noun modified.
Vocabulary
The vocabulary of present-day Finnish has several sources.
Many indigenous words date back to the ancestral Finno-Ugric language. These words have to do with such basic notions as parts of the body, environment, kinship, and basic activities.
New vocabulary created by using a complex system of derivational suffixes, both verbal and nominal. It is estimated that up to 70% of modern Finnish vocabulary consists of indigenous words or those created from indigenous words by using derivational suffixes.
Over the course of many centuries, Finnish has borrowed a great number of words from a wide variety of languages, including Turkic, Baltic, Germanic, and Slavic languages. Swedish was the source of loanwords from the early middle ages to the present. Many of the Swedish loanwords themselves were borrowings from Latin, Greek, German, French, Italian, Arabic, Spanish, and English.
Below are some common Finnish words phrases.
| | |
| --- | --- |
| Hello! | Hei |
| Good bye! | Näkemiin. |
| Please! | Ole hyvä (when speaking to one person informally); olkaa hyvä (when speaking to more than one person, or formally) |
| Thank you! | Kiitos |
| Excuse me! | Anteeksi |
| Yes | Kyllä. |
| No | Ei. |
| Man, person | Mies |
| Woman | Nainen |
Below are Finnish numerals 1-10.
| 1 | 2 | 3 | 4 | 5 | 6 | 7 | 8 | 9 | 10 |
| --- | --- | --- | --- | --- | --- | --- | --- | --- | --- |
| yksi | kaksi | kolme | neljä | viisi | kuusi | seitsemän | kahdeksan | yhdeksän | kymmenen |
Writing
The first written documents in Finnish were created by bishop Mikael Agricola who wrote an alphabet book in 1542 and a catechism in 1544. Agricola's writing system was based on Swedish, at the time the official language of Finland, as well as on German, and Latin. This writing system was revised over time. Present-day Finnish uses the Roman alphabet (suomen aakkoset), with the addition of the letters å, ä, ö which are listed at the end of the alphabet. The consonants b, c, z, x are only used in loanwords. With few exceptions, each letter represents a single phoneme, i.e., a sound that differentiates word meaning. Double letters indicate sound length.
The Finnish alphabet (suomen aakkoset) is given below.
| | | | | | | | | | | | | | | |
| --- | --- | --- | --- | --- | --- | --- | --- | --- | --- | --- | --- | --- | --- | --- |
| A a | B b | C c | D d | E e | F f | G g | H h | I i | J j | K k | L l | M m | N n | O o |
| P p | Q q | R r | S s | T t | U u | V v | W w | X x | Y y | Z z | Å å | Ä ä | Ö ö | |
Take a look at Article 1 of the Universal Declaration of Human Rights in Finnish.
1. artikla.
Kaikki ihmiset syntyvät vapaina ja tasavertaisina arvoltaan ja oikeuksiltaan. Heille on annettu järki ja omatunto, ja heidän on toimittava toisiaan kohtaan veljeyden hengessä.
Article 1
All human beings are born free and equal in dignity and rights. They are endowed with reason and conscience and should act towards one another in a spirit of brotherhood.
Did You Know?
Did you know that the word 'sauna' came from Finnish 'sauna', literally 'bath room'?
Difficulty