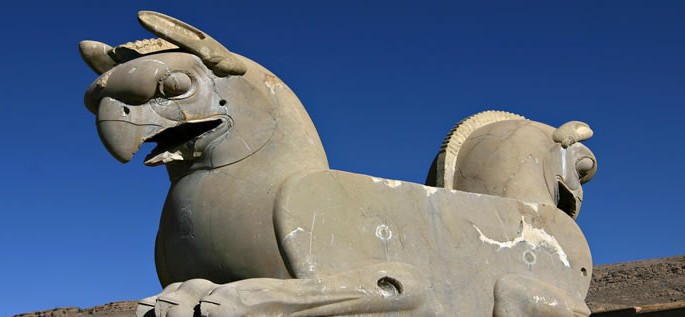 Indo-Iranian Branch
Iranian languages constitute a branch of the Indo-European language family. They are spoken over a wide area of the Middle East. The languages are called Iranian because the largest members of the branch have been spoken on the Iranian plateau since ancient times.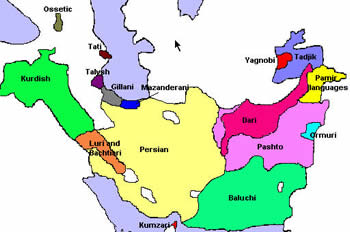 Iranian languages, together with Indo-Aryan languages are thought to have evolved from a common ancestral language called *Proto-Indo-Iranian.
Most scholars subscribe to the hypothesis that the original homeland of Indo-Iranian was an area located northwest of the Indian subcontinent bordered by the Caspian sea in the east and Afghanistan in the north. It is hypothesized that sometime in the 2nd
millennium BC, people who spoke the ancestral Indo-Iranian language migrated to the south and west, settling over a wide area of the Middle East where modern Indo-Iranian languages are presently spoken.
According to Ethnologue, there are 87 Iranian languages, a few of of them now extinct, and many with a very small number of speakers. They are spoken today by 60-80 million people. The table below lists languages with at least half-a-million speakers.
Status

Five Iranian languages have official status in their respective countries.
Persian Western (Farsi)
It is is spoken by close to 25 million people in Iran where it the official language
Persian Eastern (Dari)
It is spoken by close to 8 million people in Afghanistan, Iran, and Pakistan. It is the co-official language of Afghanistan, along with Pashto.
Pashto
It is spoken by 18.5 million people in Afghanistan and Pakistan. It is the co-official language of Afghanistan along with Dari.
Kurdish
It is spoken by 11.5 million people in Iraq, Turkey, Iran, Syria, and Armenia. It is an official regional language of Iraqi Kurdistan.
Dialects
Modern Iranian languages may have descended from Middle Iranian languages that were spoken between 300 BC and 950 AD. They are usually divided into four groups that reflect the differences in their sound systems, grammar, vocabulary, and sometimes writing.
Northwestern, e.g., Kurdish and Balochi
Structure
Sound system
The sound systems of Indo-Iranian languages share many common features.
Vowels
Most Iranian languages typically have 6-7 vowels which may be short or long. Vowel length makes a difference in word meaning. The vowel system typical of Persian (Farsi) is typical of Iranian languages.
Consonants
Most Indo-Iranian languages have 23-24 consonants. The consonant system of Persian (Farsi) is fairly typical of Indo-Iranian languages.
/q/ = no equivalent in English
/?/ = sound between vowels in uh-oh
/x/ = no equivalent in English
/ʃ/ =sh in shape
/ʒ/ = s in measure;
/tʃ/ = ch in chat
/dʒ/ = j in jet
/j/ = y in yet
Some Iranian languages, such as Pashto and Balochi, have retroflex consonants typical of languages of the Indian sub-continent, such as Urdu and Hindi.
Stress
Stress typically falls on the last syllable of the root.
Grammar
All Iranian languages are inflected, with some elements of agglutination. They add suffixes to roots to express grammatical categories and to form words.
Nouns
Some Iranian languages, such as Persian (Farsi) and Dari have lost many of their noun declensions, while others, such as Balochi, have a well-developed case system.
They do not have grammatical gender.
Definiteness is not marked formally.
Possession is marked by the suffix, such as Persian –e, e.g., ketāb-e Ali 'the book of Ali.'
Topicalization is marked by the suffix, such as Persian –ra, e.g., be man ketāb-ra Hasan 'as for the book, he gave it to Hasan.'
Many Iranian languages are in the process of losing or have already lost the past tense ergative system and have replaced it with a nominative one. For example, Balochi behaves like a nominative language in the present tense but more like an Ergative-Absolutive language in the past tense, in that the subject of a transitive verb is marked with the oblique case instead of the nominative. In addition, transitive verbs in the past tense agree only with their objects and not with their subjects. Persian (Farsi) has lost ergative constructions.
Verbs
There are three persons: first, second, and third.
There are two numbers: singular, and plural.
There are three moods: indicative, subjunctive, counterfactual conditional.
Aspect is as important as tense. There are two aspects: imperfective and perfective.
There are three tenses: present, past, and inferential past.
Subject pronouns are usually dropped since the verb form itself carries information about person and number.
Word order
The normal word order in Iranian languages is Subject-Object-Verb. Modifiers follow the nouns they modify.
Vocabulary
Iranian languages share most of their basic vocabulary. At the same time, their lexicons reflect the different linguistic and cultural influences of the areas in which they are spoken. Kurdish, for instance, has incorporated a large number of Arabic words; Tajik has borrowed from Russian and Uzbek; Dari has many Pashto loanwords; and Balochi includes many Urdu words in its vocabulary. Most recently, English has become a source of borrowing in all Iranian languages, mainly in the areas of science, technology, politics, and the military.
Below are the numerals 1-10 in several Iranian languages, given in romanization.
| | 1 | 2 | 3 | 4 | 5 | 6 | 7 | 8 | 9 | 10 |
| --- | --- | --- | --- | --- | --- | --- | --- | --- | --- | --- |
| Persian | yek | do | se | chahār | panj | shesh | haft | hasht | noh | dah |
| Pashto | yaw | dwa | dre | chalor | pinja | shpazh | oova | ata | nah | das |
| Balochi | yek | do | seh | car | penj | shesh | help | hesht | nw | deh |
| Kurdish | yak | dú | sé | cwár | pénj | shash | hawt | hasht | nó | da |
Writing
Of all the Old Iranian languages only Avestan and Old Persian have left written records dating from the 6th century BC. Avestan is mainly attested through the Avesta, a collection of sacred Zoroastrian texts. Old Persian is attested through numerous inscriptions in the cuneiform script. Today, nearly all the Modern Iranian languages are written in the Perso-Arabic script, an adaptation of the Arabic alphabet. Some of them are written:
| Language | Writing system |
| --- | --- |
| Western Persian (Farsi) | Modified Perso-Arabic |
| Eastern Persian (Dari) | Modified Perso-Arabic |
| Tajik | Modified Perso-Arabic, Latin, Cyrillic |
| Kurdish | ModifiedPerso-Arabic, Latin, Cyrillic |
| Pashto | Modified Perso-Arabic |
| Balochi | Arabic, modified Perso-Arabic |
Difficulty