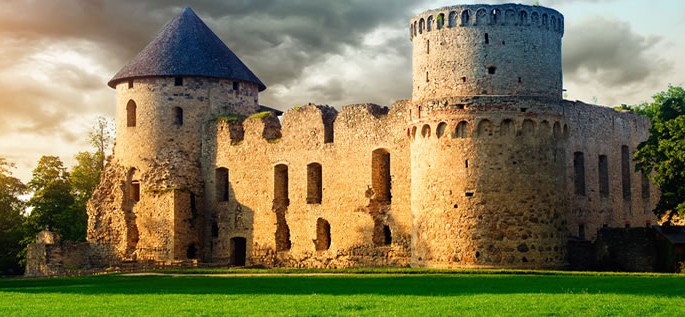 Latvian
Esiet sveicināti – Welcome
Latvian (latviešu valoda), also called Lettish, belongs to the Baltic branch of the Indo-European language family. It is spoken by about 1.5 million people in Latvia. It is also spoken in Australia, Belarus, Brazil, Canada, Estonia, Germany, Lithuania, New Zealand, Russia, Sweden, Ukraine, United Kingdom, and USA. Ethnologue estimates that about 1.7 million people worldwide claim Latvian as their primary language. Although Latvian's closest relative is Lithuanian, the two languages are not mutually intelligible. Both are thought to have evolved from a hypothetical common ancestor called Proto-Balto-Slavic.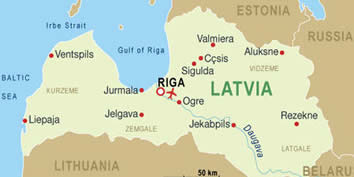 Both Latvian and Lithuanian have retained many features of Proto-Indo-European, especially in their noun systems. Of the two languages, Lithuanian is the more conservative, having retained more archaic forms than Latvian.
Status
Latvian is the official language of the Republic of Latvia. It was given the status in 1989, two years prior to the country's independence from the former Soviet Union in 1991. Today, Latvian is used in all official spheres of activity. It is the dominant language of the mass media, although Russian, English, Swedish, and other minority languages are also used in newspapers and broadcasts. Latvian is used in the school system at all levels. Russian and English are also used in addition to Latvian at the university level. The Latvian-speaking population also speaks Russian, Lithuanian, Polish, or Estonian, depending on the area of the country.
Dialects
Despite the small size of the country, Latvian has several mutually intelligible regional dialects. There is some disagreement as to their classification. Latvian scholars traditionally divide them into two groups, namely:
Livonian
Middle Latvian
High Latvian which forms the basis for Standard Latvian
Structure
The description below pertains to Standard Latvian.
Sound system
Vowels
Latvian has twelve vowels which can be either short or long. Vowel length makes a difference in word meaning. In writing, vowel length is marked with a macron, e.g., māja 'house', mājā 'at home'. Note that in the table below vowel length is marked by a colon. In addition, there are ten diphthongs.
/æ/ = a in bat
/ɔ/ = vowel in some pronunciations of American English caught.
Consonants
Latvian has 27 consonants, some of which can be unpalatalized or palatalized. Voiceless stops are not aspirated, as in English. In writing, it is marked by a dot under the consonant. Consonants in parentheses occur only in loanwords.
c, ɟ have no equivalents in English
ʃ = sh in shop
x = German pronunciation of ch in Bach
ʒ = s in vision
tʃ = ch in chop
dʒ = j in job
ɲ = first n in canyon
ʎ has no equivalent in English
j = y in yet
Stress
Stress, with a few minor exceptions, falls on the first syllable of a word. A unique characteristic of Latvian is its pitch accent system, i.e., the meaning of a word depends on the pitch of the vowel. Stress, with a few minor exceptions, falls on the first syllable of a word. Vowels and diphthongs have a pitch (or tone). Standard Latvian has three pitches, but there are other dialects that have only two.
| Level tone | Falling tone | Broken tone |
| --- | --- | --- |
| high throughout the syllable | brief rise followed by a long fall | rising tone followed by falling tone with interruption in the middle or some creakiness in the voice |
| loks 'green onion' | loks 'arch, bow' | loks 'window' |
Grammar
Latvian is a highly inflected language with a complex grammar.
Nouns and adjectives
Latvian nouns are marked for the following categories:
two genders: masculine and feminine
two numbers: singular and plural with some traces of the dual number
seven cases: nominative, genitive, dative, accusative, instrumental, locative, vocative. In the singular, the instrumental is identical to the accusative. In the plural, dative, and instrumental are identical.
six noun declensions, three for each gender
Adjectives agree with the nouns they modify in gender, number, and case.
Adjectives have indefinite and definite endings, e.g., vecu māju 'an old house' and veco māju 'the old house'.
Verbs
Latvian verbs agree with their subjects in person and number. They are marked for the following categories:
three persons: first, second, third
two numbers: singular, plural
three conjugations
three simple tenses: present, imperfect (or preterite) and future
three compound tenses: present perfect, past perfect, future perfect
five moods: indicative, imperative, conditional, subjunctive, debitive (expressing necessity to do something)
two voices: active, passive
Word order
The neutral word order in Latvian is Subject-Verb-Object. However, other orders are possible. Inflectional endings take care of keeping grammatical relations and roles in the sentence clear. Word order is principally determined by topic (what the sentence is about, or old information) and focus (new information). Constituents with old information precede constituents with new information, or those that carry the most emphasis. Adjectives generally precede the nouns they modify.
Vocabulary
Basic vocabulary is inherently Latvian, but the language has numerous borrowings from German, Polish, Swedish, and Russian since Latvia had been annexed by these countries over different periods in its history. Below are some common phrases and words in Latvian.
Hello
Sveiki
Good day
Labdien
Good bye; See you later
Ardievas.

Uz redzēšanos

Please
Lūdzu
Thank you
Paldies
Sorry
Piedod
Yes
Jā
No
Nē
Man
Vīrietis
Woman
Sieviete
Below are the Latvian numerals 1-10.
| 1 | 2 | 3 | 4 | 5 | 6 | 7 | 8 | 9 | 10 |
| --- | --- | --- | --- | --- | --- | --- | --- | --- | --- |
| viens | divi | trīs | četri | pieci | seši | septiņi | astoņi | deviņi | desmit |
Writing
The oldest known examples of written Latvian come from a 1530 translation of hymns made by Nicholas Ramm, a German pastor in Riga. Secular texts did not appear until the 17th century. Historically, Latvian was written with the Latin alphabet, following German spelling patterns. This system was replaced in 1908 by a system designed to more adequately represent the sound system of Latvian. There is a good one-to-one correspondence between letters and phonemes, i.e., sounds that make a difference in word meaning. The modern Latvian standard alphabet consists of 33 letters given below in their printed form.
| | | | | | | | | | | |
| --- | --- | --- | --- | --- | --- | --- | --- | --- | --- | --- |
| A a | Ā ā | B b | C c | Č č | D d | E e | Ē ē | F f | G g | Ģ ģ |
| H h | I i | Ī ī | J j | K k | Ķ ķ | L l | Ļ ļ | M m | N n | Ņ ņ |
| O o | P p | R r | S s | Š š | T t | U u | Ū ū | V v | Z z | Ž ž |
Take a look at Article 1 of the Universal Declaration of Human Rights in Latvian.
Visi cilvēki piedzimst brīvi un vienlīdzīgi savā pašcieņā un tiesībās. Viņi ir apveltīti ar saprātu un sirdsapziņu, un viņiem jāizturas citam pret citu brālības garā.
All human beings are born free and equal in dignity and rights. They are endowed with reason and conscience and should act towards one another in a spirit of brotherhood.
Difficulty