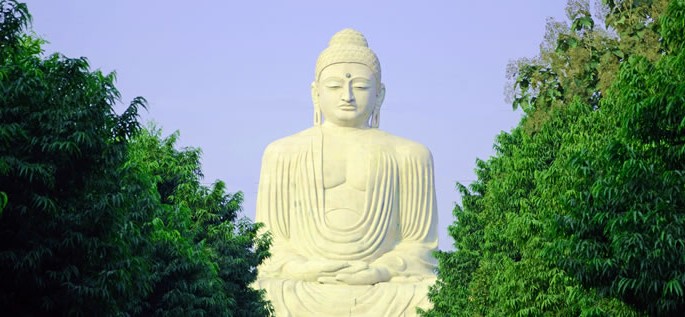 Maithili
Welcome
Maithili, also known as Maitli, Maitili, Methli,Tirahutia, Bihari, Tirhuti, and Tirhutia, is a member of the Indo-Aryan branch of the Indo-European language family. Its closest relatives are Magahi and Bhojpuri. Maithili is spoken in India, primarily in the state of Bihar, as well as in Nepal. The term Maithili comes from Mithila, an independent Indian state in ancient times. Relatively little is known about the history and origin of Maithili due to lack of written records, the earliest of which date back only to the 8th century AD.
Status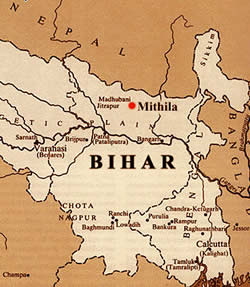 India
Maithili is spoken by 15 million people in India where it is one of the country's 22 official languages. It is used in education, mass media, such as magazines, newspapers, radio, TV, and film, as well as in literature.
Nepal
Maithili is spoken by 3 million people in Nepal where it is the second most widely used language. It is used in informal situations, as well as in education, and in the mass media.
Dialects
Ethnologue identifies the following mutually intelligible dialects of Maithili which are based more on caste than on geographic variation. Brahmin and non-Brahmin dialects have very high lexical similarity.
| | |
| --- | --- |
| Standard Maithili | Jolaha |
| Southern Standard Maithili | Central Colloquial Maithili |
| Eastern Maithili | Kisan |
| Western Maithili | Dehati |
Structure
Sound system
Maithili's sound system is similar to that of other Indo-Aryan languages.
Vowels
Maithili has 8 vowels which can be oral or nasal. In romanization, nasalization is represented by a tilde over the vowel, e.g., nasalized /a/ is represented by /ã/.
/i/ = ea in peat
/e/ = e in pet
/æ/ = a in pat
/ə/ = a in ago
/a/ = a in bar
/u/ = oo in too
/o/ = o in token
/ɔ/ = o in bog
Consonants
Maithili has 26 consonant phonemes, i.e., sounds that make a difference in word meaning. Most consonants can be geminated (doubled). Consonants in parentheses occur very infrequently, mostly in borrowed words.
There is a contrast between aspirated vs. unaspirated stops and affricates, including voiced ones, e.g., p—pʰ, t—tʰ, k—kʰ, b—bʰ, d—dʰ, g—gʰ, dʒ – dʒʰ, etc. Aspirated consonants are produced with a strong puff of air.
There is a contrast between and apical vs. retroflex consonants, e.g., /t/ – /ʈ/, /d/ – /ɖ/, /n/ – /ɳ/. Apical consonants are produced with the tip of the tongue touching the roof of the mouth, whereas retroflex consonants are produced with the tongue curled, so that its underside comes in contact with the roof of the mouth.
/ʂ/ has no equivalent in English
/ʃ/ = sh in shop
/tʃ/ = ch in chop
/dʒ/ = j in job
/

.

ɳ/ = first n in canyon
/ŋ/ = ng in song
/ɽ/ = r in hurt
/ʋ/ can be realized as /w/ or /v/.
/j/ = y in yet
Stress and pitch
Stress in Maithili does not distinguish word meaning. Primary stress in a word usually falls on the penultimate (one before last) syllable or on a heavy syllable closest to it. There are three levels of pitch associated with stress: unstressed syllables carry low pitch, syllables with secondary stress carry medium pitch, and syllables with primary stress have a high pitch.
Grammar
Maithili is a highly inflected language that uses suffixes and postpositions to express grammatical relations.
Nouns, adjectives, pronouns
Maithili nouns are marked for the following categories:
Gender in animate nouns is determined by sex, e.g., bap 'father' is masculine, maelmæ 'mother' is feminine. Verbs sometimes agree with their subjects in gender, mostly in formal style.
Number: singular and plural.
Traditional grammars list six cases: nominative, accusative, dative, genitive, genitive, instrumental, and ablative. However, there are no case endings. Instead, case relations are expressed by postpositions.
There are two classes of adjectives: indefinite and definite. Definite adjectives are marked by a suffix, while indefinite adjectives are unmarked.
Pronouns are inflected for person (1st, 2nd, 3rd), number, case and honorificity. 2nd and 3rd person pronouns have high-honorific, honorific, mid-honorific, and non-honorific forms. These forms require corresponding verbal inflections.
Verbs
The verb system of Maithili is extremely complex. Verbs agree in person with their subjects and occasionally with their objects. A typical verb in Maithili consists of the following components: verb stem + tense marker + mood marker + person/honorific marker (for agreement with the subject of the verb). Verbs are inflected for the following categories:
person: 1st, 2nd, 3rd
number ia not marked
tense: prior past, past, present, prior future, and future
aspect: imperfective and perfective; aspect is inextricably linked to tense
voice: active and passive
mood: indicative, interrogative, imperative, optative, and cohortative
Word order
The typical word order in declarative sentences is Subject – Object – Verb. Modifiers generally precede the nouns they modify.
Vocabulary
The basic vocabulary of Maithili is Sanskrit in origin, but over the years Maithili has borrowed words from English, Hindi, Bengali, as well as other neighboring Indo-Aryan languages.
Below are Maithili numerals 1-10 in romanization.
| 1 | 2 | 3 | 4 | 5 | 6 | 7 | 8 | 9 | 10 |
| --- | --- | --- | --- | --- | --- | --- | --- | --- | --- |
| ek | du: | ti:n | cha:ri | pã:ch | ch'a | sa:t | a:t' | nau | dash |
Writing
Maithili has a long literary tradition and close to half of all Maithili speakers are literate in their native language as well as a second or third language, such as Hindi or Bengali, and English. It was the literary language of all of eastern India in medieval times and was an official language of the court. It was traditionally written in the Mithilakshar script which is most closely related to the Bengali script. The close relationship of Maithili to Bengali, and more distantly to the Oriya, and Assamese scripts, is due to their common origin from the Proto-Bengali script which, in turn, developed from the Brahmi script around 1,000 AD. An effort is underway to preserve the Maithili script and to develop it for use in digital media by encoding the script in the Unicode standard. Maithili was also written in the Kaithi script, but the Devanagari script is the script most commonly used for writing Maithili today.
Take a look at Article 1 of the Universal Declaration of Human Rights in Maithili:
.

Difficulty
Language Difficulty

How difficult is it to learn Maithili?
There is no data on the difficulty of Maithili for speakers of English but it should be comparable to that of Hindi.