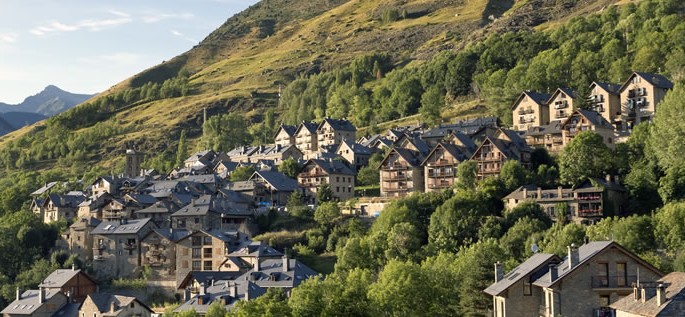 Basque
Ongi etorri – Welcome
Basque, (Euskara, in Basque), is one of a handful of non-Indo-European languages with a home in Western Europe. Others include Estonian, Finnish, Hungarian, Sami, and Maltese. It is a language isolate, i.e., it has no known relatives anywhere in the world. This has led to a number of hypotheses regarding its origin. The prevailing theory is that an early form of Basque was spoken in southwestern Europe before the arrival of Indo-Europeans, perhaps as early as 2,000 years ago. The Basques are believed to have occupied their current territory long before the Celts and the Romans invaded their lands. Their culture dates back to Palaeolithic times, which makes their language the most ancient language of Europe. The name Basque comes from Latin vascones 'foresters'. Vasconia was the Roman name for the up-country of the western Pyrenees.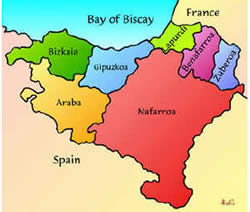 Today Basque is spoken by 659,000 people in the Basque Country (Euskadi), an autonomous community in the Pyrenees in North-Central Spain, South-Western France, and the autonomous community of Navarre in Spain (Ethnologue).
Status
Basque has the status of a statutory provincial language in Basque Country of Spain where most speakers of Basque also speak Castilian. It has no official status in the Basque Country of France where many people also speak French.
Dialects
Ethnologue identifies a number of Basque dialects:
Guipuzcoan
Alto Navarro Septentrional (High Navarrese, Upper Navarran)
Alto Navarro Meridional, Biscayan (Vizcaino)
Roncalese
Avalan
Souletin spoken in France
All dialects are mutually intelligible, except for Souletin. The most widely used standardized dialect is Batua ('unified' in Basque). It is taught in most schools and used in the media. It is usually referred to as Standard Basque. Although regional varieties are sometimes preferred for oral communication, there is a strong desire for the use of the Batua unified standard.
Structure
Sound system
The description below mostly reflects the sound features of Standard Basque and does not represent the sound features of all Basque dialects. The description is based on Wikipedia.
Vowels
Basque has five vowels.
There are also five diphthongs /ai/, /ei/, /oi/, /ui/, /au/, /eu/. The Souletin dialect of Basque spoken in France has an additional front rounded vowel /y/ and a contrasting set of five nasalized vowels.
Consonants
Basque makes a distinction between apical and laminal articulations for alveolar fricatives and affricates. In apical articulations, the contact is made by the tip of the tongue (apex). In laminal articulations, the contact is made by the blade of the tongue.
/c, ɟ/ have no equivalents in English
/s̻, ts̻/ have no equivalents in English
/x/ has no equivalent in English
/ʎ/ has no equivalent in English
/ɾ, ɾ/ have no equivalents in American English
/ʃ/ = sh in shop
/tʃ/ = ch in chop
Grammar
Basque is a richly inflected language. It marks grammatical relations by adding suffixes to roots. Prefixes are relatively uncommon.
Nouns
Basque nouns are marked for the following categories:
definiteness/indefiniteness
There are four definite determiners: three demonstratives and a definite article in the form of a suffix. They are marked for number (singular or plural). All the other determiners are indefinite and are not marked for number. Buber gives the following illustration:
Singular

Plural

etxea
the house
etxeak
the houses
etxe zuria
the white house
etxe zuriak
the white houses
etxe bat
one (a) house
bi etxe
two houses
etxe zuri bat
one (a) white house
bi etxe zuri
two white houses
etxe hau
this house
etxe hauek
these houses
etxe zuri hau
this white house
exte zuri hauek
these white houses
Basque has over a dozen cases represented by suffixes.
| | | Function |
| --- | --- | --- |
| absolutive | no ending | intransitive subjects, direct objects, complements of copulas |
| ergative | -k | transitive subjects |
| dative | -i | indirect objects |
| genitive | -en | possessor |
| instrumental | -z | instruments and other uses |
| comitative | -ekin | accompaniment ('with') |
| locative | -n | location, motion into |
| ablative | -tik | motion away from, out of |
| allative | -ra | destination of motion |
| terminative | -raino | motion up to, as far as |
| directional | -rantz | direction of motion |
| benefactive | -entzat | for (a person) |
| Destinative | -rako | for (a thing) |
Pronouns and demonstratives

Basque personal pronouns are shown below:
ni

I

gu

we

hi

you singular, intimate; highly restricted use

zuek

you (plural)

zu

you singular, neutral

There is no 3rd person pronoun; if needed, demonstratives are used.
There are three demonstratives, just like in Spanish, representing three degrees of proximity.
| | |
| --- | --- |
| hau | this |
| hori | that |
| hura | that over there |
Verbs
Basque verb morphology is quite complex, and only some of its features are listed below.
Basque is an ergative-absolutive language. In ergative-absolutive languages, the absolutive is the grammatical case used to mark both the subject of an intransitive verb and the object of a transitive verb. It contrasts with the ergative case, which marks the subject of transitive verbs. For example, the noun mutil 'boy' takes the absolutive singular ending –a both as subject of the intransitive clause Mutila etorri da 'the boy came' and as object of the transitive clause in Irakasleak mutila ikusi du 'the teacher saw the boy', in which the subject is marked with the ergative ending –ak.
Most Basque verbs use auxiliaries which follow the main verb. Finite verbs generally agree in person and number with their subjects, and their direct and indirect objects (if any). Agreement is usually ergative, i.e., prefixes are used for absolutives, and suffixes are used for ergatives. Certain past-tense forms have ergatives marked by prefixes. Indirect objects are marked by suffixes.
Intransitive verbs are conjugated with the auxiliary verb izan 'be', which also functions as an independent verb. Transitive verbs are conjugated with the auxiliary edun 'have'.
Besides the indicative mood, Basque verbs also have various imperative, subjunctive, potential, conditional and irrealis (contrary to fact) forms.
Word order

The basic word order in Basque is Subject-Object-Verb, with some variation. Modifiers precede the nouns they modify.
Vocabulary
Most of the basic vocabulary is inherently Basque. As a result of close contact with Latin, Iberian and other languages for over 2,000 years, Basque has borrowed many words from Latin, Spanish, French, Celtic, and Arabic, e.g., libiru 'book', boitura 'car', kantu 'song'.
Below are a few basic Basque words and phrases.
| | |
| --- | --- |
| Hello | Kaixo |
| Good morning | Egun on |
| Good evening | Arratsalde on |
| Good night | Gabon |
| Good bye | Agur |
| Thank you | Eskerrik asko |
| Please | Mesedez |
| Excuse me | Barkatu |
| Yes | Bai |
| No | Ez |
| Man | Gizon |
| Woman | Emakume |
Below are Basque numerals 1-10.
| 1 | 2 | 3 | 4 | 5 | 6 | 7 | 8 | 9 | 10 |
| --- | --- | --- | --- | --- | --- | --- | --- | --- | --- |
| bat | bi | hiru | lau | bost | sei | zazpi | zortzi | bederatzi | hamar |
Writing
The first book in Basque was published in 1545, although there are inscriptions in Basque dating back to Roman times. For centuries, there was no standard orthography, and Basque was written with the Latin alphabet supplemented with symbols to represent sounds not present in Romance languages. In 1964, the Royal Basque Language Academy introduced a new standardized orthography that is now universally used. This alphabet contains the following letters:
| | | | | | | | | | | |
| --- | --- | --- | --- | --- | --- | --- | --- | --- | --- | --- |
| A a | B b | D d | E e | F f | G g | H h | I i | J j | K k | L l |
| M m | N n | Ñ ñ | O o | P p | R r | S s | T t | U u | X x | Z z |
The letters c, q, v, w, y are not part of the Basque alphabet. They are used only for writing borrowed words and foreign names. The letter sequences dd, ll, rr, ts, tt, tx, tz represent single sounds.
Take a look at Article 1 of the Universal Declaration of Human Rights in Basque.
1. atala
Gizon-emakume guztiak aske jaiotzen dira, duintasun eta eskubide berberak dituztela; eta ezaguera eta kontzientzia dutenez gero, elkarren artean senide legez jokatu beharra dute.
Article 1
All human beings are born free and equal in dignity and rights. They are endowed with reason and conscience and should act towards one another in a spirit of brotherhood.
Did You Know?
Basque words in English
English has several words of Basque origin.
| | |
| --- | --- |
| anchovy | from Basque anchu 'dried fish,' from anchuva 'dry' |
| jai alai | name of a game, from Basque jai 'celebration' + alai 'merry' |
| bizarre | from French bizarre 'odd, strange', possibly from Basque bizar ' beard' (possibly due tof the strange impression made in France by bearded Spanish soldiers) |
Difficulty
Language Difficulty

How difficult is it to learn Basque?
There is no data on the difficulty level of Basque for speakers of English.