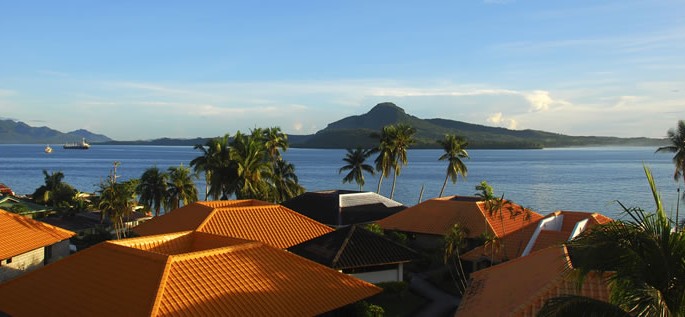 Cebuano
Dayon – Welcome
Cebuano, also known as Binisaya, Bisayan, Sebuano, Sugbuanon, Sugbuhanon, Visayan, is the major language of Visayan islands (Negros Oriental, Cebu, Bohol), and parts of Mindanao in the Philippines. The name comes from the name of the Philippine island of Cebu +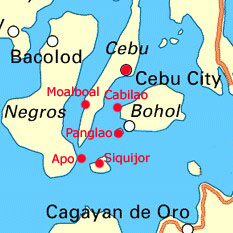 the Spanish suffix –ano meaning 'native of'. It is a member of the Malayo-Polynesian group of languages within the Austronesian language family.
Status
It is estimated that there are 15.8 million people in the Philippines who speak Cebuano as their first language. (Ethnologue). It is the second most spoken language in the Philippines after Tagalog. Cebuano is used as the medium of instruction in Grades I and II. After that, instruction is shifted to Filipino, the national language of the Philippines, and English.
Dialects
Ethnologue identifies several dialects of Cebuano, namely, Cebu, Boholano, Leyte, and Mindanao Visayan, although Boholano is sometimes considered to be a separate language.
Structure
Sound System
The sound system of Cebuano is fairly typical of Malayo-Polynesian languages.
Vowels
Cebuano has three vowel phonemes, i.e., sounds that make a difference in word meaning. Stressed vowels can be long or short. Vowel length makes a difference in word meaning, e.g., daapit 'to invite' — dapit 'place'. There are four diphthongs: /aw/, /ay/, /iw/, /uy/.
Consonants
Cebuano has sixteen consonant phonemes, i.e., sounds that make a difference in word meaning. Consonant clusters can occur at the beginning of words, especially in loanwords, e.g., drayber ', driver' mwebles 'furniture'.
voiceless

p

t

k

ʔ

voiced

b

d

x

g

x

s

h

m

n

ŋ

l

r

w

j
/ʔ/ = sound between syllables in uh-oh.
/ŋ/ = ng in song
/j/ = y in yet
Stress

Stress in Cebuano can occur on any syllable of a word. The position of stress can distinguish word meaning.
Grammar
The grammar of Cebuano shares many features with other Austronesian languages of the Philippines such as Tagalog and Ilokano.
Nouns
Cebuano noun morphology is relatively simple.
Nouns are marked for number. Plural is expressed by putting mga in front of the noun. The noun itself remains unchanged, e.g., libro 'book', mga libro 'books'.
Subject nouns are preceded by the markers si for names of people (personal) and ang for everything else (common).
Possession is marked by two prepositions: ni (for personal) and sa for everything else, e.g., ang balay ni Amosin 'Amosin's house', ang atop sa balay 'roof of the house'.
Adjectives precede nouns, e.g., ang pula balay 'red house'. Kaayo 'very' follows the adjective, e.g., ang pula kaayo balay 'very red house'.
Pronouns
Personal pronouns distinguish 1st, 2nd, 3rd persons and singular and plural number.
There is an inclusive and an exclusive 1st person plural. Inclusive form includes the addressee, while the exclusive form does not.
There is no gender distinction in the 3rd person singular.
Personal pronouns refer only to humans. There is no equivalent of the English it.
There are three demonstrative pronouns. One is equivalent to the English this, the other two distinguish between a near and not so near that.
Verbs
Subject pronouns follow the verb.
Cebuano verbs are morphologically complex and take on a variety of affixes to mark focus (trigger), tense, aspect, and mood. Verbal affixes consist of a variety of prefixes, suffixes, infixes, and circumfixes.
An interesting feature of Cebuano verbs, as in other in Malayo-Polynesian languages, is its focus, or trigger, system. This means that the role of the noun marked by the absolutive marker is reflected in the verb. There are several triggers: actor, object, location, beneficiary, instrument, and reason. All of the triggers, with the exception of the actor one, are transitive.
Tenses are expressed by prefixes, e.g., Magtrabaho siya sa pabrika 'He will work in a factory', Nagatrabaho siya sa pabrika 'He works in a factory', Nagtrabaho siya sa pabrika 'He worked in a factory'.
The equivalent of the verb 'to be' is often dropped, e.g, Taga Pilipinas ako, literally, 'From Philippines I.'
Word order
Cebuano is a verb-initial language. Adjectives precede the nouns they modify. The order of other constituents that follow the verb is relatively free, but there is a general preference for the subject to precede the object.
Vocabulary
Cebuano vocabulary is Austronesian in origin. It shares many words with Tagalog. As a result of Spanish influence, Cebuano also contains many words of Spanish origin, such as names of the days of the week and months. In addition, the language has borrowed words from Chinese, Arabic, and English. Some examples are krus from Spanish cruz 'cross', hayskul from English high school, and prayd tsikin from English fried chicken. In some cases, both the Cebuano and borrowed words exist side by side, such as numerals.
Below are some common words and phrases in Cebuano.
| | |
| --- | --- |
| Hello | Komosta ka |
| Good morning. | Maayong buntag. |
| Good day | Maayong udto. |
| Good afternoon. | Maayong hapon |
| Good bye | Babay |
| Please. | Palihug |
| Thank you | Salamat |
| I'm sorry | Pasaylo-a ko |
| Yes | Oo |
| No | Dili, wala |
| Man | Lalaki, tawo |
| Woman | Babaye |
Here are two sets of the numbers 1-10 native to Cebuano and those borrowed from Spanish which are also in use. Spanish is more commonly used for numerals above 10.
| 1 | 2 | 3 | 4 | 5 | 6 | 7 | 8 | 9 | 10 |
| --- | --- | --- | --- | --- | --- | --- | --- | --- | --- |
| usa | duha | tulo | upat | lima | unom | pito | walo | siyam | napulo |
| uno | dos | tres | kwatro | singko | says | syete | otso | nuebe | dies |
Writing
Although it is commonly believed that each province in the Philippines had its own ancient alphabet, Spanish writers of the 16th century reported that the practice of writing was found only in the Manila area at the time of first contact. Writing spread to the other islands later, in the middle of the 16th century. The Spaniards usually called the ancient Filipino script "Tagalog letters", regardless of the language for which it was used.
The so-called "Tagalog letters" were actually a syllabic script called Baybayin, which was used until the 17th century when it was gradually replaced by the Latin alphabet that is still in use today. The word baybayin, from baybay 'spell' in Tagalog, means 'alphabet'. The Baybayin alphabet, probably developed from the Javanese script, adapted from the Pallava script, the latter itself derived from the Brahmi script of ancient India. There is evidence that Baybayin was used for writing in the Visayas, mainly for writing letters, poetry, and incantations. Today, the Baybayin alphabet is used mostly for decorative purposes, although there are attempts to revive its use.
Baybayin is a syllabic alphabet, written from left to right in horizontal lines, in which each consonant has an inherent vowel /a/. Other vowels are represented either by separate letters, or by diacritics over the consonant. For instance, a dot over the consonant changes the vowel from /a/ to /i/ or /e/, while a dot under the consonant changes it to /o/ or /u/. A plus sign under the consonant indicates that the vowel is mute, as in the example below from Wikipedia.

Today, Cebuano is written with the Latin alphabet consisting of 20 letters, representing 5 vowels and 15 consonants. They are given below in their traditional order.
| | | | | | | | | | |
| --- | --- | --- | --- | --- | --- | --- | --- | --- | --- |
| A a | B b | K k | D d | E e | G g | H h | I i | L l | M m |
| N n | Ng ng | O o | P p | R r | S s | T t | U u | W w | Y y |
Take a look at Article 1 of the Universal Declaration of Human Rights in Cebuano.
Artikulo 1
Ang tanang katawhan gipakatawo nga may kagawasan ug managsama sa kabililhon. Sila gigasahan sa salabutan ug tanlag og mag-ilhanay isip managsoon sa usa'g-usa diha sa diwa sa ospiritu
Article 1
All human beings are born free and equal in dignity and rights. They are endowed with reason and conscience and should act towards one another in a spirit of brotherhood.
Difficulty