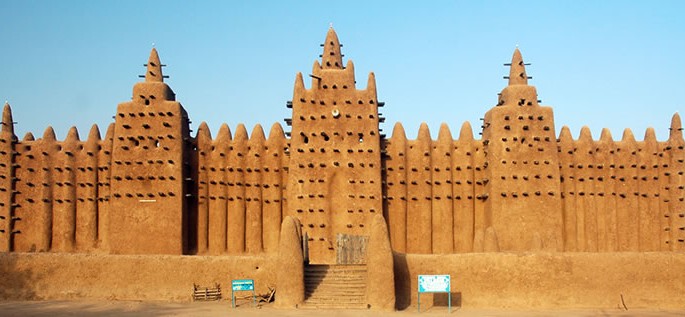 Bamanankan
i ni chè – Welcome
Bamanankan, also known as Bambara and Bamanakan, is a member of the Mande group of the Niger-Congo language family. It is spoken by 4 million people as a first language and by another 10 million people in Mali and in the neighboring, Côte-d'Ivoire (Ethnologue).
Much of Bamanankan's history is unwritten and is preserved mainly through oral tradition. What is known is that the Mande people settled the Sahel (including present-day Mali), and formed a succession of Sahelian kingdoms, including the Mali Empire. Mali was invaded by France starting in 1880. In 1959, the union of Mali and Senegal became the Mali Federation, which gained independence from France in 1960. As a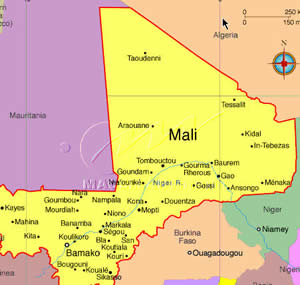 result of the French occupation, Bamanankan orthography and lexicon have been significantly influenced by French.
Status
Although Bamanankan is spoken by 80% of Mali's population and although it is the most widely used and understood language in the country, it is not the country's official language which continues to be French. Bamanankan serves as an inter-ethnic lingua franca in Mali and as the lingua franca in Burkina Faso, Côte d'Ivoire, Gambia, Guinea, Mauritania, and Senegal. In Mali, Bamanankan is used in mass communication (radio, newspapers), adult education (French is the official language of instruction in primary school), and in everyday communication.
Dialects
Bamanankan has many dialects. The main division is between Standard Bamnankan and a variety of rural dialects such as Somono, Segou, San, Beledugu, Ganadugu, Wasulu and Sikasso, all of which are mutually intelligible, differing mostly in pronunciation.
Structure
Sound system
Bamanankan has a relatively small inventory of sounds and a simple syllable structure. The typical syllable structure is Consonant + Vowel. There are no final consonants and no consonant clusters.
Vowels
Bamanankan has seven vowel phonemes, i.e., sounds that make a difference in word meaning. Vowels can be short or long. Vowel length makes a difference in word meaning. Vowels can also be oral or nasal.
/ε

/

/ = e in set
/ɔ/ = o in bog
Consonants
Bambara has 21 consonants, depending on the analysis. They are given below.
/ʃ/ = sh in shop
/tʃ/ = ch in chop
/dʒ/ = j in job
/ɲ/ = first n in canyon
/ŋ/ = ng in song
/j/ = y in yet
Tones
Bamanankan is a tonal language. There are two basic tones: a high tone (H), marked with an acute accent, and a low tone (L) marked with a grave accent, e.g., bá 'mother' and bà 'goat'. These tones can appear in different patterns, e.g., kúlúkùtù 'ball'.
Grammar
The grammatical structure of Bamanankan is relatively uncomplicated. Most grammatical relations are marked by suffixes or by postpositions which follow the verb and express location, direction, possession, etc.
Nouns
Bambara nouns have the following characteristics:
Number is marked by the suffix –w.
Nouns are not inflected for gender.
Nouns are not inflected for case.
Verbs
Bambara verbs have the following characteristics:
There is no overt marking of subject – verb agreement.
Verbs are not marked for person.
Transitive and intransitive verbs are conjugated differently.
Word order
The normal word order in Bambara sentences is Subject-Object-Verb.
Vocabulary
Bamanankan has many French loanwords, particularly in urban speech, e.g., egilisi 'church' from French église 'church.' Sometimes, French loanwords are used interchangeably with native Bammanankan words, e g., jauni 'yellow' borrowed from French jaune, and neremuguman, a native Bamanankan word.
Below are some common words and phrases in Bambara.
| | |
| --- | --- |
| Good morning | i ni sógóma (to one person), aw ni sógóma (to more than one person) |
| Good night | ka dugu n'yumanjé |
| How are you? | i ka kéné |
| Pardon me | ya fa n ma |
| Welcome | i ni chè |
| Yes | owó |
| No | ayi |
| Mother | bá |
| Father | fá |
| Man | cé |
Below are Bamanankan numerals 1-10.
| 1 | 2 | 3 | 4 | 5 | 6 | 7 | 8 | 9 | 10 |
| --- | --- | --- | --- | --- | --- | --- | --- | --- | --- |
| kelen | fila | saba | naani | duuru | wòoro | wolonfla | segi | kòno ntò | tan |
Writing
The N'Ko alphabet is a script devised by Solomana Kante in 1949 as a writing system for the Mande languages of West Africa. It is still used for writing Bamanankan. The N'ko alphabet shows the influence of both Roman and Arabic writing systems. Today, Bamanakan is written in the African reference alphabet, first proposed by a UNESCO-organized conference in 1978. It is a version of the Latin alphabet adapted to represent Bamanankan sounds. Two sounds are represented by two-letter sequences, e.g., kh, sh. There are also additional letters borrowed from the International Phonetic Alphabet (IPA), e.g., ε, ɲ, ŋ, ɔ, Tone is not marked in writing, except to disambiguate otherwise identical words. The alphabet is given below.
| | | | | | | | | | | | | | | |
| --- | --- | --- | --- | --- | --- | --- | --- | --- | --- | --- | --- | --- | --- | --- |
| A a | B b | C c | D c | E e | Ɛ ε | F f | G g | H h | I i | J j | K k | Kh kh | L l | M m |
| N n | -n | ɲ | ŋ | O o | Ɔ ɔ | P p | R r | S s | Sh sh | T t | U u | W w | Y y | Z z |
Take a look at Article 1 of the Universal Declaration of Human Rights in Bamanankan.
Sariyasen fɔlɔ
Hadamaden bɛɛ danmakɛɲɛnen bɛ bange, danbe ni josira la. Hakili ni taasi b'u bɛɛ la, wa u ka kan ka badenɲasira de waleya u ni ɲɔgɔn cɛ.
Article 1
All human beings are born free and equal in dignity and rights. They are endowed with reason and conscience and should act towards one another in a spirit of brotherhood.
Difficulty
Language Difficulty

How difficult is it to learn Bambara?
There is no data available on the difficulty of Bamanankan for speakers of English.