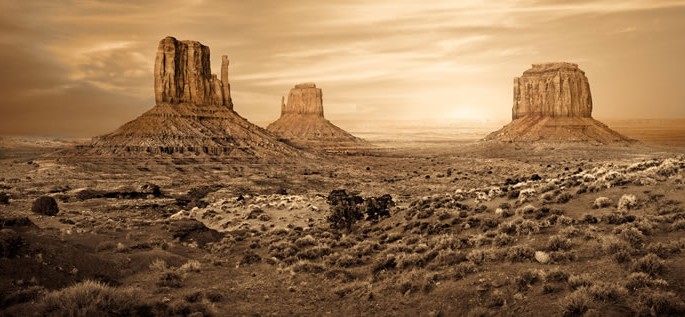 Navajo
Yah aninaah – Welcome
Navajo ( Diné Bizaad ), also known as Diné, belongs to the Athabaskan branch of the Na-Dené language family. Most of the Diné homeland is in northern Arizona, but it also extends into southern Utah and northwestern New Mexico.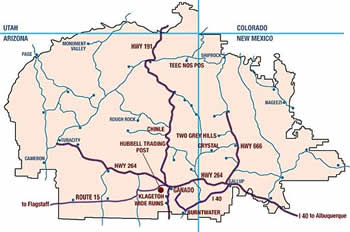 It is the largest language of the Na-Dené language family.
Status
With some 170,000 speakers, Navajo is one of the few North American Indian languages with a growing population of speakers (Ethnologue). According to the 2010 census, there were only 7,600 monolingual speakers of Navajo. In urban areas, younger Navajos tend to shift to English.
It is the policy of the Navajo Nation to work towards the acceptance of the Navajo language in all areas of contemporary Navajo life and to promote its use in education in pre-school and K-12.
Dialects
There are some slight regional variations in pronunciation and vocabulary among the varieties of Navajo spoken in Arizona, New Mexico, and Utah.
Structure
Sound system
Vowels

Navajo has four vowels which can be either short or long. Vowel length makes a difference in word meaning. It is written as a double vowel in the table below. Vowels can also be nasalized. Nasalization is produced with the soft palate (velum) lowered, allowing air to escape through the nose during the production of the sound. Nasalization also makes a difference in word meaning. It is marked by a tilde in the table below.
Consonants

Navajo has a rich inventory of consonants. Among the most salient features of Navajo consonants are the following:
There is a three-way contrast between plain, aspirated, and ejective stops and affricates. Aspirated consonants are produced with a puff of air upon their release and are marked by a raised [ʰ]. Ejective consonants are produced by raising air pressure in the mouth, so when the consonant is released, there is a noticeable burst of air. They are marked by an apostrophe.
There are labialized velar stops and fricatives. These are produced with a simultaneous rounding of the lips and are marked with a raised [ʷ].
Use of tones.
/kʷ/ is similar to qu in quick
/ʔ/ = sound between the vowels in uh-oh
/ʃ/ = sh in shop
/tʃ/ = ch in chop
/ʒ/ = s in pleasure
/dʒ/ = j in job
/x/ has no equivalent in English
/ɣ/ has no equivalent in English
/ɬ/ has no equivalent in English
/j/ = y in yet
Tones
Navajo syllables are marked by one of four tones: high, low, rising, and falling which are indicated in writing in the following way:
| high | low | rising | falling |
| --- | --- | --- | --- |
| áá | aa | áa | aá |
Grammar
Navajo is an agglutinating, polysynthetic language. However, many of its affixes combine in much the same way as in synthetic languages. Navajo tends to have more verbs than other parts of speech. For instance, Navajo verbs are used for adjectival functions.
Nouns
Navajo nouns are not marked for number. For example, tl'izi means both 'goat' and 'goats'. The exception is kinship terms. The number distinction is represented by the verb.
There are only indefinite articles. Their absence assumes that the noun is definite.
There is no grammatical gender. Even third-person pronouns are not marked for gender, i.e., there is no difference between 'he' and 'she'.
All nouns are divided into classes based on animacy, namely, supernatural beings > humans > large animals > small animals > inanimate objects. Entities with a lower level of volition cannot act upon entities with a higher volition level. Thus, if an animal bites a person, the event is described as the person letting him/herself be bitten by the animal. A so-called fourth-person pronoun (in the form of a prefix) is used in this instance. If two third-person participants are of the same rank, either ordering of subject and object is permissible. Thus, the Navajo equivalent of 'The boy kicked the man' can be either of the two sentences. The difference between the two is the topic — boy or man.
| | | |
| --- | --- | --- |
| hastiin | ashkii | bi-ztal |
| 'man' (object) | 'boy' (subject) | 'kicked' (verb) |
| ashkii | hastiin | yi-ztal |
| 'bo' (subject) | 'man' (object) | 'kicked' (verb) |
Verbs
Navajo sentences are built around verb stems.
The verb stems are based on about five hundred verb roots. Each root has a basic meaning that can be extended through the use of affixes (mostly prefixes).
Verbs are composed of a verb stem and a set of prefixes. There is a hierarchy in which the prefixes are ordered. Stringing up prefixes can result in very long verbs. It is theoretically possible to have ten prefixes preceding a verb root.
Verbs have pronominal prefixes that mark both subjects and objects.
Verbs are marked for tense, aspect and mood.
There is a large number of aspectual, modal, and tense distinctions marked by verb stem alternations and prefixes.
Navajo has classificatory system for verb stems that classifies objects by their physical characteristics, in addition to describing the movement or state of the object. For instance, the English verb give is expressed by eleven different verbs in Navajo, depending on the physical properties of the object.
Word order
The normal word order in Navajo sentences is Subject – Object – Verb.
Vocabulary
Like other Na-Dené languages, Navajo tends not to borrow words from other languages. Instead, it uses native elements to create new words. For instance, the Navajo word for telephone is béésh be hane'é which literally translates as 'instrument, with it talking takes place'.
Below are a few basic words and phrases in Navajo.
| | |
| --- | --- |
| Hello | yá'át'ééh (literally 'it is good') |
| Goodbye | hagoónee |
| Thank you | ahé he |
| no | nidaaga |
| OK | hagoshii |
| man | hastiin |
| woman | asdzáán |
| sun | shá |
| moon | tlehonaa'éí |
| water | tó |
Below are Navajo numerals 1-10.
| 1 | 2 | 3 | 4 | 5 | 6 | 7 | 8 | 9 | 10 |
| --- | --- | --- | --- | --- | --- | --- | --- | --- | --- |
| t'ááłá'í | naaki | táá' | dį́į́' | ashdla' | hastą́ą́ | tsosts'id | tseebíí | náhást'éí | neeznáá |
Writing
Navajo was an unwritten language prior to the middle of the 19th century. However, by the beginning of the 20th century, a number of religious texts, grammars, and dictionaries were compiled by missionaries, each of whom used a different writing system. As a result, there were many ways to write Navajo. In 1939, a standardized alphabet was designed, and during the following decade, a number of bilingual primers, children's books, and a dictionary were published. The new standardized alphabet was not popular among the Navajos who did not trust the motives behind the literacy drive. In recent years, a revival of interest in the Navajo language and the development of Navajo computer fonts has made it easier to publish written materials in Navajo.The Navajo alphabet is given below with the letters presented in the traditional order.
| | | | | | | | | | | | | | | | | | | | | | | | |
| --- | --- | --- | --- | --- | --- | --- | --- | --- | --- | --- | --- | --- | --- | --- | --- | --- | --- | --- | --- | --- | --- | --- | --- |
| a | e | i | o | ą | ę | į | b | ch | ch' | h | j | k | k' | kw | l | ł | m | n | d | dl | dz | g | gh |
| h | j | k | k' | kw | l | ł | m | n | s | sh | t | t' | tl | tł | tł' | ts | ts' | w | x | y | z | zh | ' |
Take a look at Article 1 of the Universal Declaration of Human Rights in Navajo.
Long vowels are written with double letters, e.g., ee represents long /e/.
áá = high tone; aa = low tone; áa = rising tone; aá = falling tone.
Nasal vowels are marked with a cedilla, e.g., ą represents nasal /a/.
Łáa'ii Góne' Biyi' Yisdzohígíí
Bila'ashda'ii t'áá ałtsoh yiník'ehgo bidizhchįh dóó aheełt'eego ílį́į́go bee baahóchį'. Eíí hání' dóó hánítshakees hwiihdaasya' eíí binahjį́' ahidiníłnáhgo álíleek'ehgo k'é bee ahił niidl.
Article 1
All human beings are born free and equal in dignity and rights. They are endowed with reason and conscience and should act towards one another in a spirit of brotherhood.
Did You Know?
Navajo Code Talkers
The Navajo language was one of the keys to the U.S. victory in the Pacific . Early in the war, the Japanese began using English-speaking soldiers to intercept American communications. In response, the U.S. military began using codes so complex that it took hours to decode a message.
Philip Johnston, a World War I veteran and the son of a missionary, was raised on the Navajo reservation and spoke Navajo fluently. He came up with the idea of using the Navajo language, little known outside of the Navajo reservation, as a code. The Marine Corps followed Johnston's suggestion and put out a call to the Navajo people. Twenty-nine Navajo men responded to the call and enlisted as radio operators in the Marine Corps in early 1942. Their efforts, and those of several hundred additional Navajo who enlisted subsequently, are credited with making possible US victory at Iwo Jima. The Navajo Code Talkers created messages by first translating Navajo words into English, then using the first letter of each English word to decipher the meaning. Because different Navajo words might be translated into different English words for the same letter, the messages were extremely difficult to decode. In fact, the Japanese were never able to crack the code. The code remained classified until 1968. Since then, the Code Talkers have been given long-overdue recognition. The Pentagon opened an exhibit honoring their role in 1992. The surviving 300 Code Talkers were awarded Congressional Silver Medals, and the original 29 Code Talkers were awarded Congressional Gold Medals. The Navajo Code Talkers Dictionary was declassified and is available on the Internet. You can also listen to interviews with the some of the surviving Navajo Code Talkers.
Difficulty
Language Difficulty

How difficult is it to learn Navajo?
There is no data on the difficulty of Navajo for speakers of English.