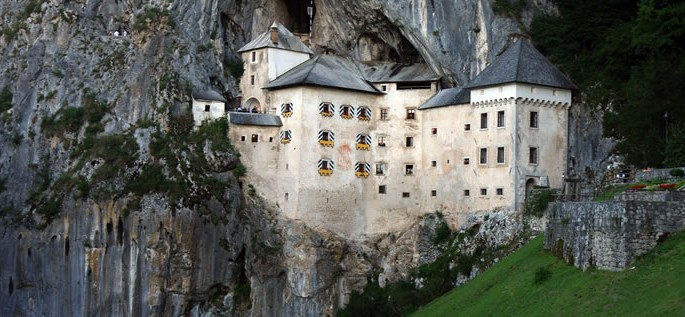 Slovene
Dobrodošli- Welcome
Slovene (also called Slovenian or Slovenščina) belongs to the Western subgroup of the South Slavic branch of the Indo-European Language Family. Like all Slavic languages, Slovene has its roots in Proto-Slavic, the ancestral language from which all Slavic languages had evolved. According to Ethnologue, Slovene is spoken by 1.9 million people in the Republic of Slovenia. It is also spoken in Italy, Austria, Serbia, Croatia, and Bosnia-Herzegovina. There are 2.1 million speakers of Slovene worldwide.
Status
Slovene is the official language of the Republic of Slovenia. It is used in all public, social, and private communication. There are numerous newspapers, periodicals, and books published in Slovene.
Dialects
Slovene has a number of dialects, not all of them mutually intelligible. There are at least eight regional varieties. Among them are the following:
Lower Carniolan, spoken around the capital of Ljubljana, is the basis of the literary language. ed
Upper Carniolan
Stajerski
Primorski
Prekmurski
Carinthian, spoken in Austria in South Carinthia and Styria, is an official regional language. It is heavily influenced by German, particularly in its vocabulary.
Structure
Sound system
Vowels
Slovene has 8 vowel phonemes, i.e., sounds that differentiate word meaning. Vowel length differentiates word meaning. Stressed vowels can be long or short, but long vowels are always stressed.
/i/ = ee in beet
/e/ = a in bed
/ε/ = e in bet
/ə/ = u in fur
/a/ = o in stock
/u/ = oo boot
/o/ = o in low
/ɔ/ = o in bog
Consonants
Slovene has 21 consonant phonemes. All voiced stops, fricatives and affricates are devoiced at the end of words, e.g., slab 'weak' is pronounced as [slap].
voiceless

p

t

k

voiced

b

d

g

voiceless

f

s

ʃ

x

voiced

v

z

ʒ

voiceless

ts

tʃ

voiced

dz

dʒ

m

n

l

r

w

j
/x/ = ch in Loch
/ʃ/ =sh in shape
/ʒ/ = s in measure/
/tʃ/ = ch in chat
/dʒ/ = j in jet
/j/ = y in yet
Stress
Like Bosnian, Croatian, and Serbian, Slovenian has a pitch accent. Long vowels can be either falling or rising, short vowels are typically falling.
Grammar
Slovene is a richly inflected synthetic language with a grammar that is very similar to that of other Slavic languages. Grammatical categories are expressed as synthetic inflections added to the stems of nouns, adjectives, verbs, and most pronouns. All native Slovene stems are inflected, as well as most borrowings from other languages.
Nouns, adjectives, and pronouns
Slovene nouns are marked for gender, number, and case. The three are fused into one ending, as in all Slavic languages.
There are three genders: masculine, feminine, and neuter. Each gender has its own declensional paradigm: hard (unpalatalized) stems, soft (palatalized) stems, and special types of stems.
There are three numbers (singular, plural, and dual). Slovene has retained a dual number which has largely disappeared in the other Slavic languages, e.g., eno mesto (singular) 'one place,' dva mesti (dual), tri (and up) mesta (plural).
Slovene has six cases: Nominative, Genitive, Dative, Accusative, Instrumental, and Locative. Masculine nouns have animate endings in the Dative, Accusative, and Locative singular, and Nominative plural.
Adjectives agree with the nouns they modify in gender, number, and case. Like nouns, they have both hard- and soft-stem declensions.
Pronouns use endings from noun and adjective declensions.
Definiteness is marked only in adjectives.
Demonstrative pronouns have three distinctions, roughly equivalent to this, that, and yond
Verbs
Slovenian verbs have conflated endings that express person and number for non-past conjugations; and gender, number, and person for past conjugations. They agree with their subjects in person and number.
There are three persons: first, second, third. Like all Slavic languages, Slovene is a pro-drop language, i.e., personal pronouns are normally dropped because the verb ending makes the person clear. Pronouns are used only for emphatic purposes.
There are two tenses: past, non-past. Present and future tenses have the same endings.
Slovene has two aspects: imperfective and perfective. Perfective and imperfective verbs are formed from basic verb roots by adding prefixes and suffixes. Non-past conjugation of perfective verbs indicates future tense, non-past conjugation of imperfective verbs indicates present tense. Imperfective verbs form future tense with the auxiliary verb byt 'be.'
There are three moods: indicative, imperative, and conditional.
There are two voices: active and passive.
Verbs of motion constitute a special subcategory of verbs. They are characterized by a complex system of directional and aspectual prefixes and suffixes.
Word order
The neutral word order in Slovene is Subject-Object-Verb. However, other orders are also possible since inflectional endings take care of keeping clear grammatical relations and roles in the sentence. Word order is principally determined by topic (what the sentence is about, or old information) and focus (new information). Constituents with old information precede constituents with new information, or those that carry the most emphasis.
Vocabulary
Most of Slovene vocabulary is derived from Proto-Slavic roots, shared by all Slavic languages. In the language has been influenced by a number of languages, most notably Serbian, Croatian, and German. In recent years, it has also borrowed a substantial number of words from English.
Below are a few common phrases in Slovenian.
| | |
| --- | --- |
| Hello | Zdravo |
| Good bye. | Nasvidenje |
| Please. | Prosim |
| Thank you. | Hvala |
| Yes. | Da |
| No. | Ne |
| Man | Mož |
| Woman | Ženska |
Below are Slovene numbers 1-10.
| 1 | 2 | 3 | 4 | 5 | 6 | 7 | 8 | 9 | 10 |
| --- | --- | --- | --- | --- | --- | --- | --- | --- | --- |
| ena | dva | tri | štiri | pet | šest | sedem | osem | devet | deset |
Writing
The earliest known examples of a written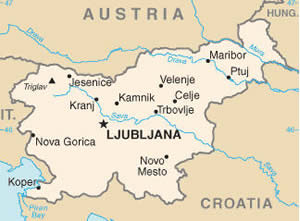 Slovene dialect in the Latin script date back to about 1090 AD. They are among the oldest surviving documents in any Slavic language. Today Slovene is written with a modified Latin alphabet consisting of 25 letters plus additional 6 letters (Qq, Ww, Xx, Yy, Ćć and Đđ) that are used only in foreign names and loanwords. Accent is not marked, unless it distinguishes otherwise identical words, e.g., gòl 'naked' and gól 'goal.'
| | | | | | | | | |
| --- | --- | --- | --- | --- | --- | --- | --- | --- |
| A a | B b | C c | Č č | D d | E e | F f | G g | H h |
| I i | J j | K k | L l | M m | N n | O o | P p | R r |
| S s | Š š | T t | U u | V v | Z z | Ž ž | | |
Čč =ch in chat.
Šš = sh in shake
Žž = s in pleasure
Take a look at Article 1 of the Universal Declaration of Human Rights in Slovene.
Član 1
Vsi ljudje se rodijo svobodni in imajo enako dostojanstvo in enake pravice. Obdarjeni so z razumom in vestjo in bi morali ravnati drug z drugim kakor bratje.
Article 1
All human beings are born free and equal in dignity and rights. They are endowed with reason and conscience and should act towards one another in a spirit of brotherhood.
Difficulty