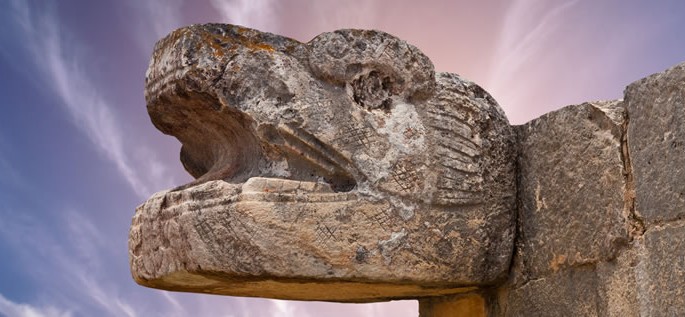 Yucatec Language
Hulel – Welcome
Yucatec (Yucatán) Maya belongs to the Yucatecan branch of the Mayan language family. It is spoken in Mexico in the states of Yucatán, Campeche, and Quintana Roo. There are also speakers of Yucatán Maya in
Guatemala and Belize (Ethnologue). Yucatec Maya is a name given to the language by linguists to distinguish it from other Mayan languages. Native speakers refer to their language simply as Maya. The language traces back some 5,000 years, and is thought to have developed from a common ancestor, referred to as Classical Maya. Yucatec Maya is documented in the ancient hieroglyphs of Pre-Columbian Maya civilization sites such as Chichen Itza and has a rich literature through the Spanish Colonial period.
Status
Today, Yucatec Maya is used in the Yucatán by some 735,000 people both as a first language in rural areas and as a second language in urban centers. The total number of speakers is estimated at 763,000 (Ethnologue).
Dialects
There appear to be a number of pronunciation differences among speakers of Yucatec Maya from different locations, but the information is quite sketchy.
Structure
Sound system
The sound system of Yucatec Maya has many similarities with the sound systems of other Mayan languages.
Vowels
Yucatec Maya has five vowels which can be long or short. Vowels may be followed by semivowels /w/ and /y/ to form diphthongs, e.g., /ay, oy, au/.
Vowels can be pronounced in five different ways. Sometimes, these modifications can change the meaning of words.
Regular vowels are not modified in any of the ways described below. They are written with one vowel letter.
Long vowels are held longer than regular vowels and are often accompanied by a high or a low tone. If the long vowel is in syllable-final position, an –h is added to it to indicate that it is long. If the long vowel is followed by a consonant, its length is not marked in the orthography. This can cause a lot of confusion.
Glottal-stopped vowels are mostly found in monosyllabic words. They are produced by closing the glottis almost immediately after the vowel is pronounced.
Reduplicated glottal-stopped are produced by pronouncing a glottal-stopped vowel and then attaching a regular vowel or vowel of the same value to it. Reduplicated glottal-stopped vowels are represented in writing by doubling the vowel.
Reduplicated glided are reduplicated glottal-stopped vowels produced with a change in tone, usually from a high tone to a lower one.
Consonants
Yucatec Maya has 19 consonant phonemes, i.e., sounds that make a difference in word meaning.
A distinctive feature of Yucatec Maya, also found in K'iche' and other Mayan languages, is the use of ejective sounds that are pronounced with a simultaneous closure of the glottis, thus raising air pressure in the mouth, so that when the sound is released, there is a noticeable burst of air. In writing, these sounds are represented by an apostrophe after the consonant, e.g., k'ux k'ak'al 'It's hot out there.'
The consonants /d/, /f/, /g/, /j/, /r/, and /v/ are not found in native Mayan words and occur primarily in borrowings, with the exception of /r/ which has replaced /l/ in some Mayan words.
/p', t', k', ts', tʃ'/ tare ejective stops produced with the glottis raised which increases the air pressure in the mouth, so that there is a noticeable burst of air when the sound is released.
/ʃ/ = sh in shop
/tʃ/ = ch in chop
/j/ = y in yet
/ʔ/ = sound between the syllables in uh-oh
Stress and tone
Stress is generally not marked in Yucatec Maya because in words of more than one syllable stress often falls evenly on each one of the syllables. However, there are instances where there is a definite accent on either the first or the second syllable of a two-syllable word, and the placement of stress alters the meaning of the word.
There are three tones: neutral, e.g., nah 'house,' high, e.g., sáamal 'tomorrow,' and low, e.g., mìis 'cat.'
Grammar
The brief description of Yucatec Maya grammar below is based on A Grammar of Yucatec Mayaan Mayan Language which should be consulted for more details.
Nouns
Yucatec Maya is an ergative language, i.e, the subject of a transitive verb has one form called the ergative case, while the subject of an intransitive verb has a different form — the same form as the object of a transitive verb (the absolutive case).
Yucatec Maya nouns are not marked for case, but a wide variety of prepositions is used to express various functions. For example, possession is marked by the preposition u preceding the object possessed, e.g, u pekoob Pedro 'Pedro's dogs.'
Gender is not explicitly marked. However, if needed, it can be marked by the prefix h– for masculine, and x– for feminine, e.g., h-men 'male medicine maker,' x-men 'female medicine maker.' Inanimate nouns have no gender distinction.
The plural is commonly formed by adding the suffix –oob to nouns, e.g., pek 'dog,' pekoob 'dogs.' There are other suffixes, e.g., ac 'turtle,' aci 'turtles.'
Maya has no articles, but the demonstrative particle le in conjunction with the suffix –a, -o, -e functions as an equivalent of this, that, 'that one over there, e.g.,
| | |
| --- | --- |
| le peka | 'this dog' |
| le peko | 'that dog' |
| le peke | 'that dog over there' |
Adjectives
Adjectives can be formed from nouns by the addition of a suffix, e.g., pet 'circle, petel 'round.'
Pronouns
There are two sets of personal pronouns. One set is used to indicate only the subjects of verbs. The other set can be used to indicate both subject and object of the verb, e.g., hanen 'I ate' (-en 'I'), Ma a hadzcen 'Don't hit me.
Pronouns have different forms in the singular and plural.
There is no gender distinction in third-person pronouns.
Classifiers
There are three types of classifiers:
-ppel for inanimate objects, e.g., Hayppel cheen yan ti a cahal? 'How many wells are there in your town?'
-tul animate objects, e.g., Haytul palaloob yan tech? 'How many children do you have?'
-ten times an action is done, e.g., Hayten binech ho? 'How many times have you gone to Merida?'
Verbs
Verb and nouns are sometimes distinguishable only by the structure of the sentence, e.g., hanal means both 'food' (noun) and eat (intransitive verb).
Mayan verbs have three different conjugations: transitive, intransitive, and passive as in the examples below:
| | root | transitive | Intransitive | Passive |
| --- | --- | --- | --- | --- |
| drink | uk | ukic | ukul | ukaal |
| eat | han | hantic | hanal | hantaal |
| die | cim | cimzic | cimil | cimzaal |
Each conjugation has four different forms (general, second, third, fourth), each of which is used with different auxiliary tense markers and different tense/aspect combinations.
Word order
Word order in Yucatec Maya, as in all other Mayan languages, is Verb -Subject-Object, e.g., hanen 'Ate I,' Dzoc u meyah le maco 'Finished he work that man.'
Vocabulary

The basic Yucatec Maya vocabulary is Mayan in origin. However, all Mayan languages have borrowed from each other and from Spanish, e.g., Dyos 'God.'
Here are a few words in Yucatec Maya.
| | |
| --- | --- |
| Hello | Ola (borrowed from Spanish) |
| Thank you | Dyos bo'tik, literally, 'God pays' |
| Yes | he'le' |
| No | ma' |
| Man | xib, uinic, mac |
| Woman, lady | colel, xunan |
| Sun | k'iin |
| Water | ha' |
Below are Yucatec Maya numerals 1-10. Note, that the full Mayan number system is rarely used anymore except for historical purposes. For numbers higher than 5, most Yucatec Maya people use words that have been borrowed from Spanish, i.e., ses 'six' from Spanish seis.
| 1 | 2 | 3 | 4 | 5 | 6 | 7 | 8 | 9 | 10 |
| --- | --- | --- | --- | --- | --- | --- | --- | --- | --- |
| hun | ka'a | óox | kan | ho | wak | uk | waxak | bolon | lahun |
Writing
The Maya were literate in Pre-Columbian times, when the language was written using Maya hieroglyphs. Today, Yucatec Maya is written in the Latin script developed by Spanish missionaries during the Spanish Conquest of the Yucatan. They used the old Spanish orthography to represent the sounds of the Mayan languages. This included the use of the letter x to represent the postalveolar fricative (= sh in shop).
Today, there are two basic orthographies for writing Maya, sometimes referred to as "Colonial" and "Modern." Learners of Maya need to become familiar with both. Efforts to standardize the orthography are currently under way. Guatemala adopted a uniform alphabet for writing all its Mayan languages which was published in 1989. It has been adopted by English-speaking countries.
Take a look at Article 1 of the Universal Declaration of Human Rights in Yucatec Maya.
Artículo 1
Tuláakal wíinik ku síijil jáalk'ab yetel keet u tsiikul yetel Najmal Sijnalil, beytun xan na'ata'an sijnalil yetel no'oja'anil u tuukulo', k'a'abet u bisikuba bey láaktzilil yetel tuláakal u baatzile'
All human beings are born free and equal in dignity and rights. They are endowed with reason and conscience and should act towards one another in a spirit of brotherhood.
Did You Know?
Two English words may have their origin in Yucatec Maya.
| | |
| --- | --- |
| shark | possibly from Maya xoc 'fish' |
| cigar | from Maya sik'ar 'smoke rolled tobacco leaves' from from sic 'tobacco' |
Do you know some more English words that were borrowed from Yucatec Maya? Let us know and we'll add them here!
Difficulty
Language Difficulty
How difficult is it to learn Yucatec?
There is no data on the difficulty of Yucatec Maya for speakers of English.