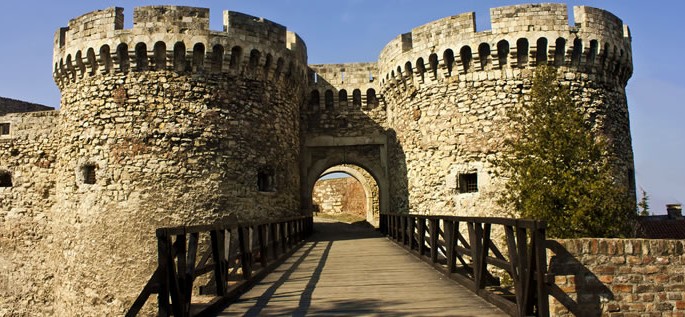 Serbian
Дoбpoдoшли, dobrodošli – Welcome
Serbian (cpпcки jeзик, srpski jezik) belongs to the South Slavic group of the Slavic branch of the Indo-European language family. After the breakup of Yugoslavia, Serbo-Croatian, defined as the common language of Serbs, Croats, Bosniaks and Montenegrins, officially split into three mutually intelligible languages — Serbian, Croatian and Bosnian. Though the term 'Serbo-Croatian' went out of use, it continues to be a focus of controversy due to its historical, cultural, and political connotations and to the lack of agreement in defining what is meant by the term 'language'. Suffice it to say that these languages are to a great extent artifacts of political, rather than linguistic decisions.
The eastern part of Yugoslavia (i.e., Serbia, Montenegro, portions of Bosnia and Hercegovina) were religiously and culturally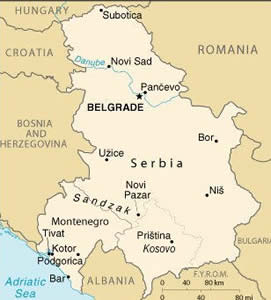 distinct from the western part of of the country (i.e., Croatia, and portions of Bosnia and Hercegovina). Serbia was under Ottoman rule, while Croatia was under Austro-Hungarian rule. Serbian and Croatian became one language in the 19th century as part of an effort to create an independent South Slavic state (yug means 'south').
Although Serbian, Croatian and Bosnian differ in a number of ways, these differences do not impede mutual intelligibility and, in fact, are not as great as the differences within the languages themselves. This is not surprising since the continuous migrations of Slavic populations during the five hundred years of Turkish rule produced a complex array of local dialects that cross more recently established national boundaries.
Status
There are 6.6 million speakers of Servian in Serbia, according to the 2002 census (Ethnologue). Serbian is also spoken in Montenegro, Bosnia and Hercegovina, and Macedonia, Albania, Australia, Bulgaria, Canada, Greece, Romania, Russia, Sweden, Switzerland, Turkey, Ukraine, United Arab Emirates, USA. Ethnologue estimates that there are 8.6 million speakers of Serbian worldwide. Standard Serbian, based on the Shtokavian pronunciation, is the official language of the Federal Republic of Yugoslavia. It is used by the government, at all levels of education, in the media, and in all aspects of social, cultural, and private life.
Dialects
The dialect picture of Serbian, Croatian and Bosnian is quite complex and is shared by all the languages. The major dialectal difference is based on the pronunciation of the initial consonant in the word for 'what.'
| | | |
| --- | --- | --- |
| Shtokavian | Chakavian | Kajkavian |
| shto | cha | kaj |
Shtokavian, in turn, has three varieties, based on three different present-day pronunciations of the vowels that replaced the Common Slavic long vowel [æ], known as jat'.
Common Slavic *væra 'faith'

Ekavian

Ikavian

Ijekavian

vera

vira

vjera

Spoken in Serbia

Dialectal variant spoken across the Serbo-Croatian language area

Widely spoken but not common in Serbia. Serves as the basis for standard Croatian.
*reconstructed form
Structure
Sound system
Vowels
Serbian has 5 vowel phonemes, i.e., sounds that differentiate word meaning.
Consonants

Serbian has 25 consonant phonemes, i.e., sounds that differentiate word meaning. The consonants of Serbian are given in the table below. The English approximations of the consonants are also indicated.
/x/ = similar to ch in Loch
/ʃ/ =sh in shape
/ʒ/ = s in measure;
/tʃ/ = ch in chat
/dʒ/ = j in jet
/tɕ/ = t in nature
/dʑ/ = j in juice
/ɲ/ = ny in canyon
/ʎ/ = ll in million
/ɾ/ has no equivalent in English; similar to r in Spanish pero 'but'
/ʋ/ has no equivalent in English
/j/ = y in yet
Like all Slavic languages, Serbian allows a variety of consonant clusters. These are all voiced or all voiceless. The last consonant in the cluster determines whether the entire cluster is voiced or voiceless. This rule does not apply to nasals, laterals, or rhotics. The consonant /r/ can be syllable-forming, e.g., drvo 'tree'.
Stress
Serbian has a pitch stress. Monosyllabic words always have a falling tone. Words with two or more syllables may also have a falling tone, but (with the exception of foreign borrowings and interjections) only on the first syllable. However, they may instead have a rising tone, on any syllable but the last.
Grammar
Serbian grammar is similar in complexity to the grammars of other Slavic languages.
Nouns
Serbian nouns are marked for gender, number, and case. The three are fused into one ending, as is the case in all Slavic languages.
genders: masculine, feminine, neuter;
numbers: singular, plural, with some vestiges of dual;
There are 7 cases: nominative, genitive, dative, accusative, instrumental, locative , vocative; only a few nouns have retained the vocative forms; the locative and dative forms are almost identical;
Adjectives agree with the nouns they modify in gender, number, and case.
Verbs
Serbian verbs agree with their subjects in person and number in non-past, and in gender and number in the past tense. They are marked for the following categories:
three persons: first, second, third;
two numbers: singular and plural;
two tenses: past, non-past; present and future have the same endings;
two aspects: imperfective and perfective; perfective and imperfective verbs are formed from verb roots by adding prefixes and suffixes;
three moods: indicative, imperative, conditional;
two voices: active, passive;
verbs of motion constitute a special subcategory of Serbian verbs. They are characterized by a complex system of directional and aspectual prefixes and suffixes.
Word order

The neutral word order in Serbian is Subject-Verb-Object. However, other orders are possible since inflectional endings take care of clearly marking grammatical relations and roles in the sentence. Word order is principally determined by topic (what the sentence is about, or old information) and focus (new information). Constituents with old information precede constituents with new information, or those that carry the most emphasis.
Vocabulary
Most differences among Serbian, Croatian and Bosnian involve vocabulary, although the bulk of it comes from a common Slavic stock. Serbian has borrowed more words from Russian and Western European languages; Croatian has preserved more native Slavic words, while Bosnian is more like Croatian except for the fact that it has a large number of loanwords from Arabic, Turkish, and Persian due to the Bosniaks' religious affiliation with Islam.
An interesting difference in basic vocabulary between Serbian and Bosnian, on the one hand, and Croatian, on the other, involves the names of the months. While Serbian and Bosnian borrowed the names from Western European languages, Croatian uses inherently Slavic words, e.g., Serbian /Bosnian april and Croatian travanj, Serbian/Bosnian oktobar and Croatian listopad, literally 'leaf fall'.
Below are some common phrases in Serbian.
| | |
| --- | --- |
| Hello. | Zdravo, здpaвo |
| Good bye | Doviđenja, дoвиђeњja |
| Please | Molim, мoлим |
| Thank you | Hvala, xвaлa |
| Excuse me | Izvinite, извинитe |
| Yes | Da, дa |
| No | Ne, нe |
| Man | Čovek, чoвeк, muž, муж |
| Woman | Žena, жeнa |
Below are the numerals 1-10 in Serbian.
| 1 | 2 | 3 | 4 | 5 | 6 | 7 | 8 | 9 | 10 |
| --- | --- | --- | --- | --- | --- | --- | --- | --- | --- |
| jedan | dva | tri | cetiri | pet | šest | sedam | osam | devet | deset |
| jeдaн | двa | тpи | чeтиpи | пeт | шecт | ceдaм | ocaм | дeвeт | дeceт |
Writing
The original alphabet used by both the Serbs and Croats was Glagolitic. It was created by the monks Cyril and Methodius in the 9th century for Old Church Slavonic, the liturgical language of the Eastern Orthodox Church. In the Orthodox areas of Serbia and Bosnia, Glagolitic was replaced by the Cyrillic alphabet in the 12th century.
Bosnian, Croatian, and Serbian are all written with the very same alphabet, the Latin alphabet by Ljudevit Gaj. In Bosnia, Montenegro and Serbia, the Cyrillic alphabet by Vuk Karadzic is also used, particularly in Serbia, however its use is declining, especially among the younger population.
The Cyrillic alphabet (along with the Latin alphabet, which was adopted in the Catholic areas) was reformed by linguists, such as Vuk Karadžić, in the 19th century to create a better one-to-one correspondence between the language's sounds and letters as well as a one-to-one correspondence between the symbols in the Cyrillic and Latin alphabets. The Serbian Cyrillic alphabet was revised in the 19th century. The Croatian Latin alphabet was revised shortly afterwards by adding five extra symbols to the standard Latin alphabet by borrowing letters from Czech and Polish, and inventing the digraphs 'lj', 'nj' and 'dž' for phonemes represented by single letters in the Cyrillic alphabet.
Bosnian, Croatian, and Serbian are all written with the Latin alphabet of Ljudevit Gaj. The Cyrillic alphabet by Vuk Karadžićis also used, particularly in Serbia, However, its use is declining, especially among the younger population.
The two alphabets map well onto each other. They are given below.
Cyrillic

А а

Б б

В в

Г г

Д д

Ђ ђ

Е е

Ж ж

З з

И и

J j

К к

Л л

Љ љ

М м

Н н

Њ њ

О о

П п

Р р

С с

Т т

Ћ ћ

У у

Ф ф

Х х

Ц ц

Ч ч

Џ џ

Ш ш
Latin

A a

B b

C c

Č č

Ć ć

D d

Dž dž

Đ đ

E e

F f

G g

H h

I i

J j

K k

L l

Lj lj

M m

N n

Nj nj

O o

P p

R r

S s

Š š

T t

U u

V v

Z z

Ž ž
Take a look at Article 1 of the Universal Declaration of Human Rights in Serbian Latin and Cyrillic scripts.
Opća deklaracija o ljudskim pravima
Članak 1
Sva ljudska bića rađaju se slobodna i jednaka u dostojanstvu i pravima. Ona su obdarena razumom i sviješću i trebaju jedno prema drugome postupati u duhu bratstva.
Члaнaк 1
Cвa људcкa бићa paђajу ce cлoбoднa и jeднaкa у дocтojaнcтву и пpaвимa. Oнa cу oбдapeнa paзумoм и cвeшћу и тpeбajeдни пpeмa дpугимa дa пocтупajу у дуxу бpaтcтвa.
Universal declaration of human rights
Article 1
All human beings are born free and equal in dignity and rights. They are endowed with reason and conscience and should act towards one another in a spirit of brotherhood.
Difficulty