Cushitic Branch
Cushitic languages form a branch of the Afro-Asiatic language family. They are spoken in Ethiopia, Eritrea, Somalia, Kenya, and Djibouti — countries located in the Horn of Africa.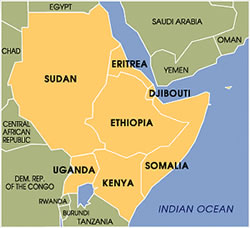 The dominant Cushitic languages, both in terms of number of speakers and geographical extension are Oromo, with about 24 million speakers in Ethiopia and Kenya; Somali, with 12.6 million speakers in Somalia, Ethiopia, and Djibouti; Sidamo with 1.9 million speakers in Ethiopia; Afar with about 1.4 million speakers in Eritrea; and Bedawi with about 1.2 million speakers in Sudan.
The table below lists Cushitic languages with more than 500,000 speakers. The remaining languages have significantly smaller populations, and some of them are small enough to be endangered or on the brink of extinction.
Cushitic (47 languages)

Somali

12.6 million

Oromo West Central

8.9 million
Ethiopia

Oromo Eastern

4.5 million
Ethiopia

Oromo, Borana-Arsi-Guji

3.8 million
Ethiopia
1.9 million

Ethiopia

Afar

1.4 million

Ethiopia
Bedawi (Beja)
1.2 million
Sudan
Hadiyya
924,000
Ethiopia
Gedeo
639,000
Ethiopia
Kambaata
606,000
Ethiopia
Maay
595,000
Somalia
Because West Cushitic languages have few vocabulary items in common with the other Cushitic tongues, some scholars consider them to form a separate branch of the Afro-Asiatic language family, called Omotic. The table below lists the most populous Omotic (West Cushitic Languages).
West Cushitic (Omotic) (28 languages)

Gamo-Gofa-Dawro

1.2 million

Ethiopia

1.2 million

Ethiopia

569,626

Ethiopia
Bench

174,000

Ethiopia

158,857

Ethiopia
Koorete
104,000
Ethiopia
Status
Somali
Somali is the only Cushitic language that enjoys an official status. It is one of the national languages of Somalia, along with Arabic.
Oromo
Oromo is a trade language used in Ethiopia for official government purposes, commerce, as well as by the public media and the educational system up to the eighth grade. It is also used in a variety of literature.
Dialects
Most Cushitic languages have several dialects. For instance, Oromo and Somali have three major dialects each, while Afar and Bedawi each have four. In most cases, the dialects are mutually intelligible.
Structure
Sound system
Most syllables in Cushitic languages end in a vowel or a single consonant. Consonant clusters do not occur at the beginning or at the end of words.
Vowels
Most Cushitic languages have five vowel phonemes, i.e., sounds that make a difference in word meaning. They can be short or long. The length of the vowel makes a difference in word meaning e.g., in Oromo, laga 'river' and laagaa 'roof of the mouth.' In the table below, long vowels are marked by a macron over the vowel. In writing, long vowels are usually represented by a double letter.
Consonants
Most Cushitic languages have 22-25 consonants. Some of the distinguishing characteristics of their consonant systems are listed below.
Many consonants can be single or geminated (doubled). Consonant length distinguishes word meaning.
Some languages, such as Oromo, have ejective consonants, such as /p', t', k', tʃ'/, which are produced with a simultaneous closure of the glottis so when they are released there is a noticeable burst of air.
Some languages, such as Somali and Oromo, have implosive consonants, produced with the air sucked in rather than expelled; it has no equivalent in English.
Some languages, such as Somali, have retroflex consonants, such as /ɗ/, that are pronounced with/, the tip of the tongue curled so that its underside comes in contact with the roof of the mouth.
Native Cushitic words do not have the consonants /p/, /v/, and /z/. These sounds occur only in loanwords.
In some Cushitic languages, such as Somali and Afar, there are uvular and pharyngeal consonants that have no equivalents in English.
Tones and stress

Cushitic languages are usually described as being tonal. Tone in these language is usually closely associated with stress, e.g., in Somali high tone has strong stress, falling tone has weaker stress, and low tone has no stress.. Some linguists feel that the Cushitic system is could be more accurately described as having pitch-accent rather than tone. The tonal system of Cushitic languages operates at the grammatical, rather than at the lexical level, as it does in languages such as Chinese. For instance, the masculine-feminine distinction is represented by tone in words such as in Somali ínan 'boy' and inán 'girl.'
Grammar
The grammatical systems of Cushitic languages are quite complex. Although there is considerable variation among the languages with respect to their grammatical structure, most of them share certain features, such as for instance, all Cushitic languages are inflected and tend to use postpositions more than prepositions.
Nouns, adjectives
Nouns and adjectives in Cushitic languages may have some or all of the following features:
Nouns have an inherent (masculine or feminine) which cannot be determined by the form of the noun, with a few exceptions when biological gender is associated with a particular suffix, such as in Oromo -eessa for masculine and -eetti for feminine nouns, e.g., obboleessa 'brother' and obboleetti 'sister.'
Adjectives agree with the nouns they modify in gender.
All nouns and adjectives are marked for number: singular and plural, e.g., for masculine nouns, e.g., in Oromo nama 'man', namicha 'the man,' for feminine nouns haroo 'lake', harittii 'the lake.'
All nouns are marked for case: nominative, genitive, dative, accusative, instrumental, ablative, locative
Nouns can be used attributively to express modification.
Nouns can be marked for definiteness, but not for indefiniteness, e.g., in Somali definiteness is marked with the suffix -ki or -ka for masculine nouns and -ti or -ta for feminine nouns. Indefiniteness is not marked, e.g., nin '(a) man,' and nin-ka 'the man.'
Pronouns
Cushitic pronouns have the following features:
person: 1st, 2nd, 3rd
number: singular and plural
case: nominative, genitive, dative, accusative, instrumental, ablative, locative
2nd person plural can also be used as a polite form of address
There is a gender distinction in the 3rd person singular but not in the plural.
There is a distinction between proximal and distal demonstrative pronouns.
Verbs
Cushitic Verbal systems are complex and vary considerably from language to language.
Cushitic verbs consist of a stem and suffixes which may represent person, gender, number, tense-aspect, mood, and voice. Stems often consist of roots made up of consonants with vowels representing various grammatical categories such as tense, aspect, number, mood, etc.
In some Cushitic languages, there are preverbal units (sometimes called "selectors") that anticipate inflectional categories of the following verb, such as tense, sequence, direction, case, or clause type.
Word order
The typical word order in Oromo sentences is Subject – Object – Verb. However, other orders are possible in order to mark the focus (new or prominent information ) in the sentence. Modifiers, articles, pronouns, and case markers follow the nouns they modify.
Vocabulary
Cushitic languages include many loanwords from Amharic, Arabic, Portuguese, French, English, and Nilo-Saharan languages. The most productive ways of word derivation in Cushitic languages are reduplication and compounding.
Below are the numerals 1-10 in six Cushitic languages.
| | 1 | 2 | 3 | 4 | 5 | 6 | 7 | 8 | 9 | 10 |
| --- | --- | --- | --- | --- | --- | --- | --- | --- | --- | --- |
| Oromo | tokko | lama | sadii | afur | shan | ja'a | torba | saddeet | sagal | kudha |
| Somali | kow, hal | labo | saddex | afar | shan | lix | toddoba | siddeed | sagaal | toban |
| | inik-i | nammay-a | sidox-u | firey-i | konoy-u | lixey-i | malxiin-i | baxaar-a | sagaal-a | taban-a |
| | iniik | lammaa | adoh | afaar | koon | leeh | maleheen | bahaar | sagaal | tammon |
| | ngaal | mhaloo'b | mhay | fad'ig | ?ay | asagwir | asaramaa | samhay | as's'ad'ig | tamin |
| | mitte | lame | sase | shoole | onte | leye | lamala | sette | honse | tonne |
Writing
Cushitic languages have been written in several scripts.
| | |
| --- | --- |
| Oromo | Until the 1970s, Afaan Oromo was written with either the Ge'ez script (also known as Ethiopic script) or the Latin alphabet. Between 1974 and 1991 under the military regime, the writing of Afaan Oromo in any script was forbidden. The Latin alphabet (Qubee) was adopted after the overthrow of the military regime in 1991. This has led to a greatly increased production of texts. |
| Somali | Somali was not written until the Osmanya alphabet was developed in 1920 in an attempt to forestall the implementation of an Arabic-based alphabet. The Latin alphabet was adopted in 1972. There is no standardized orthography so variations occur. |
| Bedawi | Arabic-based script |
| Afar | Either the Latin alphabet or Ge'ez script |
| Sidamo | Adapted version of the Latin alphabet |
Difficulty
Language Difficulty

How difficult is it to learn Cushitic languages?
There is no data on the difficulty level of Cushitic languages for speakers of English.