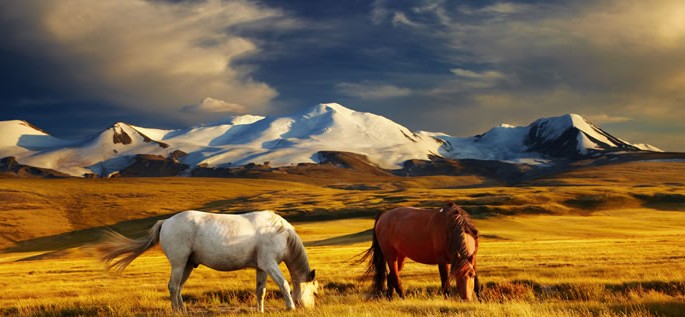 Mongolian
Tavtai moril, sain irsenee – Welcome
Mongolian, a macrolanguage, is the best-known and largest member of the Mongolic language group. It has two principal members: Mongolian Halh (Central Mongolian) and Peripheral Mongolian (Inner Mongolian).
Status
Mongolian Halh is spoken by over 2.35 million people in the Mongolian People's Republic where it has the status of a national language. It is spoken in all spheres of life and by all age groups. It is taught in primary and secondary schools and used in print and electronic media.
Peripheral Mongolian is spoken by 3.38 million people. It is a co-official language with Mandarin Chinese in the People's Republic of China in the Inner Mongolia Autonomous Region

and several adjoining provinces in northwest China. It is also spoken in

Mongolian People's Republic

.
Dialects
Mongolian Khalh and Peripheral Mongolian are mutually intelligible, despite some phonological and lexical differences. In turn, both have a number of mutually intelligible varieties. Ethnologue lists the following:
Khalh
Inner

Dariganga
Darkhat (Darhad, Darkhad)
Halh (Khalkha)
Khotogoit
Sartul
Tsongol

Chahar
Ejin
Jirim
Jostu
Jo-Uda
Ordos
Shilingol
Tumut
Ulanchabol
Structure
Below is a description of the basic structure of Mongolian Halh.
Sound system
Vowels

The sound system of Mongolian Halh has the following basic features:
There are 7 vowel phonemes, i.e., sounds that distinguish the meaning of words. These are /i/, /e/, /a/, /u/, /ʊ/, /o/, /ɔ/ . All vowels can be either long or short. Vowel length makes a difference in word meaning. Long vowels can only appear in initial syllables.
There are four diphthongs:/ui, ʊi, ɔi, ai/.

Mongolian has front-back

vowel harmony.

There are two kinds of vowels —

front vowels

produced at the front of the mouth, e.g.,

/i/, /e/

, and

back vowels

, produced at the back of the mouth, e.g.,

/u/, /o/

. Mongolian words can contain only all front or all back vowels, and all suffixes and affixes must conform to the vowel of the syllable preceding them in the word.

Some non-initial syllables do not have a vowel. In such cases, an epenthetic vowel is inserted between the consonants. Its form is predictable from the preceding vowel.
Consonants

Mongolian has a complex consonant system with 29 consonant phonemes, i.e., sounds that make a difference in word meaning.
Some consonants may be distinguished by the presence or absence of palatalization and aspiration. In the table below (Wikipedia), palatalization is marked by a small raised j after the consonant.
There is no contrast between voiced and voiceless consonants.
There is a contrast between voiceless aspirated and unaspirated consonants. In the table below, aspiration is marked by a small raised h after the consonant
Mongolian lacks a phoneme /l/; instead, it has a voiced lateral fricative /lž/.
Consonant clusters do not occur at the beginning or end of words.
| | |
| --- | --- |
| ʃ | sh in shop |
| tʃ | ch in chop |
| ts | ts in cats |
| x | no equivalent in English |
| ŋ | ng in song |
| ɮ | no equivalent in English |
Stress
Stress alone does not affect word meaning. Its position depends on the structure of the syllable. There is no general agreement among linguists as to what factors associated with syllabic structure affect the position of stress in Mongolian words.
Grammar
Mongolian is an agglutinative language. An agglutinative language is one in which each affix represents one unit of meaning, e.g., 'past tense', or 'singular'. In an agglutinative language, affixes do not become fused with each other, but are simply added on one after the other. This occasionally results in rather long words. Another distinguishing characteristic of Mongolian is that it uses postpositions instead of prepositions.
Nouns
Pronouns
Personal pronouns exist for the 1st and 2nd person.
Proximal and distal demonstrative pronouns are used to indicate 3rd person.
Verbs
Mongolian has an elaborate verb system characterized by the following features:
Verbs are not marked for person or number.
There are five moods: indicative, dubitative, imperative, conditional, subjunctive, optative,
There are three present and three past tenses in the indicative mood.
The imperative can take different forms, e.g., instructions, polite requests, etc.
Mongolian has a passive and a causative voice. In a passive sentence, the agent (performer of the action) takes either the dative or the instrumental case. In the causative, the person caused to do something takes the instrumental or accusative case.
Evidentiality is required at all times. It indicates whether evidence exists for a given statement. Mongolian contrasts direct information (reported directly) and indirect information (reported indirectly).
There are fairly complex rules for interrogative and negative forms.
Word order
The normal word order in Mongolian sentences is Subject – Object – Verb, although some permutations are possible, depending on contextual factors.
Vocabulary
Mongolian has borrowed words from many languages, including Sanskrit (via Uyghur),Tibetan, and more recently, from Chinese, Russian, and English. In addition, government language commissions have been creating new words based on native elements to fill gaps in vocabulary and/or to replace borrowings from other languages, e.g., the Russian loanword pivo 'beer' now has a native Mongolian equivalent shar ayrag 'yellow kumys'. Loan translations are also common, e.g., the Chinese term renkou 'population' (literally, 'person' + 'mouth') is replaced by Mongolian hun am (hun 'person' + am 'mouth').
Here are a few common Mongolian words and phrases.
| | | |
| --- | --- | --- |
| Sain baina uu, Сайн байна уу | Hello | |
| Bayartai, Баяртай | Goodbye | |
| Bayarlalaa, Баярлалаа | Thank you | |
| Uuchlaarai, Уучлаарай | I'm sorry | |
| Tiim, Тийм | Yes | |
| Ugui, Үгүй | No | |
| Khin | Man | |
| Emergtei khin | Woman | |
Below are the numbers 1-10 in Mongolian Cyrillic and Roman transliteration.
| 1 | 2 | 3 | 4 | 5 | 6 | 7 | 8 | 9 | 10 |
| --- | --- | --- | --- | --- | --- | --- | --- | --- | --- |
| нэг | хоëp | гурав | дерев | тав | зургаа | долоо | найм | ес | арав |
| neg | khoyor | gurav | doröv | tav | zurgaa | doloo | naym | yös | arav |
Writing
Over the last 800 years, Mongolian has been written with a variety of different scripts, but the first of those and the most enduring is the one Mongols borrowed from the Uighurs who had themselves adopted this script from the Sogdians, an ancient people of Iran, who had, in turn, borrowed their script from Syriac. Mongolian script was an alphabetic system written vertically from top to bottom and from left to right. All Mongolian words are written around a single straight line, called the spine. Individual letters are then represented by strokes and dashes away from the spine.
In 1943, the Mongol script was replaced by a slightly modified Cyrillic alphabet (with two additional letters), which is still the most commonly used script in the Republic of Mongolia today. It is used in everyday life and on the Internet. In Inner Mongolia, under pressure from the Chinese government, the traditional Mongol script is being replaced by a writing system based on the Roman alphabet.
| | | | | | | | | | | | | | | | | | | |
| --- | --- | --- | --- | --- | --- | --- | --- | --- | --- | --- | --- | --- | --- | --- | --- | --- | --- | --- |
| А а | Б б | В в | Г г | Д д | Е е | Ë ë | Ж ж | З з | И и | Й й | К к | Л л | М м | Н н | О о | Θ θ | П п | Р р |
| С с | Т т | У у | Ф ф | Х х | Ц ц | Ч ч | Ш ш | Щ щ | Ъ ъ | Ы ы | Ь ь | Э э | Ю ю | Я я | | | | |
Click here for a detailed description of Mongolian alphabets.
Take a look at Article 1 of the Universal Declaration of Human Rights in Mongolian in Cyrillic orthography.
Хүн бүр төрж мэндлэхдээ эрх чөлөөтэй, адилхан нэр төртэй, ижил эрхтэй байдаг. Оюун ухаан нандин чанар заяасан хүн гэгч өөр хоорондоо ахан дүүгийн үзэл санаагаар харьцах учиртай.
Did You Know?
English has indirectly or directly borrowed a few words from Mongolian. Here are two of them.
| | |
| --- | --- |
| Mogul | 'powerful person', from Persian and Arabic mughal, mughul, alteration of Mongol |
| Kumys | an alcoholic beverage made from a mare's or camel's milk |
Difficulty