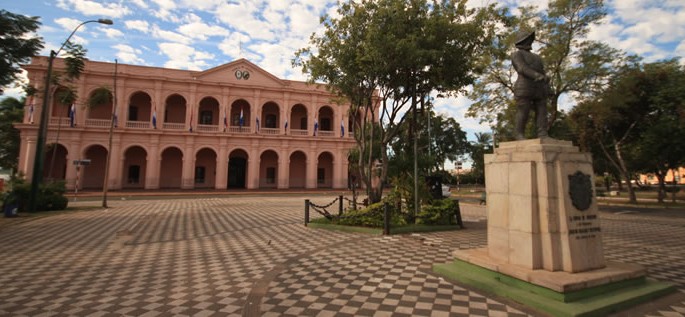 Guarani
Tapeguahê porãite – Welcome
Guaraní (avañe'ẽ) belongs to the Tupi-Guaraní family of South America. It is spoken by 4.6 million people in Paraguay, Argentina, Bolivia, and Brazil (Ethnologue). These languages are spoken by people who inhabit a vast area in the Amazon forest in Brazilian states and Paraguay in the south, and from the Atlantic coast in the east to the Andes of Bolivia and Peru in the west. Despite their geographical spread, the differences between the languages is relatively small, making it possible for the Portuguese Jesuits to develop a língua geral 'common language' which could be understood by everyone. The history and meaning of the name Guarani is a subject of dispute due to lack of historical records. Prior to the arrival of Spanish conquistadors, the Guarani people referred to themselves as Aba 'men'. The term Guaraní was originally applied by early Jesuit missionaries to refer to natives who had accepted conversion to Christianity.
Status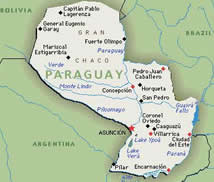 Guaraní enjoys official status in several South American countries:

Bolivia. Guarani shares official status along with Spanish, Aymara, and 34 other indigenous languages.
Paraguay. Guarani shares official status with Spanish. Around two-thirds of the Paraguayan population speak Guaraní. Paraguay's constitution is bilingual, and school textbooks are typically half in Spanish and half in Guaraní. The two languages are considered equal.The linguistic situation in Paraguay, however, is quite complicated because almost nobody in Paraguay speaks 'pure Spanish' or 'pure Guaraní'. Rather most people code-switch between Spanish and Guaraní. At one extreme, better educated and more urbanized people tend to speak Spanish with a small amount of Guaraní. At the other extreme, less educated and more rural indigenous people tend to speak Guaraní with many Spanish words. This latter mix is called Jopará. It is estimated that over half of Paraguay's rural population speaks Jopará. Speakers of Guaraní who are not fluent in Spanish have restricted opportunities for education and employment.
Argentina. Guaraní is the second official language, along with Spanish, of the Argentine province of Corrientes.
Dialects
Ethnologue identifies several mutually intelligible varieties of Guaraní:
Eastern Bolivian Guaraní spoken by 33,700 in Bolivia
Western Bolivian Guaraní spoken by 7,000 in Bolivia
Guarani Ava spoken by 15,900 people in Brazil, and Paraguay

Guaraní Mbiyá spoken by 15,000 in Brazil, Argentina, Paraguay, and Uruguay

Paraguayan Guaraní spoken by 4.6 million in Paraguay
Structure
Sound System
All syllables in Guaraní consist either of a vowel or a consonant plus a vowel. Guaraní words are either oral or nasal — a phenomenon called nasal harmony. A Guaraní word is nasal if it has at least one of the nasal vowels or consonants /ĩ, ẽ, ɨ᷀, ã, ũ, õ, ᵐb, ⁿt, ⁿd, ᵑg, m, n, ɲ, ŋ/ in its stem. Nasal harmony influences the choice of prefixes, and to a certain extent, enclitics. For example, the postpositions pe, ta turn into me, nda after nasal words.
Vowels

Guaraní has six oral vowels. All vowels have nasal counterparts. In the table below, nasal vowels are marked with a tilde.
Consonants
The consonants of Guaraní are given below. Guaraní syllables consist of a vowel or a consonant plus a vowel. There are no consonant clusters.
/ᵐb, ⁿt, ⁿd, ᵑg/ are prenasalized stops, a combination of nasal plus stop, that behave phonologically like single consonants
/ɟ/ has no equivalent in English
/ʔ/ = sound between vowels in uh-oh
/ɣ/ has no equivalent in English
/ɲ/ = first n in canyon
/ŋ/ = ng in song
/ɾ/ is produced with a single tap of the tip of the tongue against the alveolar ridge, e.g., in the Spanish word pero 'but.'.
/r/ is produced with the tip of tongue vibrating against the alveolar ridge, e.g., in the Spanish word perro 'dog.'
/ʋ/ has no equivalent in English
Grammar
Guarani is an agglutinative polysynthetic language. The term polysynthetic refers to languages that have a high ratio of morphemes per word and which typically permit noun incorporation. A word in a polysynthetic language can express a meaning which would require a sentence in many other languages. Guaraní uses postpositions instead of prepositions, e.g., Paraguay pe 'in Paraguay'.
Nouns and pronouns
Guarani nouns are not marked for gender, number or case.
There is no definite article in Guaraní, but the colloquial variety uses of two Spanish articles la for singular, e.g., la ava 'the man' and lo for plural, e.g.,'lo mitã 'the boys.'
The plural marker kuéra is used for some pronouns, e.g., ha'e 'he/she,' ha'ekuéra 'they.' Postpositions precede the plural marker, e.g., hendive ' with him/her,' hendivekuéra 'with them.'
Guaraní distinguishes between inclusive (including hearer) and exclusive (excluding hearer) first person plural pronouns, as shown in the table below (Wikipedia).
1st person

che

ñande (inclusive)
ore (exclusive)

2nd person

nde

peẽ

3rd rd person

ha'e

ha'ekuéra
Verbs
Guaraní has a complex verbal system.
There is a distinction between oral and nasal verbs.
| | |
| --- | --- |
| Oral verb japo 'make' | Nasal verb kororõ 'snore' |
| ndajapói | nakororõi |
| 'I don't make' | 'I don't snore' |
Negation is formed as follows:

nd

+

thematic vowel + root + i.
Interrogation is formed by adding the pa suffix to the root.
Word order
The normal word order in Guaraní is Subject- Verb-Object. If the subject is not specified, the word order is Object-Verb.
Vocabulary
After four centuries of Spanish domination, Guaraní 's vocabulary is dominated by Spanish loanwords.
Below are a few basic words and phrases in Guaraní.
| | |
| --- | --- |
| Hello. | Mba'eichapa |
| Good bye. | Jajoechajevypeve, jajoechapeve |
| Please | Mbojerovia |
| Thank you. | Aguyjevete ndéve. |
| Yes. | Heẽ |
| No. | Ahaniri |
| Man | Ava, kuimba'e |
| Woman | Kuña, jero |
Guaraní numerals 1-10 are given below.
| 1 | 2 | 3 | 4 | 5 | 6 | 7 | 8 | 9 | 10 |
| --- | --- | --- | --- | --- | --- | --- | --- | --- | --- |
| peteĩ | mokõi | mbohapy | irundy | po | poteĩ | pokõi | poapy | porundy | pa |
Writing
Guaraní became a written language relatively recently. Prior to the Spanish conquest of the Americas, the language did not have a writing system. The first written texts in Guaraní were written by Jesuit missionaries who used the Latin alphabet to represent the language. The first Guaraní-Spanish dictionary was printed in 1639, and the first grammar in 1722. The script was standardized in 1950, although some disagreement about some of the letters still persist. The modern Guaraní alphabet is an adapted version of the Roman alphabet. Its orthography is largely phonemic (i.e., each letter represents a phoneme, a sound capable of differentiating word meaning). Tilde is used to mark nasalization of vowels, while ' represents a glottal stop.
| | | | | | | | | | | |
| --- | --- | --- | --- | --- | --- | --- | --- | --- | --- | --- |
| A a | Ã | CH ch | E e | Ẽ | G | G̃ | H h | I i | Ĩ | J j |
| K k | L l | M m | MB mb | N n | ND nd | NG ng | NT nt | Ñ ñ | O o | Õ |
| P p | R r | RR rr | S s | T t | U u | Ũ ű | V v | Y y | Ỹ ỹ | ' |
Take a look at f Article 1 of the Universal Declaration of Human Rights in Guaraní.
Art. 1
Mayma yvypóra ou ko yvy ári iñapytl'yre ha eteîcha dignidad ha derecho jeguerekópe; ha ikatu rupi oikuaa añetéva ha añete'yva, iporâva ha ivaíva, tekotevê pehenguéicha oiko oñondivekuéra.
Article 1
All human beings are born free and equal in dignity and rights. They are endowed with reason and conscience and should act towards one another in a spirit of brotherhood.
Did You Know?
English has borrowed a number of words from Guaraní (via Portuguese). Among them are the following:
| English | from Guaraní |
| --- | --- |
| piranha | pira nya, variant of pira'ya, literally 'scissors' |
| tapir | tapira, name of the animal |
| cashew | acajuba, name of the tree that produces the nut |
| tapioca | tipioca, from tipi 'residue, dregs' + og, ok 'to squeeze out' (from roots of the cassava plant) |
| jaguar | aguara, name of any large beast of prey |
Difficulty
Language Difficulty

How difficult is it to learn Guarani?
There is no data on the difficulty of Guarani for speakers of English.