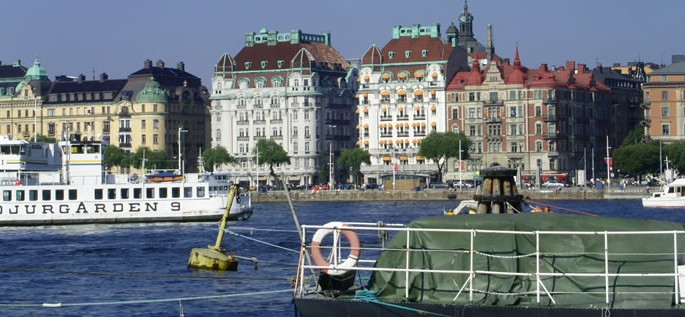 Germanic Branch
Germanic languages are spoken by close to 470 million people in many parts of the world, but mainly in Europe and the Western Hemisphere. All modern Germanic languages derive from a common ancestor traditionally referred to as *Proto-Germanic, believed to have broken off from other *Proto-Indo-European languages some time before 500 B.C. Although no written documents in Proto-Germanic have survived, the language has been substantially reconstructed by using the oldest existing records. Compared to *Proto-Indo-European, **Proto-Germanic had a relatively simpler nominal morphology. For instance, it dropped the dual number, and reduced the number of cases from eight to four. On the other hand, the verbal morphology of *Proto-Indo-European survived relatively intact in all modern Germanic languages, although there are fewer strong (irregular) verbs today.
Some 50 modern Germanic languages are spoken today (Ethnologue) .
They are usually divided into two groups.
West Germanic
# of speakers
Spoken primarily in
Afrikaans
6.2 million 1st, 10 million 2nd language speakers
South Africa
Dutch (including Flemish)
21 million
Netherlands, Belgium
Zeeuws
220,000
Netherlands
Low Saxon (10 varieties)
995,000
Netherlands, Germany, Canada
English
341 million 1st, over 1 billion 2nd language speakers
British Commonwealth countries, U.S.
Frisian Western
Frisian Eastern
Frisian Northern
700,000
11,000
10,000
Netherlands
Germany
Germany
German
95 million 1st, 28 million 2nd language speakers
Germany
Lower Silesian
no estimate available
Poland
Upper Saxon
2 million
Germany
Luxembourgeois
390,000
Luxembourg
Mainfränkisch
no estimate available
Germany
Pennsylvania
85,000
USA
Pfälzisch
no estimate available
Germany
Limburgisch
1.5 million
Netherlands
Kölsch
250,000
Germany
Scots
200,000
United Kingdom
Yiddish
under 2 million
Israel, U.S.
North Germanic (Norse, Scandinavian)
# of speakers
Spoken primarily in
Danish
6 million
Denmark
Faroese
45,000
Faroe Islands (Denmark)
Icelandic
230,000
Iceland
Norwegian
5 million
Norway
Swedish
8.8 million
Sweden
East Germanic
# of speakers
Spoken primarily in
Gothic
extinct
Ukraine, Bulgaria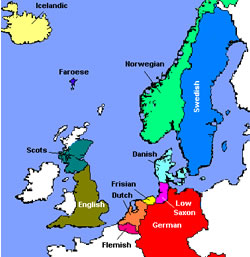 Norse is another name for the North Germanic, or Scandinavian group of languages. These languages all stem from an earlier, now extinct, language known as Old Norse that was spoken by the Germanic tribes living in Scandinavia before 1000 A.D. Today, the differences among the dialects within Norway, Sweden, and Denmark are often greater than the differences across their borders, but the political independence of these countries leads them to be classified as separate languages.
Click on the MLA Interactive Language Map to find out where Scandinavian languages are spoken in the U.S.
Status
The following Germanic languages have official status. An official language is one that is given a privileged legal status in a state, or other legally-defined political entity. Some countries have only one official language, e.g., Norway, while others may have several, e.g., the Netherlands. Some countries, e.g., US, do not have an official language.
| | |
| --- | --- |
| Afrikaans | South Africa (along with 11 other languages) |
| Danish | Denmark, Faroe Islands, Greenland |
| Dutch | Netherlands (with Frisian), Belgium (with French and German), Suriname, Netherland Antilles, Aruba |
| English | UK and British Commonwealth Countries, US and its territories, other countries on all continents (total 53 countries) |
| Frisian | Netherlands (with Dutch) |
| German | Austria, Belgium (with Dutch and French), Germany, Liechtenstein, Luxembourg (with French and Luxembourgish), South Tyrol (with Italian), Switzerland (with French, Italian, and Rhaeto-Romansch) |
| Norwegian | Norway |
| Swedish | Sweden, Finland (with Finnish) |
In addition, German is one of the 23 official languages of the European Union and one of the three working languages of the European Commission,along with English and French.
Dialects
Structure
Writing
The earliest evidence of Germanic writing comes from names recorded in the 1st century by Tacitus. From roughly the 2nd century AD, certain speakers of early Germanic dialects developed the Elder Futhark, an early form of the runic alphabet, some examples of which go back to the 3rd century AD. It is thought that the runes were based on an Etruscan-related alphabet, adapted to represent the sounds of Germanic languages and styled to allow carving on wood, stone, and metal. Each rune not only represents a sound but also has a special meaning frequently connected with Norse mythology. For instance, the image on the left, called Ansuz, was most often associated with Odin, the chief god of Norse mythology, the Viking equivalent of Zeus, the god of sky and thunder in Greek mythology.
Early runic inscriptions were largely limited to personal names, and difficult to interpret. Later, Christian priests and monks who spoke and read Latin in addition to their native Germanic dialects began writing the Germanic languages with slightly modified Latin letters. However, throughout the Viking Age, runic alphabets remained in common use in Scandinavia.
Click here to see your name written in runes and to learn more about this ancient writing system.
Today, Germanic languages use the standard 26-letter Latin alphabet expanded to include extra letters to represent vowel sounds.
Below is Article 1 of the Universal Declaration of Human Rights in several major Germanic languages.
English
Universal Declaration of Human Rights
Article 1
All human beings are born free and equal in dignity and rights. They are endowed with reason and conscience and should act towards one another in a spirit of brotherhood.
Afrikaans
Universele Verklaring van Menseregte
Artikel 1
Alle menslike wesens word vry, met gelyke waardigheid en regte, gebore. Hulle het rede en gewete en behoort in die gees van broederskap teenoor mekaar op te tree.
Dutch
Universele verklaring van de rechten van de mens
Artikel 1
Alle mensen worden vrij en gelijk in waardigheid en rechten geboren. Zij zijn begiftigd met verstand en geweten, en behoren zich jegens elkander in een geest van broederschap te gedragen.
Icelandic
Mannréttindayfirslýsing Sameinuðo Þjóðanna
1. grein.
Hver maður er borrinn frjáls og jafn öðrum að virðing og réttindum. Menn eru gæddir vitsmunum og samvizku, og ber þeim að breyta bróðurlega hverjum við annan.
Danish
Verdebserklaeringen om Menneskrrettighederne
Artikel 1.
Alle mennesker er tødt frie og lige i værdghed og rettigheder. De er udstyret men tornuft og samyttighed, og de bør handle mod hverandre i en broderskabets ånd.
German
Die Allgemeine Erklärung der Menschenrechte
Artikel 1
Alle Menschen sind frei und gleich an Würde und Rechten geboren. Sie sind mit Vernunft und Gewissen begabt und sollen einander im Geist der Brüderlichkeit begegnen.
Norwegian Bokmål
Verdemserkæringen om mennesker ettighetene
Artikkel 1.
Alle mennesker er fød frie og med samme menneskeverd og menneskerettigheter. De er utstyrt med fornuft og samvittighet og bør handle mot hverandre i brorskapets ånd.
Norwegian Nynorsk
Den internasjonale frasegna om mennesker ettane
Artikkel 1.
Alle menneske er fødde til fridom og med same menneskeverd og menneskerettar. Dei har fåt fornuft og samvit og skal leve med kvarandre som brør.
Swedish
Allmän Förklaring om de Mänskliga Rättigheterna
Artikel 1.
Alla människor är födda fria och lika i värde och rättigheter. De är utrustade med förnuft och samvete och bör handla gentemot varandra i en anda av broderskap.
Difficulty