Chadic Language Branch
The Chadic branch of the Afro-Asiatic language family consists of about 195 languages spoken south of the Sahara desert in an area stretching from the south of Niger, across northern Nigeria, northern Cameroon and Chad. Chadic languages are so called because of Lake Chad. Chadic languages are the most distant branch of the Afro-Asiatic language family because they were the earliest to separate from the common ancestor. They form the most variegated branch of the Afro-Asiatic language family. There are significant differences among the Western. Eastern, Central, and Masa subdivisions of Chadic languages.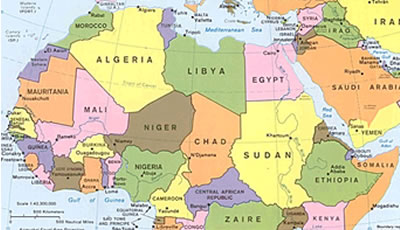 Apart from Hausa, only a few other Chadic languages have been well described.
Status
The most demographically significant Chadic language is Hausa, spoken by 24 million people, of whom about 19 million live in Nigeria, 5 million in Niger, and 1 million in Cameroon, Togo, and Benin. Hausa is the official language of Nigeria and the lingua franca of much of West Africa.
The Chadic branch includes many languages that are spoken by small numbers of people and that have no written form. Many of them are seriously endangered, and some are on the brink of extinction, or are extinct.
The table below lists Chadic languages with 200,000 or more speakers. Except for Hausa, all other Chadic languages have fewer than half-a-million speakers and most have under 100,000. A significant number of them have only a handful of speakers and many are endangered or on the brink of extinction. One of the reasons for their disappearance may be attributable to the rapid spread of Hausa throughout the region. The data is based on Ethnologue.
| | |
| --- | --- |
| | 24 million |
| | 400,000 |
| | 300,000 |
| | 295,000 |
| | 250,000 |
| | 250,000 |
| | 200,000 |
| | 200,000 |
| | up to 200,000 |
Dialects
Dialect variation is common in Chadic languages. For instance, Hausa has four major dialect subdivisions, Bade has four dialects, Bura-Pabir has three dialects, and Ngas, Mwaghavul have 2 dialects each. Dialectal variation has not been studied in many Chadic languages.
Structure
Sound system

It is difficult to summarize the common features of Chadic sound systems because such features are not present in all of the Chadic languages.
Vowels
Most Chadic languages have three to five vowels that can be either long or short. Vowel length makes a difference in word meaning. In the table below, vowel length is marked by a macron over the vowel. Vowels in parentheses occur in some, but not all Chadic languages.
| | | | |
| --- | --- | --- | --- |
| High | i, ī | xx | u, ū |
| Mid | (e, ē) | (ə) | (o, ō) |
| Low | | a, ā | xx |
Consonants
Chadic languages are distinguished by several features:
A contrast between voiced, voiceless, ejective, implosive, labialized and prenasalized consonants. Ejective consonants are produced with simultaneous closure of the glottis during the articulation of the consonant which results in a strong puff of air being expelled when the consonant is released, e.g., [p'] or [t']. Implosive consonants are produced with the air being sucked in rather than expelled, e.g., [ɓ] or [ɗ]. Labialized consonants are produced with a simultaneous rounding of the lips during the articulation of the consonant, e.g., [kʷ]. Prenasalized stops are phonetic sequences of nasal plus stop that behave phonologically like a single consonant, e.g. [ᵐb] or [ⁿd].
Lateral fricatives, typical of West Chadic languages, e.g., [ɬ]. English does not possess these sounds, but English speakers can approximate a lateral fricative by pronouncing the sounds [h] and [l] simultaneously.
Geminated (double) consonants
Syllable structure
Chadic syllables typically end in a vowel (or diphthong) or a single consonant. There are no consonant clusters.
Tones
All Chadic languages are tonal. The most common Chadic tone system has high (H) and low (L) level tones, e.g., Hausa fárí: (HH) 'white' and fárì: (HL) 'drought.' Some Chadic languages have three tones: High, Medium, and Low. A few languages exhibit so-called "tonal downstep" whereby each syllable in a word is produced on a lower pitch level than the preceding one.
Grammar
Chadic languages are aggulinative, i.e., they add suffixes to roots to express grammatical relations.
Nouns
Some Chadic languages distinguish gender (masculine and feminine) and number (singular and plural). The gender distinction exists only in the singular.
Gender may be marked in the second and third person in pronouns.
In West and East Chadic languages nouns are marked for number (singular and plural).
Nouns are not marked for case.
There are no articles.
Verbs
All Chadic languages have fairly complex verb systems. The following features occur in some, but not all Chadic languages:
Verb stems in some languages can express plurality of action, i.e., action that occured a number of times, was performed by a number of subjects, or affected a number of objects. These stems are usually formed by reduplication, gemination (doubling) of consonants or by vowel insertion.
Chadic verbs have derivational forms that express localization of action, i.e., action in, away, up, or down. The addition of these markers adds a perfective meaning to the verb. These multiple derivations may be part of the verb or constitute detached particles.
Verb tenses differ from those in Indo-European languages in which the tense form of the verb indicates the basic time of the event, e.g., present tense indicates that the action is happening at the time of speaking, past tense indicates that the action took place before time of speaking, and the future tense indicates that the action of the verb will occur after the time of speaking. In Hausa, for instance, the tense form indicates the time of the event relative to some temporal reference. In the absence of temporal reference it is assumed that the time of reference is the moment of speaking. However, if the time of reference is in the past or the future, English must change the tense marking, whereas Hausa continues to use the same forms.
In some Chadic languages intransitive verbs attach a suffix that copies the person and number of the subject.
Word order
All Chadic languages rely on word order and post-positions to express grammatical relations. Word order in most Chadic languages is Subject-Verb-Object, although some have a Verb-Subject-Object word order with subject pronouns either prefixed or suffixed to the verb.
Vocabulary
A good number of Chadic words can be traced to Common Chadic roots. All Chadic languages, especially Hausa, have a large number of borrowings from Arabic, other neighboring non-Afro-Asiatic languages as well as colonial languages such as French, Portuguese and English.
Below are the numerals 1-10 in four Chadic languages.
| | 1 | 2 | 3 | 4 | 5 | 6 | 7 | 8 | 9 | 10 |
| --- | --- | --- | --- | --- | --- | --- | --- | --- | --- | --- |
| Hausa | d`aya | biyu | ukù | hudù | bìyar | shidà | bakwài | takwàs | tarà | gooma |
| Bade | gàd`i | seren | kwan | fed`ù | vàd`ì | èzdù | gatkasà | tedàakwa | warayà | guumà |
| Gera | môy | mbullu | kunnu | hud`u | bad`ì | bíshim | bìcìmbùlu | hurud`ù | bèniinja | berdì |
| Karekare | wed`i | bèlu | kwunù | fed`ù | bàd`ù | bècod`ì | bècibèlu | fifèd`ù | bènù | m`bet |
Writing
With the exception of Hausa, Chadic languages have not been reduced to writing until fairly recently. Hausa was written with the Arabic alphabet starting in the 16th century but is written today with a modified version of the Latin alphabet (Omniglot). Many other Chadic languages are written with modified versions of the Latin alphabet. A great number of Chadic languages have not yet been reduced to writing.
Difficulty
Language Difficulty

How difficult is it to learn Chadic languages?
There is no data on the difficulty level of Chadic languages for speakers of English.