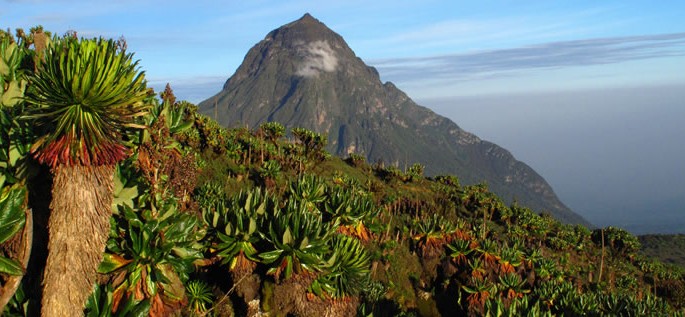 Rwanda
Murakaza neza- Welcome
Rwanda, also called Kinyarwanda, Rwanda or Ruanda, is a Bantoid language that belongs to the Benue-Congo branch of the Niger-Congo language family. It is spoken by 6.5 million people in the Republic of Rwanda by over 90% of the country's population. It is also spoken by 25,000 people in the Democratic Republic of the Congo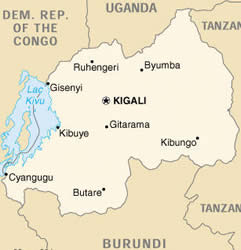 and by 450,000 people in Burundi and southern Uganda, where it is known as Fumbira. The total number of Rwanda speakers is estimated at 7.3 million people (Ethnologue). The language is intelligible with Rundi (Kirundi), spoken in Burundi and Tanzania.
Status
Rwanda is one of the official languages of the Republic of Rwanda, along with English and French. Unlike most other African countries with a multitude of languages, Rwanda has only these three languages. As a result, all Rwandans speak Rwanda, the language of primary education. Above the primary level, instruction is either in English or in French.
Dialects
Ethnologue identifies a number of dialects of Rwanda. They are reportedly very similar to each other.
Bufumbwa
Gitwa
Hutu
Igikiga
Kiga
Ikinyanduga
Rutwa (Twa)
Structure
Sound system
The sound system of Rwanda shares many features with other Bantu languages, such as the presence of prenasalized consonants and the use of tones.
Vowels
Rwanda has five vowel phonemes, i.e., sounds that make a difference in word meaning. They are given below.
Consonants
Rwanda has 24 consonant phonemes presented in the table below. Their orthographic representations are given in parentheses.
/ⁿt, ᵑk/ are prenasalized stops. Prenasalized consonants are sequences of nasal plus another consonant that behave like a single sound unit.
/c, ɟ/ have no equivalents in English.
/kj/ is a palatalized stop. Palatalization is a secondary articulation of consonants in which the body of the tongue is raised toward the hard palate during the articulation of the consonant.
/ʃ/ = sh in shop
/β/ has no equivalent in English

/

ɲ

/ /

=

first

n

in

canyon
/ŋ/ = ng in sing

/j/ =

y

in

yet
Tones
Tones play an important role in Rwanda, as they do in many other Niger-Congo languages. They are used to distinguish between otherwise identical words and to mark grammatical functions.
Grammar
The grammar of Rwanda shares many features with other Bantu languages.
Nouns
Rwanda nouns belong to ten noun classes. Although the content of some noun classes is semantically transparent, there is a great deal of unpredictability in determining whether a noun with a particular meaning belongs to a certain class. Each noun class is associated with a particular prefix, one in the singular, and another in the plural. For instance, Class I nouns that denote human beings are marked with the prefix (u)mu– in the singular, and the prefix (a)ba- in the plural, e.g., umugabo 'man' and abagabo 'men'.
Verbs
Rwanda verbs consist of a root which may be extended by the addition of various prefixes. For example, one of the prefixes is a subject marker that shows agreement with the subject of the clause.
All verb infinitives begin with the prefix gu-/gw– or ku-/kw-.
Tenses are marked with infixes, such as -ra– for present progressive, -za- for future, -racya– for continuous progressive.
Aspect is marked by a suffix.
Word order
The normal word order in Rwanda is Subject-Verb-Object.
Vocabulary
Rwanda has borrowed many words from English, French, and Swahili.
Here are some common Rwanda words and phrases.
| | |
| --- | --- |
| Hello | Muraho |
| Good bye (farewell) | Murabeho |
| Thank you | Murakoze |
| Excuse me | Imbabazi / Ndasaba inzira |
| Yes | Yego |
| No | Oya |
| Man | Umugabo |
| Woman | Umugore |
Below are Rwanda numerals 1-10.
| 1 | 2 | 3 | 4 | 5 | 6 | 7 | 8 | 9 | 10 |
| --- | --- | --- | --- | --- | --- | --- | --- | --- | --- |
| limwe | kabiri | gatatu | kane | gatanu | gatandatu | kalindwi | umunani | icyenda | icumi |
Writing
Rwanda has been written with a standardized orthography since the 1940s.
| | | | | | | | | | |
| --- | --- | --- | --- | --- | --- | --- | --- | --- | --- |
| A a | B b | C c | Cy cy | D d | E e | F f | G g | H h | I i |
| J j | Jy jy | K k | L l | M m | N n | Nk nk | Nt nt | Ny ny | O o |
| P p | R r | S s | Sh sh | T t | U u | V v | W w | Y y | Z z |
Take a look at Article 1 of the Universal Declaration of Human Rights in Rwanda.
Abantu bose bavuka aliko bakwiye agaciro no kwubahwa kimwe. Bose bavukana ubwenge n'umutima, bagomba kugilirana kivandimwe.
All human beings are born free and equal in dignity and rights. They are endowed with reason and conscience and should act towards one another in a spirit of brotherhood.
Difficulty
Language Difficulty

How difficult is it to learn Kinyarwanda?
There is no data on the difficulty of rwanda for speakers of English.