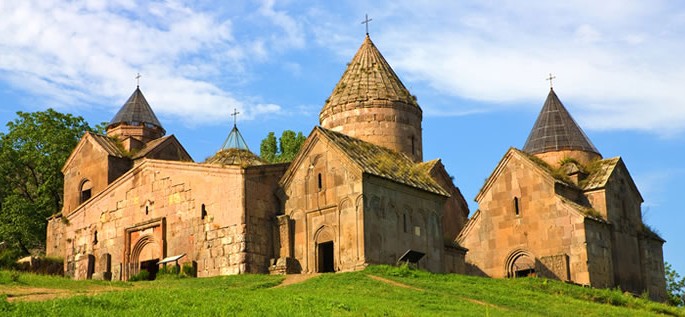 Armenian Language
Pari yegar! | Bari galust! – Welcome
Armenian (հայերեն, Hayaren) belongs to the Indo-Eu-ropean language family. It forms its own independent branch and has no close relatives. It is generally thought to be most closely related to Greek.
Status
According to Ethnologue, Armenian is spoken worldwide by about 5,924,320 people, of whom 3,140,000 live in the Republic of Armenia (2001 census). Eastern Armenian is the official language of the Republic of Armenia, a former Soviet Republic located in the Caucasus. Many of them also speak Russian. Close to half of Armenian speakers today live outside of Armenia. Most of them speak Western Armenian.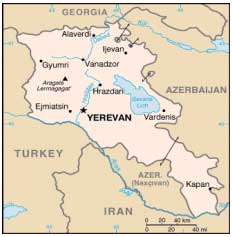 The Armenian diaspora resulted from several historical events. During World War I, Armenians in Turkey suffered from ethnic cleansing and genocide (1915-1916). From 1918 to 1920, those who resisted the Turks, attempted to create an independent Armenian Republic, but their efforts failed. Armenia was then divided among the USSR, Turkey, and Iran. This resulted in mass emigration of Armenians to different parts of the world.
Dialects
The term Armenian can be used to refer to at two major varieties of the language, each with its own dialects. Armenian has two standard varieties: Eastern and Western.
Modern Eastern Armenian is spoken in present-day Armenia and in Armenian communities in Azerbaijan and Iran.
Modern Western Armenian was spoken by Armenians in Anatolia, Turkey, prior to the Armenian Genocide of 1915-1916. Today, it is used by Armenian communities in the United States, Europe, Middle East, Australia, and South America. Eastern Armenian communities are being established alongside the older Western ones.
Classical Armenian (Grabar) is a 5th-century classical form of the language, which served as the literary language until the 19th century, and is still used by the Armenian Apostolic Church.
Eastern Armenian has been influenced by two sets of Russian-led reforms. As a result, it differs orthographically from Western Armenian. There are also phonological differences between the two major dialects. Within each major dialect, there are also many regional variations. Some local dialects are so different from both standard forms of the language that speakers of the standard forms of Armenian have difficulty in understanding local dialects.
Structure
Sound system
The sound system of Armenian is rich in consonants and consonant clusters.
Vowels
Eastern and Western Armenian have six vowel phonemes, i.e., sounds that differentiate word meaning.
Consonants
Armenian has a rich system of consonant sounds which are presented in the table below. Armenian has ejective consonants marked by an apostrophe after the consonant. In producing an ejective, the glottis is raised, raising air pressure in the mouth, so when the consonant is released, there is a noticeable burst of air.The language allows complex word-initial consonant clusters, e.g., tsnvum 'born'. The table below shows the consonants of Eastern Armenian (based on Wikipedia). Armenian allows a variety of consonant clusters, e.g., t'rchun 'bird'.
/pʰ, tʰ, kʰ, tsʰ, tʃʰ/ are ejective consonants with no counterparts in English
/ʃ/ = sh in shop
/ʒ/ = s in treasure
/tʃ/ = ch in chop
/dʒ/ = j in job
/x/, /ʁ/ have no equivalents in English
/j/ = y in yet
Stress
Word stress in Armenian falls on the final syllable. If the final syllable contains the vowel [ə], stress falls on the penultimate (one before last) syllable.
Grammar
Armenian is a highly inflected language with an complex system of noun declensions and verb conjugations.
Nouns
Armenian nouns have the following basic features:
There are no gender distinctions;
There are two numbers (singular and plural);
Eastern Armenian nouns have seven cases: nominative, genitive, dative, accusative, ablative, instrumental, locative. Western Armenian lacks the locative case. Nominative/accusative, and genitive/dative cases share the same endings. Eastern and Western Armenian sometimes have different case endings.
There are two declensions;
The position of the indefinite article differs in Eastern and Western Armenian. In Eastern Armenian, the indefinite article precedes the noun, in Western Armenian, the in definite article follows the noun.
Attributes always precede nouns.
Postpositions are more common than prepositions.
Verbs
The endings of Armenian verbs vary from dialect to dialect. The following is an outline of the main verbal categories:
Every verb stem has two forms, called bases. One is used for the simple past tense and past participle; the other is used for all other tenses, moods, and participles.
There are three conjugations.
There are five moods: indicative, conditional, subjunctive, necessitative (expressing obligation), imperative.
The Indicative mood has four tenses: present, imperfect, preterite, and future.
The Subjunctive mood has two tenses.
Word order
Word order in Armenian is typically Subject-Verb-Object. But other orders can also occur since cases clearly mark the role of words in sentences.
Vocabulary
Armenian has borrowed many words from other languages such Greek, Persian, and Turkish. Eastern Armenian also has many borrowings from Russian. Armenian also has many words borrowed in ancient times from Iranian languages.
Here are a few common words and phrases in Eastern Armenian (in transliteration).
| English | Eastern Armenian |
| --- | --- |
| Hello | Barev (informal), barev dzez (formal) |
| Good bye | Ts'tesutyun |
| Thank you | Shnorhakal e |
| Excuse me | Neroghoutioun |
| Please | Kh'ntrem |
| Thank you. | Sh'norhakal em/merci |
| Yes | Ayo |
| No | Voch |
| Man | Mard |
Below are the numbers 1-10 in Eastern and Western Armenian (in transliteration).
| | 1 | 2 | 3 | 4 | 5 | 6 | 7 | 8 | 9 | 10 |
| --- | --- | --- | --- | --- | --- | --- | --- | --- | --- | --- |
| Eastern | mek | yerku | yerek | chors | hing | vets | yot | ut | eenë | tahsë |
| Western | meg | yergu | yerek | chors | hink | vets | yot | ut | eenë | dahsë |
Writing
The Armenian alphabet was invented by the missionary Mesrob Mashtots around 406 AD. Originally, it consisted of thirty-six letters representing six vowels and thirty consonants. Two letters for representing were added in the 12th century to write loanwords. Armenian is written horizontally from left to right. There are some differences in the sound values of the letters between Eastern and Western Armenian.
Take a look at the text of Article 1 of the Universal Declaration of Human Rights in Armenian script and in transliteration.



Transliteration
Bolor mardik tsnvum en azat u havasar irents' arzganapatkut'yamb u iravunk'nerov. Nrank' unen banak'anut'yun u khighch – mimyants' petk' ē eghbayrabar veraberven.
Translation
Universal Declaration of Human Rights
Article 1
All human beings are born free and equal in dignity and rights. They are endowed with reason and conscience and should act towards one another in a spirit of brotherhood.
Difficulty