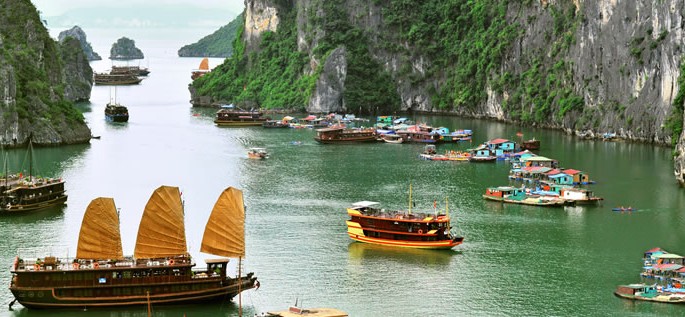 Vietnamese Language
Chào mung – Welcome
Vietnamese (tiếng Việt), formerly known as Annamese, is a member of the Mon-Khmer branch of the Austro-Asiatic language family. With 76 million speakers, it is the 16th largest language of the world. It is spoken by 75 million people in Vietnam . It is also spoken in Australia, Cambodia, Canada, China, Côte d'Ivoire, Finland, France, Germany, Laos, Martinique, Netherlands, New Caledonia, Norway, Philippines, Senegal, Thailand, United Kingdom, USA, and Vanuatu.
It is thought that the ancestor of Vietnamese originated in the area of the Red River in what is now northern Vietnam and that it eventually spread into central and southern portions of the area.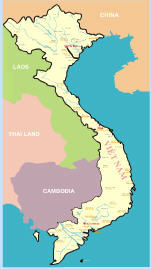 Click on the Modern Language Association Interactive Language Map to see where Vietnamese is spoken in the United States.
Status
After the revolution that ended the French colonial rule, Vietnamese became the national and official language of the Socialist Republic of Vietnam where it is spoken by the majority of the country's population. It is used in Vietnam throughout all levels of the educational system, including higher education, for all official and non-official communication, in the media, and in publishing.
Dialects
There are three mutually intelligible dialects of Vietnamese (Ethnologue):
Northern, Hanoi dialect accepted as the standard
Central, Huế dialect, or High Annamese
Southern, Saigon (Ho Chi Minh City) dialect, or Cochinchinese
Structure
Sound system
Vietnamese is a tonal language with a large number of vowels. There are no consonant clusters. The syllable structure is generally Consonant-Vowel-Consonant with no consonant clusters, there is a good deal of variation in the sound system across different dialects. The description of the sound system below is based on the Hanoi dialect which is considered to be the standard.
Vowels
Vietnamese is a vowel-rich language with 11 simple vowels and a variety of diphthongs and triphthongs. The correspondence between pronunciation and writing is quite complicated as far as vowels are concerned. The same letter can represent either two different monophthongs, or both a monophthong and a diphthong, or different letters can represent the same monophthong.
Consonants
There are 19-21 consonant phonemes in Vietnamese, depending on the dialect. The consonant phonemes of the Northern (Hanoi) dialect are given below.
/p/ occurs only in words borrowed from French
/ɓ/ and /ɗ/ are pronounced with the vocal cords pressed together resulting in an implosive sound when the closure is released
/ʈ, ʂ, ʐ/ are retroflex consonants pronounced with the tip of the tongue curled so that its underside comes in contact with the roof of the mouth

/tʰ/ is pronounced with strong burst of air that accompanies its release

/c, ɟ/ have no equivalents in English

/x, ɣ/ have no equivalents in English
/ɲ/ = first n in canyon
/ŋ/ = ng in sing
/j/ = y in yet
Tones
Vietnamese is a tonal language, i.e., the meaning of words is affected by the tone with which the vowels are pronounced. Vietnamese tones are quite complex because vowels can be pronounced with variations in pitch, length, contour, intensity, and degree of vocal cord constriction. There are six tones in Vietnamese. Their pronunciation varies from dialect to dialect.
&nbsp
| Pitch level | Contour | Voice features |
| --- | --- | --- |
| High-Mid | drawn out, falling | |
| High | rising | tense |
| Low | drawn out | lax |
| Mid-low | dipping-rising | tense |
| High | rising | glottalized |
| Low | falling | glottalized or tense |
Grammar
Like other Austro-Asiatic languages, Vietnamese is an analytic, i.e., it does not use inflections to express grammatical relations. Instead, grammatical relations are signaled by word order and by various particles.
&nbsp
Nouns
Vietnamese nouns are not marked for number, gender, or case. However, they make extensive use of classifiers that indicate which class a noun belongs to, e.g., animate objects, inanimate objects, books, sharp objects, buildings, stick-like objects, flat objects, etc. The Vietnamese system of classifiers is similar to that of Chinese.
Verbs

Verbs are not marked for person or number. Tense, aspect and mood are marked by various particles.
Forms of address and reference
Speakers must use strictly prescribed terms of address and reference. Normally, one must express an attitude of humility, addressing others in honoric terms to show respect for age, knowledge, and social rank. For instance, the term ong 'grandfather' is used in polite formal conversations with strangers. The term anh 'older brother' is used between friends in informal conversations.
Word order
Word order in Vietnamese is strictly Subject-Verb-Object.
Vocabulary
Borrowings
It is estimated that over half of Vietnamese vocabulary is borrowed from Chinese as a result of thousands of years of Chinese domination, In addition, there are many compounds consisting of native Vietnamese words combined with Chinese borrowings. When France invaded Vietnam in the late 19th century, French gradually replaced Chinese as the official written language of education and government. As a result, Vietnamese adopted many French words, e.g., bia 'beer' from the French bierre, so co la 'chocolate' from the French chocolat, ca phé 'coffee' from the French café. Today, the language is being constantly updated through introduction of new scientific and technical vocabulary.
CompoundingAnother common way of forming words is compounding, i.e., combining two lexical items into one, e.g., bàn ghé 'furniture' (literally, table chair'). This is very similar to compounding in Chinese.
Reduplication
Reduplication, or repeating a word or a portion of a word, is a regular part of the language. Reduplication can be total or partial, e.g., ba-ba 'river turtle.' It can also denote intensity. Names of birds, insects, and plants are also often reduplicated.There are many onomatopoeic words, e.g.,lám-bám 'mumble.'
Below are a few common Vietnamese words and phrases.
| | |
| --- | --- |
| Hello | xin chào |
| Good bye | tiếng chào nhau, |
| Thank you | lời cám ơn người nào |
| Yes | dạ, vâng |
| No | không |
| Man | người |
| Woman | đàn bà |
Below are Vietnamese numerals 1-10.
| 1 | 2 | 3 | 4 | 5 | 6 | 7 | 8 | 9 | 10 |
| --- | --- | --- | --- | --- | --- | --- | --- | --- | --- |
| một | hai | ba | bốn | năm | sáu | bảy | tám | chín | mười |
Writing
Vietnamese was written with modified Chinese characters, known as Chu-nom (chữ nôm, 字喃) during 2nd-10th centuries BC, when Vietnam was a province of China. Chu-nom was a mixture of standard Chinese characters and characters specially designed to represent Vietnamese words. Present-day Vietnamese is written with a Latin-based alphabet developed in the 17th century by a French Jesuit missionary Alexandre de Rhodes (1591-1660) who based it on the work of earlier Portuguese missionaries. The script was used mainly for religious texts, but was eventually extended to other types of writing. When the French occupied Vietnam in the 19th century, the script became a requirement for all public writing. It became predominant by the beginning of the 20th century when education in Vietnam became more widespread.
Below is the Latin-based Vietnamese alphabet.
| | | | | | | | | | | | | | | |
| --- | --- | --- | --- | --- | --- | --- | --- | --- | --- | --- | --- | --- | --- | --- |
| A a | Ă ă | Â â | B b | C c | D d | Đ đ | E e | Ê ê | G g | H h | I i | K k | L l | M m |
| N n | O o | Ô ô | Ơ ơ | P p | Q q | R r | S s | T t | U u | Ư ư | V v | X x | Y y | |
The letters f, j, w, z are not part of the Vietnamese alphabet. They are used only in foreign names and loanwords.
Marking of tones is obligatory which results in double diacritics for most vowel letters.
mid-level: unmarked
low-falling: grave accent, e.g., à
high-rising: acute accent, e.g., á
dipping: hook, e.g., ả
glottalized rising: tilde, e.g., ã
glottalized falling: dot under the vowel, e.g., ạ
Take a look at Article 1 of the Universal Declaration of Human Rights in Vietnamese.
Điều 1:
Tất cả mọi người sinh ra đều được tự do và bình đẳng về nhân phẩm và quyền. Mọi con người đều được tạo hoá ban cho lý trí và lương tâm và cần phải đối xử với nhau trong tình bằng hữu.
All human beings are born free and equal in dignity and rights. They are endowed with reason and conscience and should act towards one another in a spirit of brotherhood.
Difficulty