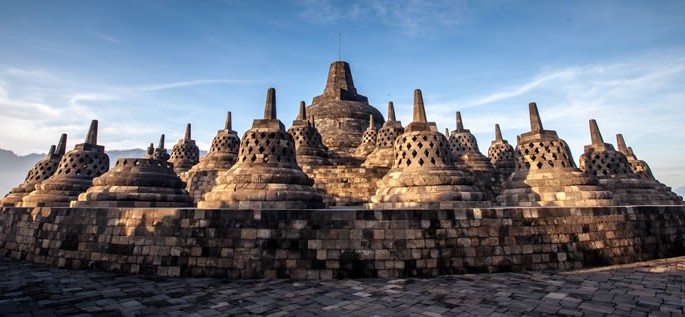 Austronesian Language Family
The Austronesian language family stretches halfway around the world, covering a wide geographic area from Madagascar to Easter Island, and from Taiwan and Hawai'i to New Zealand. The family includes most of the languages spoken on the islands of the Pacific with the exception of the indigenous Papuan and Australian languages. The name "Austronesian" comes from the Greek words for 'south' and 'island.' Austronesia includes Madagascar, Indonesia, the Philippines, Taiwan and the Pacific islands of Melanesia, Micronesia and Polynesia. With 1268 languages, Austronesian is one of the largest and the most geographically far spread language families of the world.
Austronesian languages are spoken in Brunei, Cambodia, Chile, China, Cook Islands, East Timor, Fiji, French Polynesia, Guam, Indonesia, Kiribati, Madagascar, Malaysia, Marshall Islands, Mayotte, Micronesia, Myanmar, Nauru, New Caledonia, New Zealand, Niue, Northern Mariana Islands, Palau, Papua New Guinea, Philippines, Samoa, Solomon Islands, Suriname, Taiwan, Thailand, Tokelau, Tonga, Tuvalu, USA, Vanuatu, Viet Nam, Wallis and Futuna. The total number of speakers of Austronesian languages is estimated at 311,740,132 with a median of 3,384 speakers per language (Ethnologue).
The existence of the Austronesian language family was first discovered in the 17th century when Polynesian words were compared to words in Malay. Despite extensive research into Austronesian languages, their origin and early history remain a matter of debate. Some scholars propose that the ancestral Proto-Austronesian language originated in Taiwan (Formosa), while other linguists believe that it originated in the islands of Indonesia.
The Austronesian language family is usually divided into two branches: Malayo-Polynesian and Formosan. The Malayo-Polynesian branch is by far the largest of the two. It is traditionally divided into two main sub-branches.
The Western sub-branch includes 531 languages spoken in Madagascar, Malaysia, Indonesia, the Philippines, parts of Taiwan, Thailand, Vietnam, and Cambodia. Two languages of Micronesia (Chamorro and Palauan) are also included in this group. This branch represents over 300 million speakers and includes such widely spoken languages as Javanese, Malay, and Tagalog.
The Central-Eastern sub-branch, sometimes referred to as Oceanic, contains around 706 languages spoken in most of New Guinea, and throughout the 10,000 or more islands of Melanesia, Micronesia, and Polynesia. Despite its diversity and geographic spread, this branch represents only under 2 million speakers. The aboriginal languages of Australia and the Papuan languages of New Guinea are not included in this branch.
Below is a list of the Austronesian languages with the largest number of speakers in their respective branches.
Malayo-Polynesian (1248 languages)
Language
Number of speakers (in millions)
Where spoken primarily
Western (531 languages)

Javanese

75.5

Indonesia

27

Indonesia

23

Indonesia

20

Philippines

17.6

Malaysia

Tagalog (Pilipino, Filipino)

15.9

Philippines

Madurese (Madura)
13.7
Indonesia

8

Philippines

Hiligaynon
7
Philippines

6.5

Sumatra, Indonesia

6

Madagascar

5.9

Indonesia

3.9

Indonesia

Bugis (Buginese)
3.5
Philippines

3.1

Thailand

3

Indonesia

Bikolano (Bikol)
2.5
Philippines
Waray-Waray
2.4
Philippines

2.1

Indonesia

Batak
2
Indonesia

1.9

Indonesia

Kapamgangan
1.9
Philippines

1.1

Madagascar

Central-Eastern (Oceanic) 706 languages

371,000

Samoa

334,000

Fiji

124,000

Tahiti

105,000

Tonga

77,000

Guam, Northern Mariana Islands

50,000 to 70,000

New Zealand

68,000

Kiribati

44,000

Marshall Islands

Rarotongan
42,700
Cook Islands

3,500

Easter Island

1,000

Hawai'i, U.S.A
Formosan (20 languages, all but 2 extinct)
| Language | Number of speakers (in millions) | Where spoken primarily |
| --- | --- | --- |
| | 138,000 | Taiwan |
| | 4,750 | Taiwan |
Many of the languages included in the Austronesian family have only a handful of speakers each. For instance, in Melanesia, the average is roughly one language for every 1,500 people. The indigenous people of Taiwan (Formosa) spoke a number of Austronesian languages prior to the arrival of Chinese settlers in the 17th century. Today, only 7 of these aboriginal languages survive. Of these, 3 are almost extinct with 1-5 speakers remaining.
Status
The following Malayo-Polynesian languages have official status in their respective countries. These languages are widely spoken and understood as native or as second languages in their respective countries.
Structure
Most Austronesian languages have 4-5 vowels. and 16-20 consonants. Hawai'ian has the second smallest inventory of phonemes of any known languages with 5 vowels and only 8 consonants.
Sound system
Despite the size and diversity of the Austronesian language family, its members share some commonalities in their sound systems. Their sound inventories range from very simple to average. For instance, Hawai'ian has only 13 phonemes.
Vowels
The vowel systems of Austronesian languages are very simple with 4-5 vowel phonemes, i.e., sounds that differentiate word meaning. A typical 5-phoneme system is given below.
Consonants
Most Austronesian languages have between 16 and 20 consonant phonemes, i.e., sound that distinguish word meaning. They allow only a restricted number of consonant clusters, of which nasal + stop is the most common. Most do not allow final consonant clusters or allow a very restricted number of consonants in final position. With 1268 languages, it is not surprising that some of them also feature fairly unusual and rare consonants:
Stress
Stress in most Austronesian languages can fall on any syllable of a word. It is unpredictable, and serves to differentiate the meaning of otherwise identical words or different forms of a word, e.g., díla 'tongue' and dilá 'big talker' in Batak Toba spoken in Sumatra. Only a few languages are tonal, e.g., Eastern Cham (under the influence of Vietnamese) and Tsat (influenced by Chinese and Tai-Kadai languages of Hainan Island).
Grammar

Austronesian languages are agglutinative, i.e., they form words attaching prefixes or suffixes to roots with basic meanings to create derivatives. Words can be very long. They also use reduplication to mark grammatical relations.
Nouns
Most Austronesian languages are Ergative-Absolutive. Subjects of intransitive verbs and direct objects of transitive verbs are both marked with the absolutive case, as opposed to subjects of transitive verbs marked with the ergative case.
Nouns are not marked for gender. In some languages, only some nouns borrowed from Spanish are marked for gender, e.g., in Ilocano doktór (masculine) and doktóra (feminine).
Nouns are divided into personal and common. They are marked by different articles.
Plural can be expressed in two ways: (1) by a plural form of the article, e.g., in Ilocano, ti baláy 'the house' and dagití baláy 'the houses'; (2) by reduplication, e.g., in Bahasa Indonesia anak 'child' and anak anak 'children.'
A number of languages of Indonesia and the Pacific use classifiers in counting nouns, e.g., in Indonesian se-orang-guru 'one + person classifier + teacher'. Some languages have dozens of classifiers based on characteristics of counted objects, such as their shape, size, function, etc. The use of classifiers is also common in Sino-Tibetan languages, such as Chinese.
Pronouns
Some typical features of Austronesian pronouns are listed below:
Most Austronesian languages distinguish two forms of 'we': an inclusive form that includes the listener, and an exclusive form does not. Many languages of the Philippines also have an special dual inclusive form which means 'you and me'. Some Oceanic languages have a dual number, e.g., 'we two,' 'you two,' etc.
Gender is not marked in 3rd person singular personal pronouns, i.e., there is no distinction between 'he' and 'she.'
There are three demonstrative pronouns: proximal, medial, and distal. Proximal is equivalent to the English this, medial is equivalent to the Englishthat, and distal is equivalent to the English yonder.
Most pronouns are marked for familiarity and formality.
Verbs
There is a division between stative and dynamic (action) verbs. Stative verbs are more or less equivalent to adjectives in English.
An interesting feature of verbs is the focus system which has been debated by linguists for almost a hundred years. Thus, a sentence can focus on the actor (subject), patient (object), location, instrument, or beneficiary. The focus is reflected in the verb.
In many languages verbs are not marked for person or tense. These categories are inferred from context or expressed by adverbs, time words or clauses.
Registers
An important aspect of Austronesian languages is the use of speech registers, or styles. Each style depends on social context and employs its own vocabulary, grammar, and even intonation. Javanese, for instance, uses three speech levels distinguished by vocabulary: Kromo, used when speaking to socially superior persons, Ngoko, used when speaking to inferiors or equals, and Madya, a mixture of Kromo and Ngoko. The use of registers is not unique to Austronesian languages since other Asian languages such as Korean, Japanese and Thai also use them.
Word order
Austronesian languages exhibit several patterns of word order:
Languages of the Philippines, e.g., Cebuano, Ilocano, Tagalog, as well as Malagasy, have a verb-initial word order with the order of the other sentence constituents being relatively free, depending on pragmatic considerations.
Languages of Indonesia, e.g., Bahasa Melayu, Bahasa Indonesia, and Javanese have a Subject-Verb-Object word order.
Languages of Polynesia, e.g., Hawaiian, have a Verb-Subject-Object word order.
Vocabulary
The vocabulary of Austronesian languages is of common Austronesian stock with borrowings from other languages such as Arabic, Sanskrit, Portuguese,Spanish, Dutch, and English. The sources of borrowing vary from language to language.
A comparison of a few common words in a variety of Austronesian languages shows the wide divergence in their vocabulary (see Comparison of Austronesian Languages)
| | sun | island | water | banana |
| --- | --- | --- | --- | --- |
| Indonesian | matahari (mata 'eye,' hari 'day') | pulau | air | pisang |
| Javanese | srengenge, Surya | pulo | banyu, Toya | pisang |
| Balinese | matanai, Surya | pulau, nusa | yeh, Tirta, Toya | gedhang |
| Sundanese | panonpoe | pulau, nusa | cai | cau |
| Acehnese | mata uroe | pulo | ie | pisang |
| Tagalog | araw | pulo, isla | tubig | saging |
| Hiligaynon | adlaw | polo, isla | tubig | saging |
| Maori | ra | motu | wai | maika |
| Fijian | siga | yanu-yanu | wai | jaina |
| Hawaiian | la | moku | wai | mai'a |
| Malagasy | masoandro (maso' 'eye,'andro 'day') | nosy | rano | akondro |
Below are the numerals 1-10 in five Austronesian languages.
| | Tagalog | Cebuano | Ilokano | Indonesian | Malay | Hawaiian |
| --- | --- | --- | --- | --- | --- | --- |
| one | isa | usá | maysa | safu | satu | 'ekahi |
| two | dalawa | duhá | dua | dua | dua | 'elua |
| three | tatlo | tulú | tallo | tiga | tiga | 'ekolu |
| four | apat | upát | uppat | empat | empat | 'eha |
| five | lima | limá | lima | lima | lima | 'elima |
| six | anim | unúm | innem | enam | enam | 'eono |
| seven | pito | pitú | pito | tuju | tujuh | 'ehiki |
| eight | walo | walú | walo | delapan | lapan | 'ewalu |
| nine | siyam | siyám | siam | sembilan | sembilan | 'eiwa |
| ten | sampu | napúlu | sangapulo | sepuluh | sepuluh | 'umi |
Writing
Austronesian languages are written with different writing systems, some being based on the Roman alphabet and others on alphabets derived from Indian or Arabic scripts. Several examples are given below.
Difficulty
Language Difficulty

How difficult is it to learn Austronesian languages?
Data is available for Tagalog which is considered to be a Category II language in terms of difficulty for speakers of English, Indonesian and Malay which are considered to be more difficult than Category I languages, requiring 36 weeks of instruction to reach
ILR level S3
in speaking.