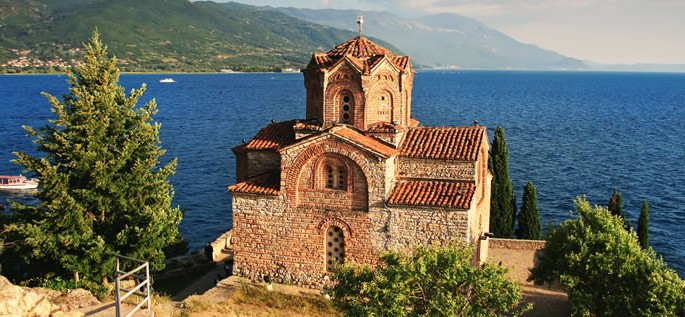 Macedonian
Дoбpoдojдoвтe, dobrodojdovte – Welcome
Macedonian ( мaкeдoнcки jaзик, makedonski jazik) belongs to the South Slavic group of the Slavic branch of Indo-European language family. Its closest relative is Bulgarian. The two languages form a continuum of mutually intelligible dialects.
Status
Macedonian is spoken by some 1.3 million people in the Republic of North Macedonia. It is also spoken in neighboring Balkan countries of Albania, Bulgaria, Greece, Hungary, and Slovenia, as well as in Australia, the U.K., and U.S. The Population total for all countries is estimated at 1.4 million people (Ethnologue).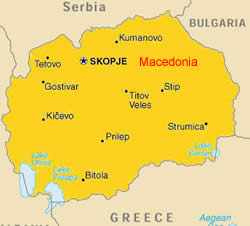 The status of Macedonian in the countries where it is spoken is as follows:
Dialects
Ethnologue recognizes three varieties of Macedonian:
Northern Macedonian
Southeastern Macedonian
Western Macedonian
Standard Macedonian is based on the West Central variety with some features of the Northern variety spoken in Skopje, the capital of Macedonia.
Structure
Sound system
Vowels
Macedonian has five vowels. Unstressed vowels are not reduced as is the case of many Slavic languages.
Consonants
Below is a table of Macedonian consonant phonemes, i.e., sounds that make a difference in word meaning. Like all Slavic languages, Macedonian allows a variety of consonant clusters.
/c/, /ɟ/ have no equivalents in English
/x/ = ch in Loch
/ʃ/ =sh in shape
/ʒ/ = s in measure
/tʃ/ = ch in chat
/dʒ/ = j in jet
/ɲ/ = n in canyon
/ɫ/ = ll in full
/ɾ/= r in Spanish perro 'dog'
/j/ = y in yet
Stress
Stress is normally fixed on the antepenultimate (third to the last) syllable of the word.
Grammar
Macedonian grammar is quite similar to that of Bulgarian.
Nouns
Nouns have three genders: masculine, feminine, neuter. Gender has different endings only in the singular, there is only one ending for nouns of all genders in the plural.
There are two numbers: singular and plural. Plural endings depend on the form of the noun.
Like Bulgarian, Macedonian last lost its cases. There are a few vestiges of the vocative case, and a distinction is made between animate and inanimate nouns in the accusative case, i.e., case of the direct object.
Macedonian is the only Slavic language that makes three distinctions in definiteness: unmarked, proximate, and distal. These are marked by suffixes attached to the first noun, adjective, or pronoun in the noun phrase. Below is an example of the unmarked definite article attached as a suffix to the noun.
Masculine
grad
'city'

Feminine
žena
'woman'

Neuter
mesto
'place

Singular

gradot
'the city'

ženata
'the woman'

mestoto
'the place'

Plural

gradovite
'the cities'

ženite
'the women'

mestata
'the places'
Numerals
There are two sets of numerals in Macedonian: one set is used with non-human nouns, while the other set is used with male or mixed gender human groups, e.g., dva konja 'two horses,' but dvajca maži 'two men.'
Verbs
Macedonian verbs agree with their subjects in person and number.
There are three persons: 1st, 2nd, 3rd.
There are two numbers: singular and plural.
There are three tenses: present, past, and future. Present, imperfect, and aorist are expressed by simple forms, all the other forms are represented with the auxiliary verbs sum ' be' or ima 'have'.
There are two aspects: imperfective and perfective. Perfective verbs are usually formed by prefixation. Aspect involves grammar, lexicon, semantics, and pragmatics.
There are four moods: indicative, imperative, conditional, and subjunctive.
There are three voices (active, middle, and passive)
Word order
The normal word order in Macedonian sentences is Subject-Verb-Object. However, other orders are possible. Word order is principally determined by topic (what the sentence is about, or old information) and focus (new information). Constituents with old information precede constituents with new information, or those that carry the most emphasis.
Vocabulary
Like all Slavic languages, Macedonian has borrowed words from other languages, especially from Greek and Serbian. However, most of its vocabulary comes from a common Slavic stock, and is very similar to the vocabulary of other South Slavic languages, particularly Bulgarian.
Below are some common phrases in Macedonian.
| | |
| --- | --- |
| Good day. | Dobar den, дoбap дeн |
| Please | Molam, мoлaм |
| Thank you | Blagodaram, блaгoдapaм |
| Sorry | zalam, жалам |
| Excuse me | izvini, извини |
| Yes | Da, дa |
| No | Ne, нe |
| Man | Maž, мaж |
| Woman | Žena, жeнa |
Below are the numerals 1-10 in Macedonian Cyrillic and Latin scripts.
| 1 | 2 | 3 | 4 | 5 | 6 | 7 | 8 | 9 | 10 |
| --- | --- | --- | --- | --- | --- | --- | --- | --- | --- |
| jeдeн | двa | тpи | чeтиpи | пeт | шecт | ceдум | ocум | дeвeт | дeceт |
| jeden | dva | tri | četiri | pet | šest | sedum | osum | devet | deset |
Writing
Spoken Macedonian started to appear in written form at the end of the 16th century. However, serious attempts to create a standard Macedonian literary language began only in the 19th century. In 1945, Standard Macedonian, based on the West-Central dialect, was established as the official language of the Republic of North Macedonia. The creation of a standardized literary language led to the publication of many literary works.
The Macedonian alphabet, as all Slavic Cyrillic alphabets, is based on the Cyrillic alphabet developed by disciples of Saint Cyril and Saint Methodius. It was adapted from Vuk Karadžić's alphabet for Serbian. There are a few differences between the Serbian and Macedonian Cyrillic alphabets. Although both the Cyrillic and the Latin alphabet are used in Macedonia, Cyrillic is the preferred orthography. Street signs are usually given in both orthographies.
Cyrillic

А а

Б б

В в

Г г

Д д

Ѓ ѓ

Е е

Ж ж

З з

И и

J j

К к

Л

Љ љ

М м

Н н

Њ њ

О о

П п

Р р

С с

Т т

Ќ ќ

У у

Ф ф

Х х

Ц ц

Ч ч

Џ џ

Ш ш
Latin

A a

B b

V v

G g

D d

Ġġ

E e

Ž ž

Z z

Dz dz

I i

J j

K k

L l

Lj lj

M m

N n

Nj nj

O o

P p

R r

S s

T t

Ḱ ḱ

U u

F f

H h

C c

Č č

Dž dž

Š š
Take a look at Article 1 of the Universal Declaration of Human Rights in Macedonian Cyrillic script
Члeн 1
Ситe чoвeчки суштeствa сe рaѓaaт слoбoдни и eднaкви пo дoстoинствo и прaвa. Tиe сe oбдaрeни сo рaзум и сoвeст и трeбa дa сe oднeсувaaт eдeн кoн друг вo дуxoт нa oпштo чoвeчкaтa припaднoст.
Article 1
All human beings are born free and equal in dignity and rights. They are endowed with reason and conscience and should act towards one another in a spirit of brotherhood.
Difficulty