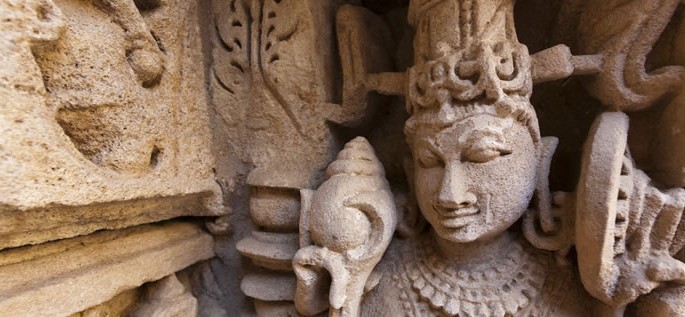 Gujarati
Namaskar – Welcome
Gujarati, also known as Gujarathi, is a member of the Indo-Aryan branch of the Indo-European language family. Its closest relatives are Hindi and Punjabi. It is estimated that it is spoken as a first language by 45.7 million people in India, primarily in the state of Gujarat, and worldwide by 46.6 million people (Ethnologue). Outside of India it is spoken in Bangladesh, Fiji, Kenya, Malawi, Mauritius, Oman, Pakistan, Reunion, Singapore, South Africa, Tanzania, Uganda, United Kingdom, USA, Zambia, Zimbabwe (Ethnologue).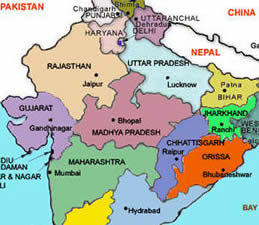 Like other Indo-Aryan languages, Gujarati is derived from Sanskrit through Prakrit, a large group of ancient Indic languages, and Apabhramsha, transitional dialects spoken in India between the 6th-13th centuries AD.
The first grammar of a precursor of Gujarati was written in the 12th century. The first literary records of Gujarati were mostly religious verses dating back to the 17th century. The language was later cultivated by writers, scholars, and poets from Narasimha Mehta to Mahatma Gandhi. The study of Gujarati in the 19th century can be credited to a British colonial administrator named Alexander Kinloch Forbes who explored much of the previous thousand years of the history of Gujarati and compiled a large number of manuscripts.
Click on the MLA Interactive Language Map to find out where Gujarati is spoken in the U.S.
Status
Gujarati is one of the 22 official languages and 14 regional languages of India, and one of the minority languages of neighboring Pakistan. It is the medium of everyday communication in the Indian state of Gujarat. It is used in education, government, business and the media. The language is widely spoken In expatriate Gujarati communities in the UK and the U.S. These communities have Gujarati newspapers, magazines, radio and television programs.
Dialects
Gujarati has many dialects (Ethnologue). The major dialects are listed below:
Surati
Kathiyawadi
Kharwa
Khakari
Tarimukhi
East African Gujarati
Northern Gujarati dialects have many loanwords from Arabic and Persian, while the southern dialects have more Hindi, English, and Portuguese borrowings. East African Gujarati has a number of loanwords from the local languages, particularly Swahili.
Structure
Sound system
Vowels
Gujarati is rich in vowels. It has 7 vowel phonemes, i.e., sounds that make a difference in word meaning. The vowels are given in the table below.
/i/, /ε/, /a/, /u/, and /ɔ/ can be oral or nasal.
Consonants
Consonant clusters are infrequent. They occur mostly in initial and medial position. Only a restricted set of consonant clusters can occur at the end of words. Consonants can be geminated (doubled) in medial position. Gujarati consonants are given in the table below.
There is a contrast between aspirated vs. unaspirated stops and affricates, including voiced ones, e.g., between, p—pʰ, t—tʰ, k—kʰ, b—bʰ, d—dʰ, g—gʰ. Aspirated consonants are produced with a strong puff of air.
There is a contrast between and apical vs. retroflex consonants, e.g., /t/ – /ʈ/, /d/ – /ɖ/, /n/ – /ɳ/. Apical consonants are produced with the tip of the tongue touching the roof of the mouth, whereas retroflex consonants are produced with the tongue curled, so that its underside comes in contact with the roof of the mouth.
/ʋ/ is often pronounced as /v/.
/ʃ/ = sh in shop
/tʃ/ = ch in chop
/dʒ/ = j in job
/j/ = y in yet
Stress
Stress in Gujarati words normally falls on the penultimate, i.e., next-to-the-last syllable. If the penultimate vowel in a word with more than two syllables is a schwa, stress falls on the preceding syllable.
Grammar
Gujarati grammar is very similar to that of other Indo-Aryan languages such as Hindi, Bengali, and Punjabi. Like all these languages, Gujarati is agglutinative, i.e., it adds suffixes to roots to build words and to express grammatical relations. Gujarati uses the ergative case to mark subjects of perfective transitive verbs, and the nominative case to mark subjects of all other verbs.
Nouns
Gujarati nouns are marked for the following grammatical categories:
number: singular and plural
gender: masculine, feminine, neuter
case: nominative, oblique/vocative, and locative; all cases, except vocative, are marked by post-positions.
there are no definite or indefinite articles
adjectives agree with the nouns they modify in gender, number and case
Verbs
Gujarati verbs agree with their subjects in person, number and gender. These categories are marked by suffixes attached to the verb root. Verbs agree with the nominative subject. The perfective aspect displays split ergativity. Transitive perfective verbs agree with the direct object, with the subject taking the ergative construction. The infinitive verb also agrees with the direct objects. Verbs have the following features:
person: 1st, 2nd, 3rd
number: singular and plural
tense: present, past, future
aspect: imperfective and perfective
Word order
The normal word order in Gujarati is Subject – Object – Verb. Modifiers precede the nouns they modify. Indirect objects precede direct objects.
Vocabulary
Gujarati has many Arabic and Persian loanwords due to more than five centuries of Islamic rule. This is particularly true of high-level vocabulary and is less so of the spoken language. As a result of centuries of trade with European countries such as Portugal and England, Gujarati has also borrowed words from Portuguese and English.
| | |
| --- | --- |
| Thank you | ābhar |
| Yes | hā |
| No | nā |
| Hello | Kem cho |
| Good bye | āvjo |
Below are the Gujarati numerals 1-10 in romanization.
| 1 | 2 | 3 | 4 | 5 | 6 | 7 | 8 | 9 | 10 |
| --- | --- | --- | --- | --- | --- | --- | --- | --- | --- |
| ek | be | treņ | cār | pãc | cha | sāt | āţh | nav | das |
Here are these numbers in the Gujarati script.

Writing
Gujarati script is a descendant of the Brahmi script. Like all Brahmi-derived scripts, it is a syllabic writing system in which each character represents a consonant accompanied by an inherent vowel. The Gujarati script is very similar to Devanagari but without the line at the top of the letters. The earliest known document in the Gujarati script is a manuscript dating from the late 16th century. Until the 19th century, the Gujarati script was used mainly for writing letters and keeping accounts, while the Devanagari script was used in literary and academic texts. Today, the Gujarati script is the official script of Gujarat.
The following diacritics are used in standard romanization of Gujarati:
Take a look at Article 1 of the Universal Declaration of Human Rights in Gujarati script and in romanization.


All human beings are born free and equal in dignity and rights. They are endowed with reason and conscience and should act towards one another in a spirit of brotherhood.
Did You Know?
Do you know any English words that were borrowed from Gujarati? Let us know and we'll add them here!
Difficulty
Language Difficulty

How difficult is it to learn Gujarati?
There is no data on the difficulty of Gujarati for speakers of English.