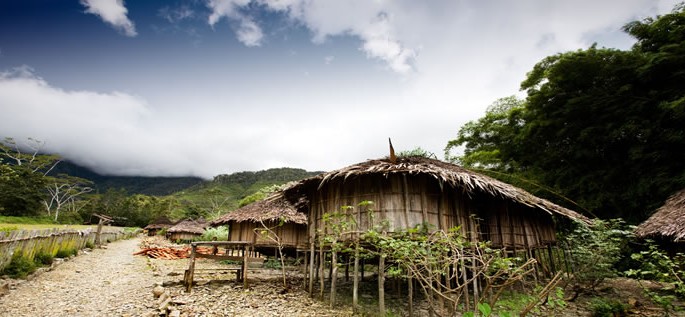 Tok Pisin
Welkam – Welcome
Tok Pisin (from tok 'talk' + pisin 'pidgin') is an English-based creole spoken by 122,000 people as a first language and by 4 million people as a second language primarily in the northern part of Papua New Guinea (PNG). It is also known as Pisin, Pidgin, Neomelanesian, New Guinea Pidgin English, and Melanesian English (Ethnologue).
When laborers from the Pacific islands who spoke many different languages worked side-by-side on sugar plantations in Queensland, Australia, they did not have a common language. As a result, they developed an English-based pidgin which also borrowed words from Portuguese and German, as well as from various Austronesian languages. When the plantation workers returned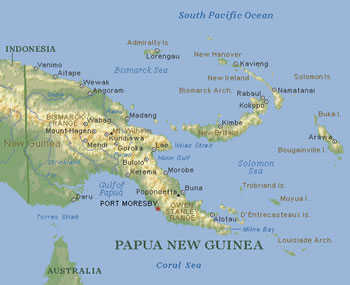 to their homelands, they brought the new pidgin with them. It became known as Tok Pisin in New Guinea, Bislama in Vanuatu, and Pijin in the Solomon Islands.
Status
The constitution of Papua New Guinea (PNG) recognizes Tok Pisin as a national language, along with Hiri Motu and English. English is more widely used for official business but Tok Pisin serves as a lingua franca for speakers of PNG's 820 different languages. It is the first language of people residing in mixed urban areas who pass it on to their children, and the second language of over 4 million people country-wide. Although many people feel that Tok Pisin is inferior to English, most accept it as a separate language, important for PNG's national identity.
Until recently, English was the official language of education in PNG, although Tok Pisin was widely used in community and church-run pre-schools and vocational schools. Today, however, communities can choose the language for use in the first three years of elementary education. Many choose Tok Pisin.
Tok Pisin is also used in Radio Australia's Tok Pisin broadcasts. There is a weekly Tok Pisin newspaper Wantok ('one talk'), and many government publications are also in Tok Pisin. The language is widely used in mass media and religious services.
Dialects
There are dialect variations in Tok Pisin between New Guinea lowlands, highlands, and the islands characterized by differences in grammar and vocabulary. Some varieties show more English influence than others.
Structure
Sound system
Tok Pisin has a relatively simple sound system with a smaller inventory of phonemes than English on which it was originally based.
Vowels
Tok Pisin has five vowel phonemes, i.e., sounds that make a difference in word meaning. There are several diphthongs, among them are /ai/ as in taim 'time' and /au/ as in haus "house.'
Consonants
Tok Pisin has 16 consonants. When English words are borrowed into Tok Pisin, consonants are often dropped, especially at the end of words, e.g., English pepper becomes pepa.
/ŋ/ = ng in song
/j/ = y in yet
Grammar
The grammar of Tok Pisin is similar to that of Bislama. There are no inflections but reduplication is very common, serving many different purposes.
Nouns
Tok Pisin nouns are not marked for number, gender, or case.
Adjectives
Adjectives usually take the suffix –pela 'fellow' with the exception of liklik 'little', e.g., bikpela haus 'big house', liklik haus 'little house'.
Pronouns
Pronouns are marked for person, number and inclusiveness.
Some dialects have dual and triple numbers. A full Tok Pisin pronoun paradigm looks like this:
Singular

Dual

Triple

Plural

1st person
exclusive

mi
'I'

mitupela
'he/she and I'

mitripela
'both of them and I'

mipela
'all of them and I'

1st person
inclusive

yumitupela
'you(familiar) and I'

yumitripela
'both of you and I'

yumipela
'all of you and I'

2nd person

yu
'you (familiar)

yutupela
'you two'

yutripela
'you three'

yupela
'you four or more'

3rd person

em
'he/she'

tupela
'they two'

tripela
they three'

ol
'they four or more'
Verbs
Most Tok Pisin verbs consist of a stem borrowed from English, French, or a local language plus the ending –im 'him' to mark transitivity, e.g., givim 'give'. Some verbs such as kaikai 'eat' are not marked for transitivity.
The present progressive tense is marked by stap, the past tense is marked with bin 'been', and the future tense is marked with bai 'by and by'.
| | | |
| --- | --- | --- |
| Present | Mi katim frut. | I cut fruit. |
| Present progressive | Mi stap katim frut. | I am cutting fruit. |
| Past | Mi bin katim frut. | I have/had cut fruit. |
| Future | Bai mi katim frut. | I will cut fruit. |
Prepositions
There are only two prepositions in Tok Pisin: bilong 'belong' which means 'of" or 'for,' e.g., laplap bilong alta 'altar cloth', and long which means everything else, e.g., long bek 'backwards'.
Vocabulary
Most of the vocabulary of Tok Pisin comes from English. However, there are many words that come from other languages. These are given below.
The borrowed words sometimes have a different meaning, e.g., baksait means 'back'.
Many words have a wider range of meanings in Tok Pisin than they do in English, for instance gras means 'grass, hair, fur, feathers', kukim means 'cook, burn'.
Many borrowings are reduplicated, e.g., toktok 'conversation'.
Borrowed words sometimes have a different meaning from that in English, e.g., baksait means 'back'.
| | |
| --- | --- |
| gumi | from German gummi 'rubber' |
| save | from Portuguese saber 'know' |
| kaikai | from Maori kai 'food' |
| binatang | from Malay binatang 'animal' |
| liklik | from Kuanua likilik 'small' |
Below are some common words and phrases in Tok Pisin.
| | |
| --- | --- |
| Good day, hello. | gude, halo |
| Goodbye, see you later | gutbai, lukim yu behain |
| Thank you. | tenkyu |
| Please | plis |
| I am sorry, I am very sorry. | mi sori, mi sori tumas |
| Yes | Yes |
| No | No ken, no gat |
| Man | Man |
| Woman | Meri |
Below are Tok Pisin numerals 1-10.
| 1 | 2 | 3 | 4 | 5 | 6 | 7 | 8 | 9 | 10 |
| --- | --- | --- | --- | --- | --- | --- | --- | --- | --- |
| wan | tu | tri | foa | faif | sikis | seven | et | nain | ten |
Numerals are followed by -pela when used with count nouns, e.g., tupela haus 'two houses'; –pela is not used if the noun is a unit of measurement, e.g., tu kilok 'two o'clock'.
Writing
The Tok Pisin alphabet contains 24 letters.
| | | | | | | | | | | | |
| --- | --- | --- | --- | --- | --- | --- | --- | --- | --- | --- | --- |
| A a | B b | D d | E e | F f | G g | H h | I i | J j | K k | L l | M m |
| N n | O o | P p | R r | S s | T t | U u | V v | W w | Y y | Ai ai | Au au |
Take a look at Article 1 of the Universal Declaration of Human Rights in Tok Pisin.
Atikel 1
Yumi olgeta mama karim umi long stap fri na wankain long wei yumi lukim i gutpela na strepela tru. Uumi olgeta igat ting ting bilong wanem samting I rait na rong na mipela olgeta I mas mekim gutpela pasin long ol narapela long tingting bilong brata susa.
Article 1
All human beings are born free and equal in dignity and rights. They are endowed with reason and conscience and should act towards one another in a spirit of brotherhood.
Difficulty
Language Difficulty

How difficult is it to learn Tok Pisin?
There is no data on Tok Pisin in terms of difficulty for speakers of English.