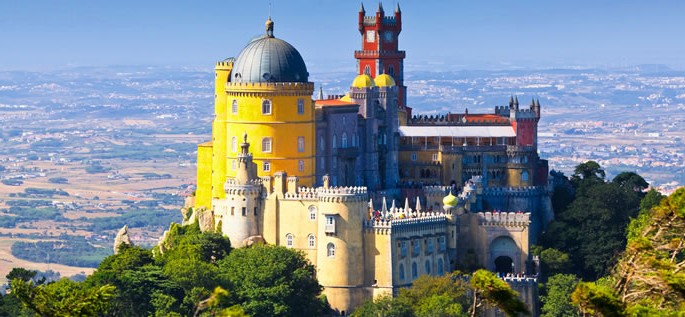 Portuguese Language
Bem vindo – Welcome
Portuguese, português or língua portuguesa, belongs to the Romance branch of the Indo-European language family. It is a widely-spoken macrolanguage and one of the world's largest languages, ranking sixth after Chinese, Spanish, English, Hindi, and Arabic. Ethnologue estimates the worldwide population of first-language speakers of Portuguese at around 204.3 million people, while other estimates place the number at 215 million (Nationalencyklopedin).
After the Roman conquest of the Iberian peninsula, Vulgar Latin replaced the local languages. Along the Atlantic coast, it gradually evolved into Galician-Portuguese. After the incorporation of Galicia into Spain and the independent development of Portugal, it split into Galician and Portuguese.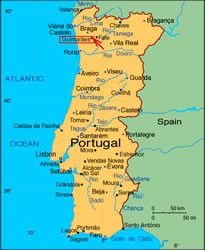 In the 14th-6th centuries, Portuguese spread to many regions of Asia, Africa and America. By the 16th century, Portuguese had become a lingua franca in Asia and Africa where it was used for colonial administration, trade, and communication between locals and Europeans. Some Portuguese-speaking communities in India, Sri Lanka, Malaysia and Indonesia preserved the language even after they were isolated from Portugal. Some of the latter eventually developed into Portuguese-based creoles.
Status
Portuguese spread worldwide in the 15th and 16th centuries as Portugal created a far-reaching colonial and commercial empire spanning countries in Asia, Africa, and South America. Today, Portuguese and Portuguese-based creoles are official, de-facto official, or co-official languages of Brazil (203 million), Portugal (10.8 million), Mozambique (24.7 million), Angola (24.4 million), Guinea-Bissau (1.7 million), East Timor (1.2 million), Macau (588,000), Verde Islands (538,500), São Tomé and Príncipe (190,400). Note that the above numbers are population estimates, not the actual number of first- and/or second-language speakers in these countries.
In 1986, Portuguese became an official language of the European Union (EU). In 1996, the Community of Portuguese-speaking Countries (CPLP) was created to promote cooperation and cultural exchanges among the member countries and to create a Portuguese standard.
Click here on the MLA Interactive Language Map to find out where Portuguese is spoken in the U.S.
Dialects
Portuguese is a pluricentric language, i.e., one that has two standard spoken and and two standard written standards. There are two main groups of dialects: those of the Iberian peninsula (European Portuguese) and those of Brazil (Brazilian Portuguese). The differences between the two involve pronunciation, grammar, and vocabulary. Portuguese varieties spoken in Africa and Asia are closer to those of Portugal than those of Brazil.
European Portuguese is divided into Northern and Southern varieties. The prestige norms are based on the Southern variety as spoken in the capital of Lisbon. The prestige norms of Brazilian Portuguese by-and-large follow those of European Portuguese. Although standard written Brazilian Portuguese was originally based on standard European Portuguese, there are differences between the two involving spelling, lexicon, and, to a lesser extent, those involving grammar.
Structure
Sound system
The sound system of Portuguese features a complex vowel and relatively simple consonant systems.
Vowels
Portuguese has the richest vowel system of all Romance languages. It includes monophthongs, diphthongs, and triphthongs, with some differences between the vowel systems of European and Brazilian Portuguese.
The two vowel charts below are based on Wikipedia. Nasal vowels are marked by a tilde. Nasalization is the result of the lowering of the velum, or soft palate, which allows air to escape through the mouth and the nose during the production of the sound.
Nine monophthongs of European Portuguese

Unrounded

Rounded

i, ĩ

ɯ

u, ũ

e, ẽ

o, õ

Open-mid

ɛ

ɐ, ɐ̃

ɔ

a
/ɛ/ = e in bed
/ɯ/ = no equilvalent in English
/ɐ/ = has no equivalent in English
/ɔ/ = vowel in thought
Seven monophthongs of Brazilian Portuguese

Front

Central

Back

Close

i

u

Close-mid

e

o

Open-mid

ɛ

ɔ

Open

a
/i/ = e in tree
/e/ = vowel in play
/ɛ/ = e in bed
/a/ = bat (some dialects)
/u/ = boot
/o/ = boat
/ɔ/ = bog
Consonants
/p, t, k/ are not aspirated, i.e., they are produced without a puff of air, as in English.
/ʃ/ = sh in shop
/ʒ/ = s in vision
/tʃ/ = ch in chat
/dʒ/ = j in job
/ɲ/ = first n in canyon
/ʎ/ = ll in million
/ɾ has a number of realizations depending on the variety.
Stress
Primary stress may fall on any of the three final syllables of a word, but mostly on the last two. The final syllable is usually stressed when it contains a nasal, a diphthong, or a close vowel. Some vowels tend to change their quality in unstressed positions.
Grammar
The grammar of Portuguese is Latin-based. As a result, it exhibits many similarities to the grammar of other Romance languages.
Nouns, adjectives, articles, and pronouns
Portuguese nouns are either masculine or feminine. Masculine nouns usually end in -o, -e, or a consonant, feminine nouns usually end in -a. There are some exceptions.
There are no case markings.
There are two numbers: singular and plural. Plural is formed by adding -s.
Adjectives and pronouns agree with the nouns they modify in gender and number.
Definite and indefinite articles agree with nouns in gender and number, e.g., o carro 'the car' — os carros 'the cars', a casa 'the house' — as casas 'the houses,' um carro 'a car' — uns carros 'cars', uma casa 'a house'—umas casas 'houses'.
Prepositions contract with articles, e.g., de + o = do, de + a = da.
Verbs
Verbs agree with their subjects in person (1st, 2nd, 3rd) and number (singular, plural).
Pronoun subjects are normally dropped since the verb endings carry information about person and number, e.g., canto 'I sing'.
There are three regular conjugations that can be identified by the infinitive ending, for instance, cantar 'to sing', comer 'to eat', rir 'to laugh'. There are also many irregular verbs.
There are three tenses (present, past, future). Compound tenses are formed with the auxiliary verbs ser 'to be' or haver 'to have'.
There are four moods: indicative, conditional, subjunctive, imperative.
Word order

The most common order in Portuguese is Subject- Verb-Object. Adjectives follow the nouns they modify, e.g., casa branca 'white house'.
Vocabulary
Portuguese vocabulary, for the most part, is derived from Latin with some borrowings from German, Arabic, as well as from Asian, Amerindian, and African languages with which Portuguese explorers and settlers came into contact. Today, English is the major source of borrowings, primarily in the area of science, politics, and technology.
Below are some common Portuguese words and phrases.
| | |
| --- | --- |
| Hello | Olá |
| Good bye | Tchau |
| Please | Por favor |
| Thank you | Obrigado (masculine), obrigada (feminine) |
| Excuse me | Desculpa |
| Yes | Sim |
| No | Não |
| Man | Homem |
| Woman | Mulher |
Below are the numerals 1-10 in Portuguese.
| 1 | 2 | 3 | 4 | 5 | 6 | 7 | 8 | 9 | 10 |
| --- | --- | --- | --- | --- | --- | --- | --- | --- | --- |
| um | dois | tres | quatro | cinco | seis | sete | oito | nove | dez |
Writing
Written materials in Portuguese date back to the late 12th century. Literary works appeared in the 13th and 14th centuries. Portuguese is written with a modified version of the Latin alphabet which is given below.
| | | | | | | | | | | | | |
| --- | --- | --- | --- | --- | --- | --- | --- | --- | --- | --- | --- | --- |
| A a | B b | C c | D d | E e | F f | G g | H h | I i | J j | K k | L l | M m |
| N n | O o | P p | Q q | R r | S s | T t | U u | V v | W w | X x | Y y | Z z |
Below are some notable features of Portuguese orthography:
k, w, y are only used for writing borrowed words, e.g., Darwin.
ç = [s], e.g., direção 'direction'
The letter h after consonants indicates palatalization, e.g., ninho 'child' is pronounced as [ninyo].
Brazilian Portuguese uses an umlaut over the letter ü to indicate diaeresis, i.e., that it is pronounced as a full vowel rather than part of a diphthong, e.g., freqüencia 'frequency'.
Acute accent over the vowels í, é, á, ó, ú and circumflex accent over â, ê, ô indicate that the vowel is stressed.
Grave accent over à indicates the contraction of two consecutive vowels in adjacent words, e.g., a + aquela = àquela.
Tilde over the vowels ã and õ represents nasal vowels before other vowels, at the end of words, or before a final -s. It usually coincides with the stressed vowel, unless there is an acute or circumflex accent elsewhere in the words, e.g., direção 'direction.'
–am, -em, -ém, -âm, -en, -én represent nasal diphthongs at the end of words or before final -s.
ou is pronounced as [o].
Modern Portuguese has two orthographic standards: one for Portugal, and one for Brazil. The most notable difference between the two orthographies is that in Brazil the first c in cc, cç, ct, and the first p in pc, pç, pt were eliminated since they are not pronounced. Below are some examples.
| | | |
| --- | --- | --- |
| Portugal and Africa | Brazil | English translation |
| acção | ação | 'action' |
| contracto | contrato | 'contract' |
| óptimo | ótimo | 'great' |
Take a look at Article 1 of the Universal Declaration of Human rights in Portuguese
Declaração Universal dos Direitos Humanos
Artigo1
Todos os seres humanos nascem livres e iguais em dignidade e em direitos. Dotados de razão e de consciência, devem agir uns para com os outros em espirito de fratemidade.
Universal Declaration of Human Rights
Article 1
All human beings are born free and equal in dignity and rights. They are endowed with reason and conscience and should act towards one another in a spirit of brotherhood.
Did You Know?
English has borrowed a number of words from Portuguese. A few of them are listed below.
| | |
| --- | --- |
| English word | from Portuguese |
| cobra | cobra 'serpent' |
| dodo | doudo 'fool, simpleton', an insult used by Portuguese sailors to the awkward bird they found on Mauritius |
| emu | probably from ema 'crane, ostrich' |
| fetish | fetiço 'charm, sorcery' |
Difficulty