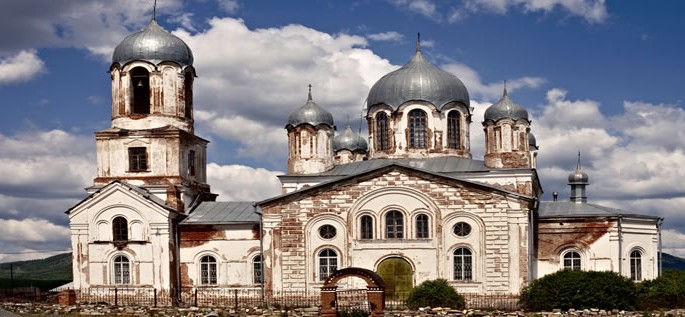 Bashkort (Bashkir)
Рәхим итегеҙ! – Welcome
Bashkort (башҡорт теле) or Bashkir, belongs to the Western Uralian group of the Turkic branch of the Altaic language family. Its closest relatives are Chulym and Tatar. It is primarily spoken by ethnic Bashkirs in the Republic of Bashkortostan which is located between the Volga River and Ural Mountains. It is also spoken beyond the Urals in the urban centers of Chelyabinsk, Orenburg, and Yekaterinburg, in the Samara and Kurgan Oblasts, and in the Khanty-Mansi Autonomous Okrug, Tatarstan and Udmurtia. Outside of the Russian Federation, Bashkort is also spoken in Kazakhstan, Kyrgyzstan,Tajikistan, Turkmenistan, Uzbekistan, and Ukraine. There are about 1.2 million speakers of Bashkir, of which 1.1 million reside in the Russian Federation (Ethnologue).
Until the middle of the 13th century, when they were conquered by the Mongol invaders, the nomadic Bashkirs lived in the Urals between the Volga and Kama Rivers. In 1556, Bashkir tribes sought protection from attacks by neighboring tribes by recognizing Russian rule. In 1919, two years after the Russian revolution, the Bashkir Autonomous Soviet Socialist Republic was established. In 1992, it was renamed the Republic of Bashkortostan.
Status
Bashkir, along with Russian, is the official language of the Republic of Bashkortostan (formerly Bashkir Autonomous Soviet Socialist Republic). The language is used in education. For instance, it is studied as a subject and used as a medium of instruction in elementary and secondary schools, as well as at the university level. Bashkir is also used in print and electronic media. Different genres of literature are published in Bashkir. Local theaters regularly produce plays in the Bashkir language. Many speakers of Bashkir also speak Russian and/or Tatar. Many younger Bashkirs spear Russian as their first and Bashkir as their second language.
Dialects
Bashkort has three main dialects which, in turn, consist of numerous local varieties:
The mountain dialect is spoken primarily in the northeastern and southeastern areas. Literary, or standard, Bashkir is based on the mountain dialect.
The steppe dialect is spoken in the central and southwestern areas.
The northwestern dialect
Structure
Sound system
The sound system of Bashkir is fairly typical of Turkic languages.
It is characterized by vowel harmony which places limitations on which vowels may be contained a word. There are two kinds of vowels — front vowels, which are produced at the front of the mouth, e.g., /i/, /e/, and back vowels, produced at the back of the mouth, e.g., /u/, /o/. Native Bashkir words can contain either only all front or all back vowels, e.g., qolaq 'ear' which contains all back vowels. All suffixes must conform to the vowel of the preceding syllable.
Bashkir syllables can end in a vowel or in one or two consonants. There are no syllable-initial consonant clusters.
Vowels
Bashkort has nine native vowel phonemes, i.e., sounds that differentiate word meaning. Two additional vowel phonemes occur only in loanwords. There is a contrast between unrounded and rounded front and back vowels. Rounded vowels are produced with rounded protruding lips. All mid vowels in the language are reduced. All word-initial vowels are preceded by a glottal stop /ʔ/, i.e., a glottal catch that occurs in English in such words as uh-oh. There is no standardized system for transliterating Bashkir using the Latin alphabet.
/i/ = ee in beet
/e/ = e in bait
/y/ = second vowel in statue
/ø/ has no equivalent in English
/æ/ = a in bat
/ɯ/ has no equivalent in English
/u/ = oo in boot
/o/ = o in bow
Consonants
Bashkort has 28 consonant phonemes, i.e., sounds that differentiate word meaning. Some of them occur exclusively in Russian loanwords.
/q/ has no equivalent in English
/ʔ/ = glottal catch between syllables in uh-oh
/x, ɣ/ have no equivalents in English
/θ/ = th in thin
/ð/ = th in those
/ʃ/ = sh in shop
/ʒ/ = s in measure
/tʃ/ = ch in chop
/ŋ/ = ng in song
/j/ = y in yet
/j̃/ has no equivalent in English
Stress
Stress in Bashkort words is normally placed on the final syllable of the word. The placement of the original stress in loanwords is usually preserved.
Grammar
Like all Turkic languages, Bashkort is agglutinative, i.e., grammatical relations are indicated by the addition of suffixes to stems. There is a one-to-one relationship between suffixes and their meanings, so suffixes are strung together one after another. There are various rules for their ordering. Like all Turkic languages, Bashkort uses postpositions rather than prepositions to signal certain grammatical relationships, e.g., әсәй менән 'mother with'.
Nouns, adjectives, pronouns
Bashkort has two numbers: singular and plural. The plural is formed by adding the suffix –lar/-dar/ -tar to the singular root, e.g., студент 'student', студенттар' students'.
Nouns are not marked for gender.
There are no articles.
There are six cases: nominative, genitive, dative, accusative, locative, ablative. Cases are marked by adding suffixes to the stem, e.g., бала 'child nominative singular', баланың 'child genitive singular', баларҙың 'children genitive plural'.
Possession is marked by affixes which precede case affixes, e.g., балаларың 'your children' (бала– 'child' + –лар 'plural' + –ың 'your').
Adjectives in the role of attributes do not decline.
Personal pronouns are declined in all six cases.
Verbs
Verbs agree with their subjects in person and number, e.g., Мин беләм 'I know', Һин беләһең 'you know', Ул белә 'he/she knows', Беҙ беләбеҙ 'we know',Һеҙ беләһегеҙ 'you plural know', Улар белә (беләләр) 'they know'.
In addition, verbs have the following grammatical categories:
Word order
The normal word order in Bashkir sentences is Subject-Object-Verb. However, other orders are possible, depending on discourse-oriented considerations such as emphasis. Adjectives precede the words they modify.
Vocabulary
The basic vocabulary of Bashkort consists of words of Turkic origin. Words are formed by reduplication, e.g., малай-шалай 'any kind', and compounding, e.g., аҡ- 'white' + ҡош 'bird' = аҡҡош 'swan'. Bashkir also has a large number of borrowings from other languages such as Mongolian, Tungusic, Russian, and various Paleosiberian languages. Earlier borrowings came principally from Mongolian. It is estimated that about 30% of Bashkort vocabulary are loanwords from Mongolian, e.g., урам 'street'. Borrowings often involve sound changes, e.g., kinige 'book', from Russian kniga, эшләпә 'hat' from Russian шляпа. Many borrowings from Russian relate to science, technology, and modern life, e.g., почта 'mail, post office', магнитофон 'tape recorder'. Many English words have entered the Bashkort lexicon through Russian, e.g., cкейтборд 'skateboard', дискет 'diskette', cвитер 'sweater'.
Below are some common words and phrases in Bashkort.
| | |
| --- | --- |
| Hello | һаумы, Һаумыһығыҙ, cәләм |
| Good bye | һау бул, һау булығыҙ |
| Thank you | pәхмәт |
| Sorry, excuse me | ғәфү ит, ғәфү итегеҙ |
| Yes | эйе |
| No | юҡ |
| Father | ата |
| Mother | әсә |
Below are Bashkort numerals 1-10. They are quite similar to numerals in other Turkic languages. All numerals are used with nouns in the singular.
| 1 | 2 | 3 | 4 | 5 | 6 | 7 | 8 | 9 | 10 |
| --- | --- | --- | --- | --- | --- | --- | --- | --- | --- |
| бер | ике | өс | дүрт | биш | aлты | ете | һигеҙ | туғыҙ | ун |
Writing
Until 1929, Bashkort was written with the Arabic alphabet.
The 1930s were a period of experimentation with various versions of the Latin alphabet.
The current 42-letter Cyrillic-based alphabet was introduced in 1938. Besides Cyrillic letter, it contains additional letters Ә ә, Ө ө, Ү ү, Ғ ғ, Ҡ ҡ, Ң ң, Ҙ ҙ, Ҫ ҫ, Һ һ to represent Bashkort sounds. It is called Башҡорт әлифбаһы and is given below. Symbols in parentheses are sounds represented by the letters. It is not well suited for representing the language.
| | | | | | | | | | | | | | | | |
| --- | --- | --- | --- | --- | --- | --- | --- | --- | --- | --- | --- | --- | --- | --- | --- |
| A a [a] | Б б [b] | В в [v] | Г г [g] | Ғ ғ[ɣ] | Д д [d] | Ҙ ҙ [ð] | E e [je] | Ë ë [jo] | Ж ж [ʒ] | З з [z] | И и [i] | Й й [j] | К к [k] | Ҡ ҡ [q] | Л л [l] |
| М м [m] | Н н [n] | Ң ң [ŋ] | О о [o] | Ө ө [ø] | П п [p] | Р р [r] | С с [s] | Ҫ ҫ [θ] | Т т [t] | У у [u] | Y ү [y] | Ф ф [f] | X x [x] | Һ һ [h] | Ц ц [ts] |
| Ч ч [tʃ] | Ш ш [ʃ] | (Щ щ) [ʃtʃ~ɕ]] | Ъ ъ [ʔ] | Ы ы [ɯ] | Ь ь* | Э э [e] | Ә ә [æ] | Ю ю [ju] | Я я [ya] | | | | | | |
*Has no separate sound value in Russian loanwords if their original pronunciation is retained. Its function is to indicate palatalization of the preceding consonant.
Difficulty
Language Difficulty

How difficult is it to learn Bashkir?
There is no data on the difficulty of Bashkort for speakers of English.