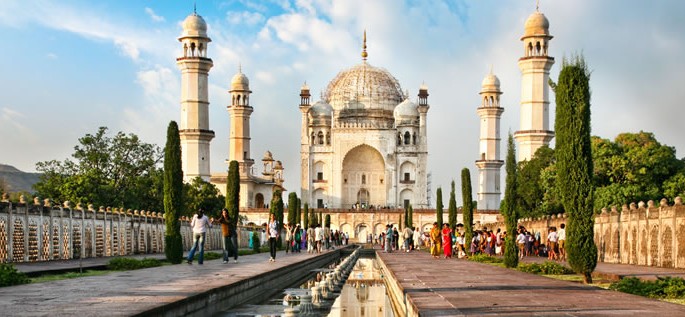 Marathi
Krupayaa aatuyaa – Welcome
Marathi (also known as Maharashtri) is a member of the Indo-Aryan branch of the Indo-European language family. It is closely related to Hindi and Punjabi. It is spoken as a first language by 72 million people and by another 3 million people as a second language in India, primarily in the state of Maharashtra.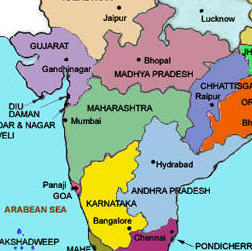 Marathi is the fourth largest language of India. Outside of India it is spoken in Israel and Mauritius (Ethnologue).
Marathi is derived from Sanskrit through a Prakrit dialect called Maharashtri in the 1st-2nd centuries AD. It was the most widespread Prakrit dialect of its time. Maharashtri gradually evolved into Marathi in the 15th and 16th centuries,
Status
Marathi is one of the 22 official languages and 14 regional languages of India. It is the co-official language of the state of Maharashtra. The State of Goa also recognizes Marathi as an official language along with Konkani. Marathi is the medium of everyday communication in Maharashtra, and is also used in education, government, business, and the media.
Dialects
The dialect picture throughout the Marathi-speaking area is complex. Varieties that border other language areas tend to share feature with languages, such as Tamil, Kannada, and Konkani. Despite differences among the dialects in pronunciation and vocabulary, they are, for the most part, mutually intelligible. Standard Marathi is based on the speech of educated speakers of Pune, the second largest city of Maharashtra after Mumbai. Literary Marathi, based on older varieties of the language, differs significantly from spoken Marathi
Structure
Sound system
Many of the phonological properties of Marathi are similar to those of Sanskrit and other Indo-Aryan languages. The use of consonant clusters is extremely limited, even in borrowed words.
Vowels
Marathi has 11 vowel phonemes (depending on the analysis), i.e., sounds that distinguish word meaning. All vowels, except /ə/ can be short or long. Vowel length makes a difference in word meaning.
/i/ = ea in peat
/e/ = e in pet
/ə/ = a in ago
/a/ = a in bar
/u/ = oo in too
/o/ = o in token
Consonants

The consonant system of Marathi is also typical of Indo–Aryan languages.
There is a contrast between aspirated and unaspirated stops and affricates, including voiced ones, e.g., p—pʰ, t—tʰ, k—kʰ, b—bʰ, d—dʰ, g—gʰ, etc. Aspirated consonants are produced with a strong puff of air.
There is a contrast between apical and retroflex consonants, e.g., /t/ – /ʈ/, /d/ – /ɖ/, /n/ – /ɳ/, /r/ – /ɽ/. Apical consonants are produced with the tip of the tongue touching the roof of the mouth, whereas retroflex consonants are produced with the tongue curled, so that its underside comes in contact with the roof of the mouth.
/ʃ/ = sh in shop
/tʃ/ = ch in chop
/dʒ/ = j in job
/ɲ/ =first n in canyon
/ŋ/ = ng in song
/ʋ/ is often realized as /v/
/j/ = y in yet
Stress
Stress in Marathi usually falls on the initial syllable of the word.
Grammar
Marathi grammar is very much like that of other Indo-Aryan languages such as Hindi, Bengali, and Punjabi. Unlike these languages, however, Marathi is agglutinative, i.e., it adds suffixes to roots to build words and to express grammatical relations. Agglutination is one of the features of Dravidian languages.
Nouns
Marathi nouns are marked for the following grammatical categories:
number: singular and plural
gender: masculine, feminine, neuter
There are 7 cases: nominative, genitive, accusative–dative, instrumental, ablative, locative, and vocative. All cases, except the vocative, are marked by postpositions.
There are no definite or indefinite articles.
Adjectives do not inflect unless they end in long /a/, in which case they agree with nouns in gender, number, and case.
Verbs
Verbs can agree with their subjects in the active voice, or with their objects in the passive voice. Verbs are marked for the following categories:
person: 1st, 2nd, 3rd
number: singular and plural
tense: present, past, future
aspect: imperfective and perfective
Word order
The normal word order in Marathi is Subject – Object – Verb. Modifiers precede the nouns they modify. Indirect objects precede direct objects.
Vocabulary
The basic vocabulary of Marathi is Sanskrit in origin, but over the years Marathi has borrowed extensively from a number of other languages. The majority of loanwords came from Persian, Arabic and Turkish during the period of the Mughal rule, and later from Portuguese and English, e.g., baajaar from Persian bazaar 'market', baatata from Portuguese batata 'potato', khurchii 'chair' from Arabic kursi. In addition, Marathi has borrowed words from the neighboring Dravidian languages.
Below are a few basic phrases in Marathi script and in transliteration.
| | | |
| --- | --- | --- |
| Hello | नमस्कार | Namaskar, dhanyawad |
| Goodbye | | Punhā bhe ţū. |
| Thank you | आभारी आहे | Aabhari ahe |
| Yes | | Ho |
| No | | Nāhī |
The numerals 1-10 in Marathi are given below.
| 1 | 2 | 3 | 4 | 5 | 6 | 7 | 8 | 9 | 10 |
| --- | --- | --- | --- | --- | --- | --- | --- | --- | --- |
| ek | don | teen | char | pach | saha | saat | aath | nau | daha |
Writing
The earliest evidence of written Marathi dates back to 700 AD. Marathi has a long literary history, starting with religious writings in the 12-13th centuries. The first English book was translated into Marathi in 1817, and the first Marathi newspaper appeared in 1835. Since 1950, Marathi has been written with the Devanagari alphabet which consists of 52 symbols (16 vowels and 36 consonants).
Take a look at Article 1 of the Universal Declaration of Human Rights in Marathi in Devanāgarī and in romanization.

Difficulty
Language Difficulty

How difficult is it to learn Marathi?
There is no data on the difficulty of Marathi for speakers of English.