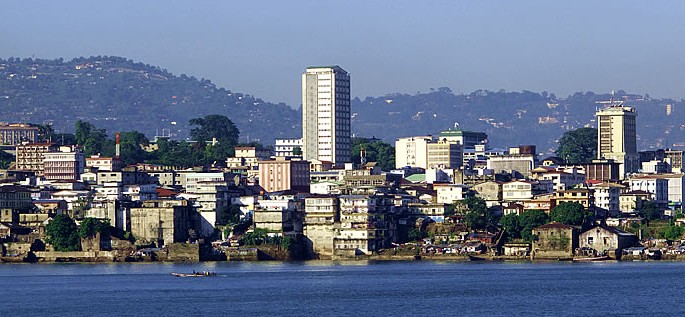 Mende
Á seneo – Welcome
Mende (Mɛnde yia), also known as Boumpe, Hulo, Kossa, and Kosso, belongs to the Southwestern group of the Mande branch of the Niger-Congo language family. It is spoken by about 1.48 million people primarily in southern Sierra Leone and by some 20,000 people in neighboring Liberia (Ethnologue).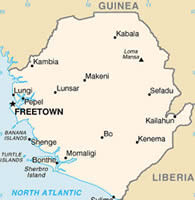 Its closest relatives are Loko, spoken in Sierra Leone, and Bandi, spoken in Liberia.
Status
The official language of Sierra Leone is English. Mende is taught as an elective at all levels of education from primary
through the university level. It is also used in government administration and in the media. Mende is spoken as a regional lingua franca in the southwestern part of the country and is also used as a second language by many speakers of Krio, an English-based creole, which is the most widely used language in Sierra Leone for everyday communication among speakers of the country's 14 different languages.
Dialects
Ethnologue lists four mutually intelligible dialects of Mende:
Structure
Sound system
Mende is a tonal language with a relatively simple sound inventory. It has the following distinctive features:
All syllables end in a vowel.
There are no consonant clusters.
There are several several prenasalized and labiovelar stops.
There are several doubly articulated (labiovelar) consonants.
Vowels
Mende has 7 vowel phonemes, i.e., sounds that distinguish word meaning. Vowels may be short of long. Vowel length makes a difference in word meaning. Long vowels are usually represented in writing by double letters, but spelling is not consistent.
/ε/ = e in bet
/ɔ/ = o in bog
Consonants

Mende has 22 consonant phonemes, i.e., sounds that distinguish word meaning. The number of consonant phonemes may vary somewhat depending on the analysis.
/ᵐp, ᵐb,ⁿd, ᵑg, ⁿʤ/ are prenasalized consonants consisting of a nasal plus a stop which are produced together as a single phonological unit.
/ᵏp, ᵍb/ are are doubly articulated consonants produced with a simultaneous closure of the velum (soft palate) and the lips.
/ʤ/ = j in job
/ɲ/ = second n in canyon
/ŋ/ = ng in song
/j/ = y in yet
Tones
Mende is a tonal language. Every syllable has a pitch that is an integral part of the pronunciation of that syllable. There are four tones marked by diacritics as follows:
high, e.g., háwámá 'waist'
low, e.g., kpà 'debt'
rising-falling, e.g., mbû 'owl'
falling-rising, e.g., mbă 'rice'
Mende is characterized by tonal downstep, i.e., in a high-low-high tone sequence, the second high tone is pronounced lower than the first high tone when the intervening low tone is dropped.
Grammar
Some of the distinguishing features of Mende grammar are as follows:
Mende roots plus various affixes form units that can correspond to entire clauses in languages such as English, for example, numugbɔyɔonɔ' 'twenty' (literally, 'person is finished, all fingers and toes counted') and numugbɔyɔonɔmahiyela 'twenty-one' (literally, 'on twenty one more').
Mende uses postpositions instead of prepositions, e.g., pɛlɛ 'house' – pɛlɛma 'house on'.
Nouns and pronouns
There are numerous consonant and stress mutations.
Unlike most Bantu languages of the Niger-Congo language family, Mende does not divide nouns into distinct noun classes.
Nouns can be definite or indefinite. Indefinite nouns are unmarked, while definite nouns are marked by suffixes, e.g., mbondâ 'family' and mbondâá 'the family'. The meaning of Indefinite and definite markers in Mende only partially overlaps with the meaning of English articles a and the.
Nouns are not marked for gender and case.
Plural is formed in the following ways:
the suffix –gáa is added to the indefinite form of the noun, e.g., pɛlɛ 'house' — pɛlɛngáa 'houses', bûku 'book' — bûkugáa 'books';
the suffix –îsià is added to the definite form of the noun, e.g., ngolŏ 'chimp' — ngolĕîsià 'chimps'.
There are three types of possessive constructions:
kinship terms, e.g., kèkê 'father' — nyákèkê 'my father';
body parts, e.g., tokŏ 'hand' — nyalokŏí 'my hand';
everything else, e.g, pɛlɛ 'house' — nyâwɛlɛí 'my house'.
Demonstatives –jí 'this' and –ná 'that' are attached to the definite form of the noun, e.g., bûkuíjí 'this book', bûkuíná 'that book'.
Numerals follow nouns, e.g., ngúlu 'tree' — ngúlu-puú 'ten trees'.
Verbs
Verbs are not marked for agreement with their subjects for person or number.
Verbs have several tense/aspect categories, e.g., present, past (simple and perfect), and future. Tense is represented by combining the subject pronouns with appropriate postverbal particles.
Verbs can be transitive or intransitive.
Verbs have an imperative form, e.g., wă 'come'.
Word order
The basic word order in Mende is Subject-Object-Verb. However, other word orders are possible. For instance, any part of the sentence can be shifted to the front for emphasis.
Vocabulary
Mende vocabulary is similar to that of other Mande languages. New words are mostly formed through compounding, e.g., hále 'medicine' + mɔ 'person' =hále-mɔ 'doctor'. There are many loanwords from English and from neighboring languages, e.g., bûku 'book', bulû 'blue', bûsɛ 'bushel', fɔtó 'photo'.
Below are some common words in Mende.
| | |
| --- | --- |
| Please | kɔnɛlé |
| Person | númu |
| Wife | nyahâ |
| Husband | hinî |
| Father | kèkè, papa,paa |
| Man | hiîndo |
| Woman | nyâpo |
| Water | njaă |
Mende numerals 1-10 are given below.
| 1 | 2 | 3 | 4 | 5 | 6 | 7 | 8 | 9 | 10 |
| --- | --- | --- | --- | --- | --- | --- | --- | --- | --- |
| itá | feleé | sawaá | náâni | lɔɔlu | wɛita | wɔfeela | wáyâkpa | táluu | puú |
Writing
An earlier writing system for Mende was devised by Kisimi Kamara in 1921. His orthography, called "ki-ka-ku" consisted of 195 characters representing consonant+vowel syllables written from right to left in horizontal rows. The syllabary was used for record-keeping, correspondence and even for some limited official purposes, but it was replaced in the 1940's by a modified version of the Latin alphabet. Present-day Mende is written with a modified version of the Latin alphabet consisting of 28 letters. It is given below.
| | | | | | | | | | | | | |
| --- | --- | --- | --- | --- | --- | --- | --- | --- | --- | --- | --- | --- |
| a | b | d | e | ɛ | f | g | gb | h | i | j | k | kp |
| l | m | n | ny | o | ɔ | p | s | t | u | v | w | y |
Take a look at Article 1 of the Universal Declaration of Human Rights in Mende.
1. Ngayilii ye ngilei
Numuvuisia kpɛlɛɛ ta ti le tɛ yɛ nduwɔ ya hu, tao ti nuvuu yei kɛɛ ti lɔnyi maa hɛwungɔ. Kiiya kɛɛ hindaluahu gɔɔla a yɛlɔ ti hun. Fale mahoungɔ ti ti nyɔnyɔhu hoi kia ndeegaa
Article 1
All human beings are born free and equal in dignity and rights. They are endowed with reason and conscience and should act towards one another in a spirit of brotherhood.
Difficulty
Language Difficulty

How difficult is it to learn Mende?
There no data on the difficulty of Mende for speakers of English.