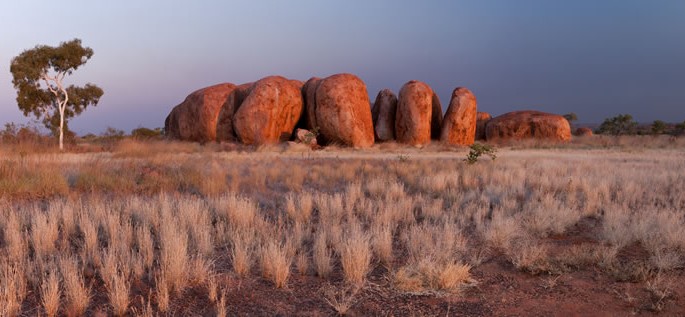 Warlpiri
Welcome
Warlpiri (Elpira, Ilpara, Ngaliya, Ngardilpa, Wailbri, Walbiri, Walmama, Walpiri) belongs to the South-West Ngarga branch of the Pama-Nyungan language family, the largest of the Indigenous Australian language families. It is spoken by about 2,500 Warlpiri people in Australia's Northern Territory (Ethnologue). It is one of the largest Aboriginal
languages in Australia in terms of number of speakers.
Status
Warlpiri has no official status in Australia. The language is endangered in spite of efforts to teach it to children in Warlpiri settlements.
In some Warlpiri communities, children and young adults use "Light Warlpiri", a variety of speech that combines elements of Warlpiri, Australian Aboriginal Kriol (an English-based creole) and Australian English.
Dialects
Warlpiri has several dialects identified by their geographical locale within the Warlpiri-speaking area:
Southwestern — Yuendumu
Central — Willowra
Eastern — Hanson
Northern — Lajanamu
Structure
Sound system
Warlpiri has a relatively simple sound system an inventory of 21 phonemes. Consonant clusters are restricted.
Vowels
Warlpiri has three vowels. Vowels can long long or short. Vowel length makes a difference in word meaning, e.g., mirnta 'flu' and miirnta 'hardwood shield'. There is progressive and a regressive vowel harmony, i.e., assimilation of the first vowel to the following vowel and vice versa, e.g., karli 'boomerang' + –ngku'ergative' becomes karlingki;
Consonants
Warlpiri has 18 consonant phonemes. They are given below with their orthographic representations indicated in parentheses. There are several distinguishing features of Warlpiri consonants:
/ʈ, ɳ, ɭ, ɽ/ are retroflex consonants with no equivalents in English
/ɲ/ = first n in canyon
/ŋ/ = ng in song
/ʎ/ has no equivalent in English
/j/ = y in yet
Stress
Stress normally falls on the first syllable of Warlpiri words, including enclitics.
Grammar
Warlpiri is an Ergative-Absolutive language, i.e., it treats subjects of transitive verbs distinctly from subjects of intransitive verbs. It treats subjects of intransitive verbs in the same way as objects of transitive verbs.
Nouns
There are no declensions.
Noun stems are not inflected.
Nouns are formed by derivation, compounding, and reduplication. For instance, puru 'theft' — purunjunju 'thief', or yarla karlangu 'yam digger' (yarla'yam' + karlangu 'digger').
Verbs
Warlpiri verbs are inflected
There are just over a hundred verb roots from which all other verbs are formed.
There are five verb classes; most verbs belong to two of the five classes.
Verbs are marked for the following categories: present, non-past, past, immediate future, imperative, conditional.
The infinitive, progressive and inceptive forms are built on the non-past form.
There is many preverbs that occur with inflected verbs. Preverbs are used to make the meaning of verbs more specific. Several preverbs can be used at one time, e.g., Pirlankiti-ji junta-kuru-rnu yard, literally, 'Blanket-me + away-throw-past + again' , i.e., 'He threw off my blanket again' (cited in Nash, 1980).
Auxiliary words
All Warlpiri clauses contain an auxiliary word, which together with the verb suffix identifies tense and relationship between main and dependent clauses. The auxiliary word is usually the second word in a clause. Common auxiliaries include ka (present tense), kapi (future tense), kaji (conditional). For example,
kurdu-ngku

wita-ngku

ka

maliki

wajilipi-nyi

yalumpu-rlu

child – Ergative

small-Ergative

Auxiliary -Present

dog

chase – Present

that

'That small child is chasing the dog.'
Auxiliary words also specify the person and number of the subject and object, unlike Indo-European languages where these markers are placed on verbs. For instance, kapirnangku nyanyi 'I will see you' consists of kapi– 'future tense' + –rna 'first person singular of the subject' + –ngku 'second person singular of object 'you' + nyanyi 'nonpast of see' (Wikipedia).
Enclitics
Warlpiri has numerous enclitics, i.e., grammatically independent but phonologically dependent words. There are several classes of enclitics.
Word order
The order of major sentence constituents is not determined by their grammatical function, but rather by pragmatic considerations, such as topic (known or old information) and focus (new or important information).
Vocabulary
The most common mechanisms of word formation in Warlpiri are derivation, compounding, and reduplication. For instance, noun stems can be formed by adding suffixes, e.g., puru 'theft' — purunjunju 'thief', by compounding, e.g., yarla karlangu 'yam digger' (yarla 'yam' + karlangu 'digger'), or by reduplication, e.g., rdaka 'finger' — rdakardaka 'sign language'. Sometimes, reduplicated words do not have a corresponding nonreduplicated form, e.g., kuntukuntu 'fat'.
Warlpiri has no special words for numerals.
Registers
One of the most unusual aspects of Warlpiri, as of all Australian languages is the influence of kinship on speech registers, i.e., language varieties used for particular purposes or in particular social settings.
Warlpiri has triangular terms that indicate the relation of both speaker and listener to the referent, e.g., my mother who is also your father's sister.
Warlpiri has kinship-based registers for friendship, vulgarity, joking, secrecy, etc. For instance, there is a speech register used in initiation rites in which words refer to their opposites.
It is taboo for certain family members to talk to each other, e.g., for a woman to talk to her son-in-law. If such a conversation becomes necessary, an avoidance (mother-in-law) register is used. It has the same phonology and grammar as regular Warlpiri but a limited vocabulary which contains only words unique to the avoidance register.
Sign language
Warlpiri has a well developed and widely used sign language. It may have arisen from the tradition that bans widows from speaking during a long mourning period during which they communicate exclusively by signing.
Writing
Warlpiri orthography has been standardized in the mid 1970s. Many primary textbooks and readers and a dictionary of Warlpiri have been published since then.
Difficulty
Language Difficulty

How difficult is it to learn Warlpiri?
There is no data on the difficulty of Warlpiri for speakers of English.