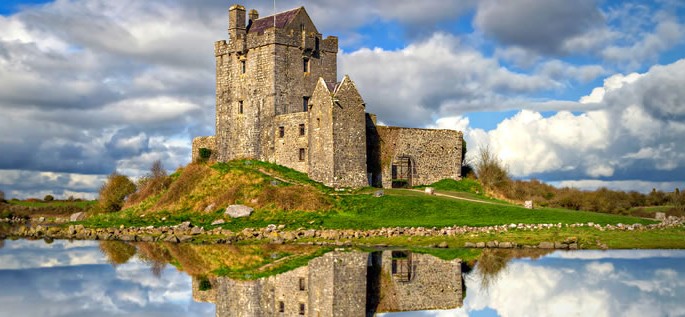 Celtic Language Branch
Celtic languages descended from a common ancestral language called Proto-Celtic, a member of the Indo-European language family. Reconstruction of Proto-Celtic shows that it was a conservative language that had retained many features of Proto-Indo-European, the hypothetical ancestor of all Indo-European languages.
Although the original homeland of the Celts cannot be determined with absolute accuracy, it is generally believed that they appeared in the eastern part of central Europe around the 5th century BC and subsequently spread throughout most of the European continent, reaching the Black Sea, the Anatolian Peninsula, Spain, Italy, and the British Isles. Today, however, Celtic languages are limited to a few areas in the British Isles, on the peninsula of Brittany in France, and in emigrant communities in the U.S., Canada, and Australia.
There are two groups of Celtic languages:
Continental Celtic (Gaulish)
Celtic dialects spoken on the European continent are called Continental Celtic, or Gaulish. Little is known about Gaulish, except for a few hundred inscriptions and references in Latin literature. Some linguists think that Gaulish was similar to Latin. This made it relatively easy for the Gauls to learn Latin and to stop using their own language. When Gaul was overrun by the Germanic Franks, Gaulish was probably already close to extinction which is possibly the reason why modern French shows so little influence of Gaulish. Basically, the history of Continental Celtic ended where the history of Insular Celtic began.
Insular Celtic
Insular Celtic refers to the dialects spoken in the British Isles and in Brittany, France. There were probably two waves of Celtic invasion into the British Isles. The first wave of Celtic-speaking people came to Ireland around 500 BC. It resulted in a type of Celtic known as Goidelic, or Gaelic. The first wave later reached Scotland and the Isle of Man. The second invasion was into southern England and Wales, and later into Brittany. It produced a type of Celtic known as Brythonic (or British). The Anglo-Saxon invasions of the British Isles in the 5th century AD pushed the British Celts to the west and to the north which caused the Celtic dialects to become separate languages. In Cornwall and Devon, they developed into Cornish, and in Wales they evolved into Welsh.
Status
Six Insular Celtic languages are spoken today as first or as second languages. They are listed below.
Brythonic

Breton
No official status, but there is a strong nationalist movement for recognition.
532,000 1st language and 1.2 million 2nd language users
Brittany, France, and dispersed communities around the world
Cornish
No official status. Became extinct in 1777 but is being revived. It is taught in some schools and in evening classes.
small number of 1st language speakers under 20 years of age; 500 or more 2nd language speakers.
Cornwall, Canada, Australia
Welsh
Official minority language in UK. 20% of the Welsh population speak the language, and 33% are able to understand it.
575,102 speakers, including 32,700 monolinguals, and 542,402 bilinguals
Wales, U.S., Canada, Australia

Goidelic

Scottish Gaelic
No official status. In some communities it is primarily used in the home, in church, and for social purposes. In bilingual areas, it is used as the language of instruction in primary schools. There is a resurgence of interest in reviving the language.
62,175
Parts of Scotland and the Hebrides. Also spoken in Australia, Canada, and the U.S.
Irish Gaelic
National language. Used in all spheres of life.
355,000
Parts of Ireland. Also spoken in Brazil, Canada, United Kingdom, and the U.S.
Manx
No official status. It became extinct in 1974 as a 1st language. There are efforts to revive it. Today, it is a 2nd language for several hundred speakers who learned it as adults. Children are taught Manx in play-groups and it is used for some public functions.
extinct as 1st language; several hundred 2nd language speakers
Isle of Man
Dialects
Despite their small size, Celtic languages exhibit some dialectal variation.
Welsh
is divided into Northern and Southern dialects by differences in pronunciation, grammar, and vocabulary. Patagonian Welsh spoken in Argentina is influenced by the surrounding Spanish.
Irish Gaelic
has three major dialects: Southern, Western, and Northern. There is considerable variation among the three.
Scottish Gaelic
has several dialects, including a variety used in religious services only.
Breton
has four recognizable dialects, namely: Leonais, Tregorrois, Vannetais, Cornouaillais (Ethnologue).
Structure
Sound system
Insular Celtic languages share a number of common phonological features.
Vowels
Insular Celtic languages have long and short vowels. Vowel length makes a difference in word meaning. In addition, there are several diphthongs.
Consonants
Consonants in Celtic languages have several features that are somewhat unusual for Indo-European languages:
Grammar
Celtic languages are highly inflected, having retained many features of the rich morphology of Proto-Indo-European.
Nouns, adjectives, pronouns, articles, and numerals
Celtic nouns, pronouns, adjectives and articles are marked for the following categories which may not be present in all Celtic languages.
There are two numbers: singular and plural, with some vestiges of dual. Plurals are formed by suffixation or by changes in the vowel of the root (umlaut), as in English.
There are two genders: masculine and feminine. There are several declensional paradigms based on gender.
There are four cases: nominative, genitive, dative, vocative.
There is a definite but no indefinite article.
Adjectives, pronouns, and articles agree with the nouns they modify in number, gender, and case.
Prepositions can be fused with personal pronouns (so-called or inflected prepositions).
Verbs
Celtic verbs have the following features which may vary from language to language:
Person
Majority of Scottish Gaelic verbs are not marked for person and require the use of a personal pronoun, with only a few verbs marked for person.
However, in Welsh, all verbs are marked for person.
Irish verb forms are constructed either synthetically or analytically: synthetic forms express information about person and number in the ending, e.g.,molaim 'I praise,' where the ending –aim represents '1st person singular present tense.' Pronouns are not used. Analytic forms contain no information about person and number, e.g, molann sibh 'you praise,' where the ending –ann represents the present tense and the pronoun sibh 'you' represents the 2nd person plural.
Tense
Tense is marked in a number of ways.
In Welsh, the majority of tenses make use of an auxiliary verb, usually bod 'to be'.
In Scottish Gaelic and Welsh, the present tense form has largely future meaning.
Infinitive
Celtic languages do not have an infinitive verb form.
Word order
The normal word order in Celtic sentences is Verb-Subject-Object, an unusual order for Indo-European languages.
Vocabulary

Although Celtic languages have borrowed many words from English and French, their vocabulary is predominantly Gaelic. Here are some common phrases in four Celtic languages.
| | Welsh | Breton | Irish Gaelic | Scottish Gaelic |
| --- | --- | --- | --- | --- |
| please | os gwelwch yn dda | mar plij | le do thoil | mas e do thoil e |
| thank you | diolch | trugarez | go raibh maith agat | tapadh leat |
| hello | s'mae? | salud | dia duit | halò |
| good-bye | hwyl | kenavo | slán | mar sin leat |
| yes/no | ie/na | ya/nann | sea/ni héa | tha/chan eil |
| mother | mam | mamm | máthair | màthair |
| father | tad | zad | athair | athair |
Take a look at the numerals 1-10 in four Celtic languages.
| | 1 | 2 | 3 | 4 | 5 | 6 | 7 | 8 | 9 | 10 |
| --- | --- | --- | --- | --- | --- | --- | --- | --- | --- | --- |
| Welsh | un | dau | tri | pedwar | pump | chwech | saith | wyth | naw | deg |
| Breton | unan | daou | tri | pewar | pemp | c'hwec'h | seizh | eizh | nav | dek |
| Irish Gaelic | aon | dó | tri | ceathair | cúig | sé | seacht | ocht | naoi | deich |
| Scottish Gaelic | aon | dà | trì | ceithir | cóig | sia | seachd | ochd | naoi | deich |
Writing
Celtic languages were originally written with the ogham alphabet. It consisted of 25 letters. About 500 ogham inscriptions dating back to the 4th-7th centuries AD have been found in Ireland, Scotland, Wales, and England. Some linguists think that the ogham alphabet was used primarily for record keeping.
Ogham letters consisted of one to five perpendicular or angled strokes, meeting or crossing a center line. The form of the letters allowed them to be carved on wood, stone, or metal. Each letter was named after a tree or a plant, e.g.,
| | | |
| --- | --- | --- |
| | beith | 'birch' |
| | dair | 'oak' |
The Latin alphabet was introduced into Ireland by British missionaries in the 5th century BC. Today, all Celtic languages are written with adapted versions of the Latin alphabet. Because the Latin alphabet was not entirely suited for representing the sounds of Celtic languages, there were many ambiguities and inconsistencies in their spelling systems that persist to this day.
Welsh

A a

B b

C c

Ch ch

D d

Dd dd

E e

F f

Ff ff

G g

Ng ng

H h

I i

L l

Ll ll

M m

N n

O o

P p

Ph ph

R r

Rh rh

S s

T t

Th th

U u

W w

Y y
A a
B b
Ch ch
C'h c'h
D d
E e
F f
F f
G g
H h
I i
J j
K k
L l
M m
N n
O o
P p
R r
S s
T t
U u
V v
W w
Y y
Z z
Difficulty
Language Difficulty

How difficult is it to learn Celtic languages?
There is no data on the difficulty level of Celtic languages for speakers of English.